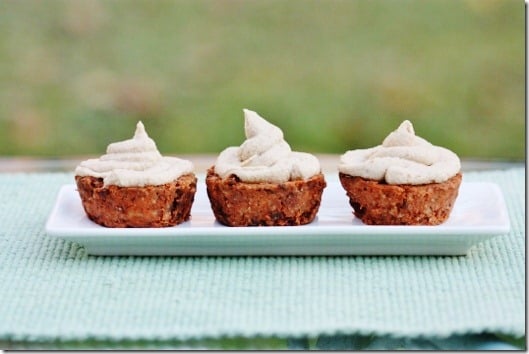 If this post doesn't make you guys smile, I don't know what will. Those right there are by far the daintiest, pretties, and tastiest raw treats I have ever made. And the beauty of it all is that they weren't even hard.
It all started on Friday, when I had dinner with Valerie at LPQ. It is by now a tradition that, every time I see Valerie, she brings me a bag of her extra frozen juice pulp, because she knows that I'll put it to good use in crackers, breads, and wraps. This time, she outdid herself: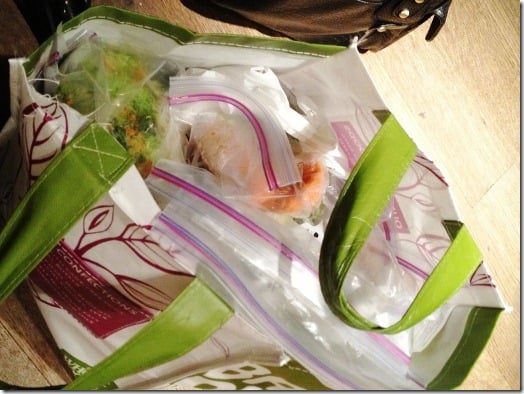 I was actually hard to carry that home.
One of the perks of this particular bag was that Valerie had separated all of the carrot pulp away from the other pulp. This means that I've got quite some weeks of carrot bread, carrot cake, and other carrot creations to look forward to. I decided to begin with carrot cake, but not just any old kind: all raw, all vegan carrot cake. And to make it more fun, I decided to turn it into cupcakes (cupcakes that you all will be able to make, too, because you can substitute grated carrot for pulp!).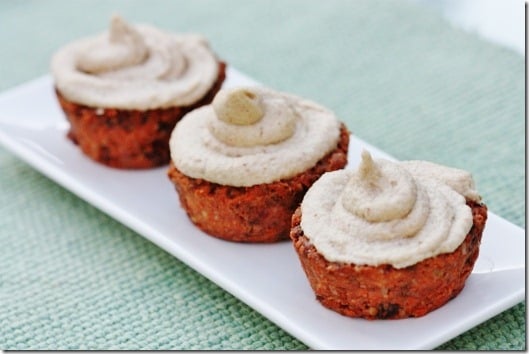 And since Christy had asked me, on Friday, if I knew of a good vegan cream cheese frosting that was Tofutti free, I decided to share the recipe for my favorite version.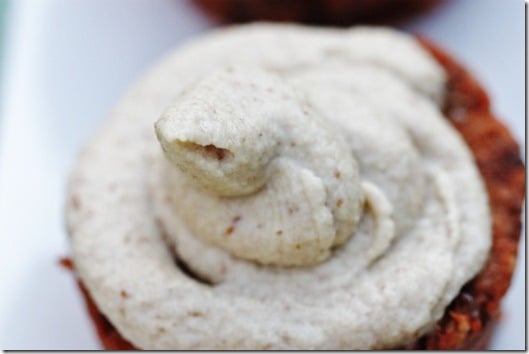 Also as easy as…well, a lot easier than pie.
Raw, Vegan Carrot Cake Cupcakes with Vegan Cream Cheese Frosting (raw, vegan, gluten and soy free)
Serves 6
1 cup walnuts (not soaked)
1 cup dates
2 cups carrot pulp OR grated raw carrots. If you use grated carrots, use cheesecloth or paper towels to squeeze the carrot and remove as much excess moisture as possible (same deal if you have "wet" pulp)
1 tsp cinnamon
1/2 tsp ginger
Dash nutmeg
1/8 tsp sea salt
3/4 cup raisins
Raw, Vegan Cream Cheese Frosting (makes over 1 cup)
1 cup cashews, soaked 1+ hours
6 pitted dates, also soaked 1+ hours (you can soak them together!)
Dash sea salt
1 tsp lemon juice
Water
Few drops stevia (optional, but useful if the 6 dates aren't quite sweet enough for you)
1) Process the dates and walnuts in a food processor fitted with the S blade till they resemble a Larabar mix.
2) Add carrot pulp or grated carrots and spices. Process till the mix has taken the form of a smooth "dough."
3) Add raisins and pulse to combine.
4) For the frosting: rinse cashews and dates of their soak water, and place in a food processor with salt and lemon. Process until the mixture is pasty and well combined. Add just enough water as the motor is running to get the frosting consistency you want.
5) Push the carrot cake dough into six muffin tins or ramekins and refrigerate for about an hour. Remove from the fridge, and get frosting!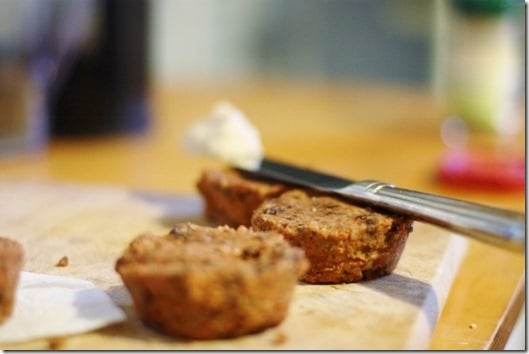 6) Serve, snack, and savor.
The taste of these cupcakes is disturbingly close to the "real" thing! And, given this humble and simple list of wholesome ingredients, you might even say that this dessert is realer than the real thing.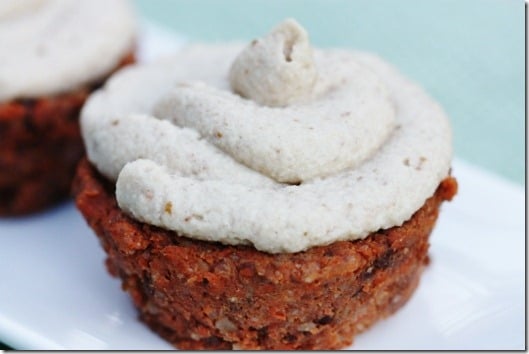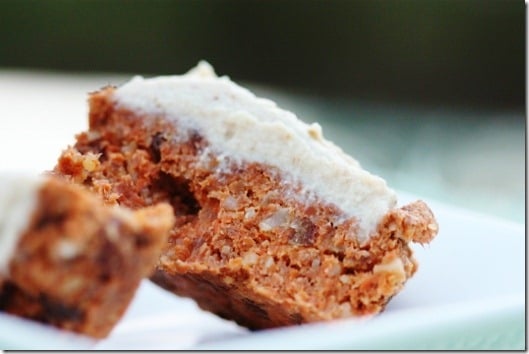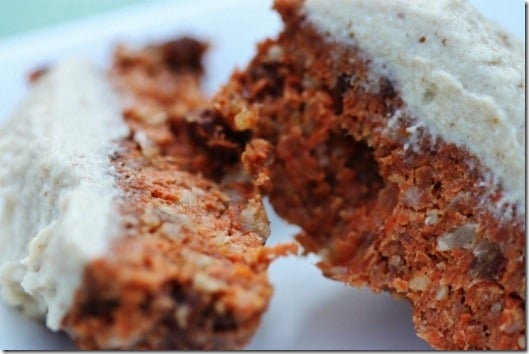 I hope you can see all of the natural texture! I love how the raisins add some variety, along with the walnuts.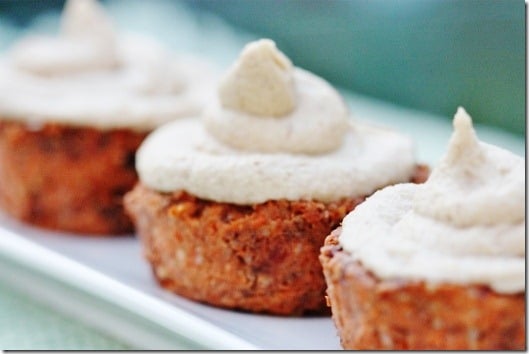 Next time you need a lift—and from your responses to Saturday's post, it sounds as though a bunch of you could use some end-of-year levity—I suggest you get grating or juicing. You won't be sorry.
Till tmw,
xo