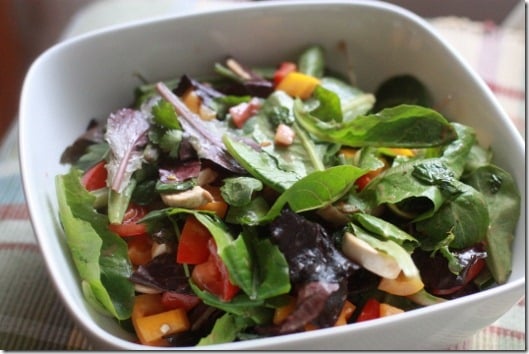 Evening, friends!
I just finished the last of my midterms, which means I have only two exams to go before this long semester is officially done. Not sure how well I did—this professor is prone to trick questions—but I certainly feel better about the material (nuclear chemistry and bonding) than I did about stochiometry and solutions. Phew!
Since I was cramming all day and all last night, it's only in the last few hours that I was able to read and process all of the awesome comments on yesterday's quinoa protein bowl post—if you haven't read them yet, go read them now! There was lots of fascinating discussion. A few follow up points:
A couple of you seem to have gotten worried about the amount of protein you're eating now, because it's a little lower than the guidelines I suggested. Before you fret, remember this: part of the reason I rarely give meal plans or guidelines out on my blog is because it's very hard to make recommendations that suit everyone. If you're eating 30-40 grams of protein and feel like a million bucks, then you may be a person who thrives on precisely that amount. The 45-65 range is a useful guideline, but as the comments on my post indicated, there are all sorts of exceptions: professional athletes may need quite a bit more to recover and perform well, but some don't. Some people find that protein is crucial to satiety; I, for one, never have. There are very few hard and fast rules, and your own feelings of good health (or the lack thereof) are ultimately the best indication of how well your current diet works for you.
These guidelines aren't meant to be taken literally. If you get about 50 grams of protein on most days, there's absolutely nothing wrong with getting more or less once in a while. Our bodies ask us to be mindful of their needs in a broad way, but they're perfectly capable of handing the odd day or two of eating. You're not going to fall down and wither if you happen to get 25 grams of protein tomorrow. Likewise, you won't turn into a muscleman or woman if you eat 80. It's patterns that matter, not exceptions.
Some of you who asked what the symptoms of inadequate protein intake are. Keep in mind that actual protein deficiency is very very rare in countries that rest above the poverty line. Muscle wasting and protein deficiency are routinely documented around the globe, but almost always in conjunction with actual starvation; lack of protein in these scenarios is part of a larger battle against hunger. So our tendency to be protein-obsessed here in America is truly unnecessary, and even a little silly; it certainly gives credence to the idea that meat and dairy behemoths are at least partly responsible for making us worry about our protein so much. With that said, there is such a thing as skimping on protein, and there are a few physical symptoms of it. They include muscle loss, fatigue, muscle cramping, cold extremities, and hair loss. Please take tremendous caution in considering these symptoms, because they're also symptoms of other, more common conditions, and protein may or may not be related. You'll have to do quite a bit of health exploration to know what the cause is, so don't draw any hasty conclusions. As always, talk to your health care provider if something's worrying you.
OK, enough protein talk. Let's get to today's real topic: salad. Last Thursday night, I headed out to Greenpoint for dinner with my friend Rose. This was a big deal for several reasons:
I'm one of those terrible Manhattanites who rarely gets to out to Brooklyn, and I do it even less now that I'm a student on the UWS
Forget Brooklyn: I rarely go out anymore at all (again, I blame student life).
Rose is just as much of a scholar as I am, in temperament if not in fact, so we don't often get to hang out. Not cool.
For all of these reasons, dinner with Rose felt like a big treat, and I spent the whole week looking forward to it. In the end, it was even better than I'd hoped it would be, starting with this spectacular view as I crossed the bridge: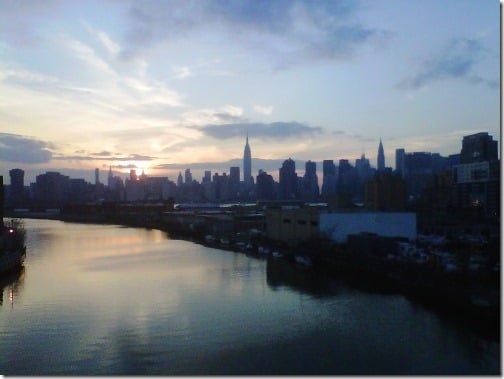 Oh how I love this beautiful city.
Rose had promised me a simple repast of hummus and a giant salad. She made good on this promise; when I arrived, I was greeted by a cutting board and a table of fresh produce.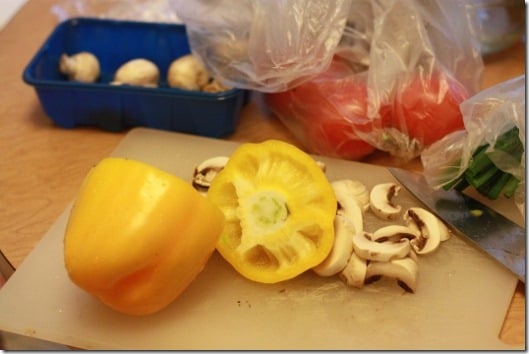 Rose asked me to give her a hand with the prep, and I was glad to. But not until I quizzed her on the salad ingredients. They are:
Greens
Bell peppers
Tomatoes
Organic button mushrooms
Mint
Basil
In no time at all, we were chopping and chatting away.
Rose and I have known each other for six years: we met as young editorial assistants at FSG, all of twenty-two years old. Our friendship had one of those peculiar beginnings wherein we couldn't really decide whether or not we actually liked each other: we had plenty in common (mutual acquaintances, a love of books, similar jobs, similar taste in fashion, overlapping senses of humor) but our superficial differences seemed to outweigh our common interests, at least for a little while (Rose is a California gal, and I'm NYC to the core; Rose wore flat boots, and I was going through a pointy boot phase; Rose is generally low-key, whereas I tend to be more high-strung).
It's a good thing that we continued to get to know each other. Today, Rose is one of my dearest friends, and our friendship is one of my sweetest. We admire each other, we console each other, we're affectionate and expressive with each other, and we always (always) understand each other. No lunch or dinner with Rosie can ever last less than three or four hours, and no time is ever lost in the periods in between.
But the nicest thing about my friendship with Rose is that we never stand on ceremony with each other. Our friendship is relaxed, honest, and plainspoken. For this reason, our salad feast felt apropos. It was a simple dinner, made without fuss or pretention. I was happy that we could throw a quick meal together and enjoy it, rather than waste time and money on dinner reservations or needless cooking. As usual, we were craving the same things: light, bright, fresh food, served up over good conversation.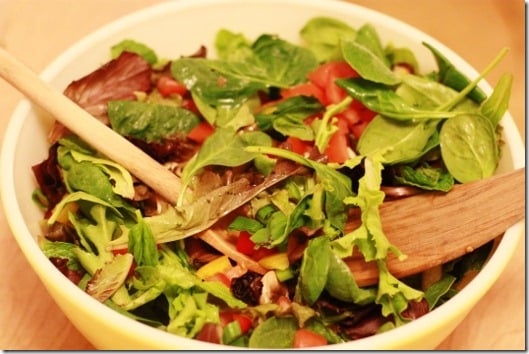 Today, without my friend, I made the Rosie salad again. Here it is, in single person portions: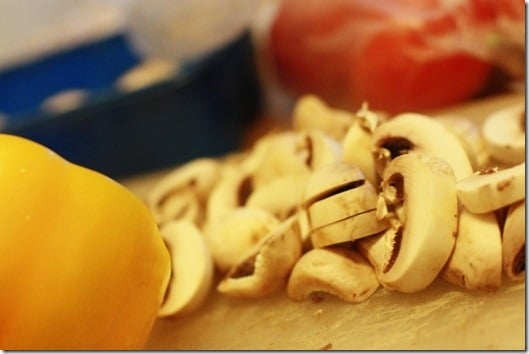 The Rosie Salad (Vegan, raw, gluten and soy free)
Serves 1 (Double if you eat with a friend)
1 bag or box mesclun greens or baby spinach
1 bell pepper (yellow and red), chopped
1 tomatoes, chopped
1/2 pack organic button mushrooms, sliced
1/2 cup basil, washed and chopped
1/3 cup mint, washed and chopped
Balsamic vinaigrette:
1 tbsp olive oil
1 tbsp balsamic vinegar
1 tsp dijon mustard
salt and pepper to taste
Toss all ingredients together, dress, and toss again.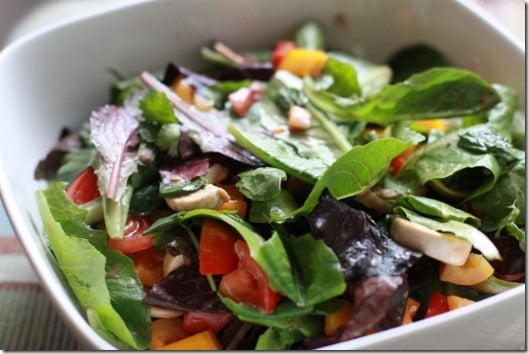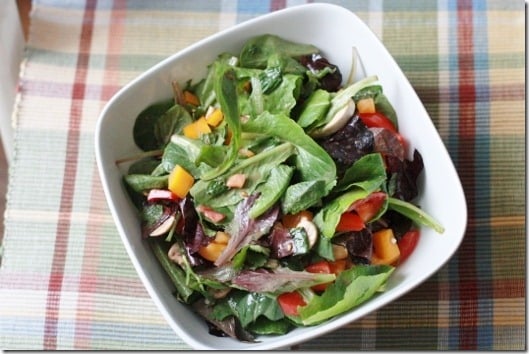 Just to keep things authentic to Thursday's meal, I once again paired it with some hummus–made from scratch and still warm–on some sprouted bread: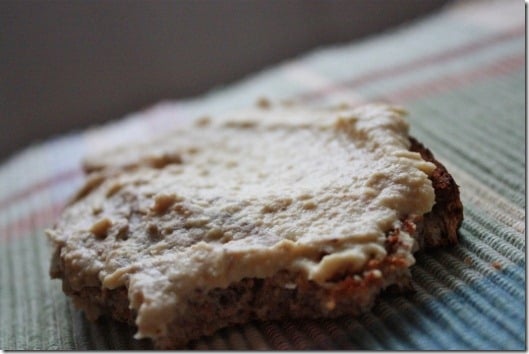 It's no fun to eat Rosie's salad without her, but it is lovely to be reminded of our friendship through food. Lovely, and tasty.
Hope you all give this combination a try soon, and when you do, don't thank me: thank Rose!
xo