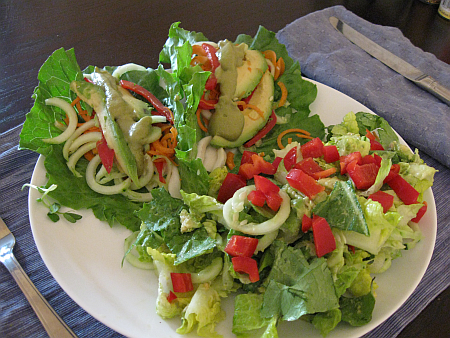 Hi guys,
First of all, I want to offer you all a huge thank you for your entries into the spiralizer contest!!! I am blown away by your interest!!!! Keep the entries coming (and bloggers, don't forget to link to the contest on your site and email me the link!).
It's no exaggeration to say that the past few weeks of blogging have changed my life. I have been so touched by the kind feedback I've gotten from readers, the friendship that's been extended to me within the blogging community, and, most of all, the excitement with which you all are talking about raw foods! It delights me to know that enthusiasm for raw is growing all across the country, and regardless of peoples' varying culinary backgrounds. I really hope that I'm making a small contribution to the rising tide of raw excitement. To all of you who have told me that you're experimenting with raw foods, please, keep it up! I am so proud of you.
On to the food. You'll no doubt have noticed by now that I'm a simple gal at dinnertime: I like food that's minimally prepared and comes together in a flash. I also love foods or recipes that lend themselves to a variety of preparation methods, and the spicy avocado dressing I featured on Thursday night is one of them. I had about half a cup of this dressing left over, along with some spiralized veggies I had put in the accompanying salad (I wasn't home last night, which is why they haven't been eaten sooner). Tonight I decided to put them all to good use in romaine lettuce tacos. The "tacos" consisted of:
½ sliced avocado
Meat of ½ a young coconut
Leftover sliced veggies
3 large romaine leaves as "shells"
I drizzled the dressing over the tacos and served them alongside a romaine, cucumber, and pepper salad, tossed with avocado chunks. The whole meal was simple, light, and summery! Here it is:
A close up of the "taco":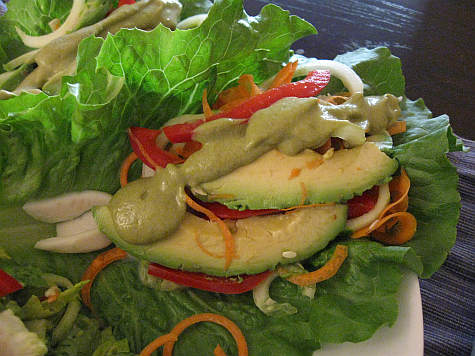 Romaine tacos, by the way, are just as versatile as collard wraps. They make for great portable lunches and easy dinners. Best of all , you needn't make them 100% raw to enjoy: try stuffing them with a sunshine or other veggie burger, some refried beans, hummus, corn and sweet potatoes (a personal favorite) or any other filling you love!
A few things of note in the blog world:
1)    Gina, the Fitnessista, is giving away a copy of the very fabulous Ani Phyo's new dessert book! Check it out!
2)    Heather (of Hangry Pants) wrote a terrific post on what constitutes healthy eating here, while another lovely Heather (of Heather Eats Almond Butter) wrote a great post on how there's no such thing as a "perfect diet." Thanks, Heathers, for your smart and reasonable thoughts on healthy eating habits.
3)    My good friend and fellow blogger VeggieGirl made a courageous and intelligent video post about a recent rash of mean-spiritedness in the blog world. I applaud her for calling attention to bullying in what should be an open-minded community of readers and writers. Thanks, VeggieGirl, for speaking up.
I'm very excited for my lunch date with April of Raw Food Passion tomorrow, who's on her way to NYC from Hotlanta. Have a wonderful night, everyone! xo