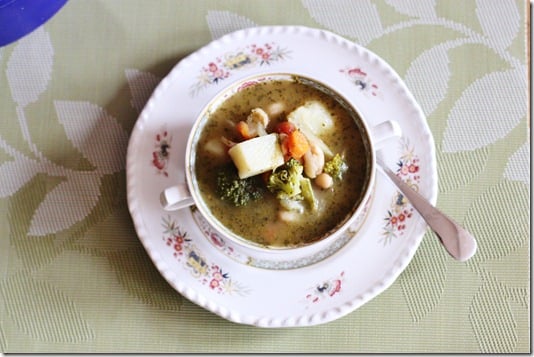 You may recall my recent post singing the praises of SweetGreen, which is one of my favorite vegan-friendly eateries in DC. Though SweetGreen is associated with salad, the restaurant chain offers far more than greens alone; it also serves warm grain bowls, wraps, and fresh soups, which are nearly always vegan and gluten free. Recently, the restaurant has been featuring a white bean and vegetable pistou with which I am unequivocally in love. I often find restaurant soups to be very salty and garlicky; this one definitely lets you know that garlic is there, but it's not overwhelming, and the seasoning is just right. I also love the hearty white beans and the basil sauce, or "pistou," that brings the dish together.
In my attempt to make healthy, vegan dishes for me and my mom for a couple of days (I wrote about this initiative here), I thought I would try recreating this excellent springtime soup/stew. My version uses sugar snap peas, broccoli, and kale, only because it's what I had, but you could use any mix of spring veggies you like: asparagus, peas, tender greens, and so on. The soup is brimming with vegetables, it's low in fat, it's incredibly high in fiber, and it's also easy to make. I'll treat this in the future as the kind of soup into which I put most of my vegetable odds and ends—the carrots that haven't been used, the few remaining broccoli stalks, and so on. Zucchini will also taste great in here, and I can't wait to try it.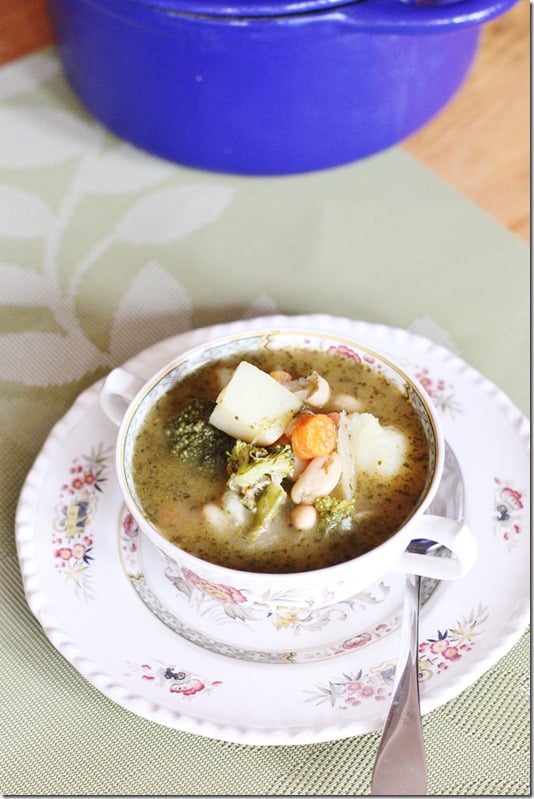 Spring White Bean and Vegetable Stew "Pistou" (vegan, gluten free, soy free)
Serves 4-6
1 small white onion, chopped
1 small russet potato, cubed
5 cups vegetable stock or 5 cups water + 2 vegan bouillon cubes
1 cup carrots, cut into bite sized pieces
1 tsp dried oregano
1 tsp dried thyme (or 2 tsp fresh, chopped well)
1 scant cup diced tomatoes, fresh or canned (if you used canned, drain before adding)
1 cup broccoli florets, cut into bite sized pieces
1 cup snow peas, cut into bite sized pieces
1 cup kale or collard greens, chopped
1 1/2 cups cannellini beans, pre-cooked (either home cooked, or canned)
2 heaping tbsp + extra pesto (homemade or prepared)
Salt and pepper to taste
1. Sautee the onion in coconut oil spray or water until golden and tender. Season lightly with salt and pepper.
2. Add the potatoes, carrots, stock or water/bouillon, herbs, and tomatoes. Bring to a boil, lower heat, and simmer for about 20-25 minutes, or until the potatoes can be easily pierced.
3. Add the broccoli, snow peas, cannellini beans, and kale. Simmer until the veggies are bright and cooked through, but not mushy. You may want to add a bit more liquid; I like this soup to feel like a "springtime stew," but if the veggies are dominating to a ridiculous degree, go ahead and add more broth.
4. Stir in the pesto, and then season to taste (how much salt the soup needs will depend on whether you used low sodium or regular broth/bouillon, your tastes, and your health needs).
5. Ladle soup into serving bowls, and serve with an extra dollop of pesto if you like!
You can see how the the pesto infuses the soup in a lovely way. You can also see how many veggies are peeking out of this hearty springtime stew!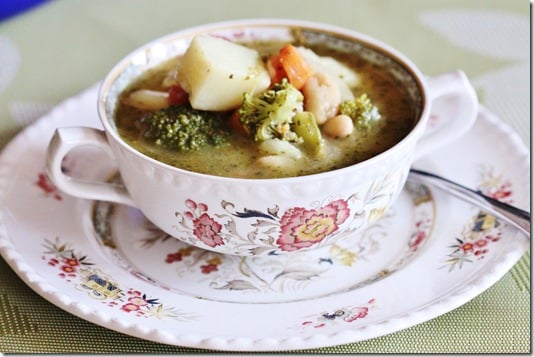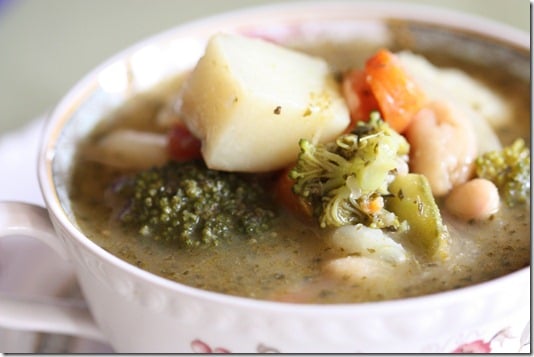 I am submitting this lovely recipe to Ricki's wonderful Weekend Wellness series.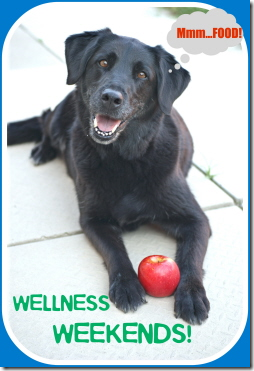 If you haven't met Ricki and her blog, Diet, Dessert, and Dogs, now is the time! Ricki is a holistic health practitioner, a professor, a recipe genius, and a lovely writer. Each weekend, she hosts a "wellness weekend" event in which her readers can link up to/submit healthy recipes. They must be vegan, whole food recipes, and they must be free of refined sugar and flour. Readers pick particular favorites, and Ricki also selects some highlights of her own. I've been meaning to submit recipes all year long, but student life always kept me thoroughly discombobulated. I look forward to submitting a lot of raw food, but while I'm home and cooking for two, I thought I'd start with this lovely, nutrient rich soup/stew.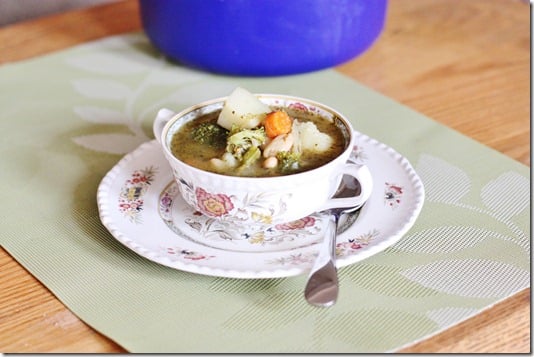 One pot meals like this are always a treat. Enjoy! And see you here tomorrow.
xo