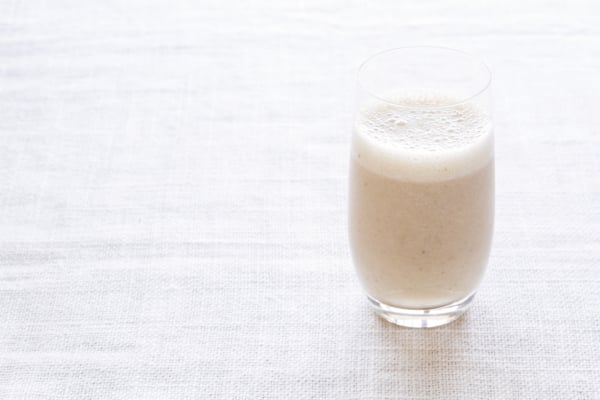 Many of you are already familiar with Tess Masters and her work. Perhaps you know Tess better as "The Blender Girl," and you already follow her site, Healthy Blender Recipes. If not, you're in for a treat!
As you might expect from her moniker, Tess knows how to work magic with a blender. A lot of the most enticing recipes on her website are soups, smoothies, dips, shakes, and nut milks. But she also loves to review and feature cookbooks, to host giveaways, and to share cool products and brands.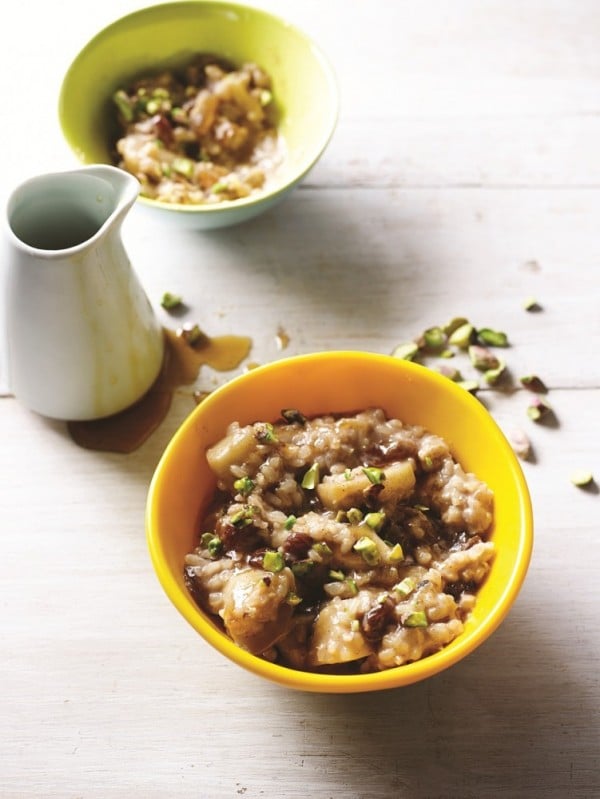 Tess' first cookbook, The Blender Girl, demonstrated that her culinary talent goes above and beyond blends. That book featured a wide array of appetizers, mains, salads, and sumptuous desserts (check out her wonderful chai rice pudding), as well as smoothies and soups. Tess' food is always easy-to-prepare and appealing, and her vivacious personality (Tess is an actress and a voiceover artist by trade) always shines through in her food writing.
Fans of Tess' first cookbook will be happy to know that she's now returning to her roots, so to speak, with the publication of a smoothie book. I've had such a great time exploring The Blender Girl Smoothies and its 100 creative and unusual blends.
One of the cornerstones of Tess' approach has always been her inclusivity. In fact, her blog name originated in many years of health exploration. Having experimented with various dietary and wellness approaches to treating a chronic illness, Tess used a "blend" of guidance and wisdom and nutritional therapy to recover. Her blog is plant-based, but her recipes usually include a bunch of options for specific health challenges, including allergen-free, low glycemic, and paleo-friendly recipes. There's something for everyone.
Her new smoothie book channels this same approach. The smoothies range from creamy dessert blends (one of which I'm about to share) to light and fruity summer elixirs to creamy, super-green concoctions. You'll find lower fat blends, anti-inflammatory blends, nut-free, gluten-free, and unsweetened options. In addition to a lot of familiar flavor combinations, you'll find smoothies that are off the beaten path, like a rosemary melonade (watermelon, rosemary, pineapple, strawberries), a "pomegranate slam it" (pomegranate juice, red bell pepper, arugula, avocado, and strawberries) or her grapefruit fennel fix (fennel, grapefruit, avocado, green apple).
Each recipe also includes three optional "boosters," each of which will either enhance flavor or add nutrition. It's a nice touch that makes Tess' smoothies super easy to customize–and she definitely encourages readers to make the blends their own. One thing I'll note is that stevia appears in a lot of the recipes as a means of reducing sugar for low-glycemic readers. I don't use stevia, so I'll add mango, banana, or another sweet fruit in its place.
As you can see, the book also has an attractive, minimalist aesthetic that emphasizes each smoothie's unique color and texture.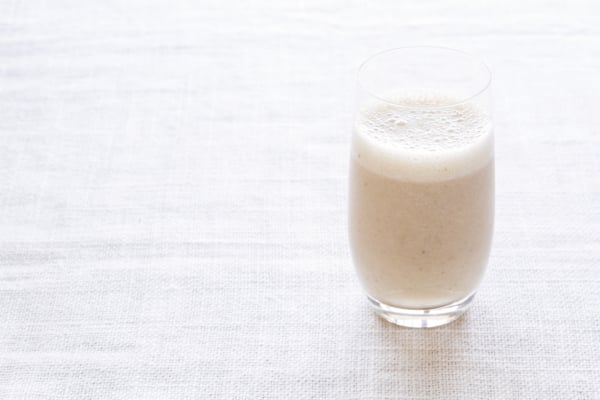 As I was flipping through the book, I couldn't resist being enticed by some of Tess' richer and creamier smoothies and shakes. Since I featured her chai rice pudding in my last Blender Girl review, I thought it would be fun to continue with the theme and feature her "Chai Tai" smoothie today. It's a blend of dates, almond milk, chai spices, and bananas (all things I love), as well as a hint of sea salt. It's absolutely delicious–a perfectly satisfying treat on a warm day. Here's the recipe.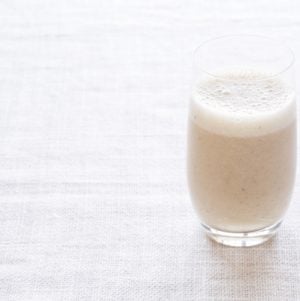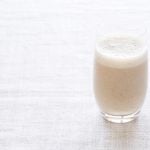 Chai Tai Smoothie From The Blender Girl Smoothies
Author -
1

cup

240ml unsweetened almond milk or other nut, grain, or seed milk (strained if homemade)

1

cup

240ml coconut water

1/4

cup

43g chopped pitted dates (soaked, if using a conventional blender)

1

teaspoon

natural vanilla extract

1/2

teaspoon

ground cinnamon

1/4

teaspoon

ground ginger

1/8

teaspoon

ground nutmeg

1/8

teaspoon

ground cardamom

Pinch

of ground cloves

Pinch

of natural salt

optional, to bring out flavors

2

medium frozen sliced bananas

1

cup

125g ice cubes (optional)
*Optional boosters*: 1 tablespoon soaked raw almonds, 1 tablespoon chia seeds, or 1 tablespoon flaxseed oil
If you're curious about exploring Tess' blends, then I'm happy to tell you that Tess and her publisher, Ten Speed Press, have generously offered one Choosing Raw reader a copy of The Blender Girl Smoothies. The giveaway starts today and runs for two weeks, and it's open to US and Canadian readers.
Good luck! And if you're interested in exploring Tess' recipes according to your cravings, then you should check out her very cool new app! It allows you to search for smoothies according to your own dietary preferences and flavor requests, and it also features full color photography.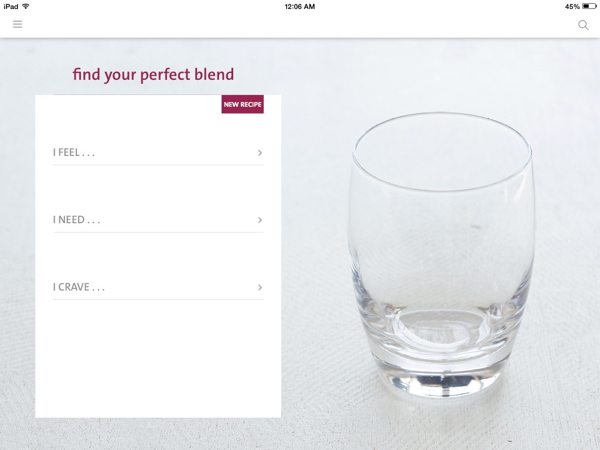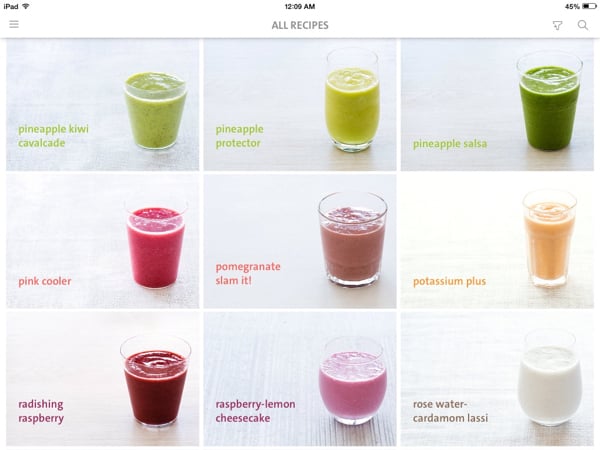 Finally, Tess is hosting a huge giveaway with KithenAid this month. One lucky US winner will receive a KA Gift Pack (Torrent Blender, Pro-Line Stand Mixer, and Pro-Line food processor) valued at $2,000. If you're interested, you can learn more about the giveaway here.
OK, smoothie lovers. I hope you enjoy the recipe and that you'll enter to win a copy of The Blender Girl Smoothies to play with. In the meantime, I wish you a very happy start to the weekend! I'll see you on Sunday for weekend reading.
xo
Recipe text and images: Reprinted from The Blender Girl Smoothies Copyright © 2014, 2015 by Tess Masters. Photographs copyright © 2014 by Erin Kunkel. Published by Ten Speed Press, an imprint of Penguin Random House, LLC. Author photo: Copyright © 2014 Anson Smart