Happy Saturday, all. It is a beautiful spring morning here in New York, and I'm looking forward to savoring a little sunshine today. Tomorrow is the Just Food Conference at Teacher's College, an event that gathers food justice advocates to talk about creating a more sustainable and equitable food system. I'll be doing a presentation and demo on cooking with pulses as a sustainable, inexpensive protein source, and sharing some easy recipes from my kitchen and Food52 Vegan. I'm excited to connect with local advocates and to bring a plant-based perspective to the conference's culinary offerings!
It feels great to be back with a new weekend reading compilation (having taken last week off to chat about the SNAP challenge), and as you'll see, I have a request to share with you at the end of today's post. Before I get to that, here are the recipes and the articles that I've been reading this week.
Recipes
I have come up with many a way to enjoy chia pudding in my day, but I've never thought to do a PB&J combination before. I am so glad that Dana of Minimalist Baker did! Her peanut butter and jelly chia parfaits look irresistible.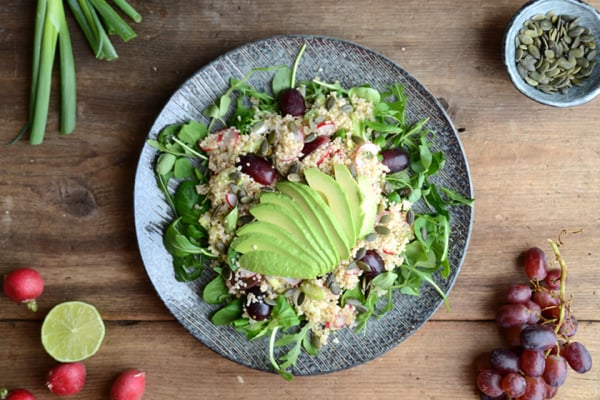 Brightly flavored quinoa salads are one of my lunchtime go-to's as the weather gets warm, and this beautiful avocado, grape, and quinoa salad with radishes, brought to us by Waffle and Whisk, looks both easy and delicious.
Scallion pancake rolls?! Leave it to Rika and Doni of Vegan Miam to come up with a recipe this creative and flavorful. I love the vibrant colors, and I'm sure that the pancakes are tasty even if you don't choose to turn them into rolls.
I love the looks of Sara's easy, light, and slightly spicy tofu chop. It's kind of a cross between stir fry and salad, and it's packed with crunch. What a great lunch idea!
I pretty much haven't met a daal that I didn't like, and I'm always on the hunt for new recipes. Agnes' "feel better dal" with pickled fennel and cashew yogurt is a beautifully healing and satisfying creation. I can't wait to try it myself.
Reads
1. I came across this article during NEDA week, but I haven't gotten around to sharing it until today. IT's called "How to Help Your Daughter Love Her Body," and it's really an article about behaviors that parents can model as a means of cultivating body respect and positive self-image. This is a topic I feel really strongly about, not only in the context of relationships between parents and kids, but also in the broad context of cultural dialog. When we put our own bodies down, broadcast our dieting woes, and cast judgment on other people's shapes and sizes, we are directly contributing to an already robust culture of body shame. We can break the cycle by using body-positive language and modeling confidence and self-respect–especially around kids.
Of course, this is not to say that we're not allowed to struggle with body dysmorphia, lack of self-confidence, or painful emotions related to weight. We are, and many of us do. But there are ways to approach these struggles–therapy, honest and confidential dialog with loved ones, journaling, meditation, and positive affirmations–that don't involve contributing to our society's powerful lexicon of body shame and self-loathing.
I also think it's worth noting that good modeling isn't just for the consumption of girls. Body positive language can also teach young men to treat their own bodies and women's bodies with respect and care.
2. Also on the topic of the body and body care, I loved this article about therapeutic dance. The article addresses therapeutic dance in a number of contexts, but I was especially interested in its potential for ED treatment. Susan Kleinman, a dance movement therapist, has been using this modality at the Renfrew Center in Florida for about 25 years. She is quoted saying,
The women bury their feelings, and the burial ground is their body…The eating disorder is a coping mechanism that gives them the illusion of control. They focus on food issues and body issues as a diversionary tactic so they don't have to experience the underlying painful feelings hidden deep inside them that might be caused by experiences such as the death of a loved one, a divorce, verbal, physical or sexual abuse or the failure to live up to high expectations of others.
She goes on to describe how dance therapy can help restore a connection to the body:
Body language is a safe way to tap into the unconscious. The goal is to let the emotions surface and help the patient reconnect with their body and their feelings and then decode or translate them into verbal language.
This is the purpose that my yoga practice has served for me. It is an ongoing, ever-evolving way for me to feel, touch, see, and experience the body that I feared and denied for so many years. I have no doubt that dance therapy involves a similar kind of process.
3. If you're new to a vegan diet and wondering about how to meet all of your calcium needs without dairy, Ginny Messina has you covered. Learn why dark leafy greens are an even better and more nutritionally rich source of this essential mineral!
4. I found the New York Times profile of psychiatrist Mark Willenbring to be fascinating, mostly because it's really an examination of different schools of thought when it comes to addiction therapy. Willenbring emphasizes that addiction is a disease, and his treatment center focuses on a combination of therapy and pharmaceuticals that may help to dampen cravings. His work stands in contrast to models of treatment that emphasize the role of the individual, and/or the act of surrender to a higher power (which is a part of the work in AA).
In the end, I suspect that it's important for many different treatment modalities to be available for addiction. The article makes clear that the drugs Willenbring uses have been life-saving for certain individuals, even though they cause some controversy int he treatment community. The same, it seems, is true for AA, which is a saving grace for so many people, yet might not speak to or resonate with others. While I know little about addiction treatment from the health care provider's perspective, I have seen that a wide variety of different messages and approaches work for people with eating disorders, and I wonder if the same holds true here.
5. Finally, I was charmed by Sam Sifton's plea for breakfast, also via the New York Times. The essence of his article is that breakfast is a meal worth sharing and sitting down for, much as we try to gather for dinner in the evenings. Sifton begins by remembering how, when he was working nights as a newspaper man, breakfast became his "family meal." He goes on to remind us that an extra fifteen minutes spent on making a satisfying morning meal (and maybe sharing it with others) rarely ever goes to waste. He writes,
Drink your coffee while the radio plays softly and others sleep, cook a little, then call everyone out for the meal. (You can wash the pan in the evening, recalling the morning's joy.) Cooking breakfast is easier the third time you do it than it will be the first, but it will always be welcome, and will always be worth the time.
I smiled when I read this. These days, Steven and I have been spending most of our weeknights apart–the inevitable when two people are juggling night class, clients, work, academic commitments, and extracurriculars. Sometimes a few moments in the morning over breakfast is our daily "meal." Most of the time I'm bent over my computer and Steven is finishing reading for that day's class, and oftentimes one or both of us is about to rush out the door. But the moments are sweet, nonetheless, and evidence that even small rituals make a big difference in a relationship.
Recipe Testers Needed!
OK, now for the request I mentioned. I'm really happy and excited to be sharing that I've got a third cookbook in the works. It's a long ways away–it'll be published in spring of 2018–but I'm just getting underway with recipe testing, and I'm looking for a group of recipe testers to help me!
I'm looking for a diverse group of folks with different levels of kitchen experience and varied eating styles (omnis, vegans, vegetarians, and everyone in between). I also welcome folks with food allergies, though if you have multiple allergies, some of the recipes might be difficult. All of the recipes are vegan, and about 95% will be gluten free. You don't need any complex kitchen equipment to test the recipes, and I'll be focused on making them budget-friendly whenever possible. I'd love to work with both experienced home cooks and those of you who are just getting started with meatless meals.
I can't offer compensation for being a tester, but I can offer a complimentary copy of the book when it's published, a fun group experience, and lots of gratitude from yours truly. There's no minimum commitment, though if you could test at least 10-15 recipes between late spring (probably May) and next autumn, that would be ideal. The testing process involves making the recipe and then filling out a short questionnaire about your experience and results.
I'm looking for about 20-30 folks, so this'll be a first come, first serve process. If you're interested, please email me at gena@thefullhelping.com with the subject line "recipe tester," and I'll get back to you as soon as I can with more details about the project.
Thanks in advance to anyone who is interested! I am so thrilled to be diving into another book, and I hope that the testing will be a really enjoyable experience for everyone.
Update: Thank you all so much for an overwhelming response! At this point I have enough volunteers to stop accepting additional offers, but I really appreciate the consideration of anyone who has read and offered to help. Thank you, thank you!
xo