Morning, all! I hope that everyone has had a restful weekend. I'm reaching the last push of my summer class, gearing up for my Serve Safe exam on Thursday, and scrambling to finish up meal plans for my clients today, so it'll be a productive Sunday. No matter what, though, there's always a little time for food blog tourism, and here are the recipes (and the reads) that caught my attention this morning.
Let's start with breakfast. I'm in love with the electric color of this raw buckwheat and blueberry porridge. Sweet, filling, and a feast for the eyes (translate the page for the recipe).
Next, I love the sweet and savory notes of these grilled veggie tacos with strawberry basil salsa. Substitute some cashew cheese for the goat cheese (I'd recommend this recipe).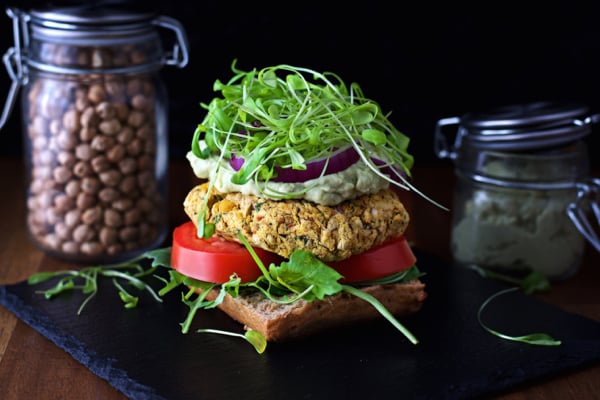 If you're on the hunt for a summer veggie burger that's as healthy as it is hearty, I'd look no further than Florian's chickpea burger with avocado mayo. Delicious.
I can't think of a dish that embodies spring or early summer more vividly than this bright green quinoa, avocado, peas and pistachio salad with coriander basil pesto. A delightful weeknight meal or recipe to serve at a lunch/brunch with friends.
Finally, I'm totally digging Ashley's vegetable burrito bowls with cauliflower rice: such a cool raw/cooked meal idea for these hot months!
Reads
1. This provocative article begins with the author's declaration that, as a toddler, "I was part of a study in the form of a day care that involved monkeys. I was two, then three. I remember nothing."
I expected the article to be a memoir of sorts, either positive or negative, about her experience. There's some recollection involved, but it's mostly a meditation on scientific (specifically sociological/psychological) tests involving children, and the complex ethical territory that surrounds them.
2. A great article on the benefits of vegan diets for heart health, featuring some insight from Kim Williams, MD, who is the president of the American College of Cardiology and also a committed vegan.
3. Joshua Foer reports on our ongoing efforts to break the communication barrier between dolphins and humans.
4. That scrumptious creation is D.C. chef Todd Gray's "FLOTUS burger," which was inspired by Spike Mendelsohn's "Prez Obama Burger" for Gray's vegan smackdown. I was lucky enough to experience Gray's all-vegan brunch at Equinox in D.C. before I left, and it sounds as though he's been doing more and more innovative projects with plant-based cuisine in the District. This Washington Post article profiles his efforts, and it's a nice meditation on how contemporary chefs–regardless of whether or not they personally identify as vegan or vegetarian–are really embracing the challenge of cooking plant-based meals for their diners.
5. Finally, an excellent and comprehensive article from Fortune on how big food manufacturers are having to adjust and respond to changing consumer demands. It's interesting from a business perspective, and it's also a remarkable statement about how dramatically consumers' food priorities have shifted, from the "low fat" and "reduced calorie" craze of the 90s, when I was growing up, to contemporary concerns about ingredient sourcing, where food comes from and how it is produced. It's also an indication that people really are turning toward whole foods and getting back into the kitchen. All good things, but they present a unique dilemma for makers of packaged and processed foodstuffs.
Those are my picks for the week, friends. If you haven't read it yet, please check out Kimmy's wonderful Green Recovery narrative, which went up on Thursday. She has an ED history that many of my readers will relate to, and she shares her experiences with such humility and thoughtfulness.
xo