Happy Sunday, everyone. This weekend has been marked by celebratory occasions, including my good friend Ethan's birthday yesterday and Steven's and my 16-month anniversary today (yes, we still count the months). These things, coupled with work for a few new clients, have helped the weekend to fly by so far. No weekend is too busy, though, for a little weekend reading!
To begin with, I'm totally smitten by the idea of these savory chickpea dumplings in a fragrant, curry tomato sauce, courtesy of Shelly at Vegetarian Ventures. The recipe sounds so flavorful and satisfying, and I love the rustic presentation. Bookmarked!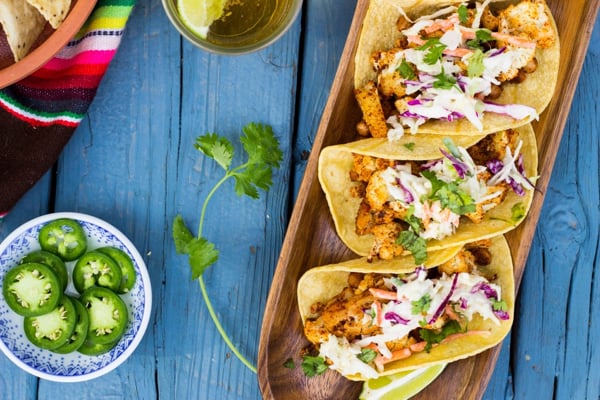 Another great dinner recipe: barbecue cauliflower chickpea tacos with a creamy lime slaw. Love the combination of spiced cauliflower and the cooling, citrusy slaw, plus they're easy to prepare once the BBQ rub is ready. Yum.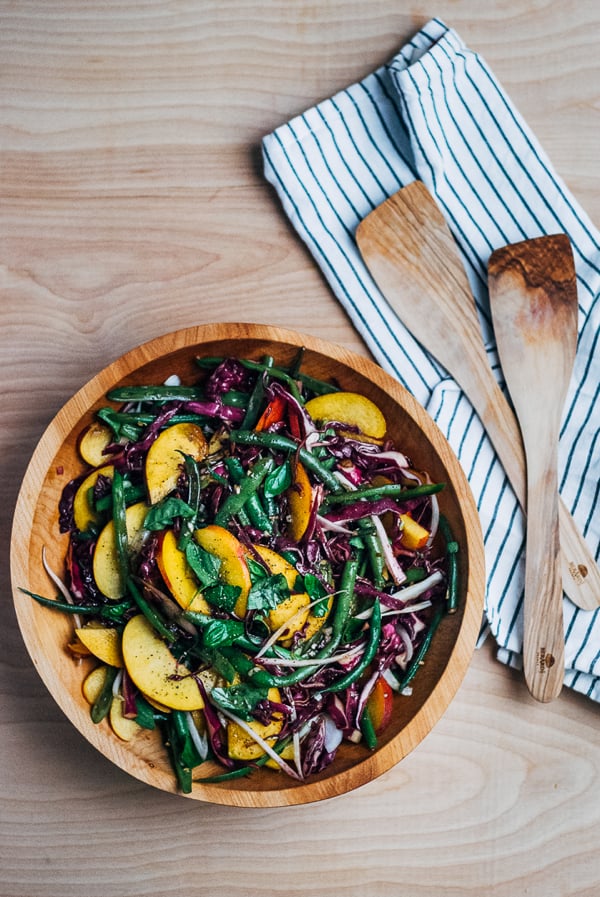 A colorful, light, and beautiful accompaniment for summer suppers: green bean salad with peaches and balsamic bitters, courtesy of Elizabeth and Brian at Brooklyn Supper. I'd never have thought to put bitters in a vinaigrette, but it sounds interesting, and I love the combination of summery produce here.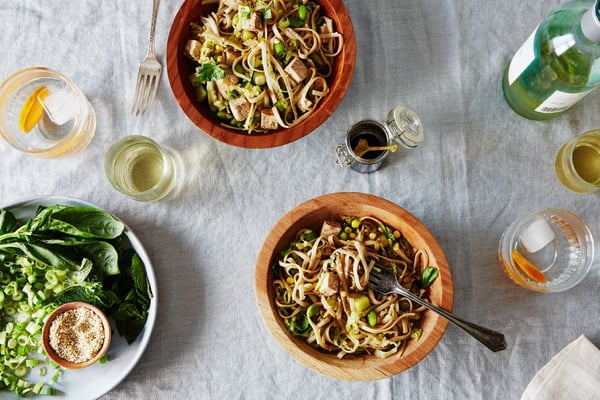 The homemade ponzu sauce in this awesome recipe for cold vegetable and noodle salad isn't vegan, but you could omit the bonito or make your own ponzu blend (Forks Over Knives has one on their site, and my friend Janet has one on hers) to easily veganize it. I love the bright, acidic and slightly sweet flavors, as well as all of the nutritious and high protein mix-ins. Corn is a nice surprise, too. This would be a great recipe to make on Sunday and pack up for portable lunches through the week.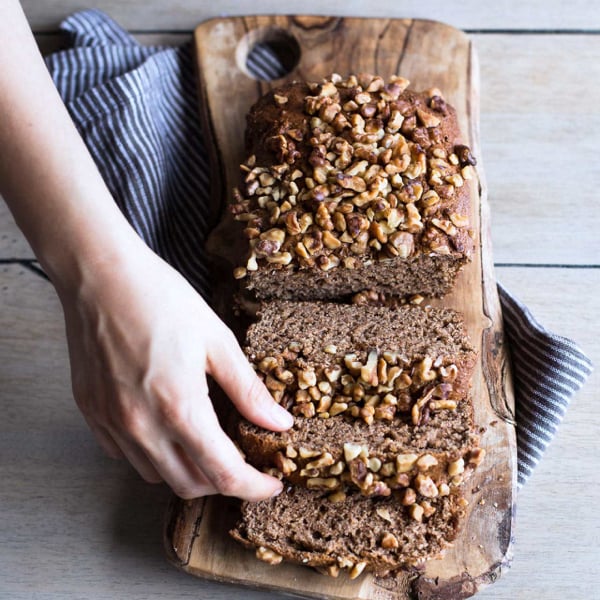 Finally, you can never have too many recipes for vegan banana bread. Ever.
Reads
1. A fascinating article, via Buzzfeed, about a mysterious sleeping sickness that's sweeping through a small, Kazakh mining region. I don't want to give too much away, but there's all sorts of varied speculation on the origins of this inexplicable illness, ranging from radiation to carbon monoxide to government conspiracies to mass hysteria. It's not only a medical mystery story, but also a powerful depiction of boom and bust, of uranium towns rising and falling.
2. Meditation is known for helping to reduce stress, calm anxiety, and help us to handle difficult emotions, like anger. But new psychology research also suggests that it may help to combat "compassion fatigue," or the lowering of a person's empathic capacities over time. "In short, then," writes psychology professor David Denteno in The Atlantic,
"our research suggests that mindfulness's most profound benefit may not be the one that's most often touted—adapting to a stressful, competitive, even unkind 24/7 world. Instead, meditation might fundamentally alter how we treat those around us. Corporations, physicians, and policy-makers who now push mindfulness as a technique for self-enhancement and physical wellbeing would do well to focus more on its potential for preventing everything from bullying to domestic violence to callousness and indifference."
What a hopeful area of research!
3. A fun, digestible (no pun intended) blog post on resistant starch and its health benefits. I consistently observe the benefits of starch-rich foods, like whole grains, tubers, and legumes, in my work, and I think it's helpful to share information on their potential to benefit gut health and serve as an energy source–especially since many folks have come to fear the word "starch" unnecessarily.
4. Big news for genealogy studies in America: handwritten records compiled for the Freedmen's Bureau, an administrative body created by Congress in 1865 to assist slaves in 15 states and the District of Columbia as they transitioned into free citizenship, will now be searchable online. According to The Guardian,
"African Americans trying to trace family history today regularly hit the research equivalent of a brick wall prior to 1870, when black people were included in the US census for the first time.
Now a major project run by several organisations is beginning to digitise the 1.5 million handwritten records from the Freedmen's Bureau, which feature more than four million names and are held by various federal bodies, for full online access.
All the records are expected to be online by late 2016, to coincide with the opening of the new Smithsonian National Museum of African American History and Culture on the National Mall in Washington."
Hopefully, this will grant more individuals access and insight into their family histories.
5. Comprehensive, on-the-ground reporting via Mosaic Science about why cholera outbreaks are so difficult to stop in Haiti–in spite of public education efforts, and in spite of the fact that cholera can be very easy to treat through rehydration.
Other news from this past week: I shared a recipe for vanilla berry baked oatmeal in my New Veganism column at Food52. It's delicious and easy, and if you can stand a baking project in the summer heat, I promise you'll be so happy to have at least four pre-made, sweet, and special breakfasts waiting for you as the week begins.
Bigger news: perhaps you've seen on Instagram or Facebook that my new cookbook, Food52 Vegan, is now available for pre-order!
The book, which expands upon the column I've been writing since 2012, is a labor of love from the past year. It features 60 vegan recipes. Some of them are greatest hits from the column, like my sweet pea hummus, my creamy carrot ginger bisque, or my tempeh kabobs. But more than half of them are new. In the book, you'll find such enticing plant-based dishes as savory breakfast polenta with greens, roasted tomatoes, and lentil walnut crumbe, Jamaican jerk chili with quinoa and kidney beans, roasted cauliflower and oyster mushroom tacos, chai-spiced bread pudding, and ginger roasted pears with vanilla cream.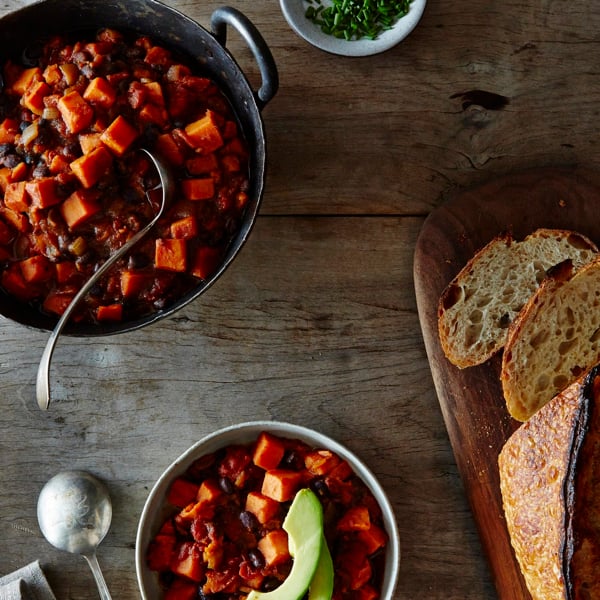 The emphasis of the collection is satisfying plant-based recipes that anyone would or could enjoy. The book's subtitle is "60 vegetable-driven recipes for any kitchen," and it sums up perfectly what the Food52 team and I were hoping to achieve: a collection of vegan fare that can entice and appeal to a huge array of palates–whether you happen to be a longtime plant-based eater or you're just exploring the idea of a Meatless Monday.
I learned so much writing this book, and I really believe that the experience turned me into a stronger cook. I'll be sharing plenty more details about the book prior to its publication in September, but for now, I just wanted to share the news with this community and thank you all for the love and support that you've given the column since day 1. If you're curious about pre-ordering the book, you can check out the Food52 presale now. It's also available for pre-sale on Amazon, B&N, and Powells, and in September you'll be able to search for it locally on Indiebound.
And with that, it's back to work! I wish you all a restful and pleasant day. On Tuesday, I'll be back with a versatile and tasty new recipe.
xo