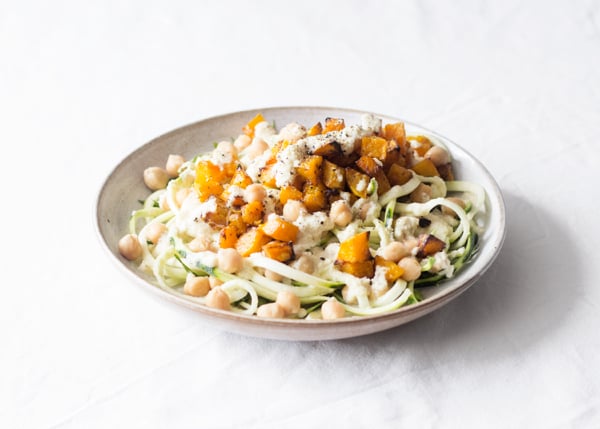 This week, temperatures plummeted for the first time since I've lived in DC. In a span of only a few hours, it seemed, we'd gone from swampy heat to the distinctive chill of autumn. Fall is my favorite season, and so I welcome this change , but even I was taken aback by its suddenness. As the seasons shift and transition, it's time for food that's both summery and a little warming, and these zucchini noodles with butternut squash and creamy garlic sauce is a perfect compromise.
Autumn is the season of winter squash. I devour pumpkin, acorn, kabocha squash, and butternut squash from September onward, with relish. I'll eat them in the summer, sure, but for whatever reason they don't seem to have the same allure when it's piping hot outside. Now that I feel a little respite from the heat, I'm so excited to welcome squash back into my rotation!
This dish can be prepared with butternut, acorn, dumpling, or kabocha squash, but butternut may be the easiest to find. Sweet potatoes will be a perfect substitute, too. I love the way the cool, slightly crispy zucchini noodles contrast with the sweet, tender, gently caramelized squash. The garlicky cashew cream sauce is a wonderful topping, and it adds just a touch of decadence to the dish.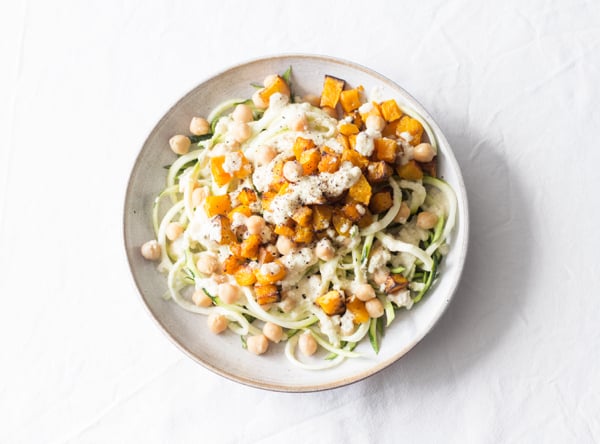 | | | |
| --- | --- | --- |
| Zucchini Noodles with Butternut Squash and Creamy Garlic Sauce | | Print |
Recipe type:
side dish, main dish
Cuisine:
vega, gluten free, soy free
Prep time:
Cook time:
Total time:
Ingredients
20 ounces (1¼ pound) peeled and cubed butternut squash
1½ tablespoons olive or grapeseed oil
Salt and pepper
4 small zucchini
½ cup cashews, soaked for at least 2 hours and drained of soak water
⅓ cup water
1 large or 2 small cloves garlic
2 tablespoons lemon juice
½ teaspoon sea salt
1 tablespoon nutritional yeast
Instructions
Preheat your oven to 400F. Toss the squash with the oil. Place squash pieces on a lined baking sheet and sprinkle generously with salt and pepper. Roast for 30 minutes, or until squash is caramelized and gently browning. Remove squash from heat
Spiralize your 4 zucchini (or use a julienne peeler to peel them into long strips).
Place all sauce ingredients in a high speed blender and blend till they're smooth.
To serve, divide the zucchini, squash and sauce into four bowls. Enjoy!
Notes
Leftover creamy garlic sauce will keep in an airtight container in the fridge for up to 6 days.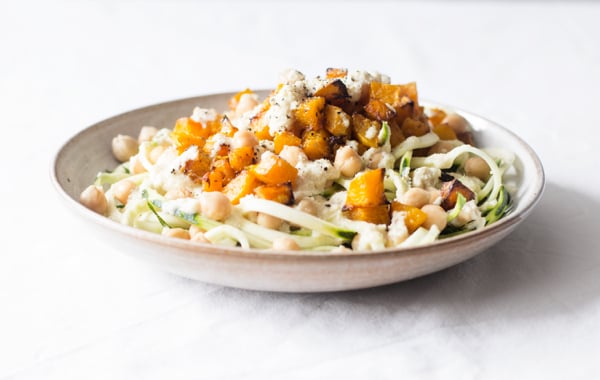 This dinner got served with a giant salad of massaged kale and black lentils. The following night, I used up the sauce and butternut squash by making another helping, and I added chickpeas to that bowl. Absolutely delicious.
This is a perfect example of the kind of easy, versatile, and satisfying meal that can be assembled from very few ingredients. You could modify the dish in countless ways by adding different kinds of beans, nuts, seeds (hemp seeds would be fantastic!) or some seared tempeh.
Hope you enjoy the recipe, and I look forward to hearing about how you make it your own!
Till tomorrow,
xo
Images courtesy of Lighter