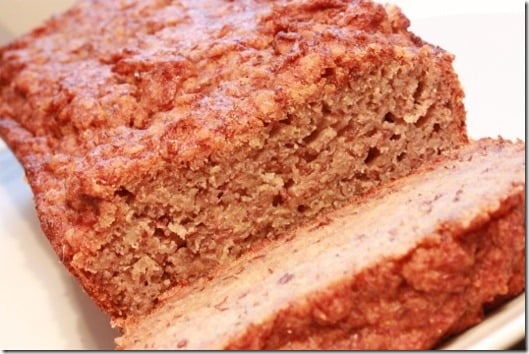 Happy weekend! Before I share my scrumptious new recipe for ancient grain banana breakfast bread, a big thank you for your warm responses to my interview with Daphne and Cassie! These ladies are the new face of vegan entrepreneurship, and I'm so proud of them.
As I've mentioned before, I have a little Friday/Saturday ritual every other weekend. As M makes his way to NYC, I like to bake a little something for him. Usually it's muffins, but this week, with a bunch of browning bananas on my hands, I decided to make him a loaf of banana bread. And since I've been playing around with quinoa flakes lately, I thought this would be a perfect chance to test how well they stand up in baked goods.
I wasn't disappointed! In place of the usual flour, I used a 2:1 ratio of quinoa flakes and millet flour, which I'd made my grinding up whole, dry millet in my VitaMix. The result is a breakfast bread that's moist and delicious, but based entirely on whole, ancient grains, rather than refined flours. Score!
Could you use regular flour in this recipe, and still have terrific results? Absolutely! In fact, my "template" for this breakfast bread was the same vegan banana bread I've been making for years, in which I typically use whole wheat pastry flour. But I love expanding my repertoire to include more and different types of grain options, and I actually loved the chew and density that the quinoa seemed to give this dish. Note, too, that you don't have to grind up millet to make this bread: you can purchase millet flour, or you can use any other flour you like: buckwheat flour, spelt flour, quinoa flour, coconut flour, or a wheat blend of choice.
Other nice facts about my ancient grain breakfast bread? It's lower fat than some of the vegan baking recipes I like, using only 4 tbsp of oil or Earth Balance. It uses applesauce, bananas, and agave as sweetener. It's rich in cinnamon, which gives it a warm, welcoming, and homey taste. And it's very, very moist; so much for the stereotype that healthy quickbreads are dry and dense! Friends and family will never guess that this loaf is as healthy as it is tasty.
Ancient Grain Breakfast Bread (vegan, gluten free, soy free)
Yields 10-12 slices
1 cup quinoa flakes
1/2 cup millet flour (substitute any flour you like)
2 tsps baking soda
1 tsp xantham gum (I find that this is a smart addition to any quickbread that isn't wheat based; you'll probably be fine without it, though, so just ignore it if you don't have xantham in your pantry)
2 tsps cinnamon
3 tbsp flax meal + 1/3 cup warm water
4 tbsp coconut oil, olive oil, or melted Earth Balance
1/4 cup applesauce
1/2 cup agave syrup (to reduce sweetness, try 1/3 cup agave + 1 packet stevia)
3 very ripe bananas
1) Preheat oven to 350 degrees.
2) Mix the quinoa, millet, baking soda, xantham gum, and cinnamon together in a large bowl.
3) Mix the flax with the warm water and set aside for a moment.
4) In a food processor or blender, mix the bananas, agave, coconut oil or Earth Balance, and applesauce. Blend well.
5) Add the banana mix to the dry ingredients. Add the flax mixture. Using a spatula or spoon, mix the batter till it's all well incorporated.
6) Pour into a small loaf pan, and bake for 30 minutes or so. At the 30 minute mark, cover it with foil. Bake another 15-30 minutes, or until a knife or toothpick comes out clean.
7) Serve to someone special, and watch the smile erupt.
If I may be permitted a moment of pride, my baking skills are really improving. I'm still not as talented a baker as I am hummus maker, or salad mixer, but I'm getting my sea legs.
The sun is out in NYC, and there's walking, eating, and farmer's market perusing to be done. Happy Sunday, friends!
xo
0