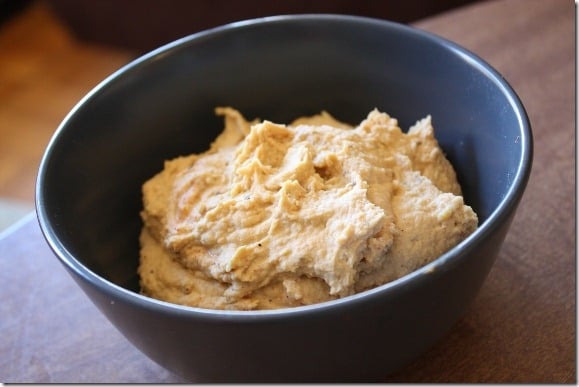 Thank you, all, for the warm fuzzy responses to my post about Friday night rituals, and I'm glad you liked the soup!
Of course, the ugly downside of my joyous Friday night reunion dinners with M are the late Sunday or early Monday partings. Anyone who's been in a distance relationship, I'm sure, can sympathize with this terrible melancholy. So, as I study calculus and fight off the Monday blues, I'm going to cheer myself (and anyone else who needs a lift) up with a new recipe. A new hummus recipe. Who doesn't feel better just thinking about hummus?
I think we can all agree that the most exciting recipe I've shared recently was my sweet potato hummus, which I can't stop eating, and a lot of you can't stop making. I'm so glad you like it as much as I do! That recipe was really only one of the many different kinds of spins I like to put on hummus: I've got a peanut sesame variety, a red pepper, a sundried tomato basil hummus, my zucchini hummus, and even an uber-healthy broccoli hummus. There's really no shortage of ways you can flavor hummus, or add nutrient density to it, which is why it's one of my favorite foods.
The following hummus came together on a whim: I meant to whip up a regular batch this weekend at M's place, and then my eye fell upon the bottle of liquid smoke we had sitting in the pantry. For those of you who've never heard of it, Liquid Smoke is a flavoring made from passing smoke through water. It adds smokiness to recipes without adding bacon or smoked meat, which how one would usually achieve that (for example, adding ham or bacon to a smoky lentil soup). For this reason, it's a great kitchen trick for vegans; I've added it to many a soup and stew, to chili recipes, and even to various salad dressings. It's potent, so you have to have a light hand with it, but if you do happen to like the taste, it's invaluable.
It really hadn't occurred to me to put it in hummus before, but for whatever reason, Saturday was the day to try it. I paired it with some like-minded flavorings—chili powder, a dash of cumin, and lime juice—and voila! A slightly south-of-the-border hummus recipe that recalls smokiness without also recalling the horrors of a smokehouse. Here's to vegan culinary triumphs!
Up in Smoke Hummus (Vegan, Gluten Free, Soy Free)
Serves 3-4
1 can chickpeas (15 oz), 1-2 tbsp canning juice reserved
1/4 cup tahini
1/2 teaspoon smoked paprika
Juice of 1 large or 2 small limes
1/2 tsp salt
1 tsp chili powder
1/4 tsp cumin
Dash cayenne pepper
1) Place chickpeas in a food processor. If you want, heat them first, according to my chickpea heating instructions in the sweet potato hummus post!
2) Add tahini, a little bit (1-2 tbsp) of the canning juice that the chickpeas came in, and the lime juice. Process until smooth and creamy.
3) Add liquid smoke, salt, chili powder, cumin, and a tiny dash cayenne. Blend again, and re-season to taste if need be.
4) Freak out about how delicious this is.
Thick, creamy, smoky, and salty, this hummus would work amazingly well on wraps with other southwestern flavors (for example, I can envision an amazing tempeh bacon and up-in-smoke hummus wrap), with grilled veggies, with barbeque tofu, or with a big raw salad and guac. I can't wait to make it again and smoosh it over greens along with some of my smoky guacamole—what a wonderful meal that will be!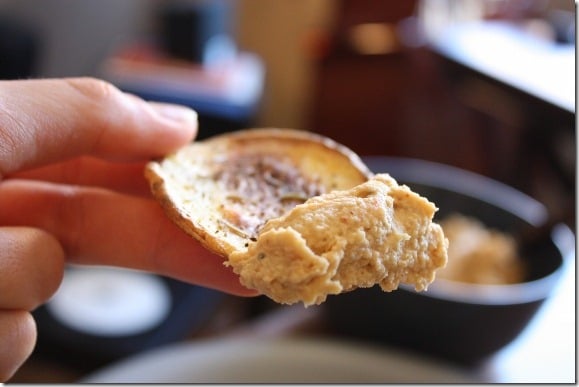 Curious about those chips? I thought you might be
They're my new all natural yukon gold potato chips, and they happen to be perfect for dipping into your Up in Smoke Hummus. But I'm afraid I'm going to hold you all in suspense for just a little bit longer about these incredible little snacks—recipe to come!
See you tomorrow!
xo