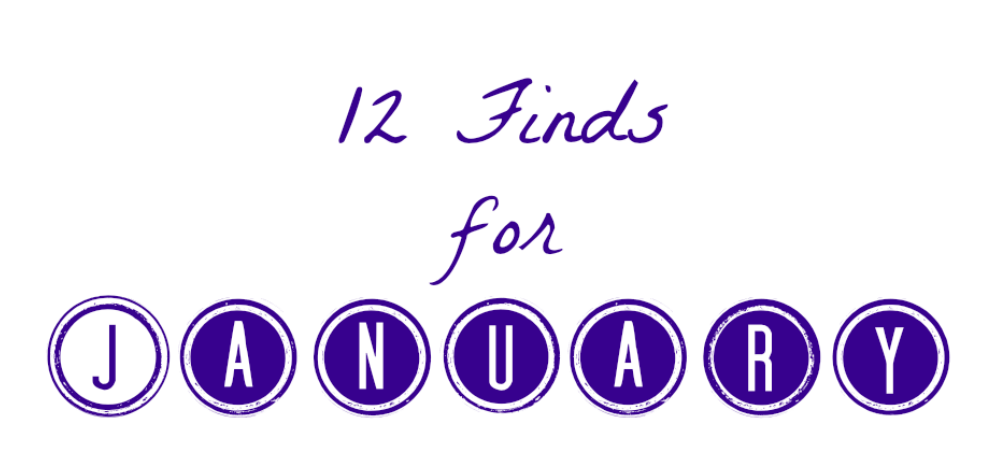 A while (like, two months) ago, I mentioned that I'd soon be sharing a monthly round up of 12 finds–products, beverages, foods, or even recipes–that have caught my attention lately. I was at first thinking of combining it with weekend reading, but since that series is pretty jam packed as it is, I've opted to do a monthly roundup on its own. Here's my first, for January, featuring vegan goodies and products I've been introduced to in the last couple of months.
Most of these products were shared with me by their companies and makers, but the opinions I share are my own, and they're honest.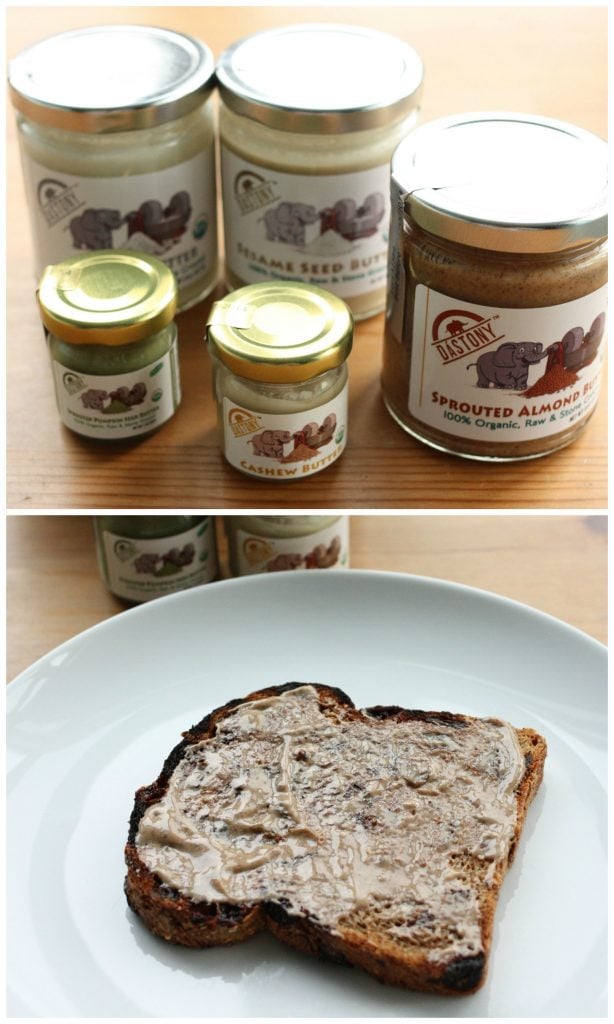 Recommended to me by Rebecca, these nut butters are 100% raw, stone ground, prepared in small batches, chemical free, and vegan. They're made with a variety of nuts and seeds, including:
The folks at Dastony kindly offered me a sampling of their favorites: sprouted almond butter, coconut butter, sesame seed butter, pumpkin butter, and cashew butter. Not surprisingly, given how they're prepared, the butters taste very pure: no salt, no sugar, no fuss. The bitterness of the nuts is sometimes slightly detectable (I could taste it in the pumpkin seed butter), and to some extent I missed the distinctive flavor of nut butters that have been either roasted or lightly salted. That said, I enjoyed tasting subtle differences between each of the nuts. Of the bunch, I liked the raw cashew and sesame butter best: their consistency was almost buttery, and the flavors were distinct, yet understated. The coconut butter is also pure heaven, though of course it's hard for coconut butter to be anything but.
Dastony nut butters can be found via RawGuru. The main downside of the product is that they are quite expensive ($15.86 for 16 ounces of almond butter, and $59.95 for a four pack). What you're paying for is very rarefied taste and the assurance that the nut butters are organic and raw, but I'm not honestly sure I would purchase these regularly on my own because of the price point, especially since it's possible to make raw almond butter at home–albeit with less elegant results. That said, these nut butters were very different from what I'm used to, and I was grateful to have tried them.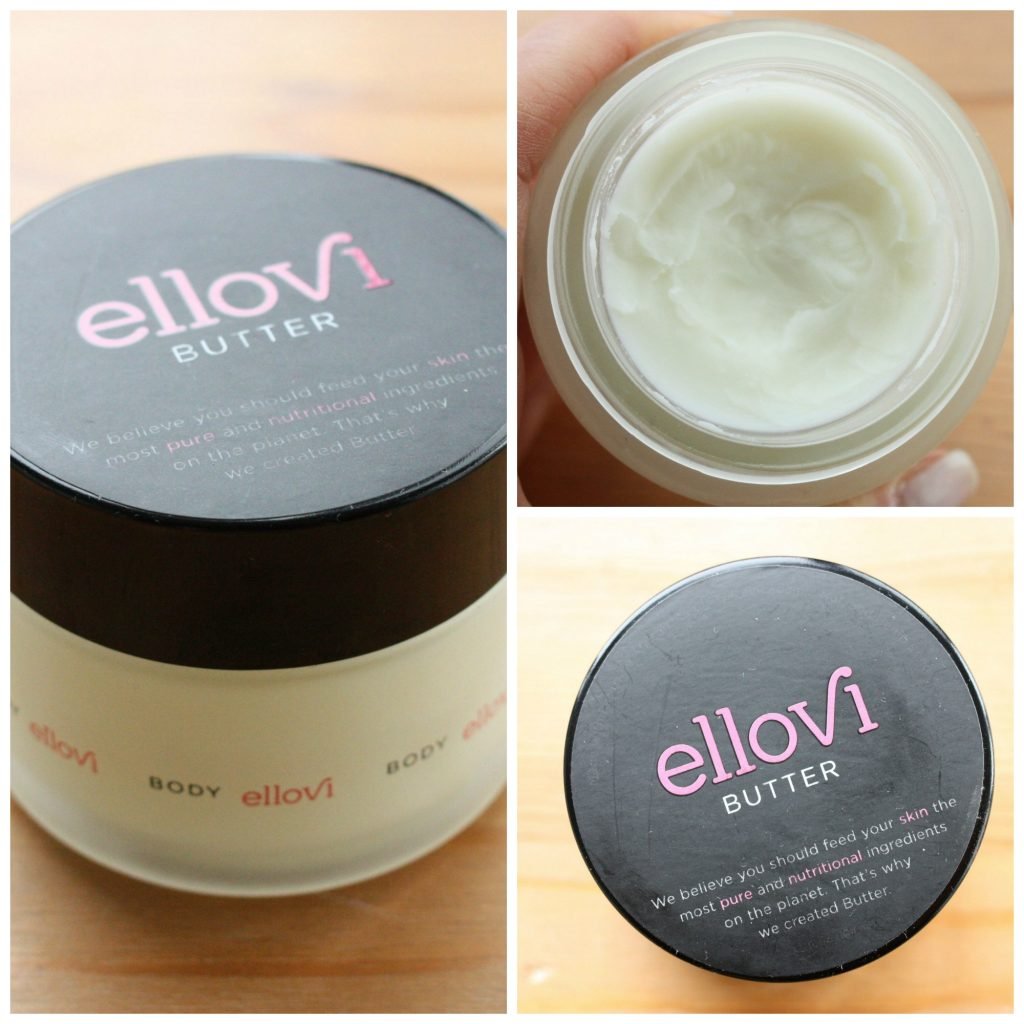 Speaking of butters, a different kind of butter: body butter from Ellovi. Kelly Winterhalter, the co-founder of Ellovi, reached out and offered me a sample of her luscious, simple body butter. I'd seen this on VeganCuts and been interested, so I was excited to test it out for myself. It's an intensely hydrating body moisturizer made from macadamia nut, coconut, marula nut, hemp seed, and shea. There are no synthetic ingredients, preservatives, parabens, or other secret ingredients, and it is of course 100% vegan and cruelty free.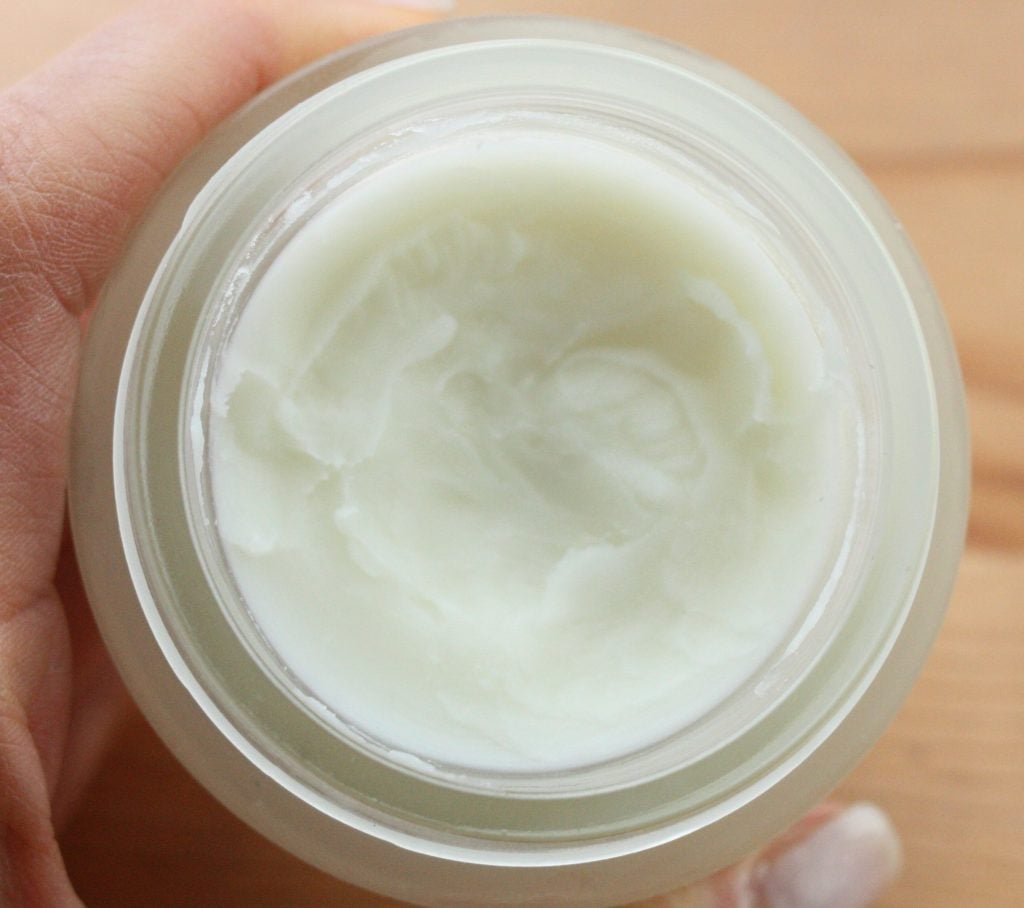 If you're accustomed to conventional lotions, this may feel a bit rich and thick at first, but I love it. So pure, so simple. It's like using coconut oil for moisture, but without the potential messiness! It's fragrance free, with a very slight hint of coconut. You can check out Ellovi products on the company website ($26.00; free shipping) or you can check them out on VeganCuts. Once again, I'm not sure how often I'd invest in the lotion, since it's primarily reminiscent of coconut oil (which can be had a bit more cheaply). But I did really like the texture, and the scent isn't quite so strong as using coconut oil straight from the jar (in which case one sometimes smells like a coconut for the next few hours).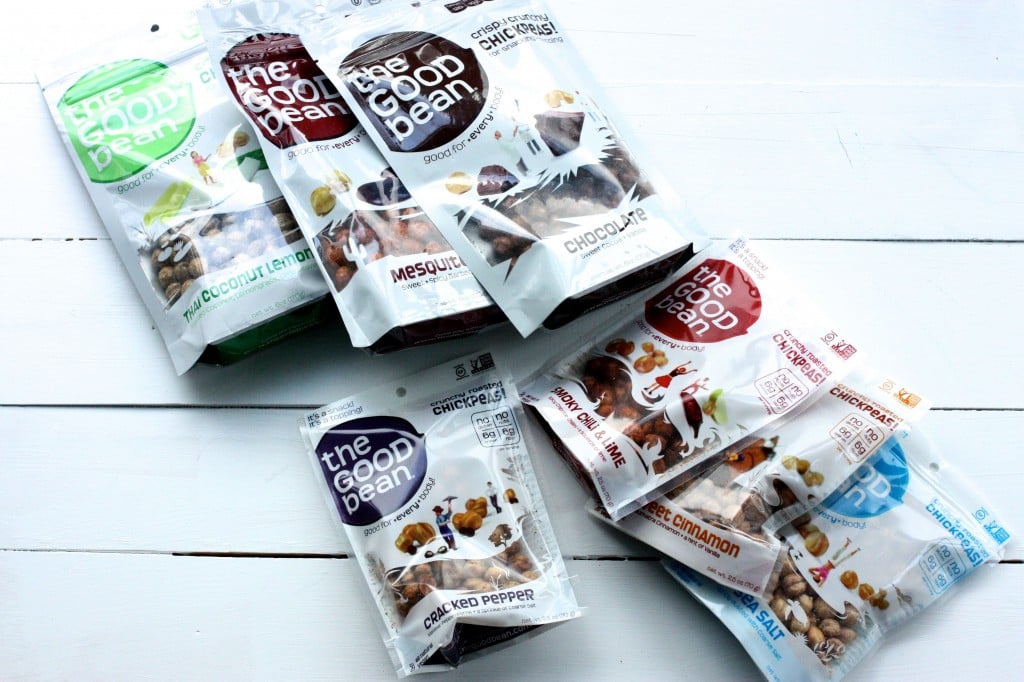 3. Chickpea snacks from The Good Bean.
I first tasted these delicious, crispy toasted chickpeas via my VeganCuts snack box. I fell in love with them, so I was delighted when the company reached out and sent me an array of their flavors. The Good Bean launched in September 2010 with a line of first-to-market all natural chickpea snacks in four flavors. They're gluten-free, nut-free, high protein, high fiber, and low fat, and they're a perfect alternative to chips, pretzels, and other, less nutritious snack options.
I got to sample seven flavors: Thai coconut lemongrass, mesquite, chocolate (!!), cracked pepper, smoky chili & lime, sweet cinnamon, and sea salt. Not at all surprisingly, the chocolate and sea salt were my favorites, but the coconut lemongrass and sweet cinnamon came in second–both are delicious. The snacks are super duper crunchy, equally good tossed into salads or eaten on their own. You can find nutrition information and ingredients here, and shop for the snacks here (6 bags for $25.00; free shipping over $35.00). Two thumbs up.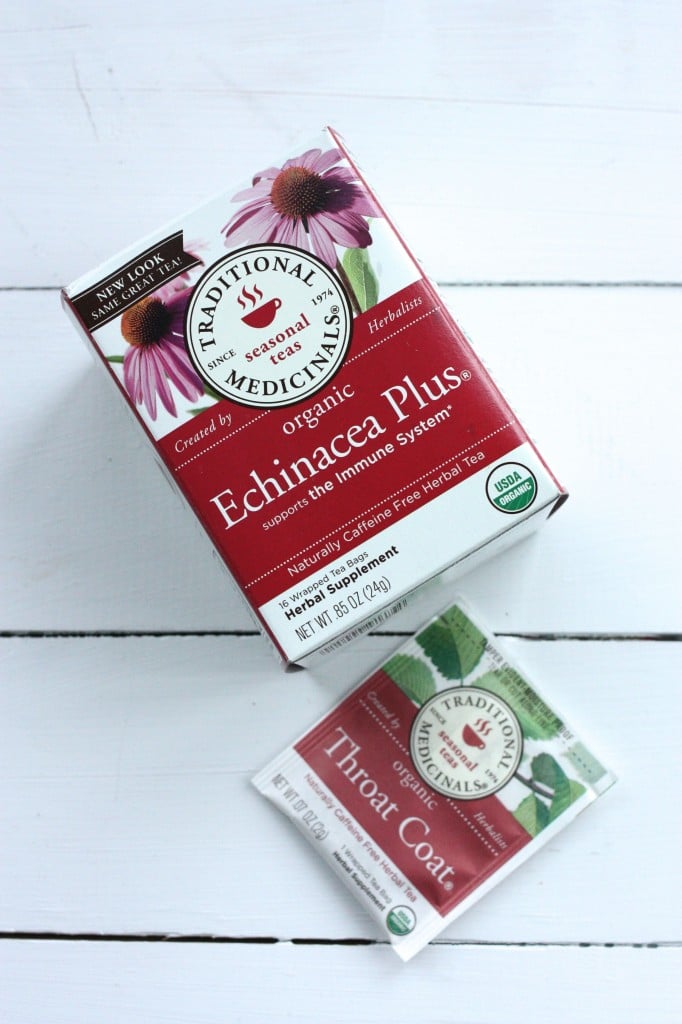 4. Winter teas from Traditional Medicinals.
I've been obsessed with "throat coat" this winter — I even included it in my holiday gift guide! It's a sweet, soothing blend of marshmallow and licorice. The folks at Traditional Medicinals also sent me Echinacea Plus (mint, citrus and echinacea) and Gypsy Cold Care (Elder, yarrow and peppermint). I like all of the flavors, though Throat Coat is still my favorite. I've liked this brand of tea for as long as I can remember, and it was a treat to get a cold weather sampler pack from them.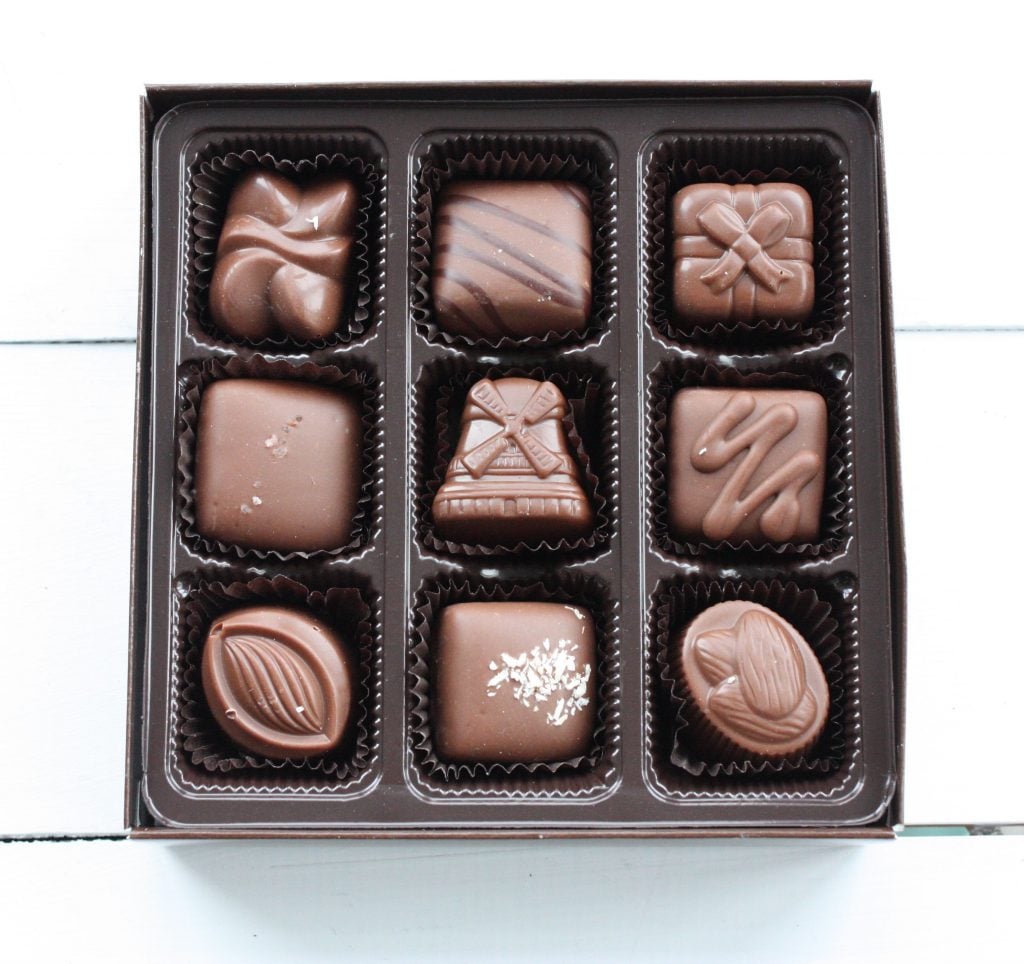 5. Sjaak's Organic Vegan Chocolates.
This adorable box of vegan chocolates was a holiday gift to me from Valerie. Though I enjoy abundant amounts of dark chocolate on the reg, I haven't seen too many vegan chocolates that replicate the experience of a good, old fashioned box of chocolates, with all of their various and surprising fillings. I was excited about this one, especially since my mom, whom I was on my way home to spend Christmas with, loves chocolate but simply can't get into the 70% stuff.
As it turns out, I forgot the chocolates here in DC, so I sadly didn't have a chance to enjoy them with my mother over the holiday. But I've saved them, and will be bringing them to her on my next trip back. They look fantastic, and the flavors are great (amandine, macadamia caramel, coconut caramel, soft chocolate caramel, and more). I love the idea of a vegan chocolate set that has a traditional feel. And the aesthetics are lovely: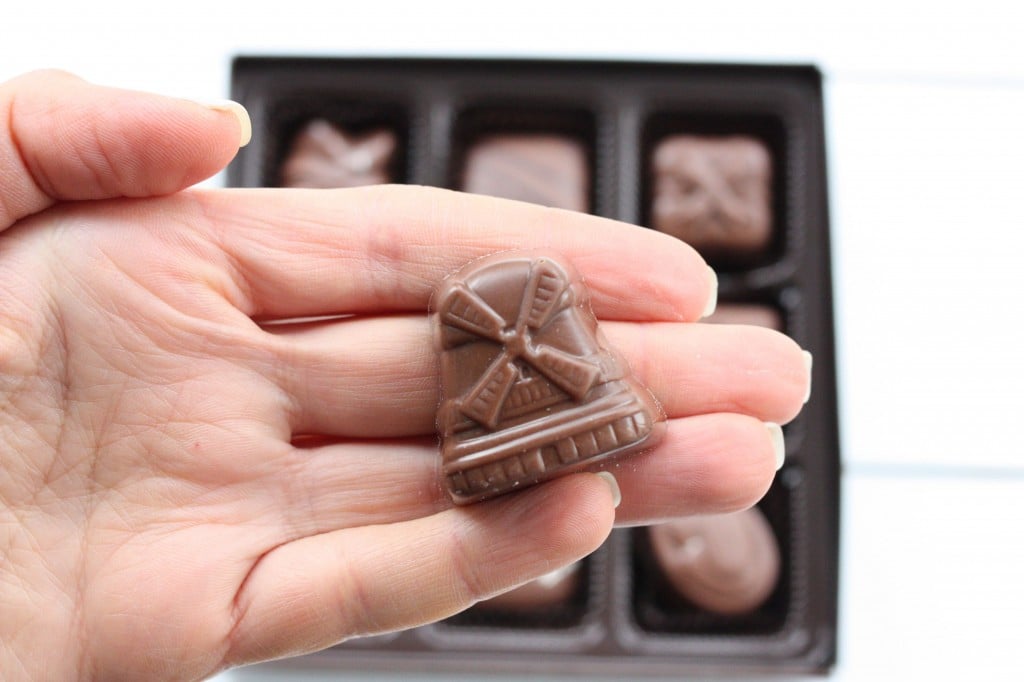 I have no doubt that they'll taste every bit as good as they look. Box assortments can be purchased through the Sjaak website. Many box sets, including the Christmas box (which is now discontinued for the season, but will return next year) are only $9.95.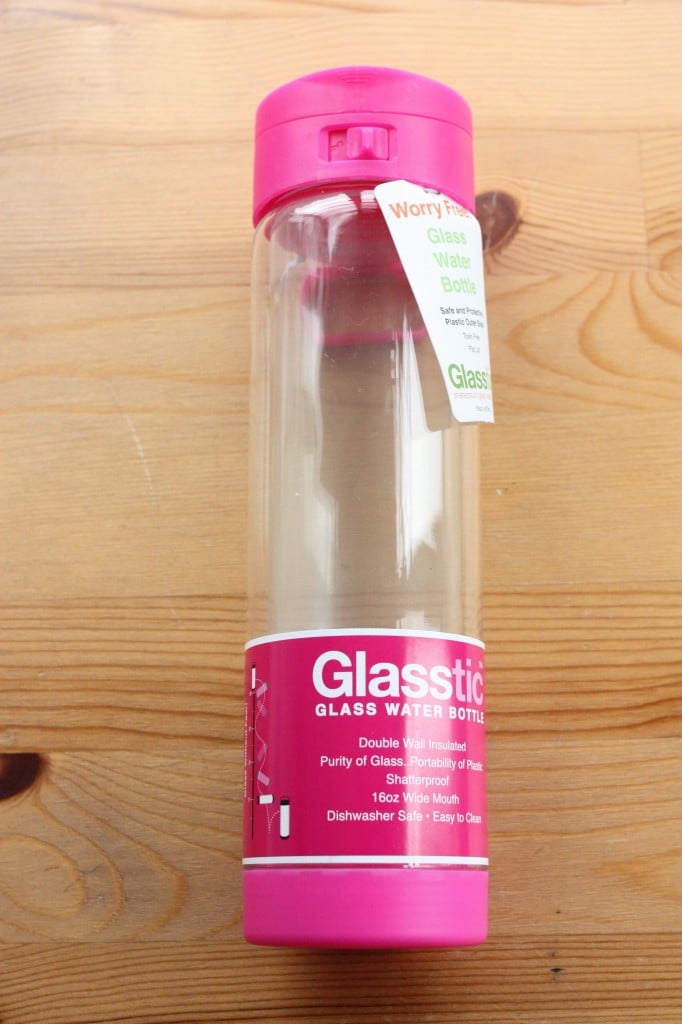 When the folks at Glasstic reached out and offered me one of their shatterproof glass water bottles, I was originally hesitant; my experience with glass bottles has been that they're impossibly heavy. While this bottle is heavier than the Camelbak I usually carry around, it's also pretty, and really well designed. I love the lock feature on the lid (as someone who has had many accidents with bottles spilling into backpacks and purses, I need it).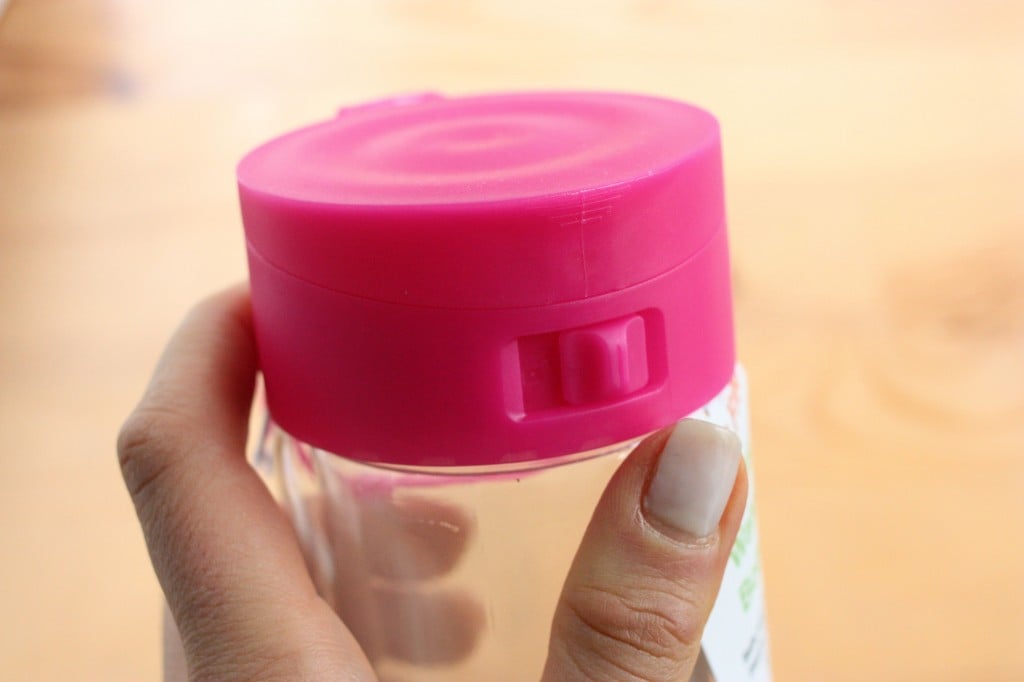 I also like that the flip lid folds down to help stabilize the bottle when it's lying on a surface.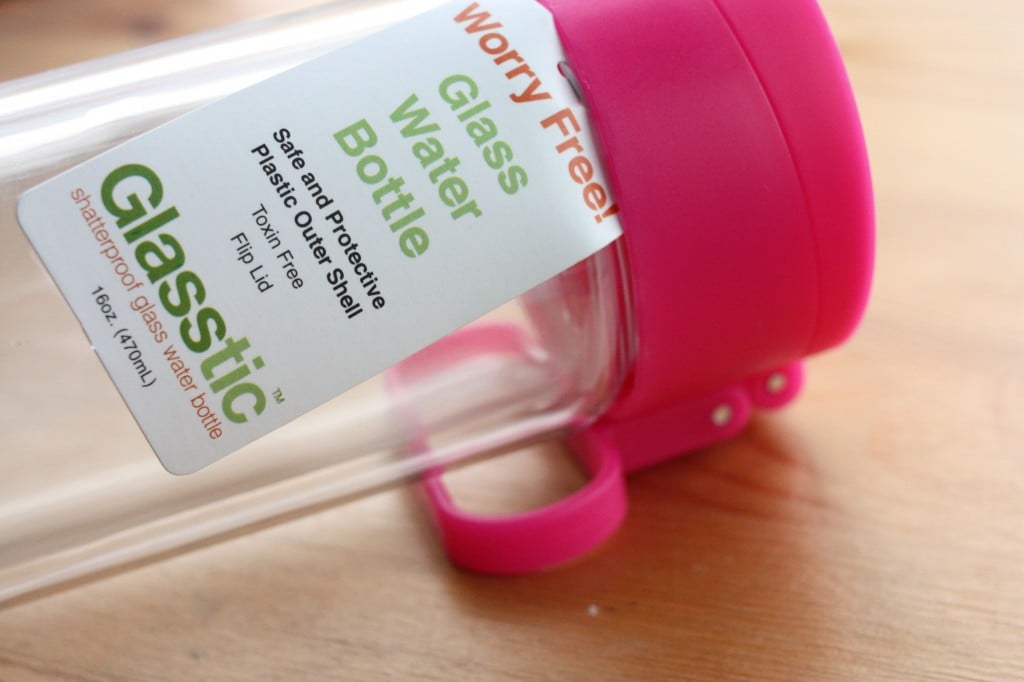 Glasstic has a glass inner layer and a BPA-free plastic outer layer (hence the shatterproof quality). It doesn't hold as much water as my Nalgene or my Camelbak, but I do like the design and use it often when I'm home (I'm not sure it would be the most portable option). It retails for $19.99, and more info can be found on the Glasstic site.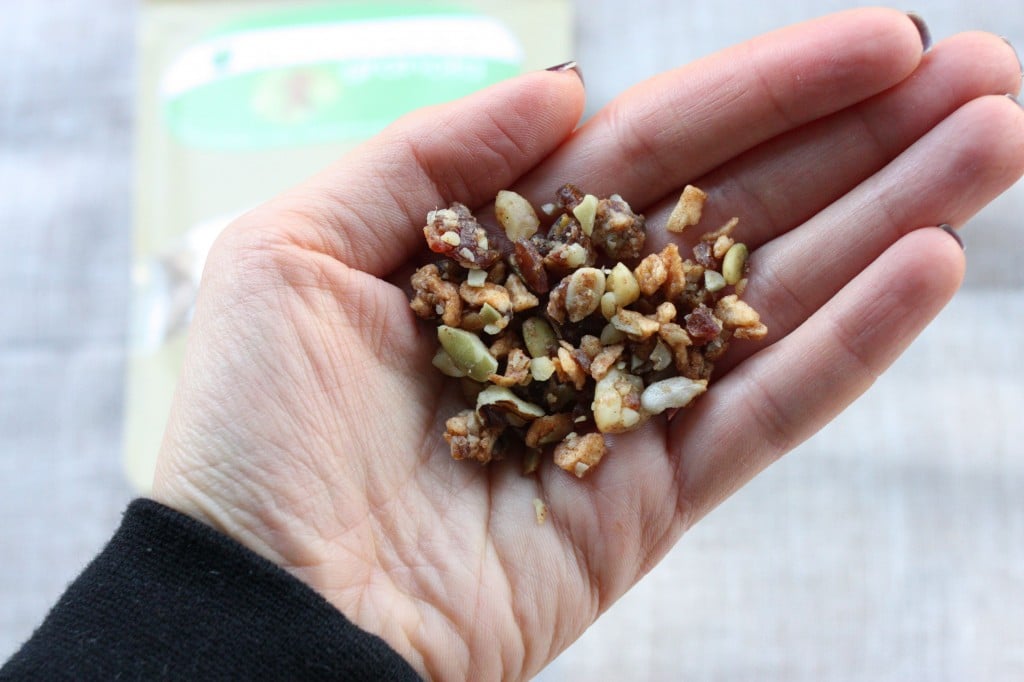 7. WildWay Granola.
I was offered the chance to taste and review some apple spice granola from WildWay, a company that hand crafts raw, vegan granolas in small batches. The signature product is gluten & grain free, raw, vegan, and sweetener-free. The ingredients are dates, apples, walnuts, almonds, sunflower and pumpkin seeds, and cinnamon. Simple, and very tasty.
While I enjoyed the granola very much, I have to confess that it tasted more like a crumbled Larabar or snack bar than a granola (probably because it doesn't have that characteristic toasted, crunchy texture). And since I make a lot of granola, both raw and cooked, at home, I'd likely not purchase this product regularly (it retails for $10.00 on the WildWay site). But I did enjoy the flavor very much, and I appreciate the company's passion and honest mission.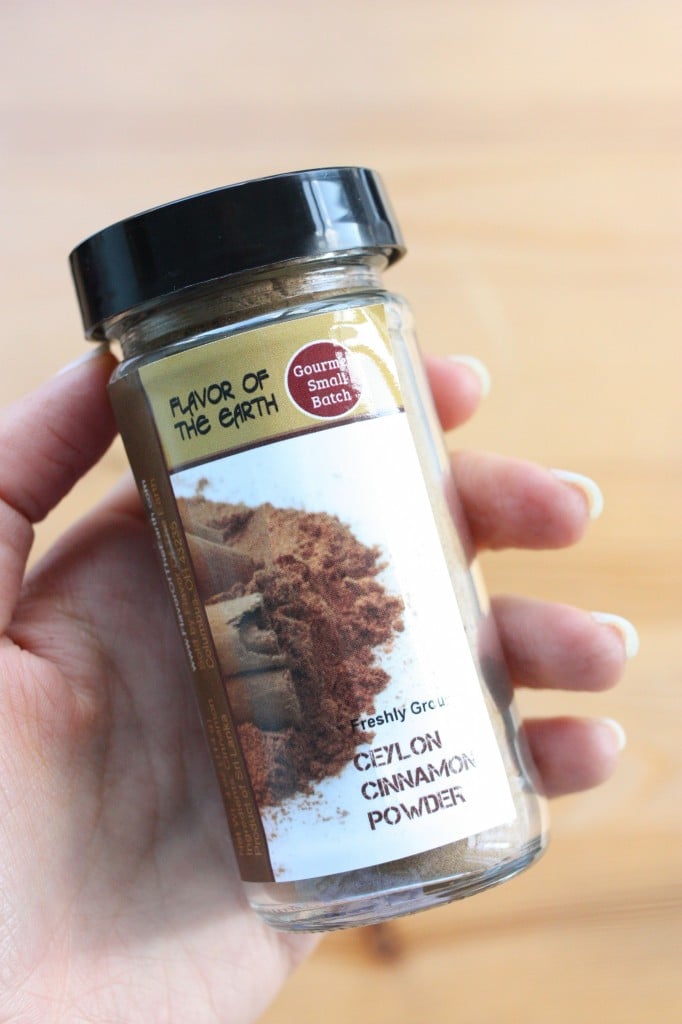 8. Freshly Ground Ceylon Cinnamon Powder from Flavor of the Earth.
I was offered a taste of this cinnamon when the Flavor of the Earth company noted how often cinnamon appears in my recipes, and reached out accordingly! Cinnamon is indeed one of my favorite spices, in recipes both savory and sweet, so of course I was excited to try a new brand.
Flavor of the Earth imports Ceylon Cinnamon in small batches from Sri Lanka.  It has an amazing flavor and aroma (richer than what I'm used to). It's sold exclusively via Amazon and features trace amounts of Manganese, Fiber, Calcium and Iron.  It's also salt free and no chemicals, pesticides, fertilizer, additives or preservatives are used in growing or harvesting it. I've been using it and loving it in smoothies, hot cereal, soups, and more. You can check it out here (I tried a smaller size, but it retails right now at $28.21 for a pound).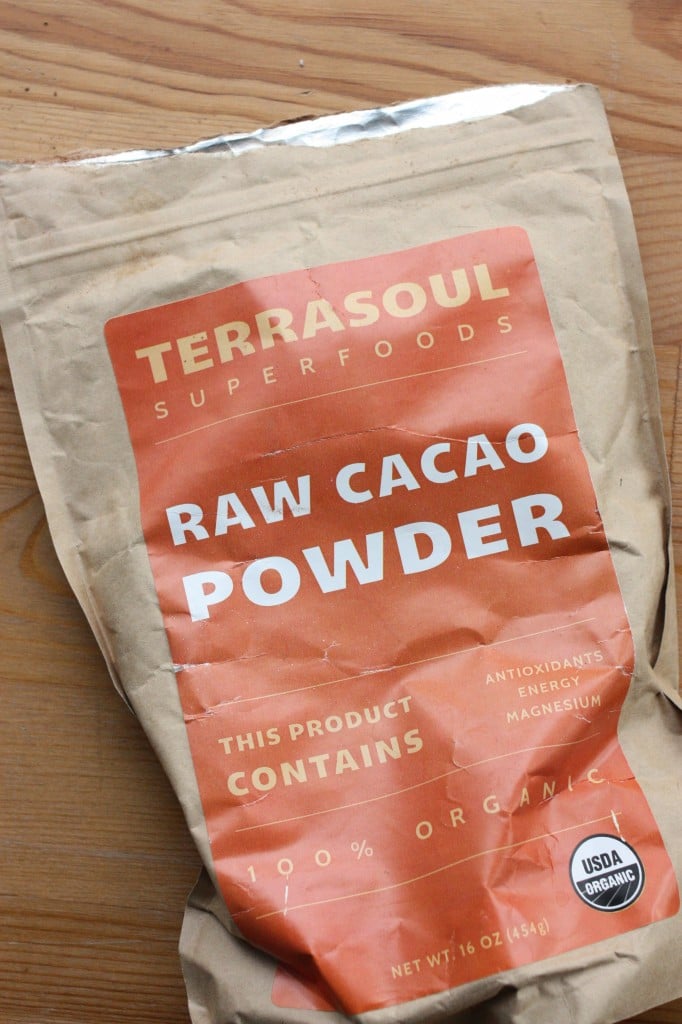 9. Terrasoul Organics Raw Cacao Powder.
Terrasoul cacao was an Amazon find of my own. I ordered it because it happened to be the best deal that day, but I'm glad I did, because I now love it. It's as rich and intense as any cacao powder I've tried, and at $12.49 for 16 ounces, it seemed to be a good deal; a small amount goes a long way. I used it in my holiday cacao mix: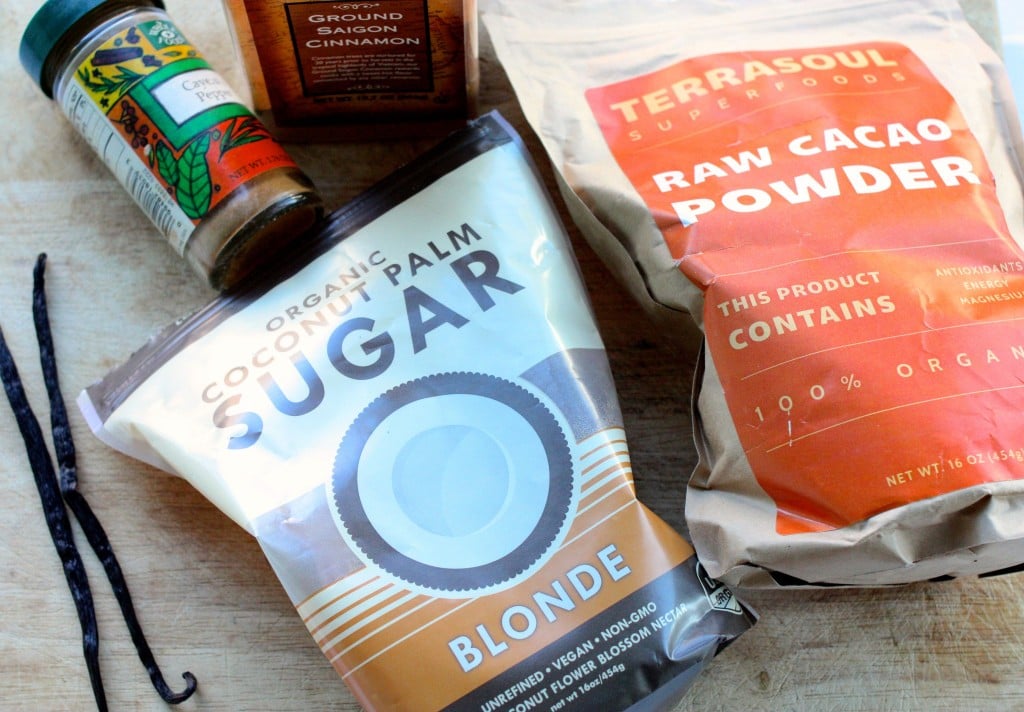 Sadly, Terrasoul cacao is currently out of stock on Amazon and on the company website, but I did want to put the brand on readers' radars, because I think it's cool. They apparantly make other superfoods, which I haven't tried, but I'm curious now. You can check out the company website here or the Amazon selection here.
10. The Daily Good from Aloha.
The Daily Good is a new greens powder from the brand Aloha. It is contains spinach, spirulina, wild blueberries and coconut water, as well as peas, enoki mushrooms, lemon, and a little ginger. It's getting quite a bit of attention, and the brand has a panel of wellness experts and integrative MDs as endorsers. It retails at $75.00 for a 30-pack, and you can order a free trial online if you're curious.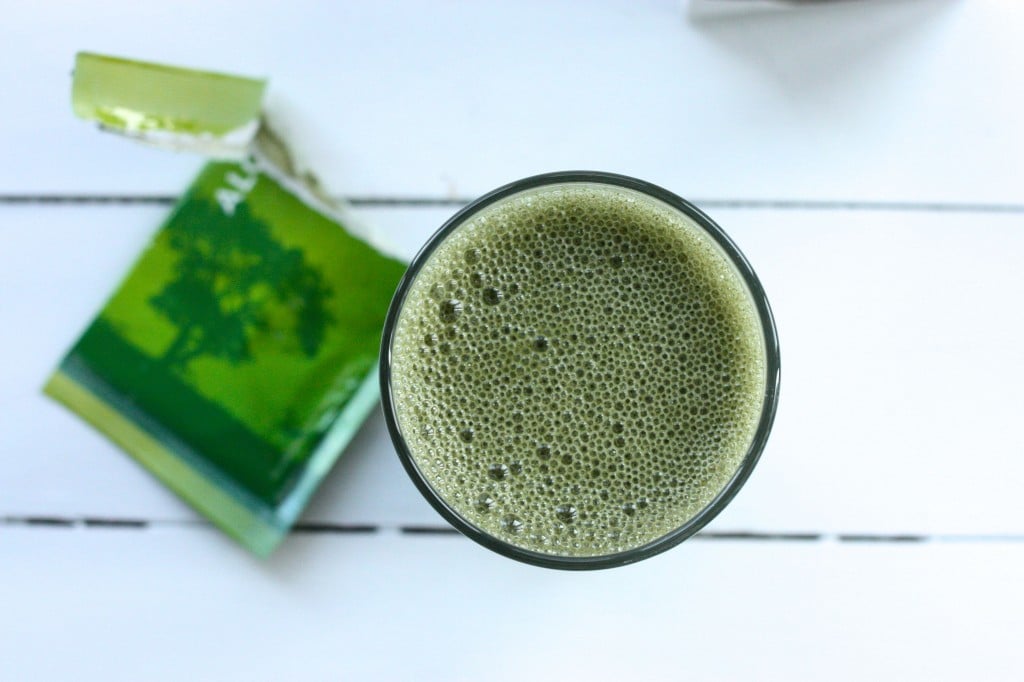 I have to admit that green juice powders aren't really my thing. The powders I'd prefer to invest in are usually protein powders or smoothie infusions, especially since I don't really struggle to get greens into my diet through food. As far as green juice powders go, The Daily Good tastes very mellow (not too spirulina-ish, though I do wish the lemon and ginger were more detectable, and that it were a tad sweeter), and the product is clearly crafted with good quality in mind. The marketing and packaging are very smart. The cost is significant, but of course, if you look at it like a green juice replacement, $2.50 per juice is quite a bit less than purchasing a store bought juice.
The thing is, for me, what makes green juice worth the cost as an occasional treat (and what makes juicing at home worth it) is the freshness and sweetness and taste. Of course one drinks green juice with nutrients in mind, but it's also a pleasant and flavorful experience. I just don't get that pleasure from a powdered brand, no matter how much I appreciate the effort to pack greens into a convenient, portable size. And I'm not persuaded by the claims that the drink is "detoxifying."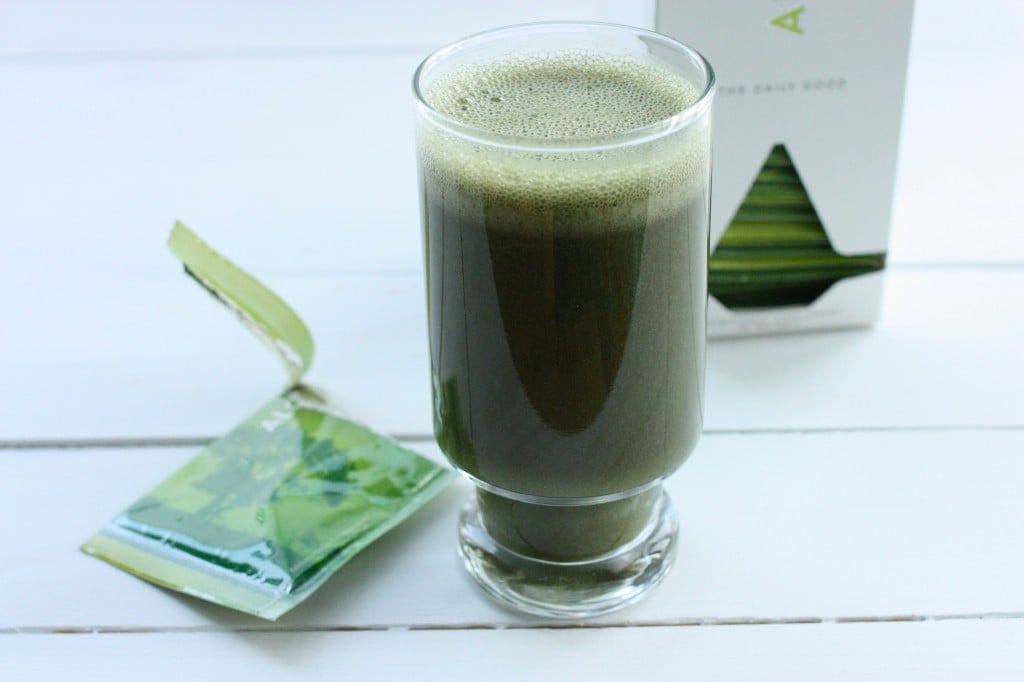 I do think that a product like this serves a good purpose for travel, and I'd certainly consider it if I were to be traveling for a long stretch of time. But for everyday use, I'm probably not the target consumer.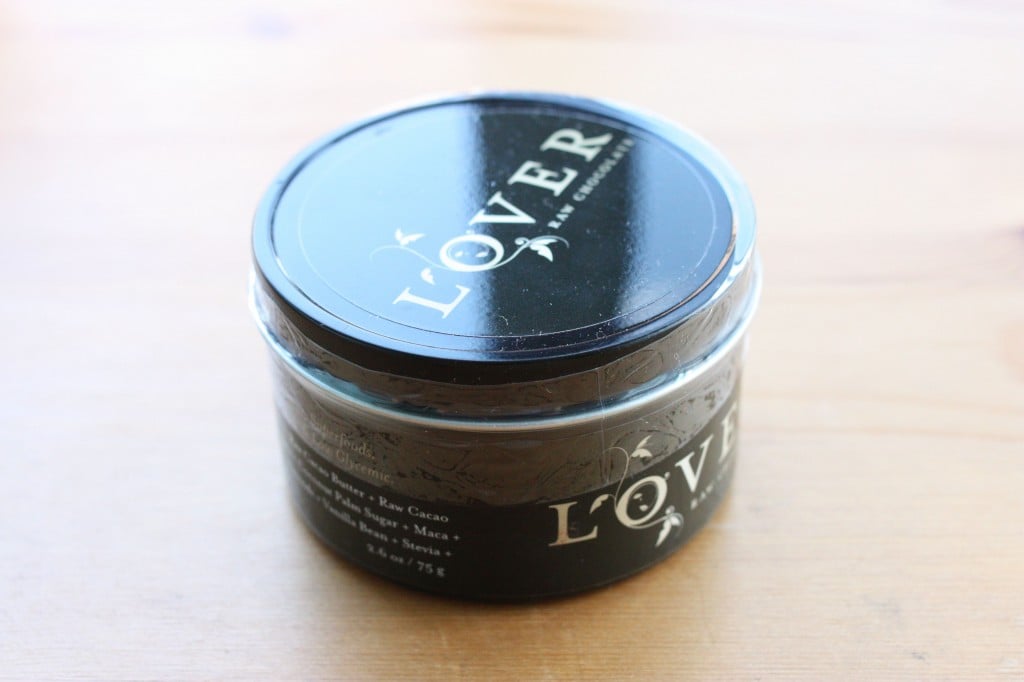 I was recently gifted with a tin of chocolate hearts from the folks at Lover raw chocolate, a UK brand that has recently relocated to the LA area. The chocolates are gluten free, vegan, raw, low glycemic, and contain a hint of maca. The maca is subtle enough that I didn't detect it (not a bad thing, as I find some maca chocolate to be very overwhelming). They're sweet, but not too sweet, and overall I really loved them (and still do — I've got a couple left, which I'm saving carefully!).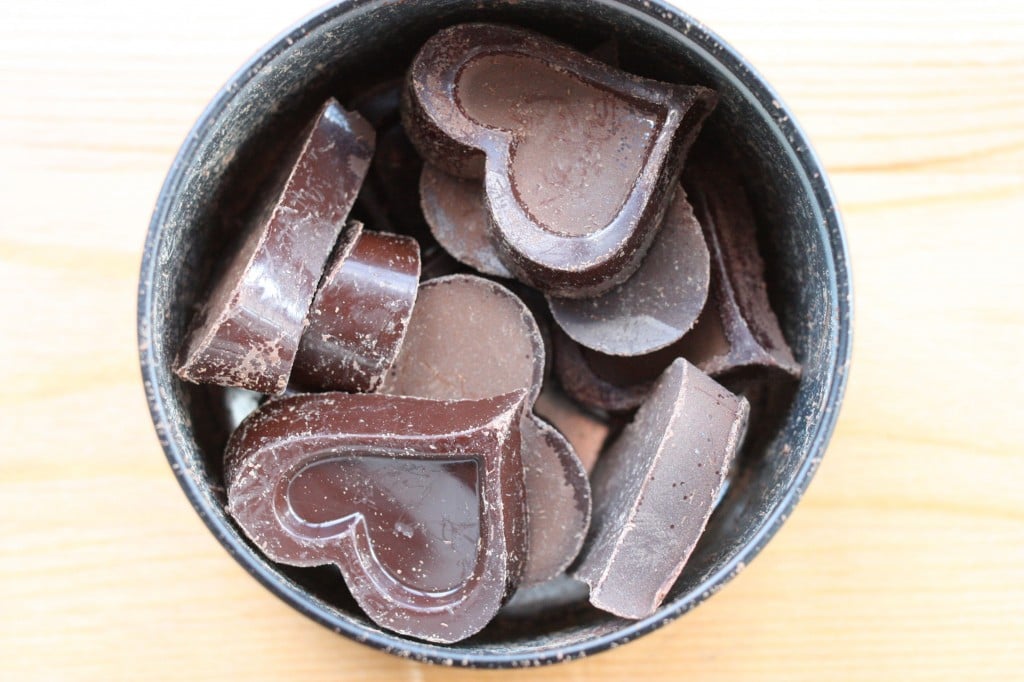 Gift tins can be purchased on the Lover Raw Chocolate website; each contains ten chocolate hearts, and retails for $15.00.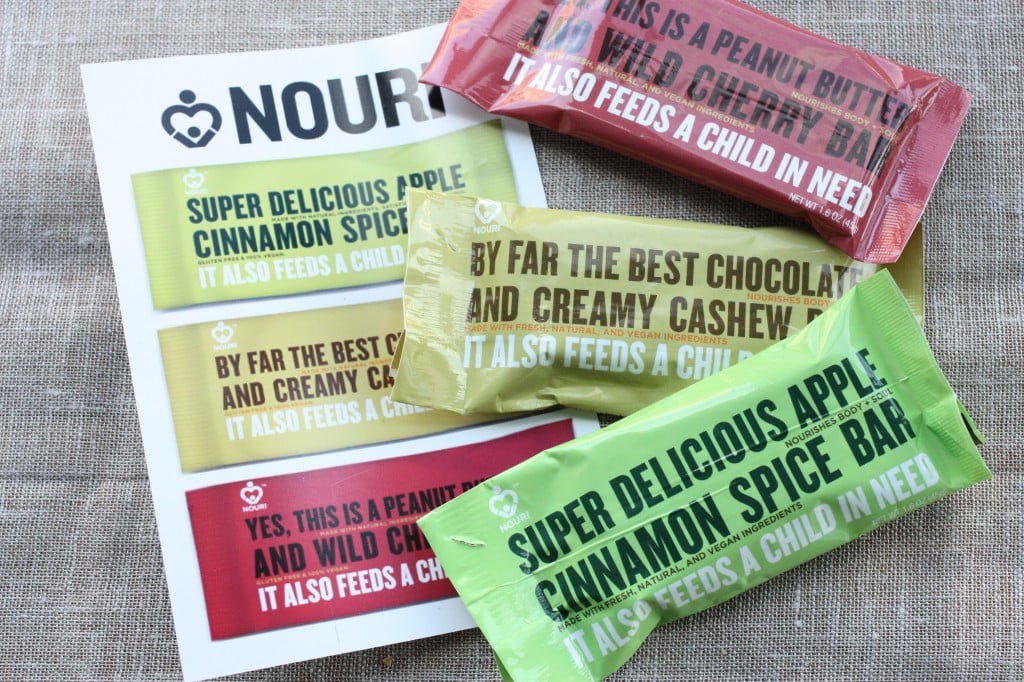 12. Nouri Bars.
I mentioned Nouri bars already, in my holiday gift guide, but I think they deserve another shout out. Nouri was founded by Jared and Veneka, DC locals with a passion for healthy, simple, plant based food and a strong sense of social justice. The bars are organic, raw, vegan, and crafted only with nuts and dried fruit. Though they're made locally in the DC area, for each bar you purchase, the folks at Nouri supply a wholesome meal to a child in school in a third world country (so they're sort of like the Toms of snack bars). They do so by working with local food growers and farmers.

In particular, Nouri works with Stepping Stones International (SSI) in Botswana, to provide meals to 100 orphan school children, with a goal of reaching 1 million children by 2014. SSI is the first program of its kind in Botswana that uses a holistic approach by nurturing the mental, physical and emotional well-being of youth and create opportunities for them to become self-sufficient. Together with Stepping Stones International, they have provided over 20,000 meals to schoolchildren who are hungry for knowledge.
The bars come in three flavors: apple cinnamon spice, peanut butter and wild cherry, and chocolate and creamy cashew. Can you guess which my favorite was? The chocolate, obvi! But I really loved the combination of cherry and peanut butter, too. The bars are similar in texture and nutritional profile to other raw fruit/nut bars, but I love that the folks at Nouri combine the bars with a mission to benefit kids around the world. They are of course more expensive than a typical snack bar ($36.00 for 12, $3.00 per bar), but when you purchase these bars you consider them a donation as well as a snack. More can be learned about Nouri through their website. Right now, they're mostly in and around the DC area, but hopefully they'll be expanding soon, and you can also order online.
I hope you've enjoyed these little product snapshots. Have any other readers tried and enjoyed (or not enjoyed) these same brands? I'd be curious to hear your impressions. I hope that you're all enjoying a great weekend so far, and I'll be back tomorrow with weekend reading.
xo