It's always the same with me and conferences: I wake up the day before the event, tired and not totally in the mood to travel. I get myself on the bus, or train, or plane. And as soon as I arrive, I'm reminded of why I love events–especially vegan events–so much.
On Saturday, my first reminder came in the form of JL, decked out in her characteristic kale t-shirt. As usual, a lot of hugging and professions of love followed.
JL and I were meeting at The Seed, an event dedicated to sharing awareness about veganism and to celebrating the ever-growing vegan community. We were scheduled to present a panel together at 10:15 am, about blogging-as-vegan-activism, but because the line of folks waiting to get into the event was wrapping around the block, and people were filing in slowly, our chat got pushed back to 10:45 or so. This was a good thing for a few reasons:
a) It gave me time to caffeinate
b) It gave me time to say hi toJasmin and Mariann
c) It gave JL and I time to goof off–not that we wouldn't do a lot more of that as the day progressed
Our co-panelist was Yoli Ouiya, who writes about green living on her blog Yoli's Green Living. It was nice to connect with Yoli and learn about her business. Before we knew it, people were taking seats in front of us, and the panel–introduced by the ever-awesome Sally Tamarkin–was underway.
JL was our moderator, which means that the presentation was incredibly well organized. If I'd been moderating, all bets would have been off, because I seem to be as structurally incapable of preparing for speaking engagements as I am solving physics problems. I almost always just wing it (it doesn't help that my last two presentations have entailed pulling into NYC in the wee hours the night before, and not sleeping much), and I usually just cross my fingers and hope that spontaneity will make me relaxed and engaging, rather than…well, underprepared and speechless.
In the case of the blogging panel, anyway, JL had us covered. The blog was a total blast (as you can see from the photo below). We went over a lot of helpful advice for new/aspiring bloggers, and I'd actually like to dedicate a short post to the content later this week, because I know that a lot of my readers are new bloggers, or aspiring bloggers. Right? Right.
For now, I'll just say that I learned a lot, and I had a lot of fun on the panel!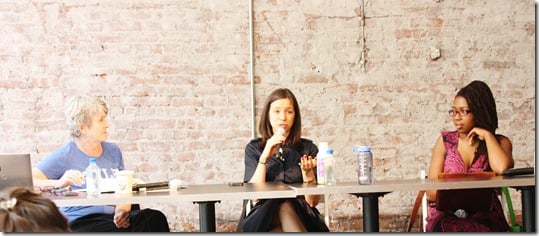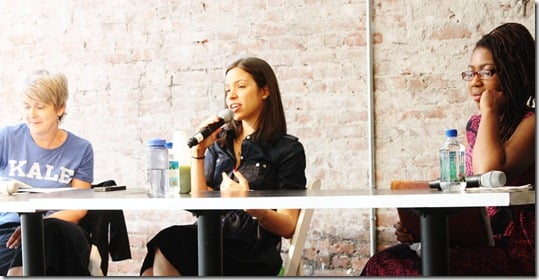 It was so fun to share our passion for blogging with the crowd:
The panel ended, and JL and I had some time to chat with some of the folks who'd been watching. I was excited to meet Piper Hoffman, whose work I admire. After that, I got some time to peruse the amazing, incredible food vendors! My first stop was Pure Food and Wine: how could it not be? I nibbled on a macaroon and some grawnola that JL's husband offered me, and was on my way.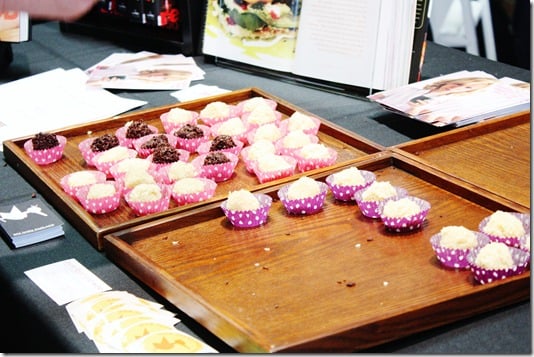 Foodie stops at The Seed included a Vitamix stand, a huge array of raw chocolatiers, a station that was churning out something that looked like a fried vegan drumstick, some sandwich makers, Terri organic in NYC, which was promoting its pressed juice line, two food trucks, including a vegan mac n' cheese food truck that had driven to NYC from Miami for the event (!), and a couple of cool snack bars, my favorite of which was made by a company called Core Foods. I tested one of the raw flavors and got another to go; I can't wait to try it and review it here on the blog! This is Matt, the hardworking intern who made sure to get me a sample. Thanks, Matt!
I also stopped by the Herbivore booth to say hello to the wonderful Michelle Schweggman. Michelle, who is the co-owner of the world's best purveyors of vegan t-shirts–not to mention eco-friendly accessories, vegan wallets, belts, scarves, socks, purses, and jewelry–is absolutely charming, energetic, and inspiring. I love what Herbivore stands for, and it's always a joy to see Michelle's smiling face at vegan events. This time, we actually got a chance to chat, which was a nice contrast to the usual rushed hello at conferences!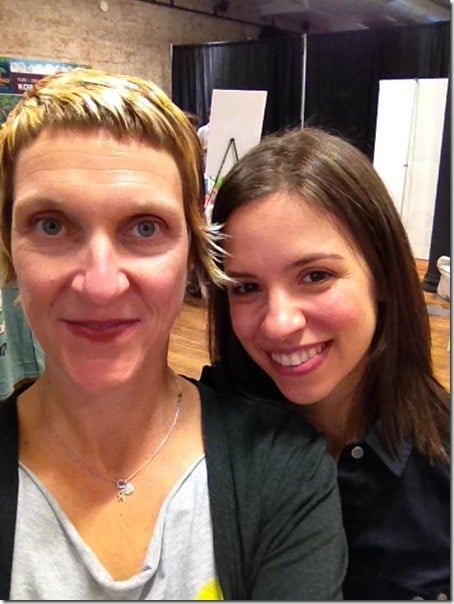 I also said hi to Marissa Miller Wolfson, who's the creator of the documentary Vegucated, which follows the lives of three New Yorkers as they welcome plant-based eating—and all of the many benefits that come with it—into their lives. It's an inspiring move, and Marissa is an inspiring woman!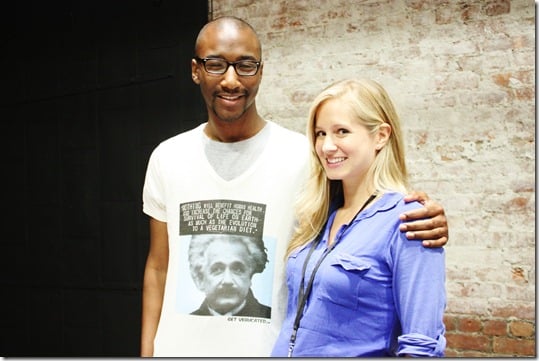 Truth be told, I was kind of tired after the morning presentation, so I didn't managed to stay in the audience for all of the main stage and stage B events. I did, though, manage to check in on a few of my speakers. First, Jasmin and Mariann, who were presenting "Think Vegan: Ten Tips to Get You Started." I've seen Jasmin speak before, and she's always great, but it was a treat to watch her dynamic with Mariann on stage! They were hilarious, warm, and engaging, and I'm sure that the audience felt moved to open their hearts (or open their hearts even more) to veganism after watching.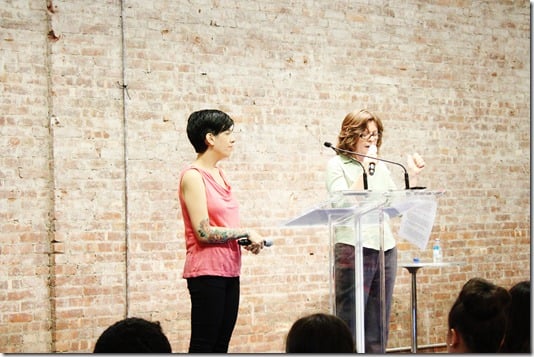 I couldn't possibly miss Colleen Patrick-Goudreau speak a little while later. Colleen is an exceptionally powerful public speaker; she possesses a rare combination of force and gentleness when she talks. She's also funny, charismatic, and absolutely steadfast and focused in her presentation of the value and importance of vegan living. Her speech this time was "From Excusitarian to Vegan: Addressing the Blocks and Excuses that Keep Us From Making Changes." Colleen has recently coined the term (or at least, I think she coined the term) "excusitarian," and this speech was devoted to helping people stop coming up with reasons why they can't be vegan, and inspire them to just take the plunge. It's hard to do justice to Colleen's delivery here on my blog, so I'll just advise you to listen to a few of her podcasts and see what it's all about. I guarantee that, if you're seeking motivation to explore this lifestyle, her work will compel you further.
Between all this, I took breaks int the "VIP lounge" with JL. It's a rule of thumb that when JL and I hang, hilarity ensues. Yesterday was no exception.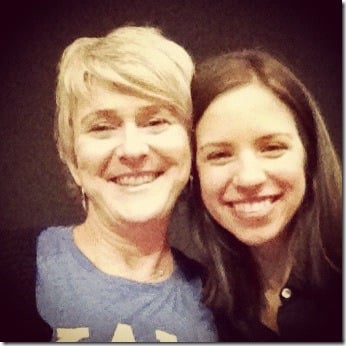 It's also a rule of thumb that when you put the two of us together, silly hats tend to happen. We even got Rich Roll to try one on with us:
Don't ask.
It was so nice to get to know JL's husband, Dave, whom I've heard so much about. Dave, I hope you don't mind me totally monopolizing your spouse for a few hours 🙂
One of the fellow bloggers whom I was most excited to see on Saturday was my friend Hannah, author of multiple vegan dessert books and the blog Bittersweet. How Hannah balances her career as an already prolific author with school is beyond me! Hannah gave a presentation on vegan ice cream making without an ice cream maker. It was super informative and fun, and I actually picked up a copy of Hannah's new book, Vegan a la Mode, which means that I may just get to share a bunch of her recipes with you this summer!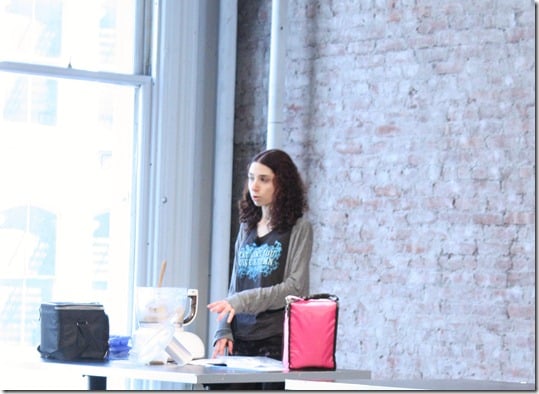 And before I knew it, it was time for my second presentation: the semi-raw life.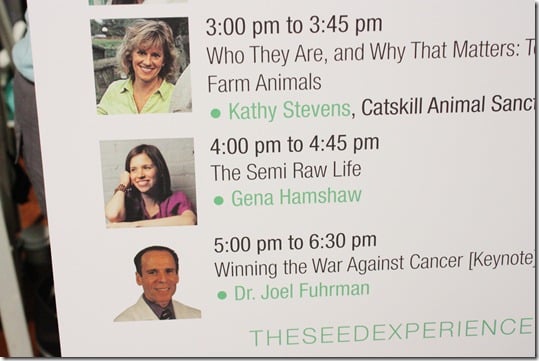 This was basically a 45 minute talk / Q & A about what it means to prioritize and love raw food without getting swept up in dogma and rigidity.
I entered raw foodism with a totally open mind and no goals whatsoever to be a "100 % raw foodist"; however, I fell so totally in love with raw foodism so quickly that I also was susceptible to some lifestyle practices, like food combining and an overly simplified idea of "detox," that didn't hold up to scrutiny as time went by. You guys have seen me through this journey!
Nowadays, I remain committed to sharing raw food, talking about how great it is and why I love it, and eating a lot of it, though I'm also still far from a strict "raw fooder," and I've learned not to accept some of the dogmas associated with the lifestyle. My talk was aimed at helping the raw-curious to separate fact from fiction and get inspired to take a gentle approach, all with the goal of their sustaining an interest in raw for the long term. I hope it was helpful! I'm less confident about public speaking than you'd think, given how outgoing (and downright loud) I can be, and I was daunted by the crowd. So many more people than I had expected!
That's me, waiting to go on: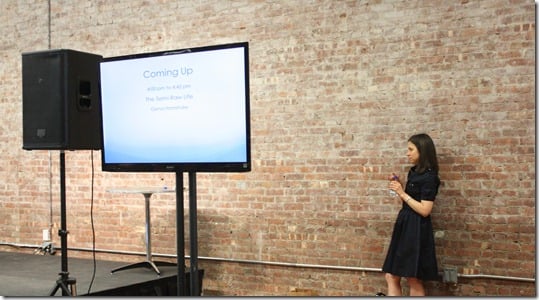 It was nice to be greeted by kind questions, smiles, and laughter: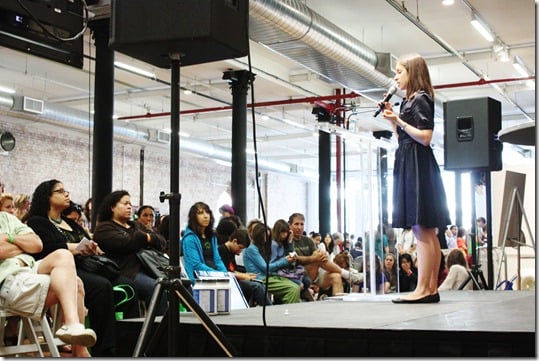 And as soon as I'd been up there for a hot minute, I felt much more at ease: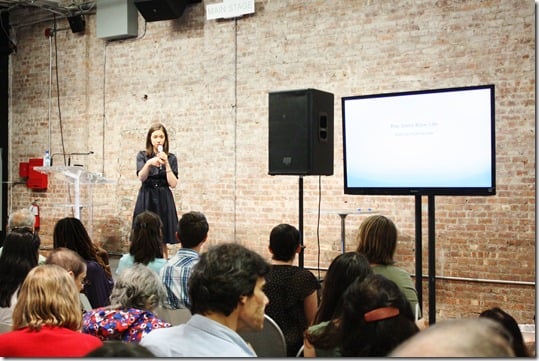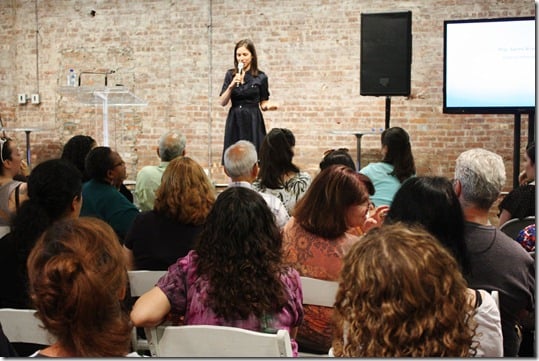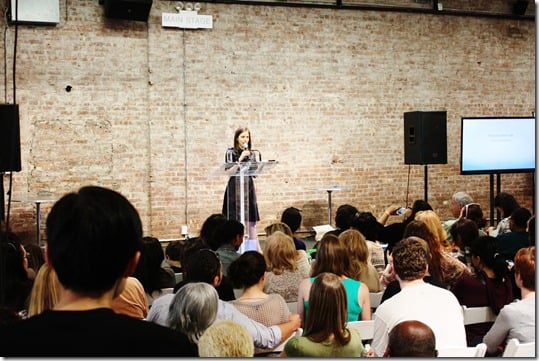 Afterwards, I got a chance to connect with a lot of wonderful CR readers. Many seem to be aspiring nutritionists or RDs, which gives me hope that more and more and more people want to bring plant-based nutrition to the world. Hooray!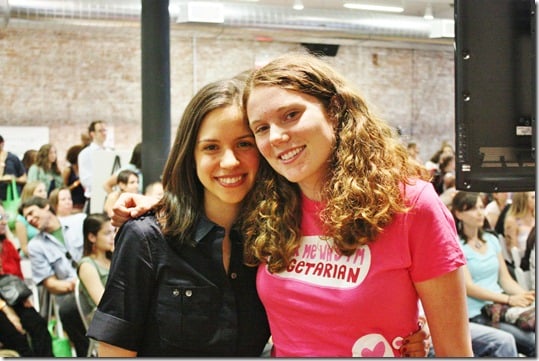 I also had one young woman approach me and tell me that she's newly recovered from an ED, and that Green Recovery has been helping her to "not feel alone." Of all the feedback I could get, this might be the kind of remark that tugs at my heartstrings the most.
After this, I stuck around for part of Dr. Fuhrman's address. He was the keynote speaker, and his topic was on cancer prevention through nutritarian eating. Dr. Fuhrman is always an engaging speaker, and I was honored to be up on the stage right before him! I take issue with some of the "diseaseproof" language in the plant-based community; my feeling is that a nutrient-dense, whole foods vegan diet can enhance our protection against certain kinds of cancers, but that veganism is not an impenetrable shield, and that the language of "diseaseproofing" carries the unfortunate risk of suggesting that all cases of cancer are lifestyle related. My work in pediatric oncology has certainly showed me that this is not the case. For more thoughts on this topic, check out my "Take Back Your Health" post.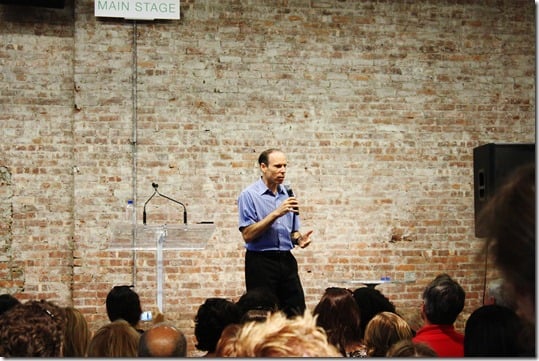 That said, Dr. Fuhrman's presentation was very balanced, reasonable, and focused only on the micronutrients that have have been correlated with lower rates of cancer development. No complaints here!
After that, I hobbled home with a case of sore feet (too many hours of standing in my not-so-comfy flats!) and a warm heart. I love any chance to be a part of vegan celebrations, and this was no exception. Thanks to Erin Red, Jasmin and Mariann, JL, and others who partook in organizing and executing The Seed. It was an honor to be present, and I hope you'll have me back, because I know that this "seed" is sure to multiply and grow in years to come.
Sorry. I had to make at least one slightly cheesy allusion to seeds being planted and growing in this post.
Till tomorrow!
xo