Guys, I have a little news. I wrote a book, and it's coming out on June 24th.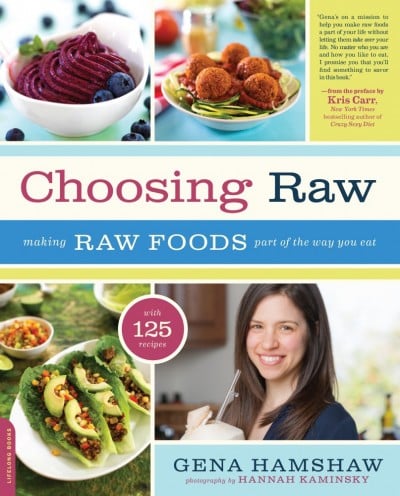 Some backstory: in spite of the fact that the publication date is fast approaching, this book has been a long time coming. I sold the proposal toward the end of the orgo bio year of my post-bacc, with the intention of starting to write after my MCAT was behind me. Of course that process took longer than I expected it to, so the writing got delayed. Finally, last spring, I tested and worked on photographs with the incredible Hannah Kaminsky, whom I might as well call my co-author, because I absolutely couldn't have written the book without her. It's her photographs–over seventy of them–that make it come alive. I turned the manuscript in in September, and now, years after I first thought about writing a cookbook, it's coming to life. The book will be brought to you by Da Capo Lifelong, a house that also publishes such culinary idols of mine as Ani Phyo, Bryant Terry, and Isa Chandra Moskowitz.
The book is about 65% cookbook, and 35% lifestyle guide. When I wrote it, I wanted first and foremost to share delicious, accessible recipes that would pique folks' interest in vegan and raw foods. The book features 125 recipes–all vegan, many raw or semi-raw, most gluten-free–that are as flavorful and as colorful as I know how to make food be. A few sneak peak images, all courtesy of Hannah:
Raw Cobb Salad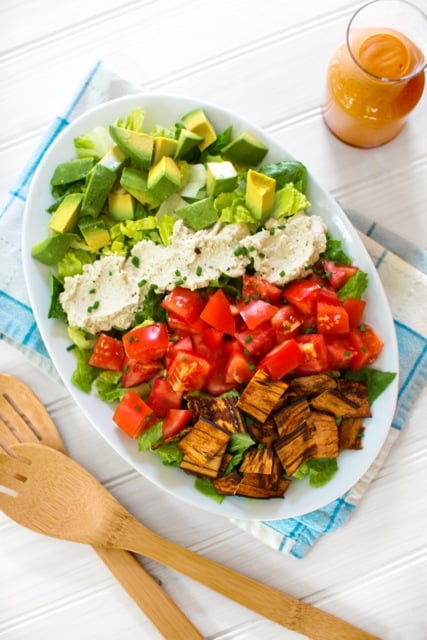 Plant Protein Shake and Kale, Blueberry, and Mint Smoothie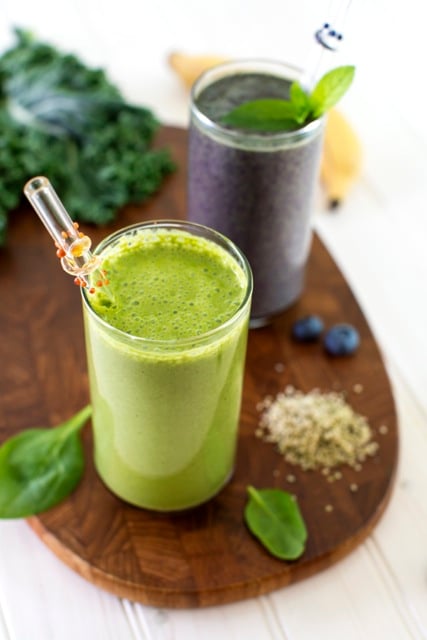 Raw, Vegan Blueberry Cheesecake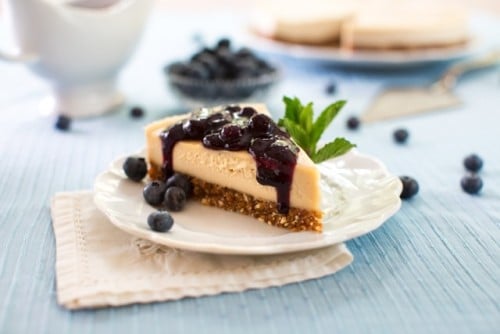 The recipes begin with 15 "essentials" — stuff like homemade almond milk, basic cashew cheese, a simple green smoothie, basic nut pate, and simple zucchini pasta. I go on to share 5 juices, followed by 10 raw and vegan snacks (highlights: zucchini "ranch" chips, nori and pumpkinseed cigars), and then 20 salad dressings, dips, and hummus recipes.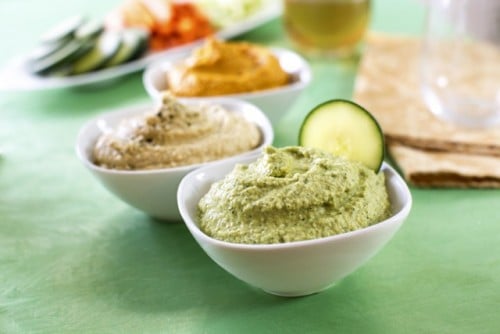 Zucchini Hummus, Hemp Hummus, and Curried Sweet Potato Hummus
The main recipes are divided into three levels. I called the first "tried and true." It features vegan, whole foods spins on familiar recipes, like enchiladas: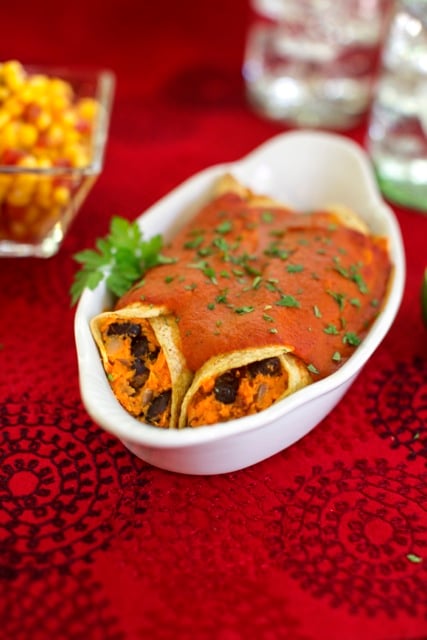 Quinoa and asparagus sushi rolls: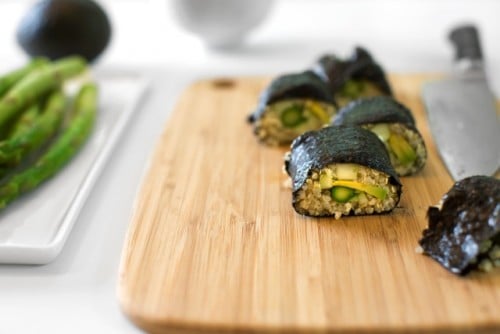 And (one of my favorites) carrot and millet pilaf with mesquite glazed tempeh: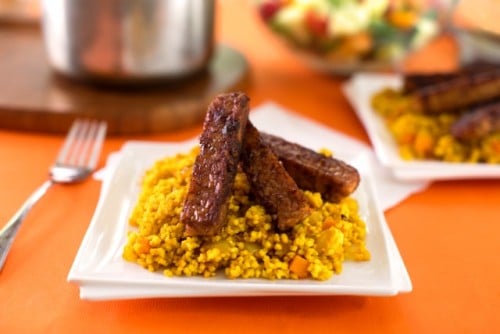 I called Level 2 "Something New." The idea was to combine familiar techniques (smoothies, blended soups) with a bunch of ideas that might be new to someone who's just exploring vegan and raw food: collard wraps, chia pudding, kelp noodles. Favorites from this section include a scrumptious quinoa breakfast porridge: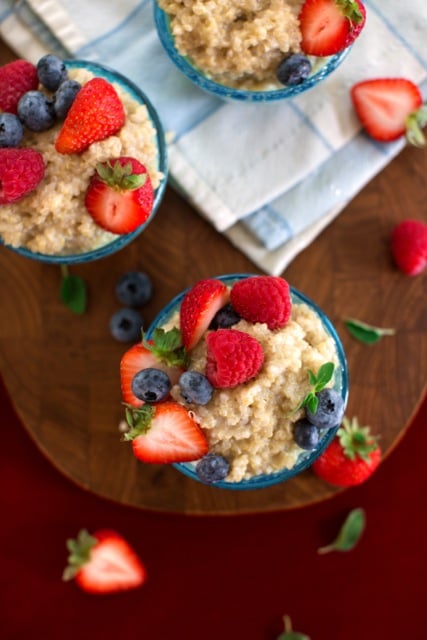 Raw gazpacho: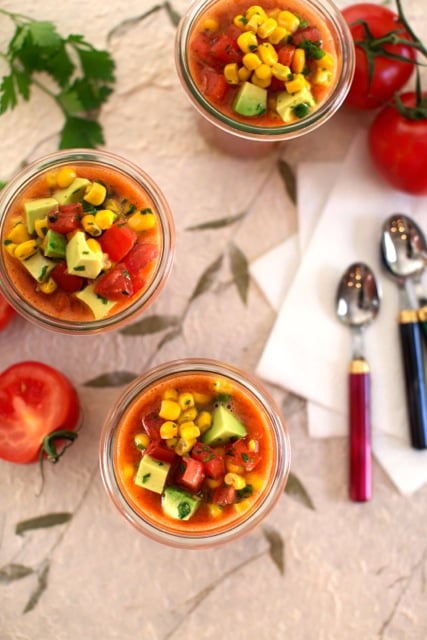 And heat free lentil and walnut tacos: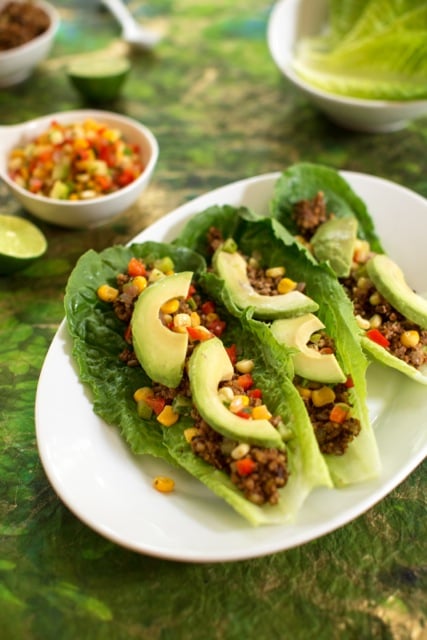 Finally, in Level 3–aptly titled "Brave New World"–I dive into some of the more unusual recipes and techniques that I love so much, and have shared often on this blog. That section features a Mediterranean Cauliflower Rice with Smoky Red Pepper Sauce: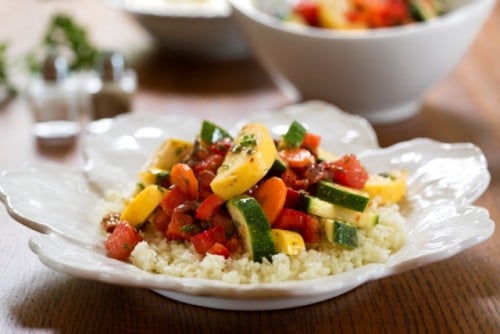 Zucchini Pasta with Mango, Avocado, and Black Bean Salsa: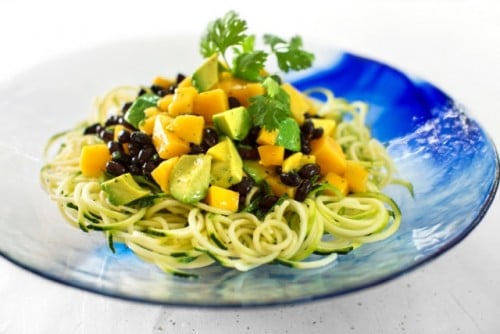 And–I'm pretty stoked about this one–Cashew Banana Yogurt: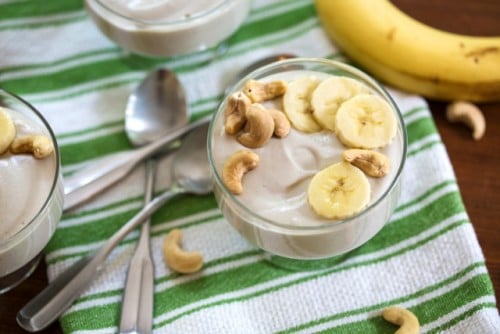 One of my goals with this book was to break down the idea that exploring raw food has to mean "going raw." The book's subtitle is "making raw foods part of the way you eat," and that's exactly what I wanted to help demonstrate–that you can savor the creativity and beauty of raw food without getting weighed down by an all-or-nothing approach.
I also tried to debunk some of the lore that surrounds the culture of raw foodism, starting with the idea that all raw food is nutritionally superior and more healthful than cooked food. I underscore ways in which cooking can actually release nutrients and render them more bio-available, and I make clear that cooked legumes, whole grains, and soy foods are nutrient-rich, healthful, balanced foods. Other misconceptions I tackle include food combining, enzyme theory, and the popular "fat vs. fruit" debate in the raw food world. In fact, one entire chapter in the book is devoted to FAQ's, while another is devoted to myths and misconceptions about raw and vegan nutrition. These chapters gave me a chance to address some of the concepts that I was really susceptible to when I first began exploring a raw food diet.
The book includes 21 days worth of meal plans, featuring recipes from the book. I've never posted meal plans on my blog–I wanted to wait for a space and context in which I could give it proper thought and dedication–and it was so much fun to create these. They're highly customizable, but they will hopefully give readers a sense of:
How to create balanced, well rounded meals
How to use leftovers as the week goes by (I made a big effort to include leftover options in the meal plans)
How to make and enjoy raw recipes along with non-raw ones
How to incorporate variety into your diet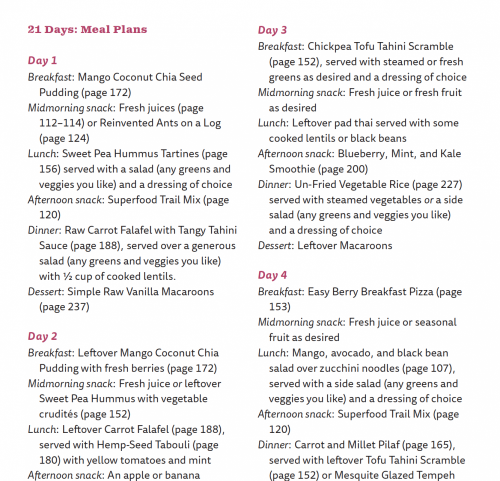 And of course, since I can't tell the story of how I got into veganism or raw food or any of this without exploring my personal history, the book opens with my own story. It's terrain that CR readers know by now, but with a little more detail, and with the kind of perspective that I can only have developed by writing this blog for the last five years. It's a little dizzying to share my history in print–blogging, for whatever reason, always feels less permanent, less declarative–but it feels liberating, too.
Other features of the book:
A useful primer in plant based nutrition
Non-alarmist, commonsense tips on planning a well-rounded vegan diet that includes raw food recipes
An honest, down-to-earth approach to raw foods
Advice on how to set up and organize your kitchen as you begin to explore more raw and vegan foods
Tips on dining out, travel, and social settings (where vegan options may be slim)
21 days of adaptable, low-stress meal plans
Ideas for "low maintenance" breakfasts, lunches, and dinners that can be substituted for any recipe in the meal plan
A a sassy, spirited intro from wellness pioneer Kris Carr
Obviously, I hope the book inspires folks who already know and love vegan cooking. But it's also my hope that the enthusiasm I feel for whole, plant-based foods will shine through and entice anyone who's hoping to eat a few more vegetable-focused meals.
Choosing Raw is available for pre-order now on Amazon. I hope some of you will like the sounds of it, and be curious enough to consider checking out a copy. I'll be sharing more details, photos, and information about the book over the course of the next two months.
For now, I want to say the most important thing, which is thank you. Thank you to everyone who reads this blog, because the book has grown directly out of the dialogs, conversations, and shared enthusiasm that animate Choosing Raw every week. When I think back to 2009, when I began writing CR, my perspective was so different. Though I didn't realize it at the time, I was still very early in my recovery process, still searching for a food identity that would support my health. I was more rigid in my convictions about nutrition, far quicker to declare this food "bad," or that one "good." I was less appreciative of the beauty and fun of food. I was enamored of the health benefits of veganism, but I still hadn't taken the lives and feelings of animals into account when it came to my food choices.
Writing this blog has prompted so much self-reflection, so much honest and critical thought. It was in writing this blog that I believe I truly was able to face the recovery process and connect with my love of food. Blogging forced me to become more thoughtful about my food choices, and it compelled me to think more broadly about veganism. It has given me a safe space in which to reassess and question things I once took for granted about health and nutrition. It has allowed me to celebrate, document, and share my passion for eating.
In some ways, blogging is the only kind of medium that could have allowed that stuff to happen, because it's so interactive. But I hope that my book conveys some of this process. I hope it's a testament to what I've learned about health and nutrition, encompassing all of the blogging years and some of the education I've gotten. I hope it conveys the passion and enthusiasm I've developed for eating and living healthfully. I hope it's informative, useful, instructive. I hope it's honest and candid. I hope it's a love letter of sorts, addressed to the community that has changed my life so profoundly (you guys). And I hope you'll love it.
More information to come, of course. But that's the news. And while we're on the topic, I know that I owe you guys other updates, life updates. More on those soon.
xo