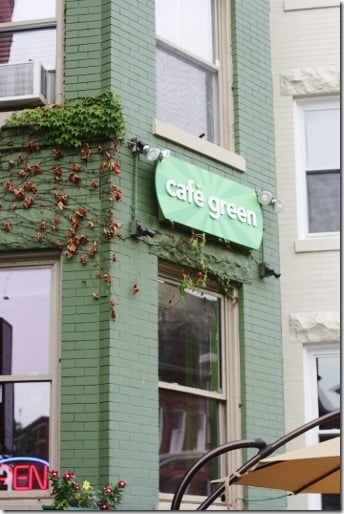 The first time I went to Café Green, I wrote what is and was probably the most scathing restaurant review I've ever posted on this blog. I hate critiquing vegan restaurants, but I also believe that they have a duty to show the world how fantastic and delicious vegan food is. When they fall short, they give people the impression that vegan food is subpar, and deter people from considering a plant-based diet seriously. So my standards are high for a reason: I know how good plant based food is, and I know when a restaurant can do better.
Normally, I wouldn't return to a place where I'd had a lousy meal, but my friend Anne's in town this week, and she persuaded me to give Café Green a second chance. On Tuesday, after my midterm, I embraced that rarest of chances to escape the library, and I met Anne for an early evening class at Tranquil Space, followed by dinner at the scene of my former gastronomic frustration:
There's my beautiful friend, and there's Café Green. It has a cute outdoor seating area, as you can see: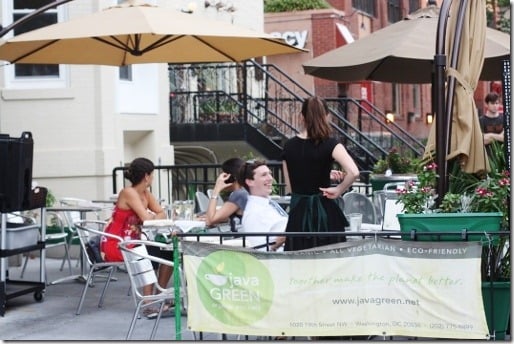 The last time I ate at Café Green, I was disappointed by a few major things:
Teeny tiny portions
A soup that tasted like vinegar and water—basically, like an eco-friendly countertop cleaning concoction
None of the raw items on the menu were available
So when I asked for a coconut water, and our waitress told me that they were out of it, I immediately started having nightmarish flashbacks to my last meal. Fortunately, they weren't out of Kombucha: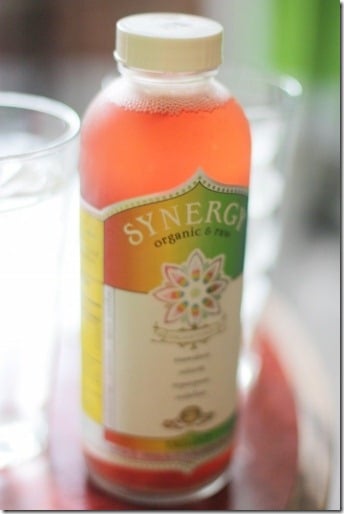 Anne got a green juice, which I opted out of because I'm fairly sure that the restaurant blends and then strains their juices (Valerie told me that they may just have purchased a normal juicer, but what Anne got definitely tasted blended). For whatever reason, I find strained juices to be kind of off putting, and since the restaurant makes theirs in the morning and keeps it cold, I couldn't request a green juice without banana. Meh. But Anne really enjoyed it!
We decided to split the raw pizzas (hooray for dining with open minded foodie friends!!). In the past, most raw pizzas or pizzettes I've ordered have been terribly heavy—all nuts and buckwheat. These, I'm happy to say, were perfect! The crust was a quinoa flax mix (I'll definitely be trying this at home) and they were light on the cashew cheese. That, along with fresh cherry tomatoes and a dollop of guac made for four perfect, bite-sized treats:
I was a happy camper:
(Please excuse the pale cheeks and puffy eyes. My midterm was that morning, and I'd gotten 2.5 hours of sleep!)
For my entrée, I got the raw spaghetti marinara, which was zucchini noodles with sundried tomato marinara and basil. It was good—not as good as many raw marinaras I've had, but certainly not bad, and the sauce was vibrant: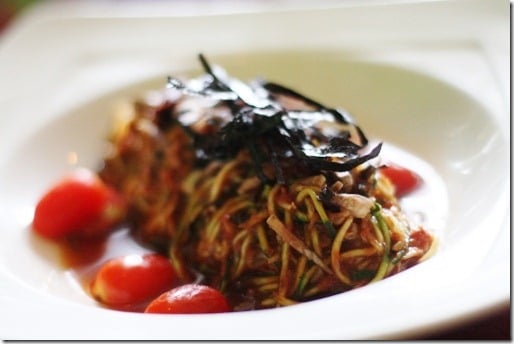 I also got the house salad. When this came, it was covered in (unlisted) raw red onions, and the whole thing was kind of uninspiring:
As you've probably guessed, one of my traits as an eater is that I have a really, really hard time finishing food I don't like. This is most definitely a vestige of the ED: part of my own recovery was investing every single meal with pleasure. This can be taken too far, naturally: I've learned that some meals (say, when I travel, or when I'm busy) have to be ho-hum, and part of being adaptable in life means accepting that and not getting too worked up about it. But in general, I do like to take each plate of food seriously, see it as an opportunity for joy, and not compromise. When I get a plate I don't like in a restaurant, I usually send it back, and that's what I did here. But I requested the awesome sesame, mango, and kale salad (which I'd had before) instead, and the server was generous in obliging me:
Every bite was delicious.
Anne got a curry dish, which was also very tasty:
Thus followed a long and fun conversation, along with some goofing around:
In all, this was a very redemptive dining experience! Café Green still has some things to work on, I think: raw items should be readily available, and the salads (especially if they're to be served to a vegan audience) have to be a little more consistently inspiring. But the pizzas are wonderful, the service was obliging, and I had a fun meal.
Most of all, it was great to see Anne, whom I really just adore:
Have you ever changed your mind about a restaurant you'd disliked the first time around? And, going back to deeper issues, do any former ED eaters in my audience feel similar urges to make food consistently pleasurable? How do you draw the line between a healthy desire to savor food, and excessive nitpickiness?
ox