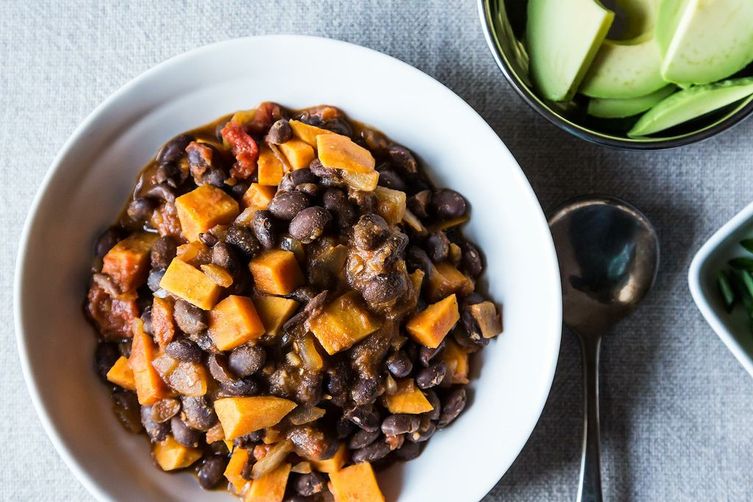 All All photos courtesy of James Ransom for Food52.
I don't like to throw superlatives around, but this chili is kind of amazing.
The marriage of sweet potatoes and black beans is a wonderful thing. My sweet potato and black bean enchiladas are one of my most popular entrees with readers, and if you Google sweet potato and black bean combinations, you'll come up with a seemingly interminable list of delicious options. No matter how many times I enjoy these two nutrient-rich, delicious plant foods together, I'm still impressed. And so this past week, with Superbowl Sunday on its way, I figured it was about time to try my hand at sweet potato and black bean chili.
Today over at Food52, I'm sharing both the chili recipe and my favorite tips for cooking beans. Digestive health is what I'm all about, so the tips are geared toward helping you to make beans more digestible.
I hope you enjoy the recipe as much as I did. And so, for the record, did Valerie, to whom I gave some of my batch!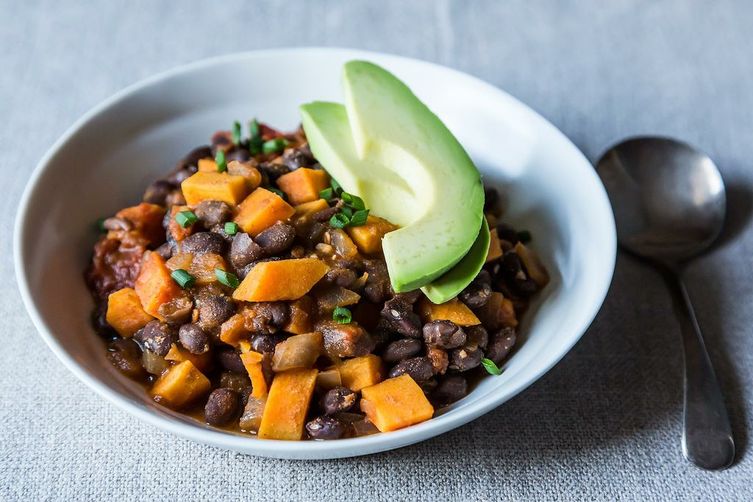 And great comments on the quinoa article yesterday, by the way. I appreciate all of the thoughtful feedback. As I said in a comment to one reader, consciousness is crucial. I admit that I have historically been weak on this front; I often support major food suppliers without asking enough questions, I don't shop exclusively locally, and for a long time, I really did think that going vegan meant I had covered my bases in terms of food issues.
Today, I realize that being vegan isn't the most I can do: it's the least I can do. It is my biggest and most passionate contribution to social justice through food choices, but it is a starting point, not an end point. This year more than ever, I want to try to stay on top of issues like the quinoa story, and do my best to make better choices as a consumer. I appreciate all of the inspiration I get from you guys along the way.
xo