Greetings from O'Hare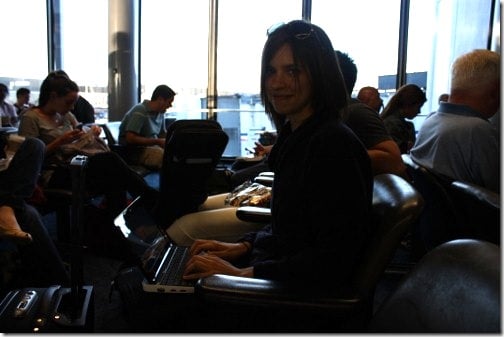 The flight departing from the gate next to me is going to New Orleans. I am tremendously tempted to sneak on it right now and go see Chloe. Unfortunately, I don't think the stack of work on my desk in New York likes that idea. (And I'm not sure I'd like the 113 degree heat index.)
Mara and the roomstar picked me up soon after my breakfast post. For the second time in less than a day, we were Whole Foods bound.
Mara and the roomstar enjoyed yogurt and fruit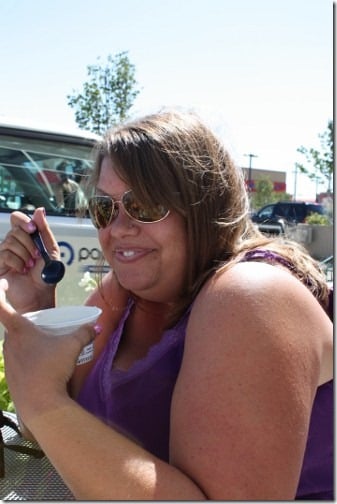 …while I dug into yet another salad beast (Gina, I think it's sticking): marinated raw kale, carrots, celery, and pine nuts. They were out of the raw kale when we arrived, but I waited till another batch came out. Nothing comes between me and my raw greens.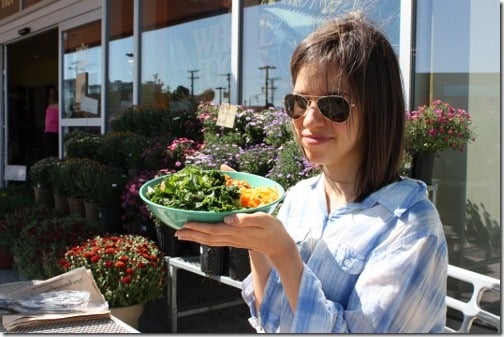 Nothing.
Guess who strolled by as we lunched?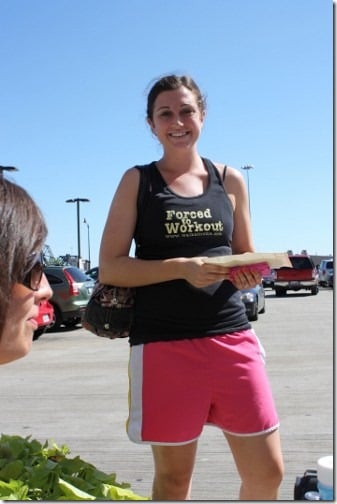 That's right, the fabulous Bender. I'm sure she appreciated my snapping a photo of her just as she came back from the gym. You love me, Jenn. You know you do.
As Mara kindly drove me back to my hotel, she gave Gina and I what could have been a professional tour of Chicagoan architecture. Mara, if you should ever wish to stop shaping the minds of America's youth, you might have a career in writing travel guides. I'll publish them.
Parting ways with Mara and Gina was sweet sorrow. I'll miss them! And after three days of being joined at the hip, it will feel strange not to have the roomstar by my side tomorrow morning. We'd better plan my visit to Orlando soon 😉
In my typically foolhardy travel fashion, I planned on leaving for the airport a mere hour and thirty pre-takeoff. Mara managed to persuade me that this would end in tears. She was right: traffic was nasty, but it was made far more pleasant by the fact that my cab driver was blasting Johnny Cash the whole time. Thank you, cab driver, for making the ride badass.
As soon as I got through security, I set about procuring this:
Though Gina and I were just talking about how little we enjoy boxed coconut water (we're both devoted to the real deal), ANY coconut water is a sight for sore eyes in the parched desert that is air travel. I chugged this down in less than a moment. And then, a little while later, I purchased this:
Blueberries and bananas blended with water, ice, and a packet of this:
Earlier, when Gina and Mara and I were at Whole Foods, I had remembered that the American Airlines terminal at O'Hare has a smoothie stop. I knew my salad beast would hold me over well, but not completely, till my late landing tonight, so I planned on eating something else before takeoff. I can't stomach a big meal before or during flying—it tends to disrupt the Choosing Raw digestion—so lately I've taken to having a smoothie or shake, if I can, right before I hop on the plane. I picked up the Vega individual smoothie infusion at Whole Foods and asked the folks at the smoothie place to mix it in, and they were happy to. Vegan and semi-raw travelers, take note! Having smoothie infusions or protein powders of choice on hand can be the difference between a smoothie-snack and a smoothie-meal. I personally prefer nut butters and hemp seeds to infusions/powders, but powders travel better, and I think they're fantastic when one needs a protein boost. Try to pick some up (or scoop some into baggies) before you fly. Vegan dining at airports is getting much better, but it's still not a piece of cake.
And now, I speed toward my beautiful, beautiful hometown. Hope you all enjoyed my weekend of HLS recaps! If you missed any of it, you can find my recap of Friday night's cocktail party (and dinner at Karyn's on Green) here, my thoughts about the Summit itself and a recap of my presentation with Caitlin here, and a recap of today's stellar Chicago breakfast here. I feel lucky to have been a part of the weekend's events, and to have seen so many cool folks in such a short time (Katie: next time). Thank you, HLS organizers, for the tremendous hard work you put into the weekend's events. We are all grateful.
And now, I think my neighbor on the plane thinks it's a little strange that I'm editing smoothie photos. My cue to sign off and get lost in the new Arcade Fire album. I'll be back soon with some regular food talk!
xo