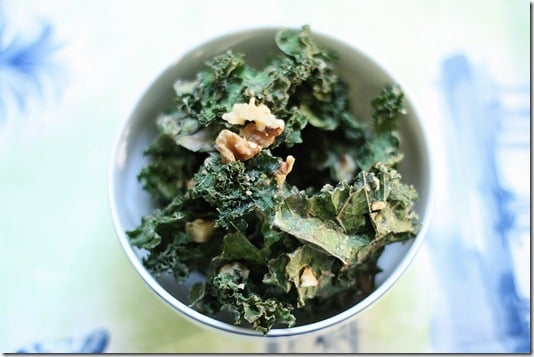 A few weeks ago, the wonderful people at Mum's Original sent me a batch of their organic, vegan, and certified gluten free foods to sample. Hiding in the box was a bag of banana powder. I have to admit, I didn't really know what to do with it: of course I could use it to make banana flavor in smoothies or baked goods, but then, I happen to always have bananas around, and don't they create that flavor just fine on their own? And even though I knew it would be a good natural sweetener, I also reasoned I could use bananas themselves to make stuff sweet: heck, I do it in oats all the time.
Then Hannah, who is ingenious in all matters sweet and indulgent, suggested that I use the banana powder to make a banana themed kale chip. Hannah, you are a genius! (And I'll get to tell you that in person when you visit D.C. this week).
Yesterday, I took Hannah's advice and put my scrumptious banana powder to good use. I'll warn you that the cashew/banana/cinnamon mixture that one uses to coat the kale chips in this recipe is so outstandingly delicious that you may start eating it with a spoon and totally forget about the kale. If you do, I can't say I blame you.
Banana Walnut Kale Chips
Makes 4 servings
1/4 cup Mum's original banana powder
1 cup cashews
1 cup water
4 pitted dates
1 tsp cinnamon
Pinch sea salt
1 bunch kale
1/3 cup finely chopped walnuts
1. Remove stems from kale. Wash, dry, and tear it into bite sized pieces.
2. In a high speed blender, blend cashews, water, dates, cinnamon, and salt till creamy smooth,
3. Pour sauce over the kale and massage it in well with your hands. You want the kale to be covered with it; as I always say with kale chips, it's not the time to get stingy with dressing! You probably won't need to use all of the dressing, but you'll use a good amount of it. Reserve leftovers for dipping apple slices or for topping oats!
4. Place kale chips in a dehydrator set to 115 degrees, and dehydrate for 8 hours or so, stopping once to move the chips around and make sure they dry evenly. If you have a tried-and-true oven method for kale chips (175 or 200 degrees for 2 hours, frequently rotating the chips, works best for me, but experiment to see what works for you), you can do that instead. Serve!
Perfect snack food: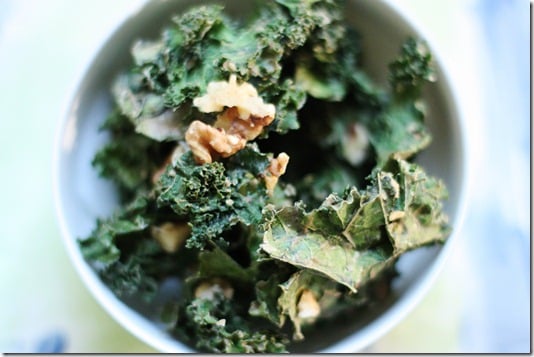 Now, I realize that banana powder is a rare ingredient, so please feel free to make this recipe with regular old bananas! I'd use 1 ripe banana in place of the powder, and then reduce the liquid to 3/4 cup. The chips will still be delicious and fragrant!
This is the perfect batch of snack food to get my week started right; there's nothing nicer than having a little something sweet to munch on between classes (and especially after labs), so I really look forward to having these around.
Hope you all had fun weekends. Happy Monday!
xo