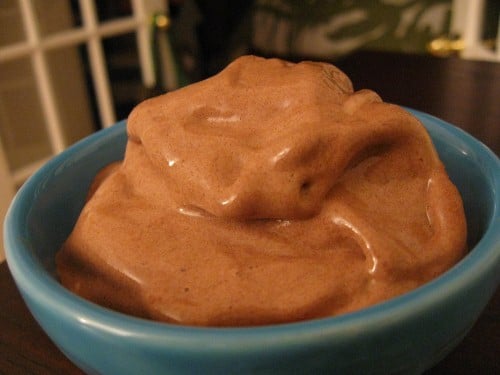 Hi folks!
First of all, thanks for an overwhelmingly positive response to my post on the Farm Sanctuary! I hope you didn't see that headline and think I was abandoning veganism 🙂 No, no. Just refining my position. In a good way.
I'm short on time this week, so I hope you'll all bear with me as I struggle to share some meaningful posts. In the meantime, let's start our weekend off on a sweet note, shall we? This little treat is a bit belated, I know; since the banana soft serve craze that swept through the food bloggie world this summer, variations and additions to the basic recipe have become par for the course. But since I've never shared the chocolate variety on the blog myself, and since food porn is a good thing regardless of its redundancy, I present to you chocolate banana soft serve.
No recipe, really: just add two tablespoons of a fine quality (I like raw cacao from Navitas Naturals, or Green and Black) cocoa powder, and add it to the original soft serve recipe.
Take a cue, too, from other blogs! I've seen various fruits (raspberries, strawberries, mango), raisins, cacao nibs, dates, walnuts, flax, nut butters, and a zillion other varieties. Sure, temperatures are dropping, but who cares. Dessert this good defies the season!
I hope you all begin your weekends on a sweet note. On the agenda for the next two weeks:
Raw Question of the Week
A special raw dessert treat to savor
How to survive Thanksgiving as a vegan/vegetarian/healthy eater if your family is giving you grief
And — get excited —
A high raw, all vegan Thanksgiving menu for you and yours!
xo