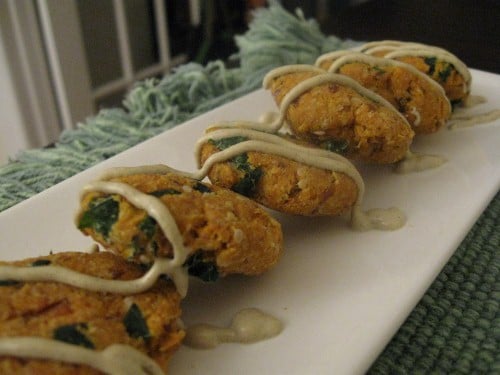 Hi guys!
Thanks for helping Courtney out in my last post. Keep the suggestions coming!
A few days ago, I made the possibly reckless decision to invite you all, via email and comments, to send me your raw-ification challenges. That's right: I want you all to send me dishes that you'd like to see me put a raw spin on. I've already received a few (including my favorite, Hungarian parikash from Earth Mother).
One of the more intriguing requests to arrive in my inbox was for raw falafel–a dish I've wanted to make raw for some time now! And since I'm all about sesame seeds and juice pulp lately, I decided that I'd make them my starting point. Some trial and error later, a new Choosing Raw favorite, raw carrot falafel with tangy tahini sauce, was born.
This recipe looks impressive, but it's really, really easy. Begin with two cups of carrot pulp, add ground sesame seeds, herbs, and spices, and roll into balls. That's it! I used my dehydrator to un-cook the falafel, but you could certainly bake them instead, or put them in the oven at 175 or so with the door ajar for an hour on each side.
However you choose to make them, you should end up with a tasty, healthy, and delicately flavored version of a much adored street food!
Raw Carrot Falafel with Creamy Tahini Sauce (yields 16 falafel and 1 1/2 cups sauce)
For the falafel:
2 cups carrot pulp
1 cup sesame seeds, ground in a coffee or spice grinder, a magic bullet, or a food processor
2 tbsp ground flax seed
1 tsp salt
1 tbsp lemon juice
2 1/2 tbsp olive oil
1 stalk celery, finely chopped
1/4 cup Italian flat leaf parsley, chopped
1/4 cup cilantro, chopped
1 clove garlic, minced very finely (optional)
1/4 cup onion, minced finely (optional)
Mix all ingredients very well by hand, as if you were making meatloaf (ew). Roll into balls about 1 1/2-2 inches thick, flatten gently, and put on a dehydrator try lined with a Paraflex sheet OR onto a baking sheet.
Dehydrate the falafel at 115 degrees for two hours. Remove the Paraflex sheet, flip them over, and dehydrate for another two hours. If using an oven, bake them at 175 degrees with the oven door ajar for an hour and repeat on the other side.
For the sauce:
Tangy Tahini Sauce (makes about 3/4 cup)
1/4 cup tahini
1 tbsp lemon juice
2 tbsp water
1 tbsp apple cider vinegar
1 tsp agave syrup
1/2 tsp cumin
1/2 tsp coriander
1 tbsp nama shoyu
1/2 large or 1 very small clove garlic, minced (optional)
Blend all ingredients in a magic bullet, VitaMix, blender, or food processor until smooth and creamy. The sauce should be super tangy and delicious!
Simply plate a few of these, drizzle them with sauce, and serve. The sweet, nutty, spicy quality of the falafel is balanced by the acidity of the tahini sauce. In all? An awesome raw take on a Middle Eastern classic.
I hope you guys give this one a shot soon! It's a winner.
Have a great night, lovelies.
xo