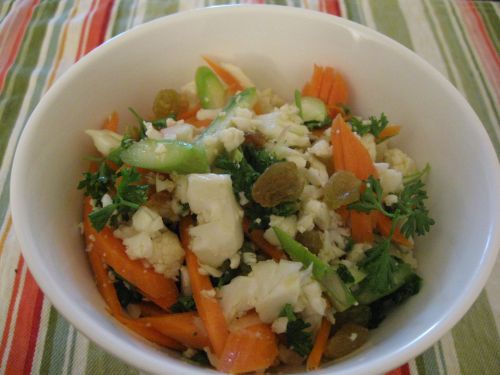 People spend a lot of time asking me, "you eat [insert name of vegetable here] raw?!" And I spend a lot of time responding, "yes!" Truth is, I prefer most veggies raw—even beets and collards and other fibrous ones. I actually hate cooked spinach—for whatever reason, it gives me the heebie jeebies.
I will admit, though, that not all raw vegetables are my friend. And foremost among the list of "must heat to eat" veggies is broccoli; I can eat it raw if I marinate it for a long time, but on the whole, I truly prefer it gently steamed (which is cool, since some of the nutrients in broccoli are actually released by cooking).
Cauliflower, however, is another story. I LOVE raw cauliflower, and I eat it often (in fact, I hope this will be the first of many spins on raw cauliflower that I share with you guys). I enjoy marinating it, grinding it with nuts for my version of raw "mashed potatoes," and most of all, I enjoy making this simple cauliflower salad. All it demands is some time spent chopping, which is minimal with the help of a food processor. This salad is light, versatile, and easily modified or added to. Best of all, it's full of Vitamins C, K, folate and fiber. Give it a shot, and enjoy!
Cauliflower Salad with Orange Vinaigrette (serves 2)

Ingredients:
For the salad:
2 cups cauliflower, raw (you can steam gently if you like)
1 stalk shaved or chopped asparagus
2 small carrots, shaved, chopped, or julienned
2 tbsp parsley, chopped
3 tbsp golden raisins
For the dressing:
3 tbsp fresh squeezed orange juice
3 tbsp extra virgin olive oil
1 tbsp apple cider vinegar
¼ tsp sea salt
Pepper to taste
To make the salad, simply pulse the cauliflower in a food processor till it reaches a chopped, yet well defined consistency (you can also do this by hand—it'll just take longer!). Toss with the other ingredients and set aside
To make the dressing, simply whisk all ingredients together. Pour about 1/3 of a cup of this over the salad, toss, and enjoy! (You can use more or less dressing if you wish, but I always have some leftover for a green salad to go alongside).
It's been a long and busy week, guys! I'm really glad that the soy article provoked some interested. Stay tuned for a fun weekend: I'll have a guest post up on the blogosphere tomorrow (I'll post a link midday when it's published) and some fun restaurant food porn, since it's my birthday on Sunday. Here's hoping for sunshine!
xo