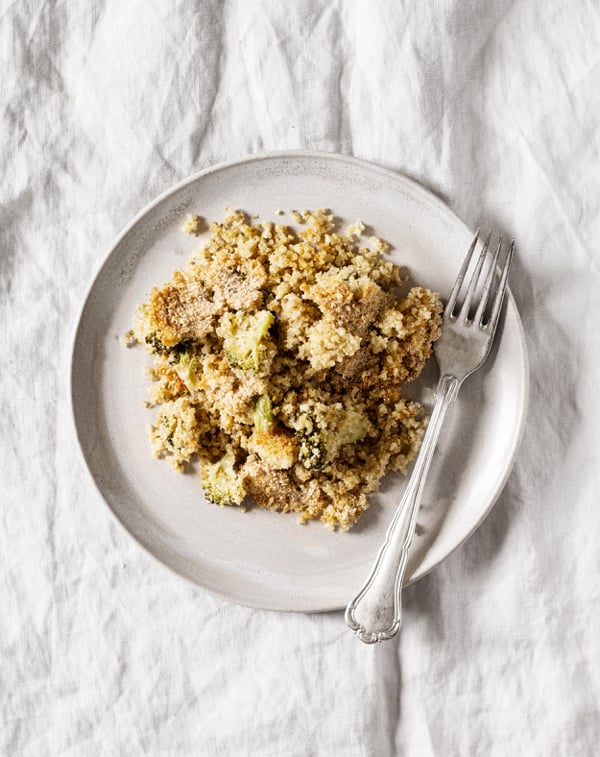 Tonight, I present you with ideal winter comfort food. It's warm, creamy, "cheesy," and filling, and it's easy to prepare. If you cook your quinoa ahead of time (perhaps as part of a weekend batch cooking routine), then you can even throw this together on weeknight, after work or class. The leftovers get better over the course of a day or two, and they'll also freeze for a couple of weeks, so no matter how many people inhabit your home, it's worth making the whole recipe and saving leftovers for a quick and easy express meal later on.
And did I mention that it's cheesy?
In his recent roundup of vegan favorites, my boyfriend mentioned that I put nutritional yeast on everything. Guilty as charged. I add nooch to grain bowls, salads, curries, and…everything. But the real beauty of nutritional yeast isn't only its value as a condiment. It's also the perfect base for creamy, "cheesy" vegan sauces. In this recipe, I've used the classic cashew/nutritional yeast combination, along with cooked chickpeas, which add a thick texture (not to mention a healthy dose of protein, folate, and iron!). The sauce is excellent, and it may now join my steady rotation of creamy condiments.
Cheesy Vegan Quinoa Bake
Author -
For the Bake:
4

cups

chopped broccoli florets

1

tablespoon

olive oil

1

white or yellow onion, diced

2

stalks celery, diced

4

cups

cooked quinoa

1/4

cup

breadcrumbs (optional; you can make your own by pulsing two slices of toasted whole grain bread in a food processor, or you can use a gluten free brand)
For the Cheesy Sauce:
1/2

cup

raw cashews, soaked for at least two hours, rinsed, and drained

1

cup

chickpeas or white beans (such as navy, cannellini, or great northern), cooked

1/2

cup

nutritional yeast

1

clove

garlic, minced

1

teaspoon

smoked paprika

1/2

teaspoon

mustard powder

1 1/4

cups

water

1/2

teaspoon

salt

2

tablespoons

white miso
Fill a medium sized pot with water and fit with a steamer attachment. Bring the water to a boil and steam the broccoli florets until crisp-tender (about 3-4 minutes). Remove them from heat.

Blend all of the sauce ingredients together in a high speed blender or a food processor until they're totally smooth.

Preheat your oven to 350F. Heat the olive oil in a large skillet over medium heat. Add the onions and celery, and sauté the vegetables until the onion is clear and soft (about 7 minutes). Add the quinoa and the broccoli to the skillet. Add the sauce and stir everything to heat it through.

Transfer all ingredients to an oiled 7x11 or 8x12 baking dish. Top with breadcrumbs, if using. Bake for 30-35 minutes, or until the casserole is bubbling gently and the breadcrumbs are golden. Allow to cool for 15-20 minutes before cutting into squares and serving.
The broccoli in this casserole is lovely, but you could swap it for all sorts of green veggies: kale, spinach, green beans, peas, shredded Brussels sprouts…I could go on. Like many casserole dishes, this one lends itself to customization, based on what you have at home. It's also a nice vehicle for frozen vegetables, if you're short on groceries and looking to make something special.
As I've mentioned a few times recently, I've been in a bit of a recipe development rut, relying often on bowls or old, tried-and-true meals to get by. When I made this bake last week, I had that sweet sense of personal accomplishment that comes when one has created a really satisfying meal. It had been a while, but it was enough to make me feel inspired again.
Cooking is funny; it's easy to fall into ruts or to lose one's sense of creativity, but even one good meal is usually enough to get the wheels turning again. I hope to have more to share soon, and in the meantime, I hope you'll enjoy this dish as much as Steven and I did.
Good night, friends!
xo