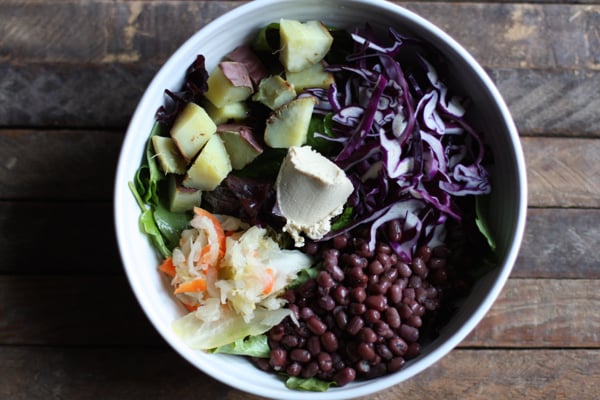 As I mentioned recently, my time for recipe development lately has been a little limited–a combination of having spent a lot of this month traveling, and a constellation of freelance deadlines creeping up on me. I'm just now getting back into the swing of things with some culinary playtime, but in the meantime, I've been sticking to simple eats: lots of oats for breakfast, lots of curries and stews and pastas for dinner, and–perhaps most delightfully–lots of bowls for lunch.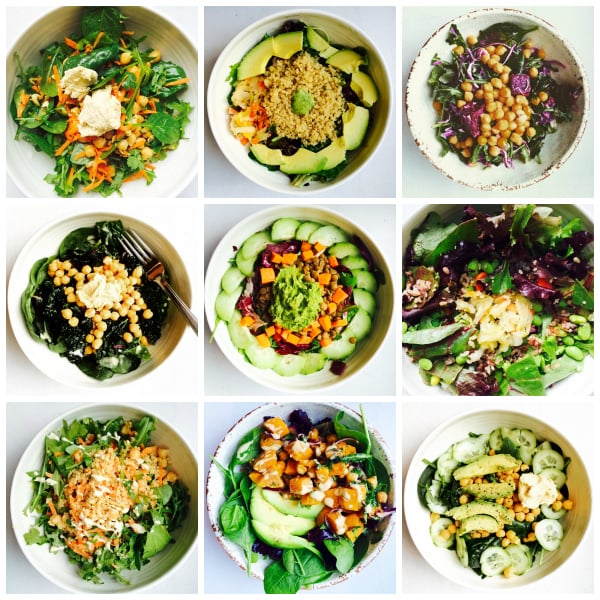 That's a little collage, drawn from my Instagram page–a fun collection of some of the meal-sized salads / bowls that have been keeping me company at lunchtime. My formula for a perfect lunch bowl (which I frequently share with my clients, many of whom are hoping to make their salads and bowls more satisfying) looks something like this:
Proteins:
Legumes
Tofu/Tempeh
Quinoa
Hemp seeds
Complex carbs:
Grains
Legumes
Root veggies
Fats:
Oils
Avocado
Dressings
Nuts & seeds
All of the essential macronutrient bases are covered in this list, and pairing them up (along with fresh veggies) makes for a quick, easy, and satisfying meal. Of course, throwing these bowls together means some weekend batch cooking (for me, usually a pot of quinoa, a pot of rice, two pots of beans or lentils, and a batch or two of hummus/dressing), but it leads to quick assembly when lunch time rolls around during the workweek. These bowls–along with dinner leftovers a couple nights each week–make my midday meals simple and delicious.
I wanted to share with you guys a recent lunch bowl that was too good not to mention. Lately, I realize that I only tend to blog my "recipes," and I Instagram more of my everyday eats, but I've been saying for a long time that I want to share more of my quotidien meals (and some of my planning/prep tips). Consider this a start. It's a wonderful combination of flavors, textures, and colors, and it feels nicely seasonal, too.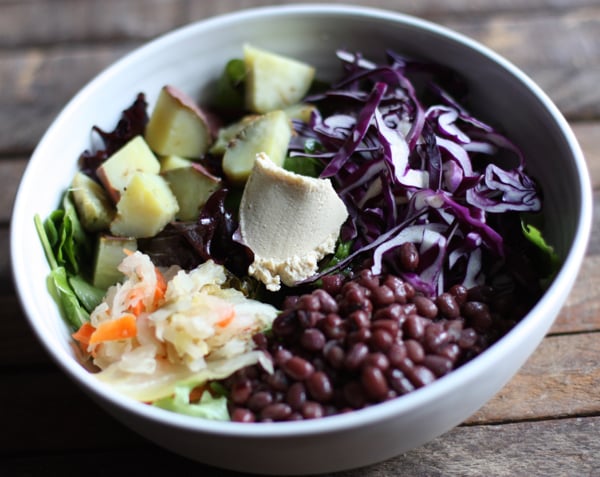 Aduki Bean, Japanese Yam, and Cabbage Bowl
Author -
2

heaping cups greens of choice

spinach, mixed greens, arugula, kale--whatever!

1

cup

cubed

cooked Japanese yam or regular sweet potato (roasted, baked, or steamed)

1/2

cup

cooked aduki beans

1/4

cup

fermented vegetables

sauerkraut is fine--any brand you like--or use my tutorial for homemade lacto fermented veggies; this was a homemade combo of cabbage and carrot

1/2

cup

red cabbage

shredded

2-3

teaspoons

olive of flax oil

Squeeze of lemon or a teaspoon of apple cider vinegar

Salt and pepper to taste

2

tablespoons

hummus of choice

optional
Mix the greens, yam, beans, fermented vegetables, cabbage, oil, lemon/vinegar, and salt and pepper to taste in a large mixing bowl. Alternately, arrange all ingredients in a large bowl and drizzle the oil and lemon on top.

Top the bowl with hummus and serve. No hummus? Top with avocado instead!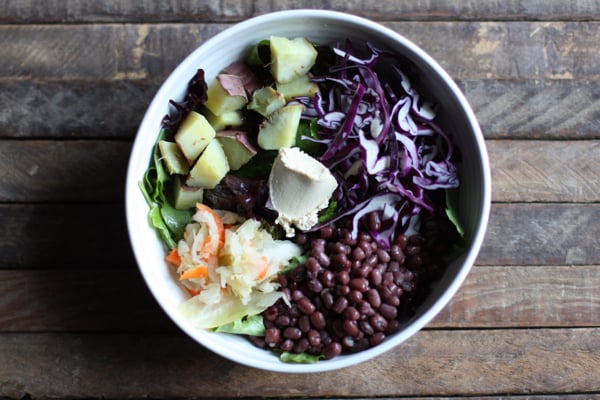 There it is, folks. Nothing fancy, but a hearty, textured, and satisfying bowl that I hope you'll savor as much as I did. I'm signing off for tonight, but on Thursday, I'll be back with a wonderful green smoothie recipe (I'm overdue for a good smoothie recipe!). Till then, I wish you all a great night.
xo