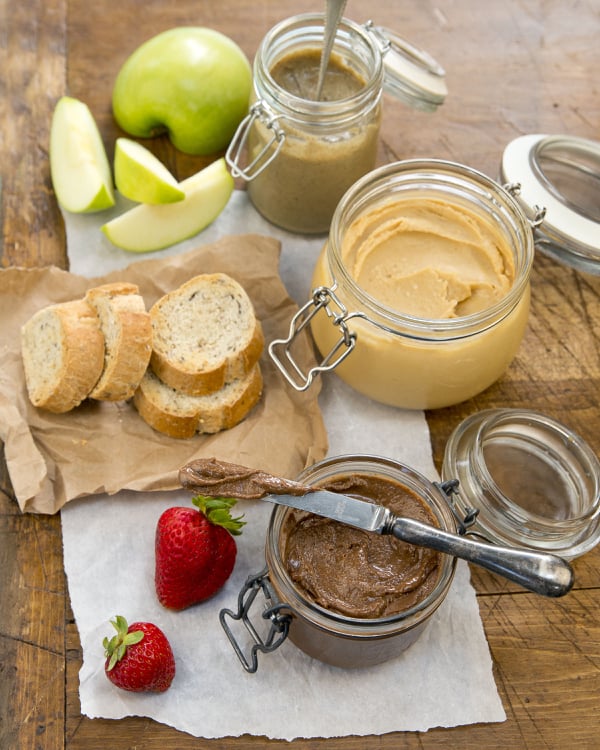 Happy Friday, friends. I hope that everyone who was busy celebrating Thanksgiving yesterday had a lovely time!
Now we're all moving swiftly into the holiday season, which is also the season of edible giving. As always this year, I'll be sharing a few ideas for sweets and treats that make for enticing gifts for your loved ones. The first such treat is an easy and unique homemade nut butter created by my dear friends Lisa Pitman and Nicole Axworthy, the talented authors of a super new cookbook called DIY Vegan: More than 100 Recipes to Create an Awesome Plant-Based Pantry.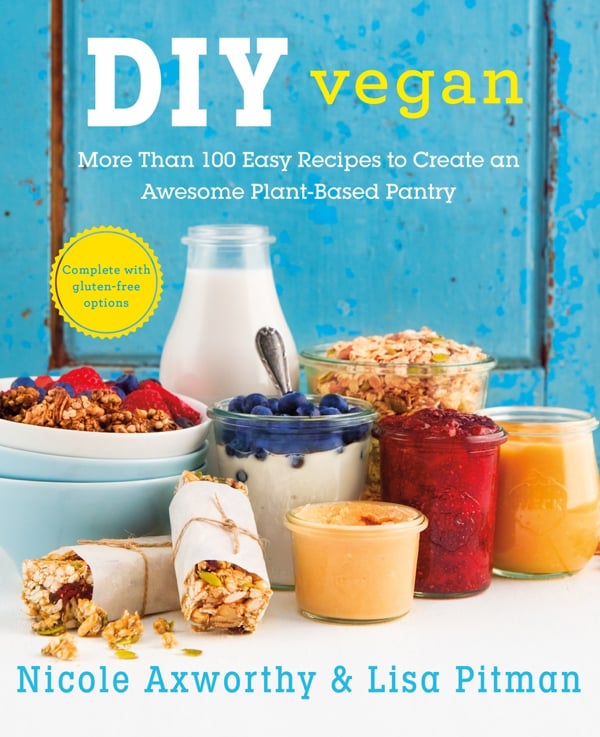 One of the nicest things about being vegan in this day and age is that there are so many products and items that make our food authentic and our lives easy. Earth Balance, Daiya, Neat Meat, Beyond Meat, Field Roast, Veganaise, Just Mayo–these are just a few of the plant-based brands that I enjoy and admire most. Their products lend authenticity and familiarity to a lot of traditional dishes, and they can be a fun way to liven up dishes.
With that said, these products can be expensive, and there's an undeniable satisfaction involved in making one's own staple ingredients. That's the idea behind Lisa and Nicole's new book, which gives you easy recipes and all the tools you need to make your own plant-based pantry, complete with vegan milks, ice creams and butters made from a variety of nuts and seeds, home-ground flours, yummy sauces and spreads, snack foods, and an array of artisanal, homemade vegan cheeses.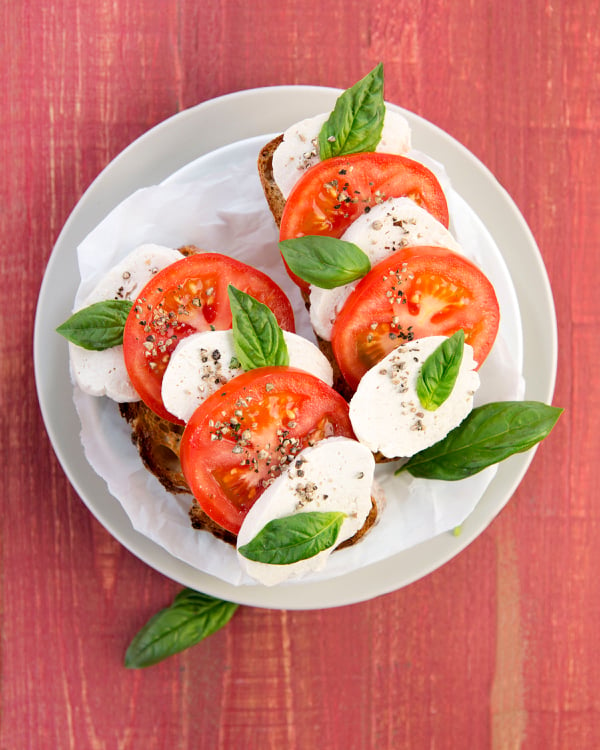 Some of my favorite recipes from the book include a vegan version of sweetened, condensed milk, DIY toaster pastries, sweet ginger stir-fry sauce, maple masala mustard, chai concentrate, and an ingenious savory "egg" mix, which lends incredibly authentic flavor to your favorite tofu scramble.
I also love Lisa and Nicole's shake n' bake herb breading, which is perfect for tofu, tempeh, or for sprinkling onto your favorite casserole or dish of roasted vegetables!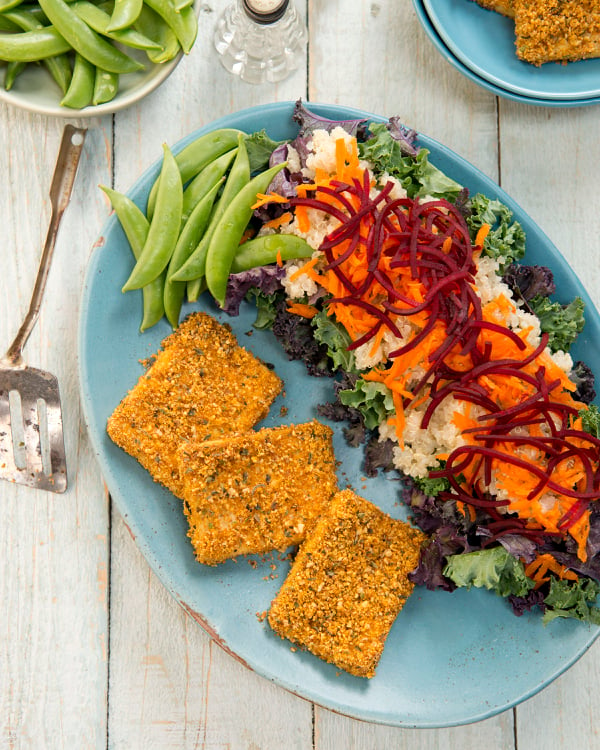 Lisa and Nicole are the authors of a couple ebooks, each of which specialize in sweets and treats. Not surprisingly, much of their talent shines when they tackle sweets and desserts, and DIY vegan has rich offerings in that category, including chocolate cake mix, oatmeal-raisin cookie mix, lemon curd, and chocolate fudge filling.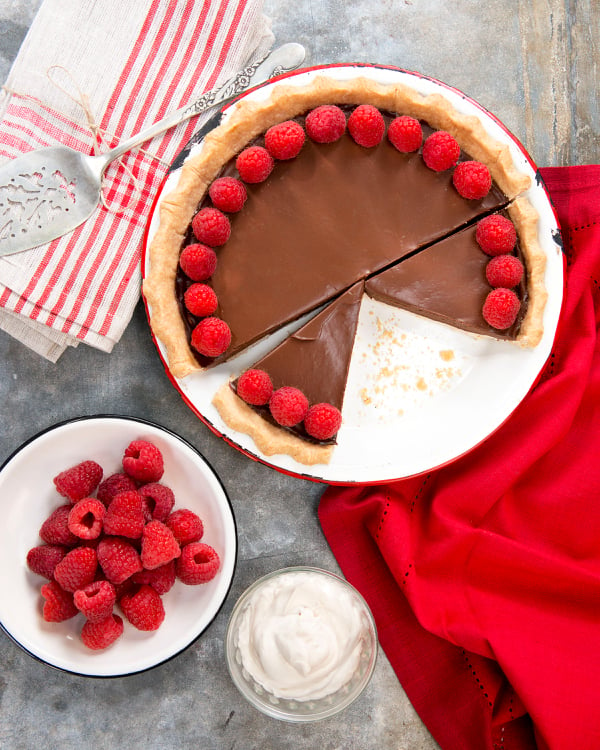 This is an ideal book for anyone who's interested in edible gifts and in becoming more crafty and self-sufficient as a vegan home cook. There are some more involved recipes, like DIY pizza dough or fermented nut cheese. But for the most part, DIY Vegan has something for someone at every level of culinary comfort and expertise, and many of the recipes are incredibly simple.
This rich coconut peanut butter is one such offering. It beats commercial peanut butter by a mile, it's easy to make, and the coconut gives it a unique twist!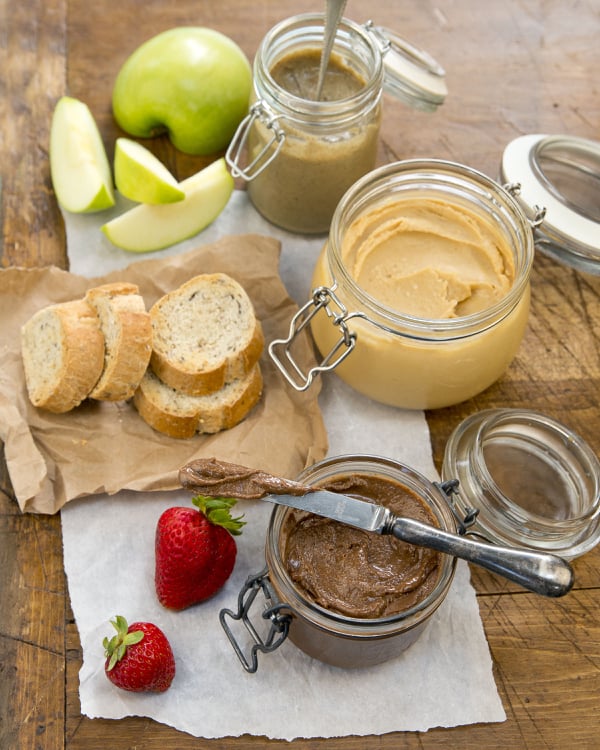 Coconut Peanut Butter from DIY Vegan
Author -
1

cup

unsweetened shredded coconut

1½

cups

dry-roasted unseasoned peanuts

2

teaspoons

agave nectar or pure maple syrup

¼

teaspoon

sea salt
In a food processor, process the shredded coconut until a paste starts to form. This will take about 10 minutes, so be patient. Stop and scrape down the sides of the processor bowl as needed.

Once a paste forms, add the peanuts and continue to process until smooth and silky.

Add the agave and salt and process to combine. The butter can be stored in a mason jar in the fridge for about 4 months. It will thicken once refrigerated.
Try this: The recipe is also amazing with dry-roasted almonds instead of peanuts. Give it a try! How to dry-roast nuts: If you have trouble finding dry-roasted peanuts, it's pretty simple to slow roast your own. Preheat the oven to 325°F. Spread the blanched peanuts on a rimmed baking sheet and roast, stirring occasionally, for about 25 minutes, until lightly browned. Reprinted from DIY Vegan. Copyright © 2015 Nicole Axworthy and Lisa Pitman. Published by St. Martin's Griffin. All photographs by Nicole Axworthy.
I've been enjoying this peanut butter in place of my regular jar. It's so satisfying (not to mention delicious) to add this one little DIY touch to my toast and my oatmeals. I look forward to trying it with different nuts, and to sharing it as an edible gift this coming year.
I'd love to offer one reader of The Full Helping a chance to explore his or her own copy of this fun, creative collection, and Lisa and Nicole's publisher has graciously offered to help make it happen. Enter below to win one free copy of DIY Vegan (US and Canadian residents only, please). The giveaway will run for two weeks!
Good luck!
I hope that many of you have a restful post-holiday weekend planned. I look forward to a combination of work, lots of meal planning for clients, and a little planning of my own edible giving for the season ahead. And I look forward to seeing you on Saturday, for weekend reading!
xo