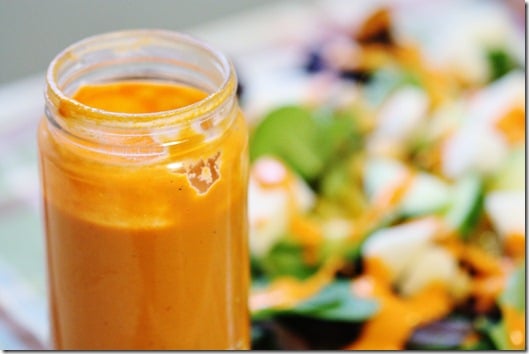 Hey all! Hope your weekends were relaxing, and that you managed to avoid some of the arctic chill we're seeing here in DC (and, from what I hear, all over the Northeast). Mine was filled with the usual melee of studying, blog work, yoga, gym, and food. Food, of course, was the main highlight!
I've hit that peculiar moment in the heart of winter–and it happens every year–when I start crave raw fruits and vegetables with a fervor. I've always wondered why this happens, and I have yet to come up with any kind of scientific answer. I suspect it's simply my body's way of screaming out against months of indoor heating, classrooms lit up with the sounds of winter coughs, and abbreviated outdoor walks, and begging for the fresh, crisp tastes of warmer months. Raw foods always exist in a balance with cooked ones for me, but I do love to indulge these seasonal cravings with all the blended greens and salads I can handle.
Starting here. This isn't a salad recipe, but rather a dressing recipe–which is really like many salad recipes delivered to you at once. Dressings are one of the cornerstones of my weekly food prep routine. Why? Because a good dressing can be key to eating lots, and lots, and lots of vegetables. You can dipped steamed veggies into it if you're craving warm food, smother your nutrient dense salads, and use it to dip raw veggies as a snack. To say nothing of how easily you can slather a dressing on a raw or cooked sandwich. The possibilities abound.
This dressing grew out of my passion for this spice: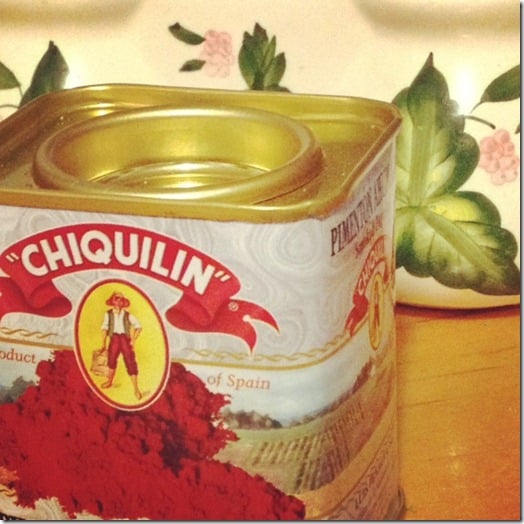 That's smoked paprika, which is one of my favorite spice rack staples. It's just regular paprika that has been smoked in oak, and it takes on a very distinctive, smoky aroma and taste. I like using it in place of liquid smoke when I need to create a "smoky" flavor in vegan dishes (traditionally, of course, various meats are used to do just that). It's not inexpensive, but you can find good deals on Amazon, and a little goes a very long way.
Take this dressing: only 1/2 teaspoon of smoked paprika takes a red pepper and chickpea medley to a new place. The recipe—a creamy blend of red pepper, chickpeas, tahini, and lemon—needs very little improvement in the taste department, so the paprika is optional. But if you can manage to find some, you'll be glad you did. Trust me on this one. You can leave the red pepper raw if you like, or roast it, which will enhance the smoky flavor.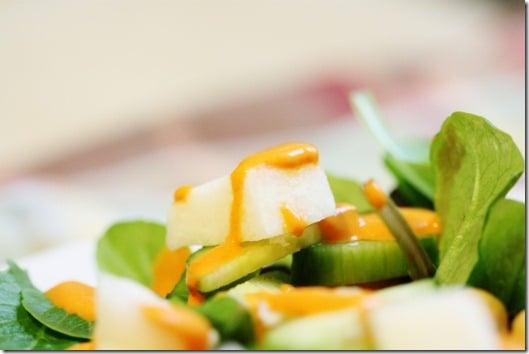 Smoky Red Pepper, Chickpea, and Tahini Dressing (vegan, gluten free, soy free)
Makes about 2 cups
1/2 cup chickpeas
1 cup chopped red pepper (roasted red pepper would be great here, too)
1/2 cup water
1/2 cup tahini
Juice of 2 small lemons
1 tsp salt
1/2 tsp smoked paprika
Blend all ingredients together on high till creamy and smooth.
Serve over salad of choice. Mine was cucumber, tomato, jicama, pepper, chickpeas, and a heap of raw hemp and vegetable crackers (homemade).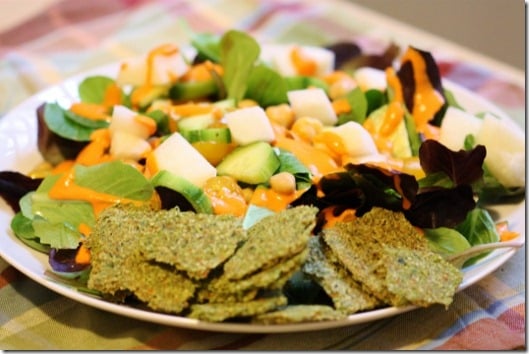 So what made this salad appropriately meal sized? Well, let's look at our macronutrient groups. Protein? Hemp and chickpeas fit the bill. Carbs? Legumes provide starch and energy. Healthy fat? Tahini and hemp step in. And since we were just talking about Omega 6's and 3's, it's worth pointing out that both are present in this meal—6's in the tahini, 3's in the flax and hemp in my crackers. A nicely balanced plate!
And here's another one, also from the weekend: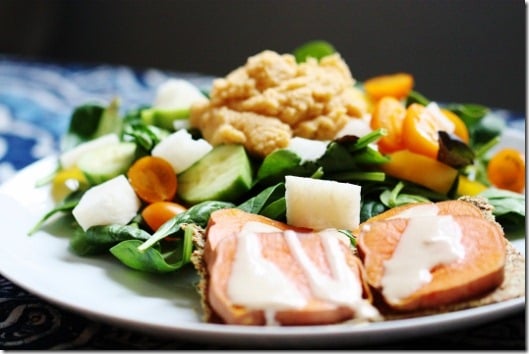 Sweet potato rounds over hemp bread with tahini dressing, along with a fresh vegetable and green salad topped with mashed turnips.
And the weekend also involved quite a bit of this: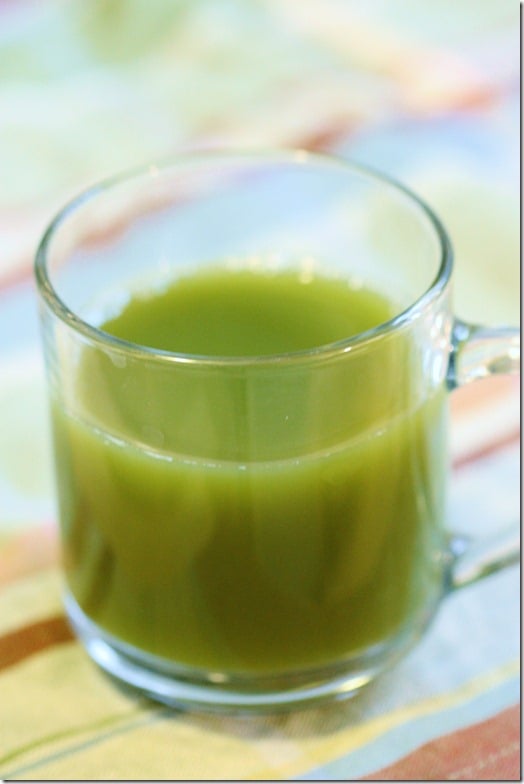 My usual green lemonade recipe of:
1 green apple
1 inch knob ginger
5 large stalks celery
1 cucumber
1 large handful parsley
5 stalks kale
1/2 lemon, skin cut off
Always refreshing and delicious as an afternoon snack! Or anytime snack. The ginger and lemon tend to be just the pick me up I need when I'm tempted to hit the "on" switch on my coffee maker for the second time in a day. Committed though I may be to my morning Joe, fresh, nutrient rich juice is so much more sustaining as an energy source.
That's about it for now, folks—biochem calls. Hope you all love this dressing as much as I instantly did, and that your Mondays get off to a good start!!
xo