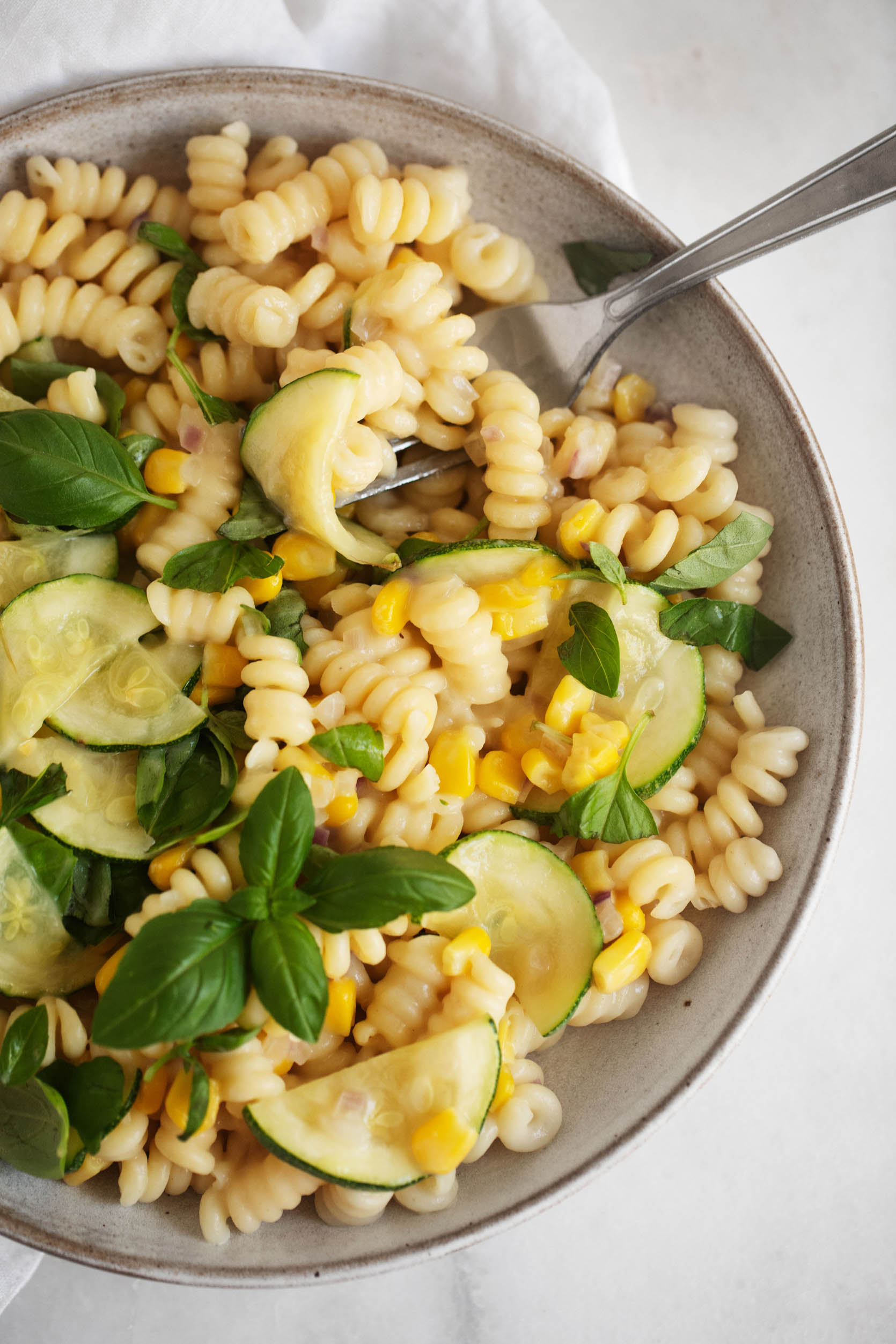 This creamy zucchini corn pasta is the perfect way to celebrate the sweetness and abundance of late summer. It's fresh, vibrant, and easy to make.
I've been making a lot of pasta lately. It's summer, and my desire to be stuck in my small and steamy kitchenette is limited. As a result, many of my recent pasta dishes have been pasta salad. Most recently, this was tahini pesto pasta salad. But I become equally excited about warm pasta dishes that cook quickly, and this creamy zucchini corn pasta is one of them.
A while back, I saw my friend Ali's recipe for toasted orecchiette with zucchini and corn. It looked wonderful, and I made a note to try it, or something like it. It took me a whole year to get there, but I'm so happy I did.
Creamy, but not too creamy
The creaminess of this "creamy" pasta is understated. It's my habit of creating creaminess in vegan pasta dishes by blending up a whole cup of cashews, or something along those lines. I exercised more restraint here. As a result, the creamy zucchini corn pasta is fitting for the heat wave we're having in New York: filling and comforting, yes, but light.
The lightness of the dish is thanks to the fact that I used Milked Cashews from Elmhurst™. It's my first time trying the brand, and its smooth consistency was perfect for a creamy sauce that's just light enough.
Elmhurst Plant-Based Milks
Elmhurst is formerly a producer of conventional dairy. The company has taken an entirely different direction, switching over to plant-based milks. It now sells milked cashews, walnuts, almonds, peanuts, and hazelnuts, as well as milked brown rice and oats. All of the products are vegan, non-GMO, gluten-free, and kosher. They can be found at Elmhurst1925.com and a number of retailers, including Whole Foods.
In many years of sampling non-dairy options, these are the milks I've tried that most closely resemble homemade nut milk. If I didn't know I wasn't drinking something that I'd blended up myself, I'd probably never detect a difference. I haven't made homemade nut milk in a long time, and it's nice to have such an authentic option on hand.
The milks owe their creaminess to a special process that results maintains a ratio of lots of nuts per glass. The ingredient lists are minimal, and no emulsifiers are used. I noticed when I sampled the milked almonds, cashews and oats that each tasted milk actually tasted like the base ingredient. The simplicity of the milks makes them easy to use in either sweet or savory recipes: they're not overly flavored, so they can be adapted any which way. I was eager to use the milked cashews in pasta.
Making creamy zucchini corn pasta
As I said, the beauty of this recipe is that it won't keep you hunched over a your stovetop for hours on a hot day. You can make the sauce directly before cooking the rest of the recipe, or you can make it a day or two in advance. It'll keep for up to a few days in the fridge.
The rest of the recipe is simple. Boil pasta, gently sauté some shallots (or onion), zucchini, corn, and garlic. Mix it together and allow it to simmer in the sauce for a few minutes before serving. Typically I throw some sort of vegan parmesan all over any pasta recipe, but with this one I stuck to torn herbs and lemon. The simplicity of these garnishes allow the flavor of fresh August corn and sweet zucchini to shine through.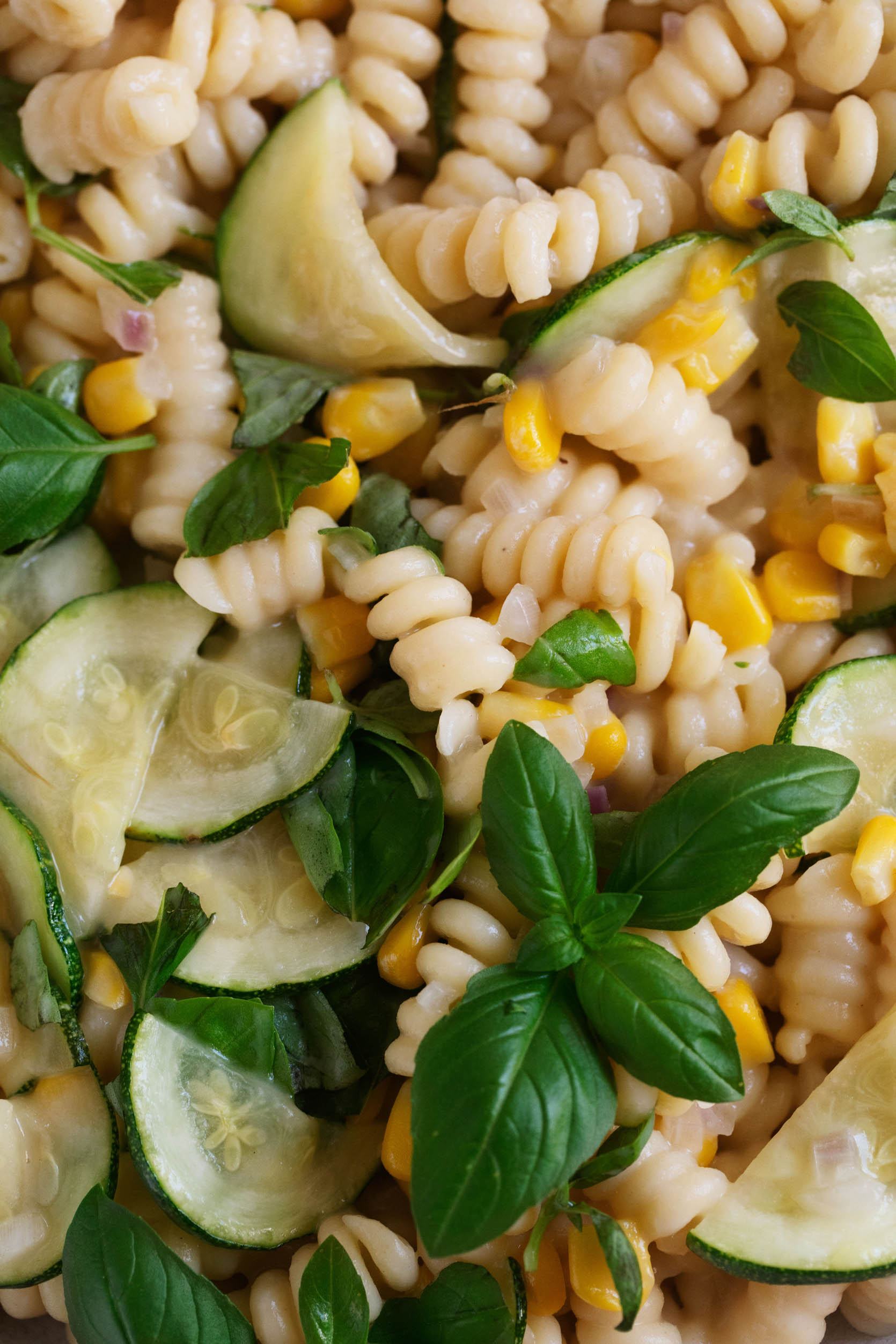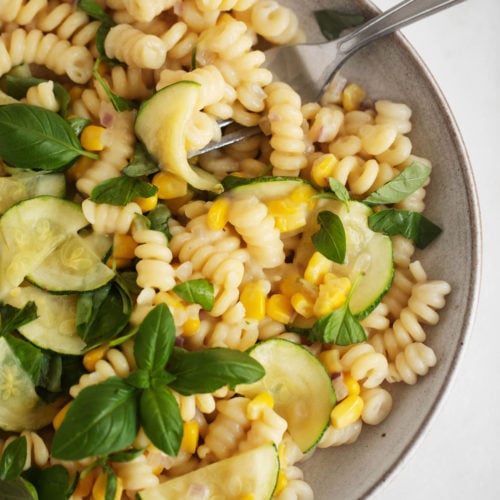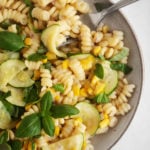 Creamy Vegan Zucchini Corn Summer Pasta
Author -
For the sauce:
1 1/4

cups

Elmhurst Milked Cashews, or another plant milk of choice

2

tablespoons

all purpose flour (substitute 1 tablespoon arrowroot flour)

2

tablespoons

nutritional yeast

1

tablespoon

freshly squeezed lemon juice

1/2

teaspoon

salt

A pinch nutmeg

A generous pinch freshly ground black pepper
For the pasta
8

ounces

pasta of choice

2

teaspoons

olive oil

1/4

cup

chopped shallot or red onion

2

heaping cups (about 8 oz) chopped zucchini

1 1/2

cups

corn kernels, fresh, canned, or frozen and thawed

2

large or 3 small cloves garlic, very thinly sliced

Freshly squeezed lemon juice

Small handful each torn or roughly chopped basil and mint

Freshly ground black pepper and salt, to taste
To make the sauce, blend or thoroughly whisk all ingredients together. Transfer to a small sauce pot. Cook over medium low heat until the sauce is very gently simmering, but not boiling. Reduce the heat to low and continue simmering for 3-5 minutes, or until it's thick enough to coat the back of a spoon. Store the sauce for up to 3 days or set it aside.

Bring a large pot of salted water to a boil. Add the pasta and cook according to package instructions; drain.

While the pasta cooks, heat the oil in a large, deep skillet over medium heat. Add the shallot, zucchini, and corn. Cook, stirring frequently, for 5-7 minutes, or until the vegetables are tender. Add the garlic and cook for one more minute, stirring constantly.

Add the cooked pasta to the vegetables, then add the sauce. Reduce the heat to low, then simmer everything in the sauce. When most of the sauce seems to be absorbed and the dish is creamy but not soupy, it's done. Stir in the herbs and lemon. Taste and add salt and pepper as needed. Serve.
How to store creamy zucchini corn pasta
One the creamy zucchini corn pasta is made, it can be stored in an airtight container for about three days. This isn't a recipe that keeps much longer, only because the flavors are so fresh. But you'll certainly be able to enjoy it for a couple days, and again, feel free to make the sauce in advance.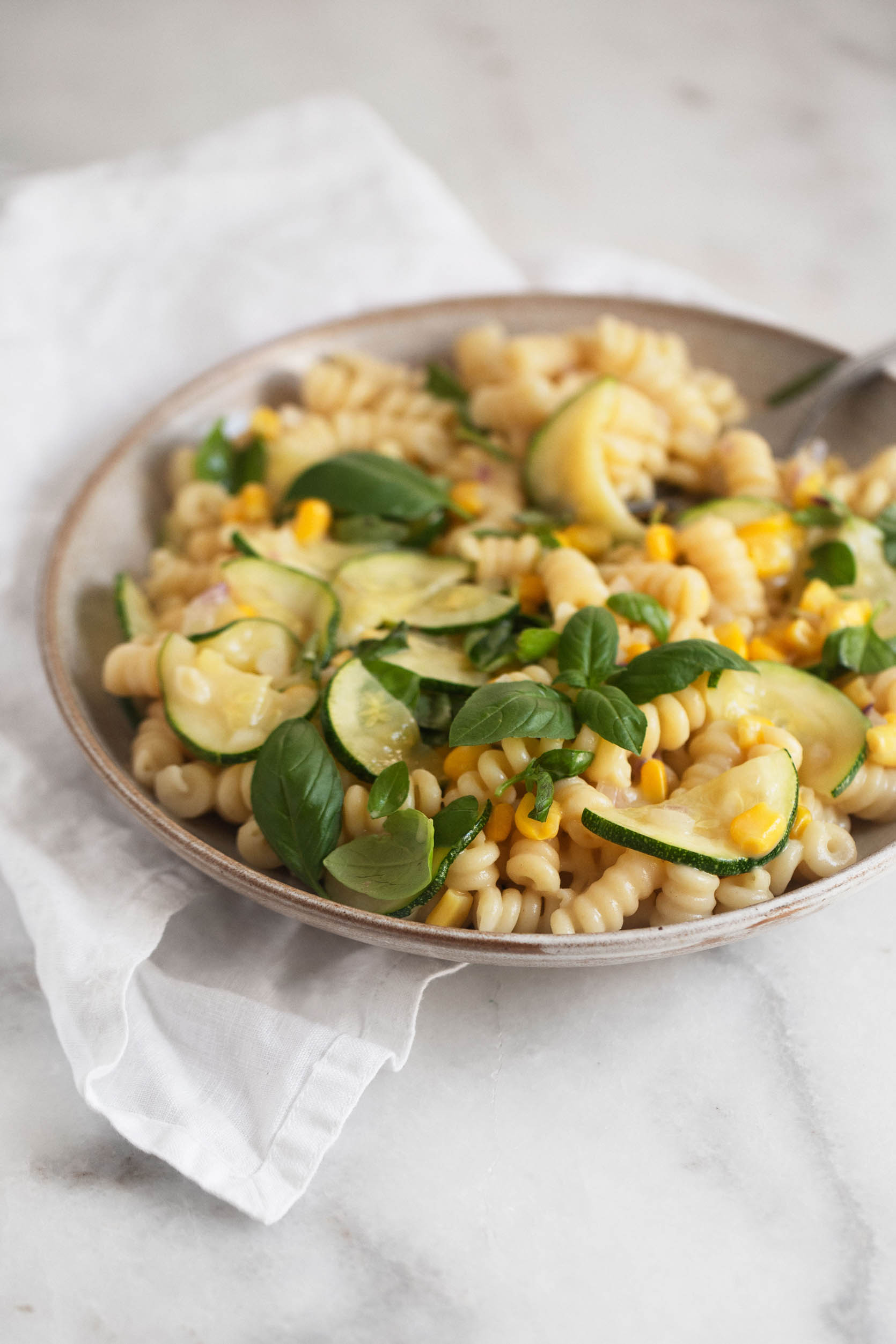 Cashews have always been my go-to for achieving a creamy texture in vegan recipes. There are downsides to using them, though. One is that it can be hard for home cooks who don't have very powerful blenders or food processors to make homemade cashew cream. This sauce is a nice alternative. And if you don't want to dirty your blender, whisking away any clumps is just fine, too.
I'm happy to have a new "back pocket" pasta dish for the summer months. Last summer was the summer of roasted tomato sauce on everything, but I've been feeling more sensitive to the heat lately than I was then, and this recipe warms my apartment up less than slow roasting. If you try it, I hope you'll find it as seasonal and bright as I have.
Wishing you all a sweet end to the week. See you soon with some reads and recipes.
xo
This post is sponsored by Elmhurst. All opinions are my own, and I love these creamy plant-based milks. Thanks for your support!