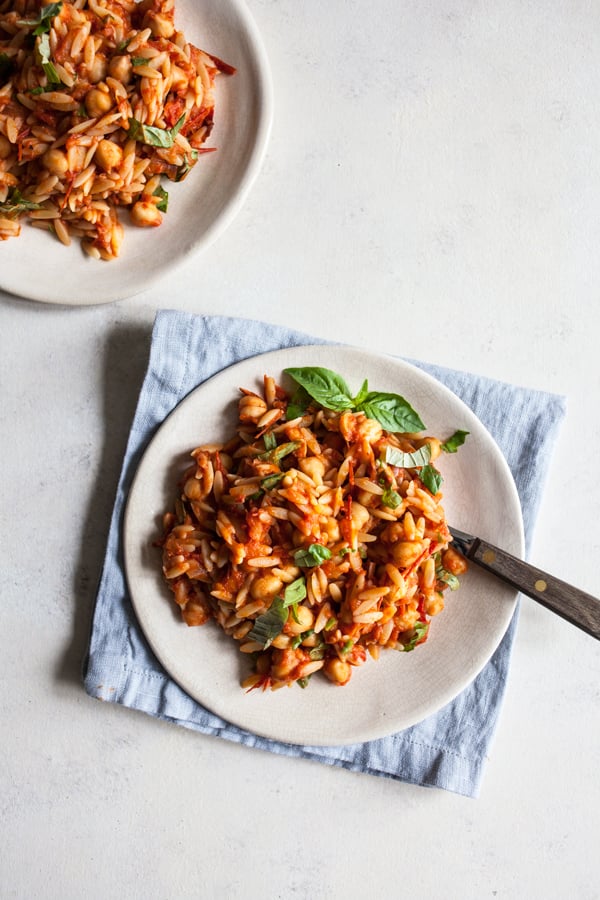 I've been all about simple pasta dishes this summer. I still do plenty of batch cooking—stews, soups, hefty grain dishes, etc.—but now that I'm cooking for one again, pasta is often the easiest choice. I think it lends itself to single portions a little more easily than most grains, and the speedy cooking time makes it easy to come up with meal ideas on the fly. This chickpea orzo with homemade roasted tomato sauce is my new favorite, a truly scrumptious meal that comes together with very little active work. And while I love the orzo here, you can make the dish with any pasta shape you like.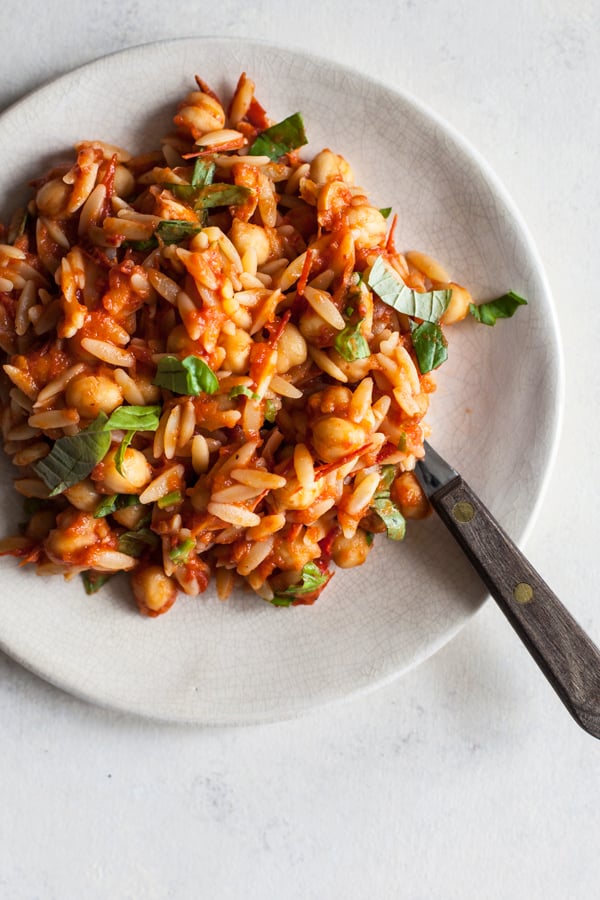 Solo cooking aside, I did end up sharing this dish. I'm still helping my mom out with her knee replacement recovery process, and I've been trying to help keep her fridge stocked with tasty, nutritious meals that she can heat up easily.
The dish is a nod to the Mediterranean flavors that mom and I both love, and it also marries some of our favorite ingredients. Chickpeas are my number one legume, and orzo is mom's favorite pasta, so it made sense to combine them. The choice ended up being more than a concession to our tastes, though: it's actually a great pairing, because the chewy texture and plump shape of the chickpeas is a nice contrast to all of the uniformity of a small pasta shape.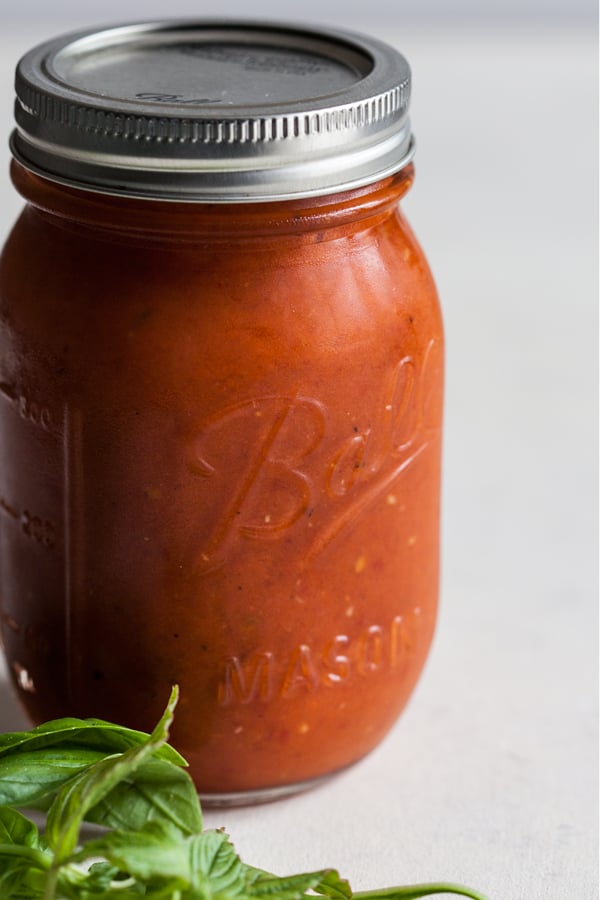 In the end, though, it's the tomato sauce that makes this meal, and even if you don't care for either chickpeas or orzo, you can make the sauce and use it with any pasta or grain you like. Thanks to a long roasting time at moderate heat, the tomatoes become ultra-concentrated in flavor and irresistibly sweet. I roast them with big, unpeeled garlic cloves, left whole, then squeeze the garlic into the sauce before blending: I think it gives the sauce more sweet and savory, roasted garlic flavor than grating the garlic and tossing it with the tomatoes before roasting. I also throw a sliced onion on the pan, though you can definitely leave the onion out if you like.
The cooking time here is a little variable: I recommend 2-3 hours, or until the tomatoes are browning or even blackening at the edges (I usually take mine out of the oven around the 2 hour and 15 minute mark, but sometimes I give them extra time if they're especially juicy and caramelizing slowly). After you roast them, you just add them to a blender or food processor, along with the onion. You squeeze the tender roasted garlic out of cloves and into the mix, then get to blending. If you season the tomatoes well before roasting, you don't need to add any additional salt or pepper. I usually keep mine simple, but you could certainly add herbs to the roasting pan if you like.
That's it. The roasting takes time, but it's totally inactive work, and you don't have to simmer or stir anything. I make tomato sauce in lots of ways: in the pan, with burst cherry tomatoes, with canned tomatoes in the winter, and also with Marcella Hazan's genius recipe, using vegan butter. But this is probably my favorite tomato sauce recipe. The sauce freezes easily, and I'm trying to make as many batches as I can while tomatoes are ripe and beautiful.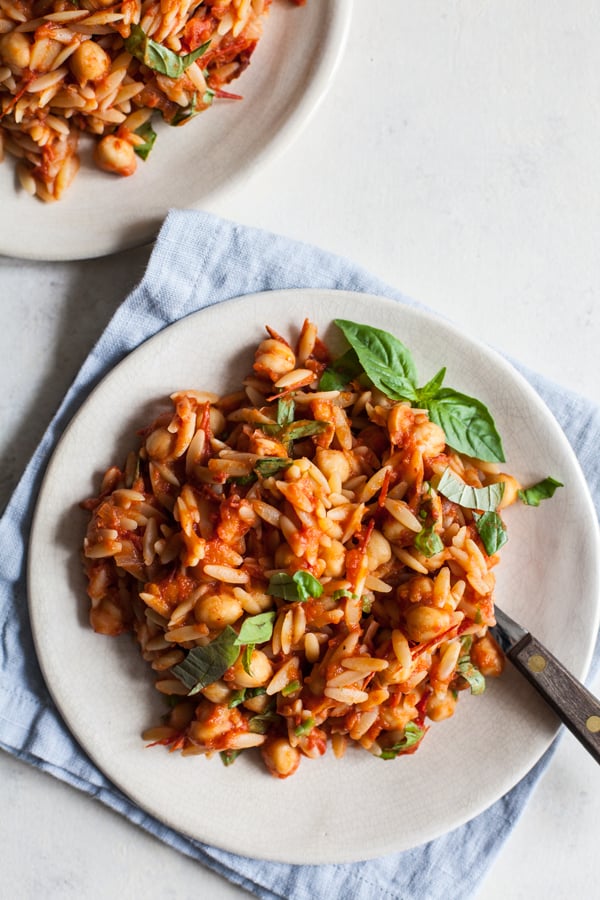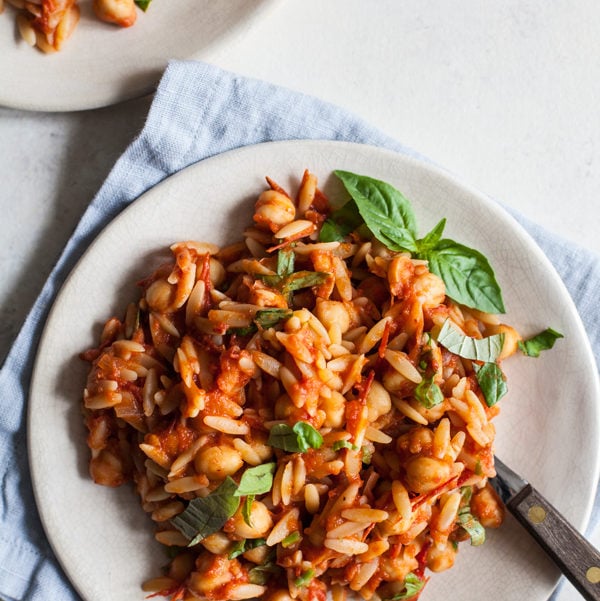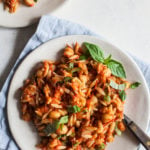 Chickpea Orzo with Homemade Roasted Tomato Sauce
Author -
Yields:
4
servings pasta and 2 heaping cups sauce
3

pounds

roma tomatoes

halved or quartered, depending on size

6

large cloves garlic

unpeeled

1

white or yellow onion

cut into thin wedges

2

tablespoons

olive oil

Kosher salt and freshly ground black pepper

Crushed red pepper flakes

optional

8

ounces

orzo pasta

you can substitute another small pasta shape, or you can use a toothsome whole grain, such as farro or barley

2

cups

cooked chickpeas

or 1 can chickpeas, drained and rinsed

1/2

cup

chopped basil leaves

Vegan parmesan or hempesan

optional
Preheat your oven to 325F. Line two baking pans with parchment or foil. Place the tomatoes, cut side up, on the pans. Nestle the onion and garlic on the pans. Drizzle the tomatoes with the oil, then use your hands to lightly mix and coat them. Sprinkle the tomatoes generously with kosher salt and freshly ground black pepper. Transfer the baking pans to the oven and roast for 2-3 hours, or until most of the tomato juices have evaporated and the tomatoes are browning at the edges. For a looser and saucier sauce, you can stop before the tomatoes are browning, while they're still releasing their juices.

When the tomatoes are ready, allow them to cool for about 10-15 minutes. Transfer the tomatoes and onion to a blender or food processor. Carefully (the cloves will still be hot), squeeze the roasted garlic flesh out of the cloves and into the blender. Blend the sauce until it has a texture you like; I like to leave my sauce a little chunkier, but you can also blend it to a smooth purée if you prefer. Taste and add salt and pepper as needed, or add a pinch of crushed red pepper flakes if desired.

Bring a large pot of salted water to boil. Add the orzo and cook according to package instructions. Drain, reserving a little (about 1/2 cup) of the pasta water. Add the cooked orzo and chickpeas to a large bowl, then add the pasta sauce. Fold the ingredients together, then add the basil and mix everything well. If you'd like it to be creamier or looser, add a bit of the pasta cooking water and mix again. Serve, with some vegan parmesan or

hempesan

if you like.
If you like, make a double batch of sauce and freeze some for future easy dinners! The sauce can be frozen for up to 6 weeks.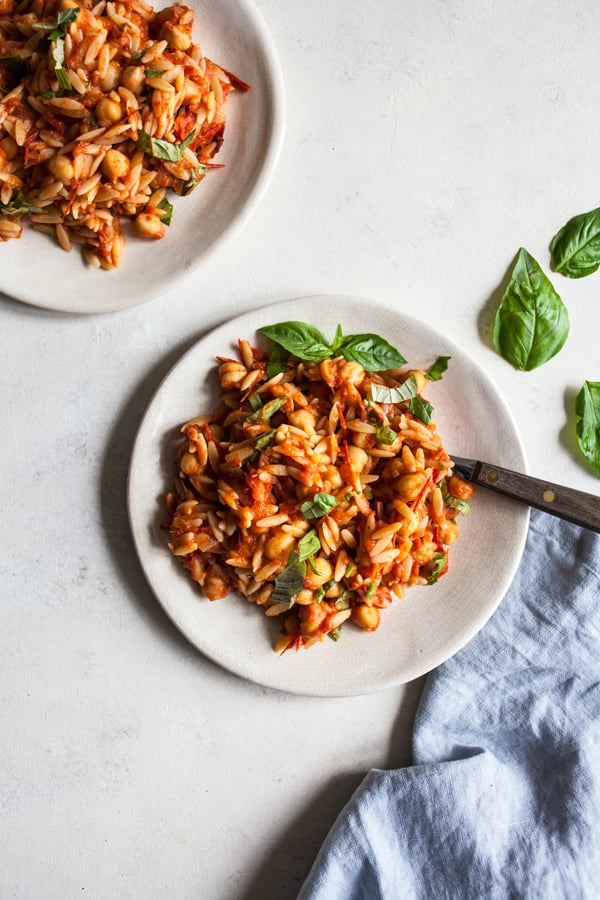 As you can see, this is a pretty intuitive recipe. You might like to let the tomatoes roast for a little less time, which will give you a looser, less concentrated sauce. You might like to use a high-speed blender to purée the sauce until it's really smooth, or you might prefer it on the chunkier side (which is how I like it). The seasoning is really up to you, too. This is the sort of sauce that I hope you'll make your own over time, tweaking and adjusting it according to what works for you.
One thing I should mention is that I've not only been enjoying the sauce with pasta: I've also been using it with farro, barley, or short-grain brown rice, along with the chickpeas. It's denser than the orzo, but it has an earthy quality and nutty flavor that's great, too—not to mention a ton of nutrition.
No matter how you customize this meal, I hope you'll love it as much as mom and I have been. And on that note, I'm wishing you an awesome start to the weekend. I'll be swinging back for the weekly roundup.
xo