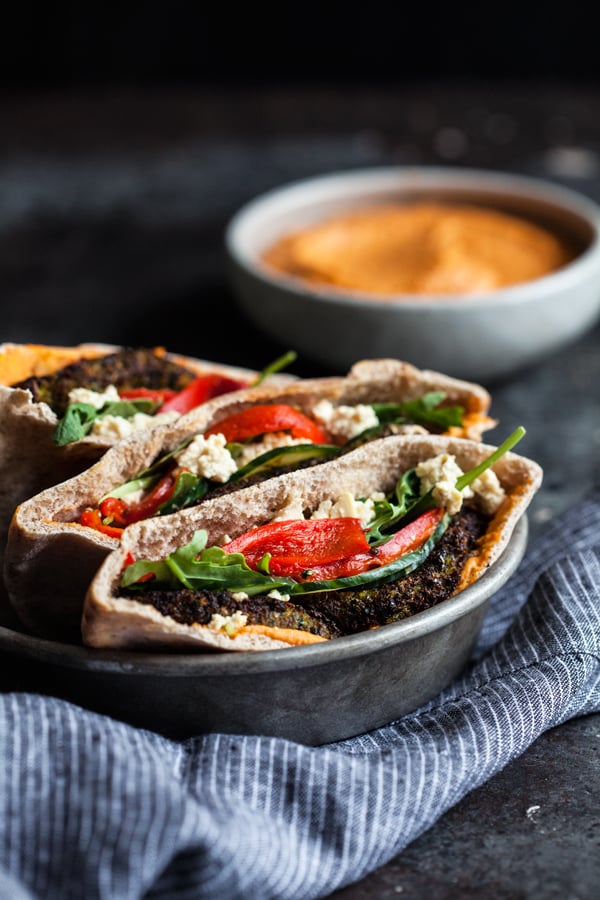 Lending a hand at my mom's last week got me thinking about quick, easy lunches. Lunch bowls are my go-to at home, but they're not an option unless you've batch cooked some toppings or components. Hummus sandwiches are a staple for me, but I was hoping to make something a little more memorable. My mom and I have different food tastes in many ways, but we share a love of Mediterranean flavors, and I had the thought to make her some sort of tasty, fully loaded pita pocket.
The thing was, we were both short on cooking energy: me because I was juggling being a helper with staying on top of work and school, mom because she was healing and resting. Fortunately, I had some tricks up my sleeve to help me create these fast, filling and flavorful Mediterranean pita pockets with kale burgers and roasted red pepper hummus.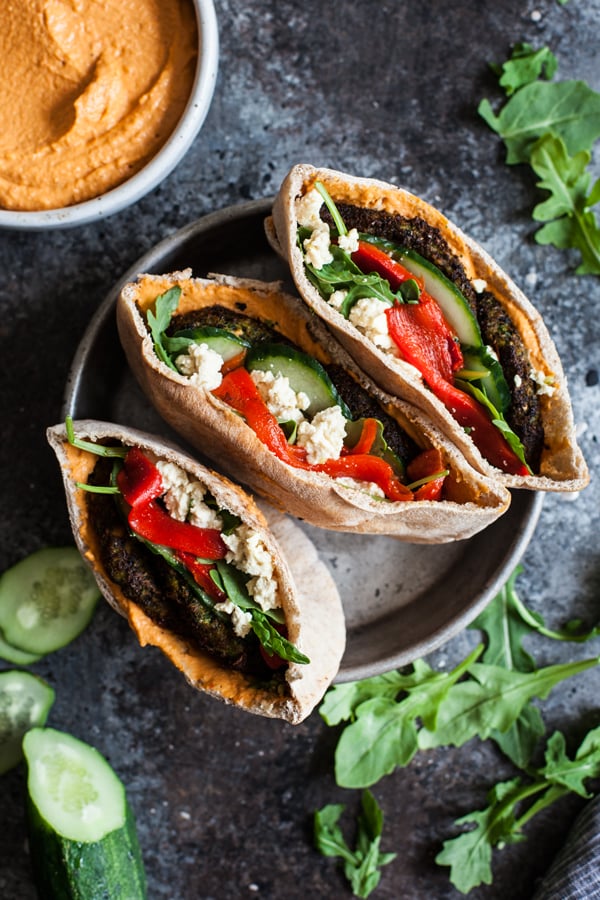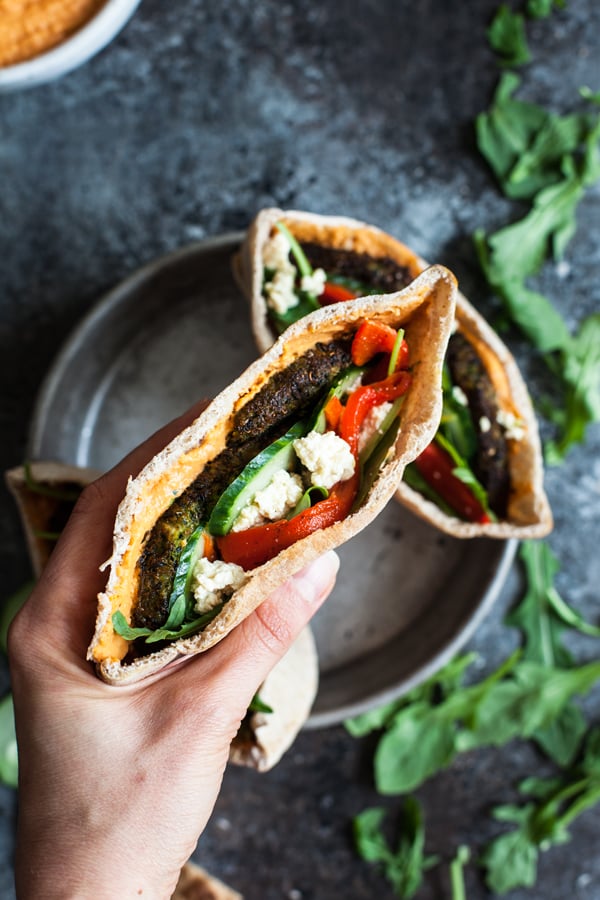 Veggie burgers were a mainstay for me when I first went vegan. I was still figuring out the whole business of cooking, so I relied on a couple of ready-made staples to keep me fed. Prepared burgers—not just on buns, but also crumbled into salads or pastas—were lifesavers. Dr. Praegers was one of the first brands I found, and today, over ten years later, it's still a favorite.
Vegetables get star billing in Dr. Praeger's foods: lots of commercial veggie burgers and cakes include vegetables as an ingredient, but it's not always the case that the vegetable flavor shines through. Dr. Praeger's burgers, hashbrowns, and puffs all feature a standout veggie, like kale, mushrooms, carrots, or corn, which you can see and taste in the product.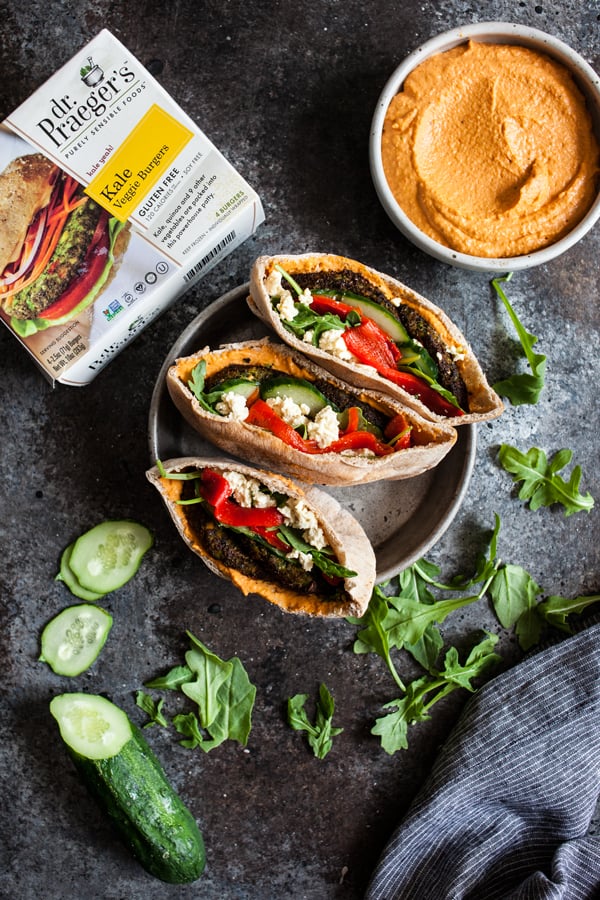 I love the brand's abundant vegan offerings, simple ingredient lists, and its emphasis on family-friendly flavors: this makes it easy for plant-based eaters to share their diets with loved ones. Dr. Praeger's was founded by two cardiothoracic surgeons who were committed to the idea of providing consumers with convenient frozen foods that were also healthful and nutritious; years later, it's still family-owned and operated.
I'll be teaming up with Dr. Praeger's in the coming months to showcase easy ideas for folding their plant-based products into everyday meals. Nothing makes me happier than home cooking, but I'm super appreciative of ready-made vegan fare, too, and I enjoy serving it in a way that feels personalized to my tastes.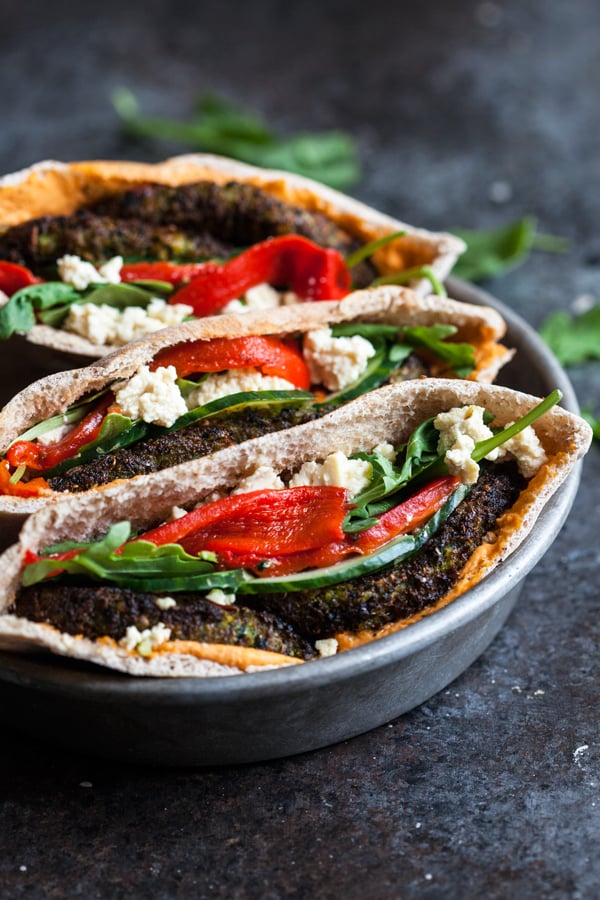 Those tastes include a love of roasted garlic and fresh herbs, both of which are on display in the Dr. Praeger's kale burgers. The burgers are packed with leafy greens (kale is the first ingredient, and they also feature broccoli and zucchini), sweet potato, brown rice, roasted garlic, and parsley. They're a great option for committed vegetable lovers, but also a good, sneaky vehicle for those who are struggling to warm up to kale and other leafy greens.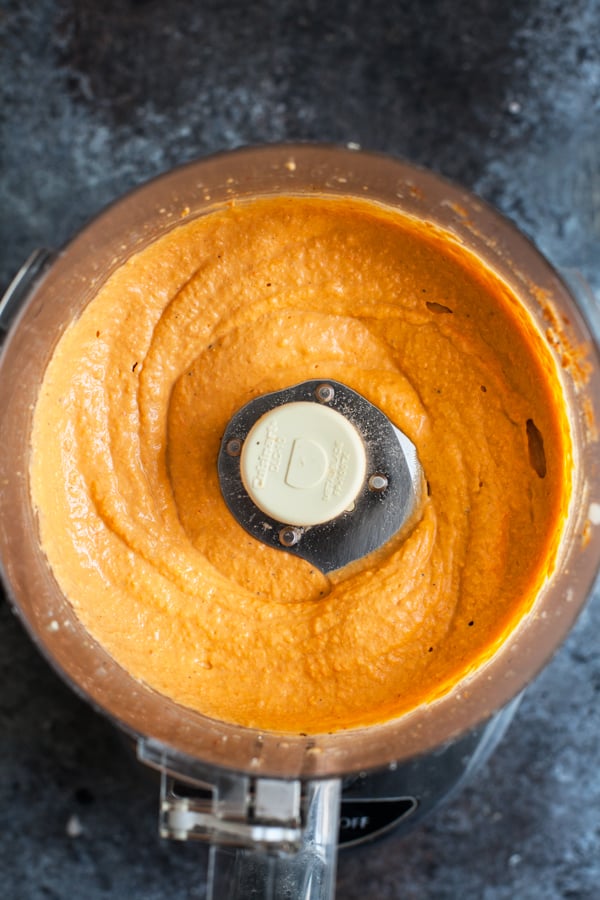 The red pepper hummus gives the pita pockets some brightness, and it also helps to keep the burgers in place. It's one of my favorite hummus recipes to make in the summer, when I'm roasting up red peppers furiously each week. I love its gentle sweetness, along with the savory flavors of cumin and garlic. You can roast your own peppers for the recipe, or you can save some time by purchasing them in the jar. You can also substitute your favorite hummus recipe or brand.
As for the herbed tofu feta (which I shared recently in my vegan barley Greek salad), it's also optional. I really like the tartness it adds to the pitas, but you could skip it, replace it with a few spoonfuls of my tahini mint dressing or tahini green goddess dressing, or you could use another crumbly vegan cheese of your choosing. The more layers in these pitas, the better!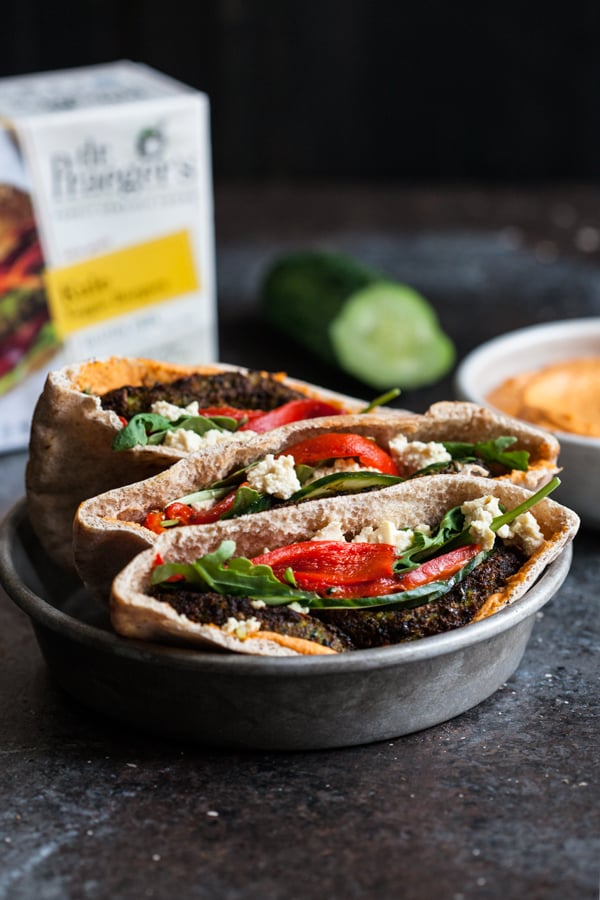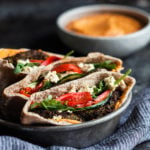 Mediterranean Pita Pockets with Kale Burgers, Roasted Red Pepper Hummus, & Crumbled Tofu Feta
Author -
Yields:
2
servings (can be doubled)
For the roasted red pepper hummus:
1 3/4

cups

cooked chickpeas

1 can chickpeas, drained and rinsed

1/2

cup

about 4 ounces tightly packed, roasted red bell pepper (homemade or store-bought)

5

tablespoons

tahini

1

large clove garlic

roughly chopped

3/4

teaspoon

ground cumin

1/4

teaspoon

smoked paprika

1/2

teaspoon

salt

you may wish to reduce this to 1/4 teaspoon if you use store-bought peppers, as they're often salty on their own

1/8

teaspoon

freshly ground black pepper

Juice of 1 large lemon

about 3 tablespoons, freshly squeezed

3-4

tablespoons

water
To make the roasted red pepper hummus, place the chickpeas, roasted pepper, tahini, garlic, cumin, smoked paprika, salt, pepper, and lemon juice into a food processor fitted with the S blade. Process the mixture for about a minute. Stop, scrape down the bowl, and continue to process while you drizzle in 3 tablespoons water. Continue processing until the hummus is smooth, adding more water if needed to get a smooth, creamy texture that's a consistency you like (some people prefer thicker hummus, some people like it to be more loose).

Cook the Dr. Praeger's kale burgers as directed. Cut the burgers in half (into 2 half-moon shapes).

Spread 2 tablespoons of hummus into the bottom of each pita half. Top with the burger halves, a few cucumber slices, half of a roasted red bell pepper, and a handful (loose half cup) arugula. Add a few tablespoons of crumbled,

herbed tofu feta

to each pita half if you like, along with a drizzle of

tahini dressing

if desired. Serve.
For a gluten free option, you can substitute a gluten free bread, wrap, or flatbread of choice.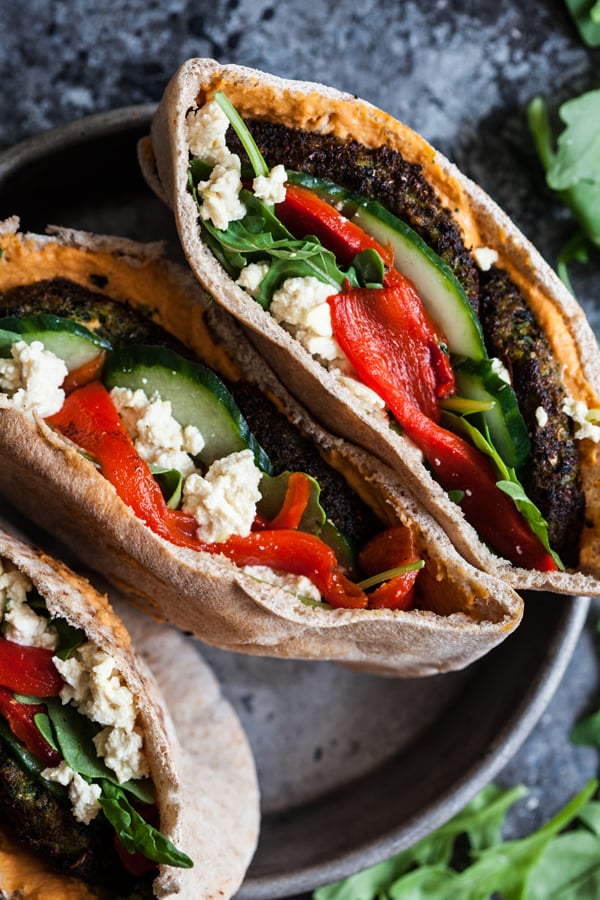 I've always felt strongly that eating flavorful, satisfying, varied meals is possible even within a busy schedule. Meals like this, which pair a few homemade touches with a few smart, ready-made foods, a step in that direction, and I know that I'll rely on them a lot in the coming year, as I wrap up my masters. For now, I'm happy to have a new favorite summer lunch, and to have shared it with my mom, who loved it, too.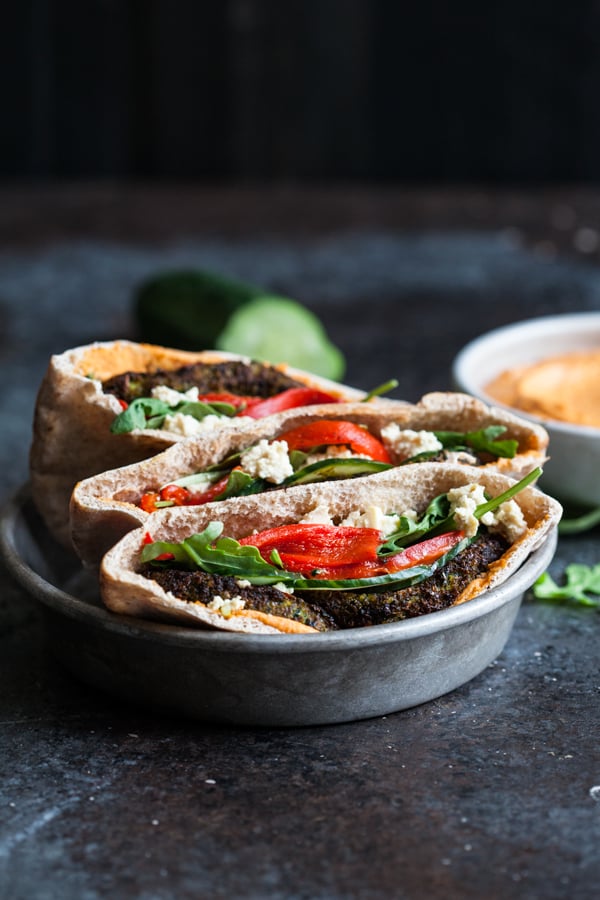 Enjoy the recipe, friends. I've got more summery fare coming later this week—a recipe I've been making often, with little tweaks each time. Excited to share.
xo
This post is sponsored by Dr. Praeger's Purely Sensible Foods. All opinions are my own, and I'm a huge fan of this brand's easy vegan offerings. Thanks for your support!