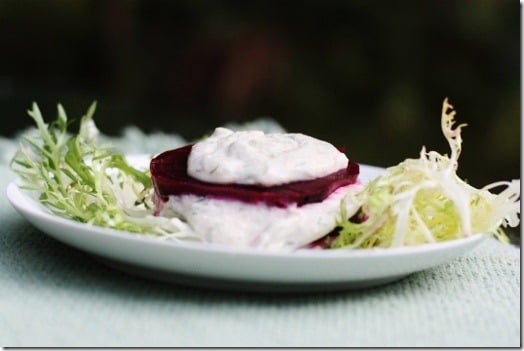 Great response to my pumpkin and chocolate parfait! For those of you who asked, Irish Moss can be found through specialty stores and online; it's not typically available at Whole Foods (yet). Right now, it's available through The Raw Food World and Amazon. My personal favorite source is One Lucky Duck, where you can also purchase a host of other incredible raw food specialty items. It is not cheap stuff, but a little can go a long way, and I think it's worth investing.
In addition to all of the pumpkin love going on on this blog, we've also been sharing in some major enthusiasm for beets lately. Most significantly, my sweet potato and beet nori rolls were an unexpected hit (I'm glad so many of you like them!). One reader even told me that it had been his first time using beets. That's great, and I hope it's the start of a trend! Beets are tremendously healthy vegetables, for oh-so-many reasons:
Beets are rich in anti-inflammatory phyto-nutrients
Beets are extremely rich in antioxidants
Rich in folate
Rich in manganese, potassium, and other minerals
An excellent source of betaine, a compound that is shown to lower homocysteine levels in the blood. Homocysteine is an amino acid that, in excessive quantities, has been linked to heart disease; not incidentally, a buildup of homocysteine is often attributed to meat eating.
For all of these reasons, and because beets are absolutely delicious, I eat them frequently, and even more when they're in bloom at autumn farmers' markets. I'm often asked how I prepare beets: the short answer is that I like them best when they're raw and grated into my nutrient dense salads! But I also love to roast them at 400 degrees in tinfoil for about an hour, slipping the skins off in cold water when I'm done. They're also easy to boil, and they make for fantastic soup bases, raw or cooked (check out my raw borscht if you're curious!)
The following meal is actually inspired by borscht, but only insofar as it contains both beets and dill. It features a new dip—dilly white bean dip—that I'm kind of in love with, and it's altogether a joy to eat. You can use either raw or cooked beet layers: I've made it twice now, with both varieties, and I preferred the raw one, but I'll warn you that you have to slice the beets incredibly thin if you want to avoid cooking them. No matter what, I guarantee that this is a quick, easy, and beautiful part of a meal.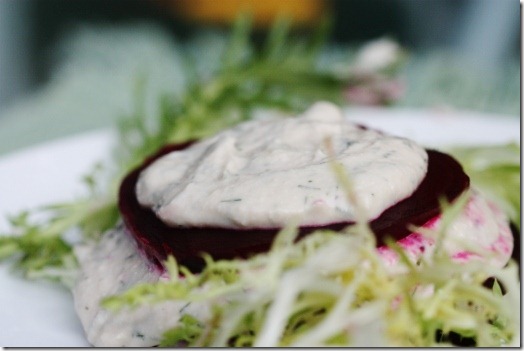 Dilly White Bean and Beet Napoleons (vegan, can be semi-raw, gluten and soy free)
Serves 3-4
For the white bean and dill spread:
1 can cannellini beans, drained
1/4 cup cashews
Juice of 1 lemon
1/4 tsp salt
Black pepper to taste
Water
1/3 cup dill, tightly packed
1) Grind the cashews in a food processor till finely ground.
2) Add cannellini beans, lemon, salt, and pepper. Run the motor, drizzling in water until the dip reaches a consistency you like. This will probably be 1/3-1/2 of a cup. I like this dip slightly thinner than hummus.
3) Add dill, and pulse to combine.
For the napoleons:
About 10 thin slices of beet, raw or cooked
Layer one slice of beet on a plate, and cover with a layer of dilly white bean dip. Add another layer of beet, another layer of dip, and top with one final beet layer and a dollop of white bean dip. Serve, garnished with fresh dill.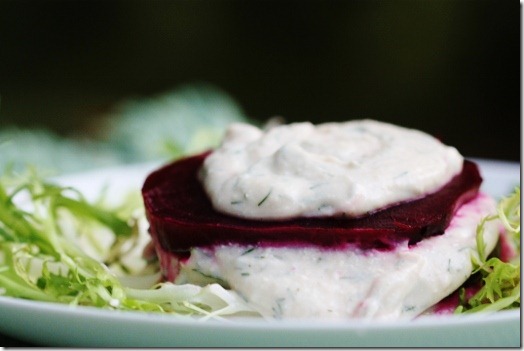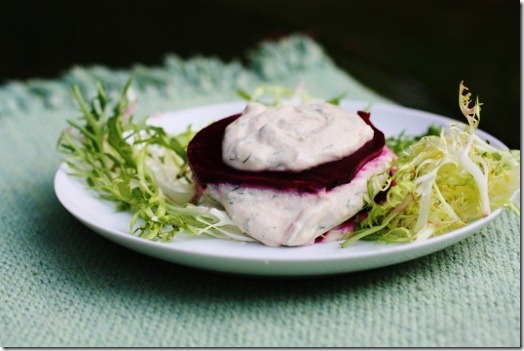 Look, for a moment, at the insane, silky creaminess of this fresh and tasty dip: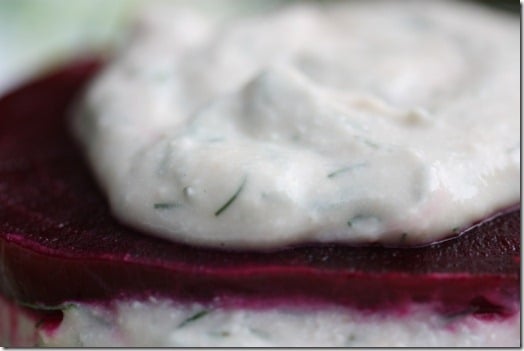 Like clouds. But tastier than clouds.
I loved this dish, and I know you guys will, too. Serve it with a big salad, a medley of vegetable sides, and/or a whole grain of choice (I suspect quinoa or cous cous would be lovely here). And I'd even double the dip, which is so tasty that it's sure to disappear from your kitchen quickly.
Have a lovely evening, everyone!
xo