Hey all! Glad the dilly white bean and beet stacks look so good. Winning recipe!
I'm back with a quick review of some new raw, vegan treats from one of the country's most acclaimed raw, vegan dining spots: Café Gratitude. You may remember when I finally dined here, during my San Fran trip last fall, with my friend Amanda:
What a meal that was! Heaping bowls of perfectly prepared, raw-foodist worthy salad, crackers galore, and dressings that made my heart sing. At the time, though, my friend Bitt chastised me for not ordering one of the café's famous raw desserts. In my defense, I said, I rarely ever order desserts in restaurants, because it's not my favorite course, and I really prefer to save my pennies for a sumptuous entrée. That was sound, but slightly parsimonious logic.
Thankfully, a year later, I have a chance to taste at least a few of the café's goodies. The folks at Café Gratitude were kind enough to send me some of their raw cookies and granola to review. The good news is that I loved them all; the bad news is that I loved them so much that I ate nearly all of them before I had a chance to blog about them. The granola was superb—not overly heavy on nuts (it's a dried apple and buckwheat base) and just the right amount of sweetness. I'm determined to try my own version here at home. The chocolate cookies (a simple nut and date mix) were exactly to my liking. And the two highlights—which I did manage to save for blog purposes—were the lemon coconut cookies and the raspberry thumbprints.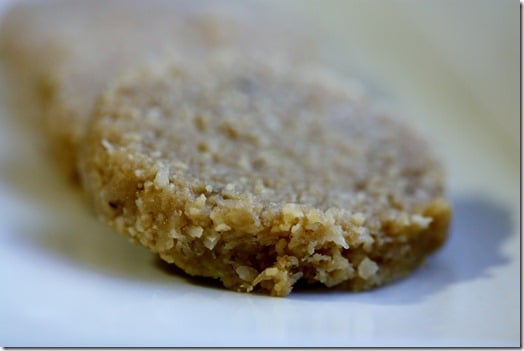 As you can see, these cookies are a wonderful sweet and sticky mixture of coconut, lemon, and date. They are very tart, rather than overpoweringly sweet. Given my fondness for lemon in everything, I adored these.
But the highlight was the thumbprint cookies:
It's not easy to make raw cookies look quite so realistic (I'm sure the Twins could do it). These are basically a dead ringer for the thumbprint cookies you remember from childhood, only quite a bit denser. And much, much healthier: no butter, no eggs, no cholesterol. Just the wholesome sweetness of nuts and dried fruit. I loved them. And I have precisely six left, which I intend to savor, one at a time.
Added bonus? Nutrition data is included on the cookies, and none of them are overwhelmingly high in either fat or sugar. For serious. Even raw desserts tend to be heavy on both counts, so these are very outstanding examples of raw vegan treats prepared with a lighter touch.
Café Gratitude's snacks aren't available widely on the East Coast yet (though there is a big list of California stores that carry them). But if you want a taste, tell your local health food stores about the products: they can visit the CG website get set up to carry the goods. If it were up to me, I'd eat these cookies daily, so maybe Yes Markets are listening.
Thanks, Café Gratitude, for continuing to be a leader of taste and talent in the raw vegan world. We are all grateful!
Finally: for local readers who are interested, or anyone who plans to visit DC in the near future, I've got a comprehensive DC vegan dining guide up over at my friend Kris Carr's Crazy Sexy Life website. You'll recognize some of the spots, but others will probably be new to you. Check it out!
And, quite appropriately, I'll be back here soon with a recap of a very special raw foods dining experience. Till then!
xo