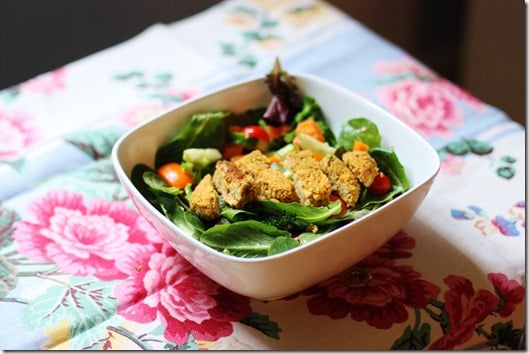 Thursday night express post!
Thanks so much for all the great feedback on my curried millet and goldenberry salad bowl. It's truly one of my favorite recent recipes, and I'm delighted that it piqued your interest in the magic of goldenberries! For more on these guys, you can check out the info on the Navitas site.
As delicious as this grain dish was, I realized very quickly upon making it that I should have cut the recipe in half, and prepared two servings, rather than four. I won't be home this weekend, and the the idea of scarfing down the whole recipe just to use it up didn't appeal. Instead, I decided to turn it into something new: chickpea millet burgers with goldenberries and gojis. Bam! And all that this little "transformation" required was the addition of chickpeas and flaxmeal to the original grains, along with a spin in the food processor.
I took about 2 1/2 cups of my grain dish, processed it with a scant two cups of chickpeas, and added 1/4 cup flax meal. I baked them at 350 for about 25 minutes, and this is what I had: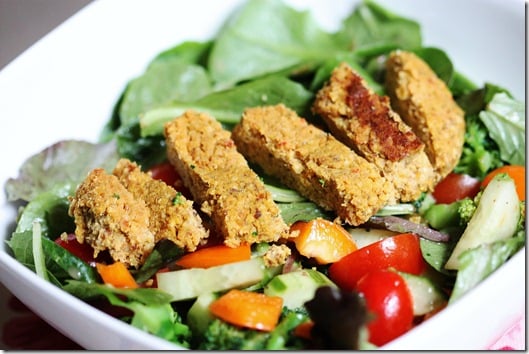 A delicious, curried grain/veggie burger, which I served over a big bowl of greens with simple flax oil, lemon, and sea salt. Perfect nutrient dense salad, if you ask me.
In general, you can go about transforming any grain dish into a grain burger quite easily:
How to Transform Cooked Grains into a Grain Burger in 5 Easy Steps!
1. Take 2-3 cups grains, 1 1/2 to 2 cups beans/lentils, and 1/4 cup flax, and process or use a potato masher to mash well.
2. Adjust consistency by adding water if it's dry.
3. Choose your seasonings! Salt, pepper, curry, cumin, paprika, thyme, oregano, cayenne, lemon, lime, vegan worsterchire sauce, liquid smoke…the list goes on and on! Pick flavors that work for you.
4. Choose your add-ins! Sundried tomatoes, herbs, nuts, hemp seeds, and even dried fruit all make great additions.
5. Bake for 30 minutes at 350 degrees.
That's it! Instant burger—100% plant-based and protein packed. And, since you already know you like the flavors of the grain dish, there's very little guesswork involved about the dish's success.
I remember clearly the moment I felt that I'd gradated from recipe-copying to cooking: it was the day I realized I could improv and create new things from leftovers, without worrying about the fact that I didn't have a precise recipe to follow. Since then, I've tried to provide my readers with as many "techniques" and "templates" as I can, so that they understand that cooking isn't all about imitation: it's also about intuition! I hope that you use this template to make many a delicious grain burger, and that you get to use up tons of healthy, fiber-packed rice, millet, quinoa, spelt, barley, and other grains in the process.
Happy reinvention.
xo