Hey all!
Hope you enjoyed Melissa's courageous post. Today, I'm switching gears to welcome my very dear friend Anne.
You may remember Anne from our adventures together at the Dole Summit:
Anne is one of the most vivacious, balanced, and intelligent bloggers I've met. She's positive and enthusiastic, but also has a wickedly sarcastic and sly sense of humor. She's kind, generous, and absolutely fearless. In short, I adore her, and I'm lucky to call her my friend.
Anne blogs about her path to becoming an R.D., her life as a runner, her shenanigans with fellow dietetics students, and, of course, her culinary adventures. Her specialty–at least as I see it–is to create recipes that are healthy, accessible, and fast. She's famous for her "5 minute" series, which features packable lunches and recipes that are ready to eat in five minutes or less. These include a few recipes that are uncooked, and I asked Anne if she'd be willing to share one or two here. Much to my delight, she's about to share a recipe for uncooked oatmeal bars that are fast, easy, nutrient-packed, and absolutely delicious. I know, because I've tried them! With that, I'm happy to welcome Anne.
Hey, Choosing Raw readers!
My name is Anne and I write the food and fitness blog fANNEtastic food. Gena is one of the great friends I've made through this awesome blogging community, and I'm honored that she asked me to guest post today 🙂
Like Gena and her recent exciting announcement, I also had a big career change this year (here's my own big announcement post) – after 6 years of working in offices, I decided to pursue my dreams of going back to school to become a Registered Dietitian! I spent a year applying to schools and taking prerequisites (my undergraduate degree is in Sociology… not exactly helpful for science prerequisites), and finally started my program this fall. I moved from Washington D.C. down to Chapel Hill, NC for UNC-Chapel Hill's Masters of Public Health in Nutrition. So far so good and I've never been happier 🙂
Anyway! Let's get down to business. Today, I'm here to show you how to make the easiest and most delicious vegan granola bar, ever.
These no-bake vegan granola bars will literally take you 5 minutes to make, and in addition to being delicious, they pack a serious nutritional punch.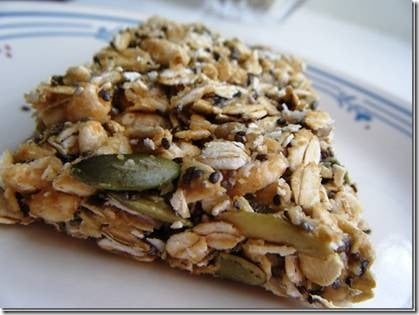 5 Minute No Bake Vegan Peanut Butter Granola Bars
(makes about 12 bars)
Ingredients:
Dry (use scant measurements):
1 & 3/4 C rolled oats
1 C crisp puffed brown rice cereal
1/4 C pumpkin seeds
1/4 C sunflower seeds
1/4 C chia seeds
1/4 C unsweetened coconut
1/8 C finely ground flaxseed
Wet (use generous measurements):
1/2 C brown rice syrup
1/3 C creamy peanut butter
1 tsp. vanilla extract
Instructions:
1) Add all the dry ingredients to a large bowl. Mix them together.
2) In a separate bowl, mix together the wet ingredients. (If you aren't raw, you might want to microwave the mixture for about 20 to 30 seconds. This will make it easier to mix and add to the dry ingredients since it's VERY sticky!)
3) Pour wet ingredients into dry and mix! Keep mixing until the wet binding ingredients are as well distributed as possible. Put some muscle into it!
4) Put the mixture into a shallow pan and flatten it down. Done and done!
The bars will still be a bit crumbly, so it's best to store them in the fridge (or freezer if you want them to keep for longer) to harden them up. I usually cut mine into 12 bars and store them individually wrapped for easy grabbing and go-ing!
I love having these bars on hand – they are the perfect nutritious snack for work, school, or the great outdoors. J You can also make the granola bars with almond butter instead of peanut butter, add in goji berries or other dried fruit, or swap in other types of seeds – the possibilities are endless!
For more details and the full nutritional information of the bars, check out my official recipe page!
And if you love Larabars but not the hefty price tag – give my Cinnamon Raisin Almond Balls a try. The recipe is raw, vegan, and only 3 ingredients – just toss it all in the food processor and you are done! It's that simple 🙂
Thanks again to Gena for having me as a guest poster – I hope you all enjoy the granola bars, and please stop on by my blog to say hi and check out my other great recipes. 🙂