Hey guys!
Thanks for all those D.C. dining suggestions! I'll be putting them to good use.
Today, I'm answering a reader question that's been on my mind for a long time. It comes from loyal reader Hannah, with whom I've corresponded for over a year now. She wrote:
Hey, Gena!
I'm curious if you could write a post on eating in college. I'm going to be a freshman at a school that does have many vegan/veggie options, however, not everything is organic or low in sodium, of course. As someone with an ED (anorexia), and in recovery, I'm still afraid of leaving home (where I can make many bountiful, farmer's-market salads with lentils/beans, etc, and overnight oats with chia seeds) and eating foods that I'm not able to prepare or know the nutritional profiles of them. As someone who as reached the other side to recovery, how would you have done things differently in college/university (wasn't it around that time some of your ED resurfaced?)
Another question is, how did you/does one deal with the myriad of choices and buffet-style eating that's prevalent in college-the fear of the "freshman 15" or, even, the fear that one won't like the foods and therefore, not feel like it's "worth it" to eat them (which is dangerous because it could easily result in losing too much weight)? I'm not curious about eating totally raw in college (though I will eat as many salads as possible!) but, after your amazing posts on ED's and body image, I'm curious to hear about your advice for someone entering a new and uncomfortable food environment. I know a majority of your readers are probably past college and in their 20's, but it seems like the blog world has a growing amount of teen readers and their food blogs to other college-aged students, so maybe a post like this would help them, too. Thank you very much!
All the best,
Hannah
First of all, I think Hannah deserves major cred for a thoughtful and well written question. It's true that college is a time of notorious imbalance when it comes to food and eating. Even if you've never had an ED, it's hard not to get sidelined by the sheer quantity and variety of new food that college offers. Add to that the lack of inhibition that comes from drinking and drug use, the social pressure to eat at odd hours, and the overwhelming urge to snack while studying, and you do indeed find yourself staring at a potential minefield of food related angst.
It would be a lie if I told you, Hannah, that I navigated the terrain of college eating elegantly. I didn't. I ate, and (with the exception of one semester) I wasn't underweight, which was an improvement on past behavior. But college wasn't an easy time when it came to food. I struggled to find balance, struggled to eat consciously but not hyperconsciously, and struggled to find the foods that suited me best (that struggle didn't end till I found veganism).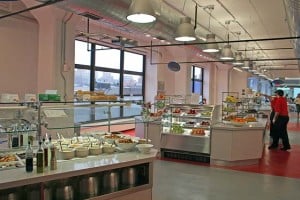 Most of all, I struggled to come to terms with the fact that I had recently suffered from disordered eating. I hated the taste of those words—"eating disorder"—in my mouth, and could barely utter them to myself, let alone a gaggle of new friends. As a result, I spent most of college laughing off or trivializing my struggles with food. Sometimes, this wasn't such a bad thing: assuming the identity of a normal girl who ate normal things was, in some ways, remedial and freeing. For the most part, though, I wish I'd been more honest with myself about the demons that hovered nearby. When I hit a nasty low point during my toughest college year, my weight plummeted predictably, and it was clear to me then that nothing about my relationship with food had turned entirely normal. I was still struggling, and it would be some time before the struggle ceased.
As far as the practical half of your question goes, Hannah, I haven't much genius advice to offer you when it comes to vegan dining options. I was nearly all vegetarian in college, but not yet vegan, so I didn't have to examine food in the cafeteria too closely. I also ate most of my food from cafes and delis (I was in NYC, so this was easy) and in privacy (a vestige of my ED, and not a good one). But here's what I can tell you:
From what I remember about Columbia's dining options, and from what I've seen at NYU (where the lovely Mel has taken me to lunch), it's fairly easy to find veggie sandwiches, hummus, sushi, tossed salad bars, stir fries, and so on. Vegan dishes are typically well marked, and if not, I'm sure it shouldn't be too hard to ask around and find out how it works.
If you have a suite or kitchen access, you can certainly continue to enjoy the vegan dishes you love! Make oatmeal, salads, pastas, grain dishes, etc. Purchase a rice cooker, if you like – they're cheap and make grain cooking easy and stress free (see my recent quinoa post for an example). If you're eager to invest in some lifetime kitchen appliances, you may also want to get a food processor, which I consider the single most crucial piece of kitchen equipment I own. You'll be able to make hummus, dips, soups, spreads, nut pates, and even knead homemade bread! If you can't afford a processor, think about a small hand blender instead (like a Tribest). That'll also allow you to make smoothies for breakfast!
Keep not-too-perishable vegan snacks in your room, so that you can use them as go-tos between classes, and avoid the trap of buying less healthy snacks as you study. I'd stock up on vegan snack bars, trail mix (buy nuts and fruit in bulk and mix your own if you like), nut butter, rice cakes, and sprouted bread. I'd also have protein powder (hemp or brown rice), chia seeds, and flax handy for oats and smoothies on campus; it's doubtful any smoothie bar or oatmeal on campus will offer them, but that doesn't mean you shouldn't add your own.
But what I think you're really asking, Hannah, is for my tips on how to maintain a sense of balance in college. This is a far more nuanced question, but I'm going to do my best:
Be prepared, but improvise, too. The single biggest mistake I made as an undergrad was to vacillate between eating erratically (unhealthy foods, or foods late at night), or eating "perfect food" in isolation. There was a lot of self imposed hunger when I felt I'd eaten too much at a special meal. What I needed to do was to eat a balance of healthy foods I loved most of the time, and to indulge in extraordinary foods some of the time. By senior year, I'd sort of gotten the hang of this, but it wasn't something I mastered until well into my twenties.
Stick to your guns about healthy eating. If you start to eat the less nourishing foods on campus too often, you'll find yourself feeling less well than you might like, and you may run the risk of punishing yourself with food restriction. Remember that you love healthy food for a reason—it nourishes you—and don't feel tempted to eat foods that are truly empty (like processed snacks or sugary sodas) simply to prove that you're recovered.
At the same time, realize that life is not meant to be lived with too much vigilance. Truly, it's not. In the next four years, and for the rest of your life, you should know what it is to behave uncharacteristically. You should experience the joy of a night without inhibition, without care, without virtuousness. You should know what it is to wake up after indulging in a rich meal or a late night slice of (vegan) pizza or a few too many glasses of wine, and to not feel remorse because the pleasure you felt was intense and good. This does and should not mean a surrender of veganism, of course: unless you find that you're not ideologically driven to be vegan (which is a separate issue from the ones we're talking about). My point is that you shouldn't fear meals or foods that are out of the ordinary, just so long as you remember to fill up your life with those healthy foods you love *most* of the time. If you can master this, you'll be well on your way to a peace with food that many adult women haven't yet found.
If you're comfortable with it, share your past. I wish I'd gotten to college and told my friends that food was an area of intense struggle in my life. I wish they'd heard it from me, rather than figuring it out when I dropped twenty pounds in two months, or when my "collarbones started to do funny things," as my friend Jordan once said, or when they caught me stuffing pieces of a bagel into a napkin under the table on a particularly vicious "fat day." I wish I'd included them in the dialogs I had with myself about food, because I believe they had the compassion and wisdom to help me. There's no use in your sharing anything about your history if you aren't ready, but remember that friends and lovers and even professors can help to keep our worst tendencies in line when we ourselves lack the power to fight them.
If speaking openly about your past is a sore spot, I'd definitely advise you to seek out at least one friend or counselor with whom you can share. My friend Gabi was my guardian angel as an undergrad (in more ways than one, right Gabs?), and to this day she remains a wise and humorous sounding board when I need to talk about anything related to body image. There are also plenty of great counselors nationwide who specialize in these kinds of dialogs; I like www.edreferral.com and www.nationaleatingdisorders.org for searches.
Remember that your college experience will be whatever the heck you want it to be. There's no reason why you ought to gain a freshman fifteen (unless you're underweight and need the pounds). Hysterical talk of college weight gain presumes the most unrestrained behavior possible; binge drinking, pizza all night, giant heaps of dining hall food at every turn, and so on. None of these are habits you need to pick up; what you'll want to do is remain very much who you are when it comes to food (healthy, aware), and intersperse that with a little fun.
Most of all, remember that you are accountable for good health. College is your first gulp of autonomy in life, and you'll need to develop habits that can carry you through your adult years and beyond. If you spend your college years still restricting or overeating with total abandon, you may find it hard to establish patterns of balance in your twenties. See college as your first chance to be accountable. Don't be seduced by junky foods that fail to nourish you—at least not more often than once a while. Don't try to manage stress and pain with overeating or food restriction. Don't indulge in crazy fad diets that will leave you emotionally raw and underweight. Instead, see this as a four year chance to blossoming into a healthy and vibrant young woman who values and takes pride in her own lifestyle habits.
I know you can, and will. Good luck, Hannah, and keep me posted!
And now, time to ask my readers for their undergrad tips. If you're a former ED sufferer, how did you navigate the college gauntlet? If you're a vegan or vegetarian, how did you honor your lifestyle while all the while eating good food?
If you think you did some things wrong, what would you go back and change?
xo