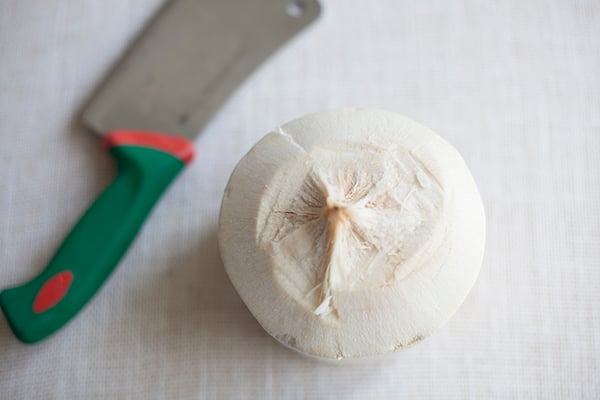 Young Thai coconuts aren't an easy ingredient to work with, but they are incredibly rewarding. The hardest part of using them is simply getting them open: for this, you need either a very heavy duty knife or a cleaver, and some patience. But once you've sipped on the fresh coconut water (so much tastier than the pasteurized stuff) and enjoyed the creamy flesh in soups and smoothies, it's hard not to fall in love with Thai coconuts. It's also easy to love their nutritional offerings, which include electrolytes (potassium and magnesium) and medium chain fatty acids. Like a lot of novel cooking techniques, opening young coconuts becomes second nature over time. Let's go through the basics.
How to Open a Young Coconut
First, a word about finding young coconuts: any Whole Foods market should have them, and any local health food store ought to carry them, too. Asian markets often carry them, too, at considerably less expensive prices than health food stores. These coconuts don't resemble regular, mature coconuts (which have a "furry" brown exterior): they're small, white, and have a pointy top.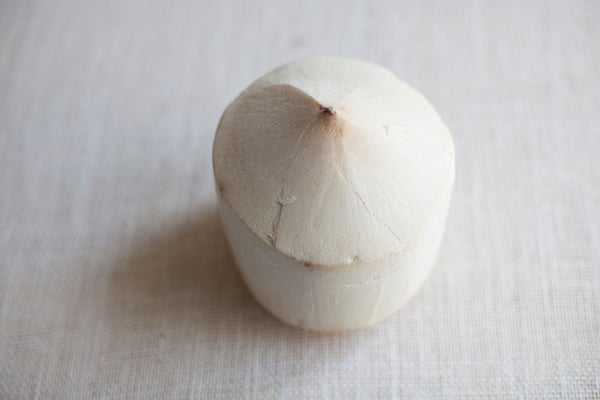 Once you've got a coconut at the ready, assemble your tools:
1)    A flat surface
2)    A cleaver e
If you do NOT have a cleaver, do not despair: you can use a really large kitchen knife with a "heel" too. It would look something like this:
Trim away some of the exterior flesh of the coconut by working your knife around the point. The idea is to make the top a little bit flatter and more accessible:
See? The top is less pointy now.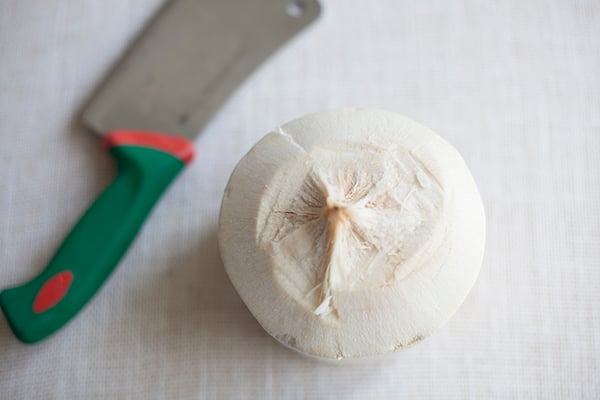 Step 2:
Put your non-cleaver hand behind your back. Seriously. Safety first. Next, gently tap the surface of the coconut with the cleaver or the knife. You'll be able to hear where it's a bit "hollow" sounding. You want to aim your knife blows in this area.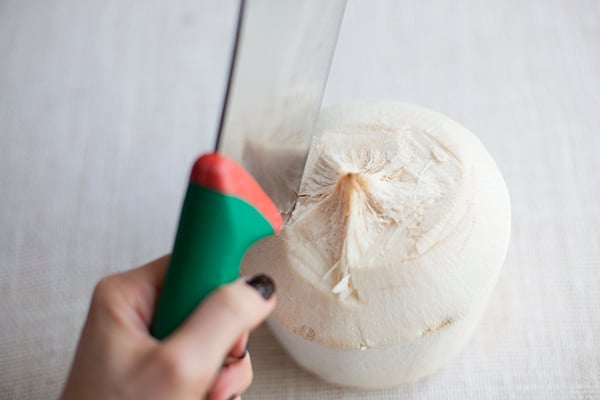 You'll be making four cuts, in a square shape. Just hack at the coconut until the cleaver starts to penetrate it and make cuts. In the end, you'll have created a square "flap" that you can then gently pull away from the coconut with your hands (the coconut is full of water, so do this over the sink!).
At this point, you should gently pour the sweet and wonderful coconut water into a mason jar for sipping later on (it may have some bits and pieces in it, so give it a quick straining if need be). Now, you can use a spoon to start scraping at the white flesh inside the coconut. I start with the small bits near the opening: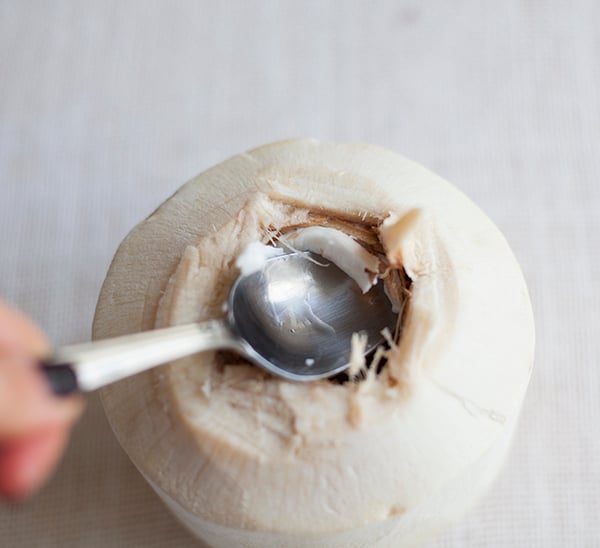 And then I continue to the rest of the inside of the coconut, using a spoon. (There are some gizmos you can purchase for this process, but using some arm strength and a spoon has always worked for me.) Transfer the flesh to an airtight container and keep it in the fridge for up to 4-5 days.
Coconut meat adds amazing texture to blended soups, raw puddings (if you love chocolate avocado pudding, try chocolate coconut pudding for some variety), and smoothies (I love the blueberry + banana + coconut combination). You can also slice it into strips and use it in salads. I love Thai coconut meat because it's mild and sweet; unlike mature coconut, which has a very strong flavor, it's subtle and versatile.
I hope this is a handy tutorial, and that inspires you to give young Thai coconuts a chance.
Happy hacking!
xo