Spend a little time in the raw world, and you'll quickly hear speak of a morning elixir with magical superpowers. It could be juice, but in this case I'm not thinking of juice. I'm talking about that brace and bulwark of the raw fooder's world, the green smoothie.
What's a green smoothie? It's precisely what it sounds like: a smoothie to which some sort of green leafy vegetable — kale, spinach, chard, romaine, broccoli, zucchini, or even (by some definitions) avocado has been added. The obvious logic behind green smoothies is that they're an easy way for people who aren't too fond of the green leafies to eat them. For those of us who are already leafy fanatics, green smoothies present yet another chance to get our green on–all before noon!
In the raw world, and even outside of it (for instance, at Ange's blog), green smoothies are have devoted followings. Books have been written on their healing powers, and all sorts of green smoothie "challenges" transpire each year on raw websites.
I read about these with admiration, but also with a sense of feeling left out. See, I love the idea of green smoothies–when do I not love the idea of greens in any shape or form–but the truth is that I just don't like the things themselves. I wish I did. I'm not even sure why I react to them with such distaste: I love green juice, after all (which is also a greens+fruit combo), and I love my greens. I mean, put me in front of a wheelbarrow of raw kale, and I'll begin nibbling like a rabbit. So what is it with me and green smoothies? Perhaps it's my squeamishness about fruit, writ large in the presence of greens. Perhaps it's just a childish reaction to the color. Whatever the case, I typically watch the green smoothie enthusiasm from the sidelines, a proud but distant spectator.
Except, that is, for a few green smoothie combinations that seem not to turn my tastebuds sour. The first green smoothie that I ever managed to chug down with enthusiasm was a recipe from Carol Alt's The Raw 50; it was a simple combination of bananas and romaine lettuce (that's it!), and I was shocked at how mellow it tasted. It had never occurred to me to put romaine in a smoothie before, but I found that I enjoyed it so much more than spinach or kale concoctions. Now, three years later, I still enjoy playing around with this basic recipe template, and I find that it's the easiest way to enjoy greens and fruit in a morning drink.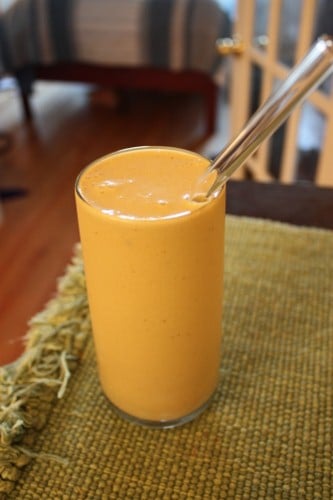 Last weekend, I decided to put a new spin on this super mellow, super easy green smoothie. I added, for fat and protein, a tablespoon of tahini (perhaps my favorite seed butter). Blended with some almond milk and vanilla sun warrior protein, this was an exceptionally nutrient dense and delicious morning drink. If you don't like tahini, you can certainly substitute a mellow nut butter–cashew or macadamia would be ideal. I happen to think tahini is a gift from the gods, but I'm always shocked at the number of CR readers who don't like it.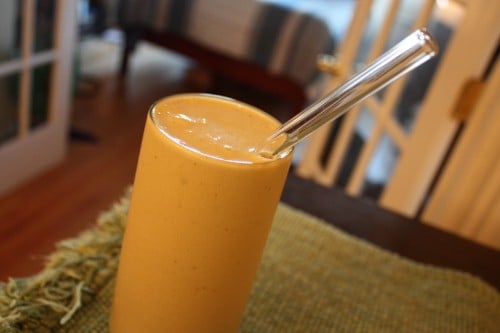 Gena's Super Mellow Green Smoothie (serves 1)
1 large frozen banana
1 heaping tbsp tahini (raw is best, but roasted is fine)
6 large leaves of romaine lettuce
3/4 cup almond milk
1 scoop vanilla sun warrior protein powder (you can sub hemp protein, or simply leave it out altogether)
Stevia to taste
Blend all ingredients on high till smooth.

This smoothie tastes rich and creamy, and you won't ever suspect that a serving of greens lurks beneath the golden hue. It's the perfect green smoothie to serve to a family member who's as skittish an eater as I am.
Or, you can serve it simply because it tastes great.
One day, I'll get used to the taste of green monsters. (Maybe.) Till then, I rest secure in the knowledge that I eat enough green stuff between lunch and dinner to feed a (really healthy) army. And I can enjoy green smoothies that land on the more mellow side of the flavor spectrum.
Before I go, I wanted to direct you to an interview with Donald Watson, founder of the Vegan Society, coiner of the word "vegan," and vegetarian of 78 years (vegan for a good many of those). In spite of some moments of disagreement–such as Watson's suggestion that being vegan sometimes means "excommunication" from situations that involve social dining, a sentiment that runs totally against the kind of veganism I practice–I loved reading this thoughtful article. Favorite moment? When asked what his message would be to vegans worldwide, Watson responded:
"Take the broad view of what veganism stands for – something beyond finding a new alternative to scrambled eggs on toast or a new recipe for Christmas cake. Realise that you're on to something really big, something that hadn't been tried until sixty years ago, and something which is meeting every reasonable criticism that anyone can level against it. And this doesn't involve weeks or months of studying diet charts or reading books by socalled experts – it means grasping a few simple facts and applying them."
Take a moment to read the interview, if you can. I'd love to hear what struck a chord with you!
xo