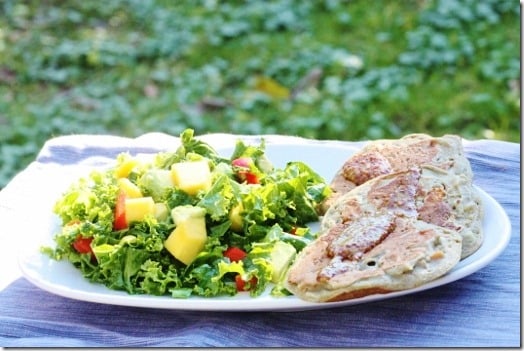 I think Valerie's gonna like this post!
Why? Because mung bean pancakes and mango kale avocado salad are both signature dishes at Café Green, the highly imperfect, yet deeply loveable little vegan restaurant here in Washington's Dupont Circle, where you'll often find me having dinner with friends (most recently, a fun evening with Brendan). Of all of the dishes on that menu, the mung bean pancakes (served with a sweet mustard sauce) and mango kale salad are certainly two of my favorites, though I'm leaning lately toward the raw pizza and beet n' berry salad. Anyway, I digress: I first fell in love with mung bean pancakes at CG, and I've wanted to make them at home ever since.
These gave me the perfect excuse:
Sprouted mung beans from Tru Roots. I found these at Whole Foods and seized them as my chance to explore the world of mung bean pancake batter, and I'm so very glad that I did.
These pancakes are many wonderful things. They are thick and filling. They are supremely rich in plant-based protein, due a chickpea flour and bean base. They are easy to prepare, impressive to serve, and—since they're made entirely without glutenous flours—they are also gluten free (and soy free), for my friends with allergies. And they are, most importantly, very tasty.
Most recipes for mung bean pancakes are made similarly to this one: you soak split mung beans in water and blend them up to create a batter. The cool thing about my sprouted mung beans is that they only require 5 minutes of cooking time, and they're sprouted well enough to be soaked and eaten directly (if you're a strict raw foodist). This meant that I only soaked them for an hour; if you are making this recipe from regular split mung beans (which will be cheaper), you should soak them overnight.
Off we go.
Mung Bean Pancakes with Mustard Sauce (Vegan, Gluten and Soy Free)
Makes 12 large pancakes, or 4-6 servings
1 1/2 cups mung beans, soaked 8 hours (less if they're sprouted)
2 cups water
2/3 cups chickpea flour
1/2 cup brown rice flour
2 tsp baking soda
1 tbsp tamari
2 tsp rice wine vinegar
1/2 tsp sesame oil
1 tbsp agave syrup
1 small (or 1/2 large) chopped onion
1 small chopped bell pepper
1) Placed soaked beans, water, flours, and baking soda in a good blender and blend till totally smooth. If the batter is too thin, add a little flour; if it's too thick, add some water. You want a thick but easy to pour consistency, just as you'd want for regular pancakes, but maybe even a touch thicker.
2) Transfer batter to a large bowl. Add tamari, vinegar, sesame oil, agave, onion, and peppers.
3) Heat a large skillet to medium/high, and drop batter by 1/3 cup heaps. Cook till you see bubbles on one side of the pancake; flip, and cook some till second side is golden brown. Serve with mustard sauce, below.
Sweet mustard sauce (vegan, gluten free with right mustard)
Makes about 1/4 cup
3 tbsp stoneground mustard (look for a gluten free variety if this is a particular concern for you)
1 1/2 tbsp agave nectar
1 tsp apple cider vinegar
1) Whisk all ingredients with a fork, and pour over pancakes.
Mango Kale Avocado Salad (raw, vegan, gluten and soy free)
Serves 2-4
1 bunch curly kale, de-stemmed, chopped, washed, and dried
Juice of 1 large lemon
2 tsps flax oil
1 tsp sesame oil
1 tbsp agave nectar
1/4 tsp sea salt
1 chopped red bell pepper
1 cup mango, cut into small cubes
1/2 large avocado cut into cubes
1) With your hands, "massage" the lemon juice, flax and sesame oils, agave, and salt into your kale till it is wilted and nicely coated. Taste the kale–what does it need? I usually add extra lemon, but feel free to add a little more oil, salt, or sweetness, too.
2) Mix in the pepper, mango, and veggies. Toss well to combine. Serve with pancakes!
Just look at all of that vibrant color!
Yum!
This is such a delicious lunch or dinner—the tastes and textures are perfect together, and the meal is filling without without feeling heavy in the slightest. The salad is a little summery, but I actually love summery flavors in winter (don't hate me, strict locavores!). They're like a little burst of sun. I can't wait to make this meal again.
So on that note: exam #1 is over. One down, two to go. Ready, set, study!
xo
PS – Don't forget that my Alo yoga giveaway ends Weds. And tune in for another incredible holiday giveaway tomorrow!