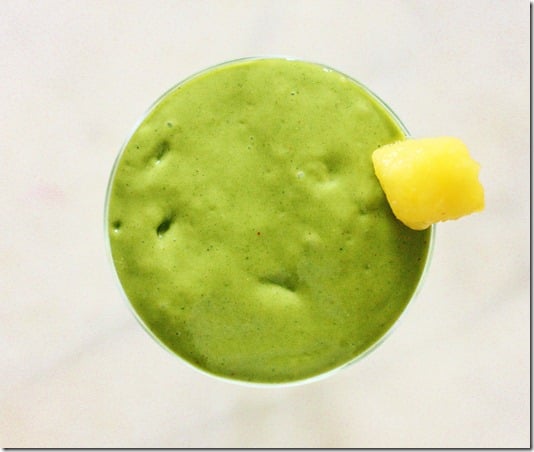 Happy Friday! Here from the perch of my final days off, it's hard to tell holidays and Fridays from other days, but we do have a long weekend coming up, and I wish you all good weather, some rest, and a lot of time making fabulous food!
Memorial day weekend is thought of as the start of summer, and in keeping with that theme, I'm here to share a scrumptious green smoothie recipe, and to offer you a shot at winning my friend Cory's new ebook, a collection of 50 fabulous smoothies and juices! Cory Gallant—known throughout the blog world as ZestyCook—is my blog designer and consultant; he's the person who helps me to make CR look attractive and stay easy to navigate. He's also great at giving me smart, savvy advice on how to manage my blog and keep it up to date. I'm one of his affiliates, so readers who join by clicking through his icon on my right sidebar get a special deal on his services. If you're hoping to revamp your blog, or start one for the first time, I highly recommend his services!
Cory's also a huge lover of fresh, homemade juices and smoothies. His new book, Top 50 Healthy Juice and Smoothie Recipes—isn't vegan, but all of the smoothies can be easily veganized, and many of them already feature almond or coconut milk. The juices, naturally, are vegan. When Cory first sent me his book, I confess that I thought to myself, "I don't really need help in the juice and smoothie department!" But Cory quickly proved to me that even juice and smoothie fanatics like me can benefit from some inspired new recipes.
Take his "Pina Colada" smoothie, for instance, which I tried this morning. Creamy coconut milk, banana, pineapple, and mint come together with fresh spinach. The result is a drink that's as summery and sweet and generally delicious as it is healthy and green. I instantly fell in love!
Pina Colada Smoothie, © 2012 by ZestyCook (vegan, gluten free, soy free)
Serves 1-2
4-6 oz unsweetened coconut milk
2 cups bunch baby spinach
1 banana
5 sprigs fresh mint
1 cup fresh/frozen pineapple chunks
Place spinach and coconut water in blender and process on high until liquid. Add pineapple,mint, and banana and blend until smooth.
What a perfect treat for warm weather!
Other recipes include such treats as the "jack up the antioxidants" smoothie (rich with banana, dinosaur kale, pomegranate, and blueberries), the "sweet and sassy" (cucumber, lime, kiwi, lemon, spinach, ginger, and apple), and such self-explanatory mixes as "grapes n' greens," "mango banana," "blueberry greens," and "almond cocoa butter cup." Yum.
Also included in the e-book is a short primer on blending vs. juicing (Cory's answer is the same as mine: apples and oranges. Do both!) as well as tips on how to thicken smoothies, make them ahead, and what order to place your ingredients in. Whether you're a smoothie pro or you're just starting out, it's a perfect guide and resource. Plus, Cory's emphasis is decidedly on green smoothies, so you can rest assured you'll have plenty to choose from!
A quick tip for veganizing Cory's recipes:
Whey protein: replace with any vegan protein powder
Greek yogurt: replace with soy yogurt, coconut milk yogurt, or young coconut meat
Skim milk: replace with almond, soy, hemp, flax, oat, or rice milk
And as I said above, many recipes are 100% vegan already.
If you'd like to experience some of Cory's delicious recipes for yourself, I encourage you to enter tonight's giveaway! As usual, there are a few different options for entering. Each is worth one entry, and you can choose one or all of them. Just leave me a comment for each entry, please. I'll announce the winner on Monday!
1. Leave a comment on this post, telling me your favorite smoothie combination.
2. Tweet about this giveaway with the URL of this post pasted into the tweet! http://bit.ly/KoUCht
3. Like Choosing Raw on Facebook
4. Like Zesty on Facebook
5. Follow me on Twitter
6. Follow Zestycook on Twitter
Good luck!
May you sip a green smoothie or two this weekend. I'll surely do that, and I'll also be having a lovely dinner with two very special bloggers whom you may know and love tomorrow night. Back here for a recap Sunday!
xo