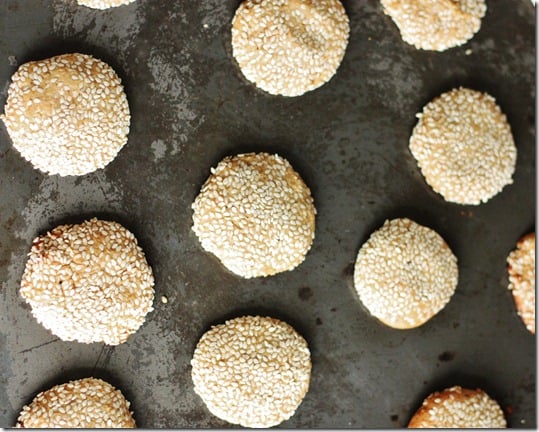 On the list of childhood recipes I've always intended to veganize are festive Greek cookies called, koulourakia. These are made simply with flour, honey or sugar, and butter or olive oil (depending on the recipe). This year, I finally tackled vegan avgolemono; now, I'm trying my hand at my favorite Greek confections. As you probably know, most Greek desserts—including the famous baklava with which we're all familiar—are honey-sweetened. So in light of yesterday's excellent conversation about honey, this is the perfect time to bring sesame cookies to life with a variety of non-honey sweeteners. In the recipe below, you'll find options for using agave, date paste, or palm sugar, which are three of my favorite plant-based sweetening options.
I love these cookies because they're quick, they're easy, they don't demand the use of a mixer, they don't require flax eggs or Ener-G egg replacer, and because they include some of my very favorite things: dates and tahini. I love that they capture the flavor of the koulourakia I remember without involving any butter or eggs, and that—in keeping with my recent vow to focus on gluten free baking options here on my blog—they are easily made gluten free (yes, I tested them with an all purpose GF flour mix as well as whole wheat pastry flour…more cookies for me and my Mom to polish off, you see).
My favorite sweetener here is probably the date paste, which has an incredibly special, caramel-like flavor. That said, the date paste also results in the softest cookies, and the koulourakia I remember are actually quite crunchy. The agave and the coconut crystal varieties were more traditional in terms of texture. You should simply use whichever sweetener is 1) in line with your dietary needs (some of you can tolerate dates, but can't really tolerate agave), 2) cost-effective (agave is probably cheaper than date paste or coconut crystals, unless you order your dates in bulk, 3) pleasing to your palate. Special nods for this recipe go to Elana and to Agnieszka, who each have wonderful sesame cookie recipes on their blogs, as well as to the zillions of koulourakia recipes that I found (much to my surprise), when I Googled.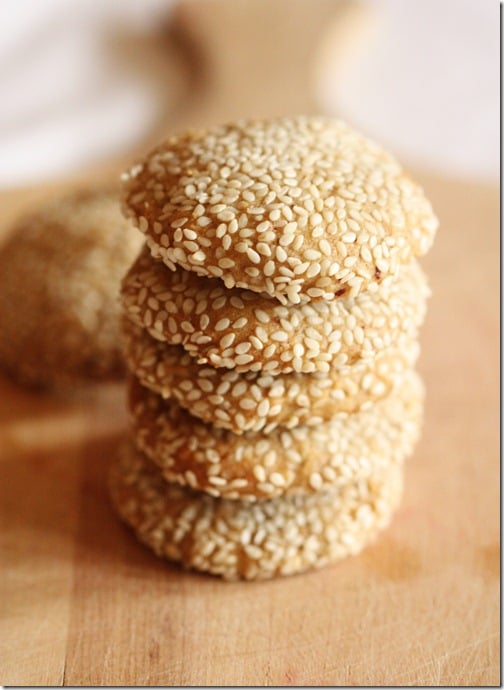 Sweet Sesame Cookies (vegan, GF with appropriate flour, soy free)
Makes 16-18 cookies
1 1/2 cups all purpose gluten free four mix or whole wheat pastry flour
1/2 tsp baking soda
1/4 tsp sea salt
1/4 cup tahini
1/4 cup olive oil (or coconut oil)
2/3 cup date paste OR 1/2 cup agave nectar OR 2/3 cup coconut crystals
1/3 cup sesame seeds
1. Preheat oven to 350 degrees Fahrenheit.
2. Combine the flour, baking soda, and sea salt in a large mixing bowl.
3. If you're using date paste/agave: Whisk together the date paste or agave, the tahini, and the olive oil. If you're using coconut crystals: use a fork to combine the tahini, olive oil, and the sugar. If you have a sticky paste, you may need to add a few extra tablespoons of oil to make this mixture wet enough to mix with the dry ingredients.
4. Mix the wet ingredients into the dry ones. The mixture will be thick and sticky, but keep in mind that you're about to form it into balls, so it should be pretty dense. If it's too sticky, thin it out with a tablespoon or two of almond milk.
5. Stick the dough in the fridge for 30 minutes or an hour so that it can firm up a bit. Roll mixture into 1 1/2 inch balls between palms of hands, and then roll it in the sesame seeds so that it's well coated. Press the dough ball onto a parchment lined baking sheet, so that it's flat. Repeat with all the dough, and then bake the cookies for 10 minutes, or until they're golden brown.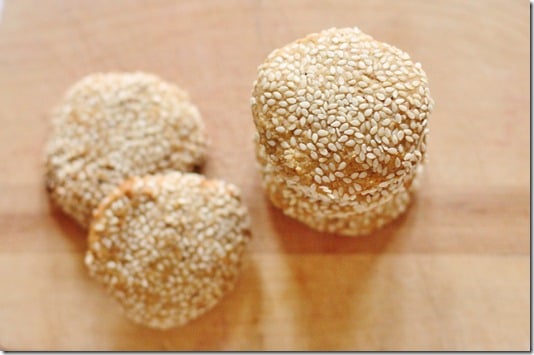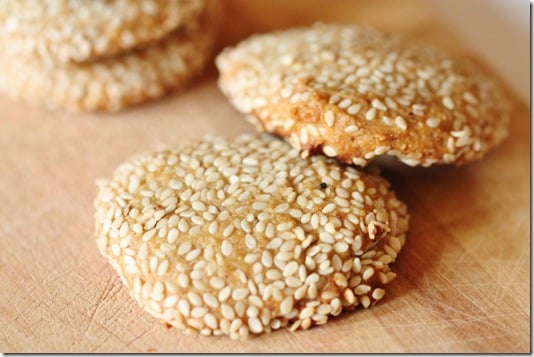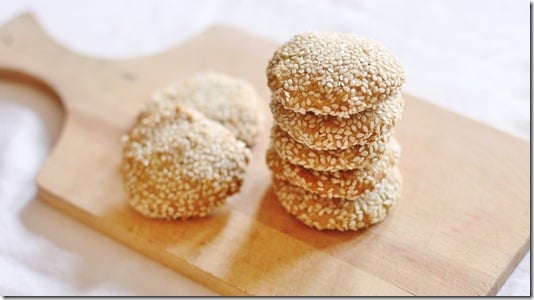 I should add that, in lieu of coconut crystals, you may absolutely use demerara sugar or palm sugar, both of which are considerably cheaper than coconut crystals. I love coconut crystals myself (just discovered them), but I consider them to be an occasional financial luxury. It makes more sense for me to order dates in bulk and use date paste (which I basically prefer to the crystals) than to use coconut crystals on a regular basis. That said, some recipes really do demand crystallized sweetener, and for those occasions, it's lovely!
As for the cookies, they may be my favorite recent baking invention. Like many of my baked goods, they're sweet, but not too sweet, and they're brimming with the taste of sesame, which I love. Best of all, they transport me back to my Grandmother's home at Easter and Christmastime, when sesame cookies arrived from all of our family friends in decorative tins. Having always had dramatically different food tastes and inclinations from the rest of my family, I don't have too many recipes nowadays than tie me to my childhood traditions, so it's always nice when that happens.
I hope you enjoy these scrumptious and simple vegan treats. And I hope that this single recipe gives you a good sense of how many sweetening options exist for vegan dessert-making; I didn't even get into some of the non-sugar options (like stevia or xylitol), nor did I touch on brown rice syrup or maple sugar. Needless to say, if honey is not a part of your diet, you are not without options!
Have a wonderful day, all.
xo