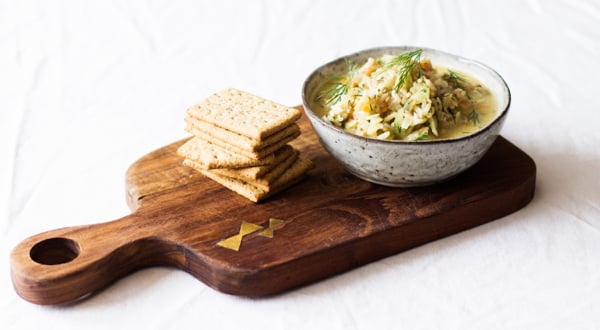 For those of us whose families hail from Greece (or the Ukraine, or Russia), Easter wasn't last week. It's actually today, which means that I can greet you all with a heart "Christos Anesti!" In honor of the holiday, I'm sharing a vegan spin on one of my favorite Greek recipes: a vegan avgolemono soup
A frequent fear among the newly vegan is that veganism will disrupt or even ruin cherished family holidays. What's Thanksgiving without turkey, people wonder, or Passover without gefilte fish, or Christmas without a roast? Well, let me assure you all that these holidays can be every bit as rich—or more so—when your meals have been prepared without any injury done to animals.
Beyond that, I think we all tend to think of holidays as fixed, unchanging things: rituals so sacred that any modification will be an affront to family and upbringing. When you think about it, though, this is so far from the truth. Holidays are always in flux, because our families are always in flux: new spouses, children, and friends are welcomed into the fold, and as this happens, traditions change. Dinners are served in new homes, with new recipes and new faces. Holidays accommodate us as we evolve and change; we don't need to resist personal transformation in order to keep them intact.
Greek Easter was a big deal in my little family as I was growing up. And avgolemono soup–which is traditionally made both with egg and lamb–was the centerpiece of our meal.
I've searched for vegan avgolemono for a long time, and none of the recipes I've seen blown me away. I wanted something quick, simple, tart, and very much like the creamy soup I remember, sans egg (which is the traditional thickener). I think I've figured it out, and let me tell you: it was so much easier than I thought it would be. Here, folks, is a vegan avgolemono that's tangy from the lemon, creamy from miso and tahini, and full of nutritious, grounding brown basmati rice. It's as good as it gets, and it makes me so happy to carry on a family recipe tradition in my own way.
| | | |
| --- | --- | --- |
| Vegan Avgolemono (Greek Easter Soup with Lemon) | | Print |
Cuisine:
vegan, gluten free, soy free, nut free
Prep time:
Cook time:
Total time:
Ingredients
1 tablespoon olive oil
1 small white or yellow onion, chopped
2 small shallots, chopped
2 medium sized carrots, diced
1 stalk celery, diced
2 cloves garlic, minced
1 cup brown basmati rice (or long grain brown rice), soaked overnight and rinsed well
6 cups low-sodium vegetable broth
½ teaspoon sea salt
¼ cup lemon juice
1½ tbsp mellow white miso (or any miso, really)
2 tbsp tahini (substitute ¼ cup cashew cream)
¼ cup nutritional yeast
⅓ cup chopped fresh dill
Instructions
Heat the olive oil in a large pot or Dutch oven over medium heat. Add the onion. Cook the onion for 4-5 minutes, or until it's clear and soft. Add the shallots, carrots, and celery. Cook the vegetables for another 4 minutes, until the carrots are just becoming tender. Add the garlic and cook for one more minute, until it's fragrant. Add tablespoons of broth or water as needed to prevent sticking as you cook the vegetables.
Add the rice to the pot. Swirl it around for a minute to toast it, then add the broth and salt. Bring mixture to a boil and reduce to a simmer. Simmer the soup for 30 minutes. (Note: if you don't have time to pre-soak your rice, simmer for 35-40 minutes.)
When soup is almost done cooking, whisk together the lemon juice, miso, tahini or cashew cream, and a few tablespoons of hot broth from the soup. Add this slurry back to the soup, along with the nutritional yeast. Whisk it all thoroughly, till smooth. Stir in the dill and cook for a few more moments. Serve.
Soup will keep, refrigerated, for up to four days, and it can be frozen for up to a month.
Serving size:
1 heaping cup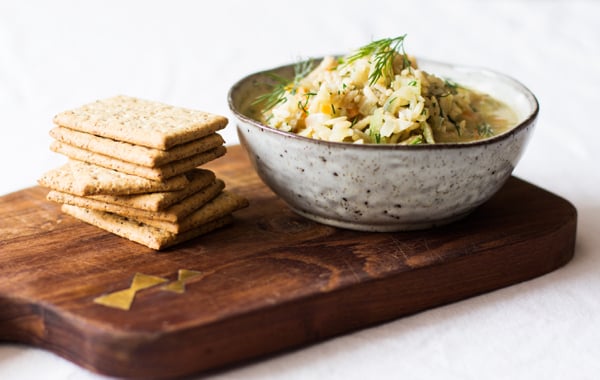 Hope you guys give the recipe a shot; you don't have to be Greek to enjoy it!
What traditional holiday recipes have you veganized or added a vegan meal to recently? I'd love to hear how you've brought your vegan values to holiday gatherings with family and friends.
xo