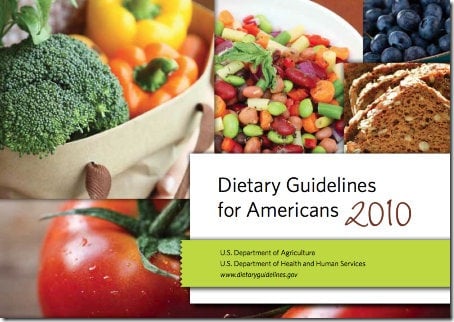 On Monday, federal regulators released Dietary Guidelines for Americans, 2010. The 112 page report, which you can read for yourself here, is certainly not without its virtues. Americans are urged to reduce consumption of salt, solid fats, cholesterol, and proteins containing solid fats (a nice way of saying, meat). They're urged to eat less fish that's high in mercury, to eat more fruits and vegetables, and to be aware of the risks of diet-related chronic illness. "Nutrient density"—a concept once excluded from these guidelines—is prominent. Refined flours and sugar are emphatically discouraged, and physical activity is encouraged.
There's no doubting the value of all of this advice, and I'm glad that the report is on target with so many of the basic necessities of healthy living and eating. At the same time, my overall feeling is that the it falls short of accomplishing anything new or fundamental for Americans and their health. Let's face it: we've all been told to eat less soda and refined sugar, to seek out whole grains, to eat more vegetables, and to get off our recliners for a long time now. And our diseases of affluence are about as prevalent as ever. Clearly, it's not enough to give consumers these basic pieces of advice. The time has come for us to talk honestly about the fact that Americans are still eating too much of the food that's slowly ruining their health: namely, conventional meat and dairy.
In fairness, the report is pretty clear about stating that Americans should reduce consumption of fatty cuts of meat, and it also encourages them to seek out plant-based proteins. I also like the categorization of all proteins—meat and plant—together. But it recommends that Americans eat more dairy (low-fat), which is remarkable given how much of it Americans were encouraged to consume already. It even states—and this is pretty funny—that, "if you are lactose intolerant, try lactose-free milk, drink smaller amounts of milk at a time, or try fortified soy beverages." I'm OK with the suggestion of soy milk as a dairy alternative, but really? If your body is so structurally incapable of digesting a food that eating it makes you ill, you should simply eat a little less?
It's this attitude—go ahead and eat things that compromise your health, but eat less of them—that pervades the whole report. In fact, portion control is the main emphasis, as The New York Times rightly noted. Now as always, the federal regulators in charge of telling Americans what to eat refuse to acknowledge the fact that, so far, eating little portions of unfit food doesn't seem to be helping anyone. For one thing, portion control is extraordinarily hard to master and maintain (even the healthiest of eaters find it challenging) and for another, there are certain foods so harmful that even small portions are inadvisable from a dietetic standpoint. This may not be true of organic, grass fed lean meats or organic, low-fat dairy foods, but it's certainly true of processed food, conventional dairy (with its hormone and antibiotic load), and conventionally raised meat—especially fatty cuts. These foods are the foods that are making Americans sick, and eating smaller portions of them—which most Americans won't be able to do, anyway—is not a reasonable response to their dangers.
One of the benefits of eating a plant-based diet is that it bestows a degree of freedom and safety on the consumer. No, I can't say that being vegan or vegetarian is automatically healthy: it's possible to live off of vegan Frankenfoods, to become a carbitarian, or to eat nothing but Twizzlers and soda. It's likewise possible to skimp on nutrient dense foods and fall short of adequacy levels, and vegans and vegetarians have to keep an eye on iron, protein, and calcium. But if i were to compare the overall safety net afforded by a veg*n diet to the safety net afforded by an omnivore's diet as prescribed by the 2010 guidelines, there'd  be no contest. Eating a vegan or vegetarian diet can be a little tricky at first, but it offers a basic level of protection over most diseases of affluence by drastically reducing cholesterol, excessive animal protein, and saturated fat. Eating according to the 2010 guidelines, on the other hand, is certainly feasible in a healthy way, but I'd say that it's only a very educated consumer who'll reap its benefits. Most consumers will not be able to impose the kind of portion control that's needed to make this plan work.
Vegetarian and vegan diets—and especially vegan diets—aren't inherently perfect, because all diets depend on the intelligence of the eater. But they do give us leeway to eat more generous portions and more volume without a risk of ingesting too much cholesterol or saturated fat. And the results speak for themselves: on page 45 of the report, the regulators mention that
In prospective studies of adults, compared to non-vegetarian eating patterns, vegetarian-style eating patterns have been associated with improved health outcomes—lower levels of obesity, a reduced risk of cardiovascular disease, and lower total mortality. Several clinical trials have documented that vegetarian eating patterns lower blood pressure.

On average, vegetarians consume a lower proportion of calories from fat (particularly saturated fatty acids); fewer overall calories; and more fiber, potassium, and vitamin C than do non-vegetarians. Vegetarians generally have a lower body mass index. These characteristics and other lifestyle factors associated with a vegetarian diet may contribute to the positive health outcomes that have been identified among vegetarians.
There's nothing wrong with the idea of portion control. It's true that most Americans eat too much, that most restaurants serve too much, and that most of us reach into a bag of trail mix or granola with very little idea of what a reasonable serving size actually is. But it's my belief—and the overall success of vegetarian eating patterns, coupled with the work and findings of doctors like Neal Barnard, Joel Fuhrman, and Dean Ornish seem to support it—that there is a way of eating that allows for voluminous portions, rich combinations of flavor and texture, and a maximization of nutrient density, all without the risk of heart disease, type II diabetes, high cholesterol, and hypertension. It is, quite simply, a plant-based diet. And I wish that this report could give more credence to that fact, or simply encourage Americans to eliminate some of the high cholesterol, fatty foods they're so attached to, rather than eat them in smaller portions. We can talk about portion control until we're blue in the face (and still hungry after our dinner), but until we acknowledge that it's what we're eating, and not how much, that's primarily responsible for our chronic, diet-related illnesses, we're all at a serious disadvantage.
What do you think of the new guidelines? I can't imagine that they came as a surprise to anyone, given how tame they are. Were you excited, disappointed, or simply unsurprised when you read them?
Before I sign out for the day, a second recipe in my week of vegan Super Bowl eats. It's not really my recipe—it was suggested to me by Robyn, and the original recipe is Kristen's. But it's darn tasty, and a perfect raw, vegan game day snack!
Cheesy Vegan Nacho Chips (Serves 4, but you'll want to make double)
Simply massage one head of washed and chopped kale with a batch of Kristen Suzanne's Cheesy Hemp Nacho Sauce (you should use your judgment on how much sauce to use, but coat the leaves very generously). Dehydrate for about 8 hours, flipping leaves halfway through, and enjoy a crunchy, cheesy, and flavorful snack!
I'm sure I'm not the first raw foods lover to try this recipe out!
I'll be back tomorrow with more game day food ideas, and a new favorite raw, vegan snack.
xo