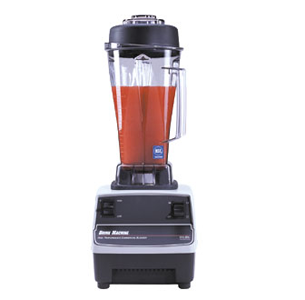 Hi guys,
Happy Tuesday. I'm here to answer a question I've been getting pretty frequently: What kind of kitchen equipment do I need to eat more raw food?
This is a great question. While I don't believe that one needs a kitchen stocked with appliances or gizmos to start eating raw, it's true that certain appliances will allow you to experience and enjoy the lifestyle with ease. And it's worth knowing which ones to invest in before you spend your money.
Deciding how to outfit your kitchen—raw or cooked—is largely a matter of personality. If you're a simple eater like me, who wants to minimize prep time and maximize flexibility, then I recommend you invest in appliances that are time-efficient and versatile. Some people might be surprised to hear that I consider a spiralizer a more beneficial kitchen tool than a dehydrator. The reason is simple: spiralizers are fast, and the meals they help create (veggie pastas) can be eaten in great variety. You might also be surprised to hear me say that a food processor is more vital for raw newbies than a Vitamix. As dearly as I love my Vita, I simply believe that a food processor is a more fundamental kitchen tool; it can do lots of the blending you'll need for raw soups, and it's more efficient than the Vita for making nut pates and cheeses (which are very versatile).
If you're a kitchen impresario—the kind of chef who likes to cook elaborate meals, who takes joy in your virtuosity, and who favors preparation that is aesthetically impressive—your priorities might shift. It may be most crucial for you to invest in a mandolin, which will let you slice and chop veggies to visual perfection, and a dehydrator, which is the closest you can come to mimicking the time and prep work that goes into regular cooking.
Before you spend money, I recommend that you think about your personality type. Consider what you'll want and need from your raw meals. Are you planning on creating a magnificent raw feast once or twice a week? If so, focus on appliances that will enable complex preparation. Are you looking to eat raw on a daily basis with minimal hassle? Then focus on machines that are fast and efficient. It all depends on what your goals are.
That said, I'm going to give you my honest, personal breakdown of raw kitchen appliances. I've divided these into two categories: essentials and toys. The former are appliances that I quite simply could not live raw without. The latter are appliances that help me immensely in the kitchen, but which I consider supplementary, rather than indispensable, to my lifestyle.
The Essentials
1)    Basic vegetable tools
Knives (cost varies)
A vegetable peeler (averages $6.99-$19.95)
A box grater (average $19.99)
These are the essential tools you'll need to chop and peel veggies. These are just as essential to the non-raw lifestyle as they are to the raw lifestyle, so you should have them around already. If not, it's time to invest!
2)    A Food Processor ($59.99-$200; average 7 cup for $129.99)
Food processors, in my opinion, are essential kitchen tools for any chef, raw or cooked. They help you chop, grate, mix, blend, grind, and even knead dough. They're essential for raw nut pates and cheeses, for thick, creamy, emulsified salad dressings, and great for minimizing your chopping and vegetable prep time. They're sturdy and they last a long time, and they're amazingly versatile.
If you've got the dough, I recommend investing in a Cuisinart 7 cup processor. I've had mine for seven years, and it's served me well. It's about $130.00 (probably less on Ebay) and worth every dollar. The Kitchen Aid model is also a good value at $89.99.
3)    A spiralizer ($24.95-$49.95)
If you've been reading the blog, you know all about my love of raw pasta. I highly recommend investing in this cheap and versatile little tool! I've used the Joyce Chen model, which is a great value at $24.95, and the Paderno Spirooli, which is more expensive, but a bit sturdier and more multipurpose. Raw pasta will become a constant dinnertime staple in your raw lifestyle!
4)    A blender ($20.00–$400)
Once again, blenders are not only essential for raw kitchens, but essential for all healthy kitchens! They let you make smoothies, soups, dressings, and more.
OK. I know what a lot of you are wondering. Do I have to get a Vitamix or a Blendtec ($400)? This is a great question, and I'm afraid that only your budgets can determine the answer. I began my raw journey without a Vitamix or Blendtec and did very well for about seven months. Ultimately, I wanted a Vitamix for ultra-smooth raw soups using raw root veggies (which a regular blender can't handle) and creamy smoothies and dressings. But until I got it, my regular blender (which had an ice crushing capacity) served me well.
If you're just starting your raw journey, I recommend you wait to invest in a Vita. Work with any old blender: as long as it can blend ice for smoothies, it ought to be fine. If you find that you're making a lot of raw soups with steamed roots, and you'd prefer to have them raw, OR if you hate chunky smoothies and want an upgrade, go ahead and invest in a Vita. It will last forever, and you will not regret it—as any glowing Vitamix owner will tell you!

The Fun Toys
1)    A Mandolin (average $39.95)
I love my mandolin! It allows me to slice vegetables thinly for raw raviolis (think two paper thin slices of beet with veggie cheese in between), raw lasagna (same idea), raw cucumber rolls (which I made in this post) and more. It also makes for beautifully grated carrots, cucumbers, and beets. It's not essential, but you'll be glad you have it.

2)    A Dehydrator (average $209.95)
I'm always amazed at how many new raw foodists ask me if they should invest in a dehydrator. Though I'm delighted to have my new Excalibur and can't wait to use it, I've been successfully raw for a while now without one! Sure, they allow you to make lots of cool things, and they can catapult your raw un-cookery to a new level of aesthetic perfection, but they're not essential. In fact, I find the time and effort involved a bit daunting.
Then again, I'm happy to have a slice of manna bread when I need it, or to purchase raw crackers from Lydia's brand. This is because I rarely crave bread or crackers. If these starches are an important part of your diet, and if you're very intent on being 100% raw (in other words, if the thought of Ezekiel bread freaks you out) then you might be the sort of person who needs a dehydrator. And that's fine: it'll let you make raw breads, crackers, pizza crusts, and cereals galore. So if this is your personality profile—or if you're simply a creative chef who wants to move far beyond basic soups, salads, nut pates, and pastas—go ahead and invest, and go crazy!
The Hard-to-Categorize: A Juicer
Full confession: I love my juicer. I love it and use it almost every day. This is because juicing is a very crucial part of my lifestyle; I juice all morning (sometimes even dinner, though not typically) and I love juice. I also have a history of digestive stress, and juice has helped me to heal. If you're like me, I can tell you honestly that the cost of a juicer is worth it. It will buy itself back again and again and again: green juice is, quite simply, costly, and a juicer will allow you to make it at home (and yes, even the cost of produce for juicing will end up being economical). If you juice on a thrice weekly basis or more, I highly recommend considering one. The model I use is the Breville Two-Speed Juice Fountain Plus, and it has never let me down.
If, however, you do not juice frequently (if you "dabble in juice," as I like to say), then you might want to stop and save your cash for occasional juices from your local juice bar or deli. Juicing is a bit messy, and it's a expensive to buy the necessary produce unless you're doing it on a very frequent basis. So before you decide to buy a juicer, think about how often you'll realistically be making juice, and decide accordingly.
Some of you have asked me whether it's wiser to buy a juicer or a Vitamix. The answer is that they do totally different things! A Vitamix will help with soups and smoothies (ie, liquids with fiber retained) and a juicer will help with veggie juice (liquid with fiber extracted). They're both very healthy, but only the latter causes absolutely no active digestive work. So they aren't comparable.
If juice is very important to you, than you've got to have a juicer: smoothies and Vita-blends won't do. I juice every day, so my juicer is essential. As an all around kitchen tool, though, the Vita is a better investment. You can make smoothies, pates, dressings, and much more. If you don't drink juice daily, then you may want to consider it instead.
Are you sensing a pattern here? With all of the above, I encourage you to examine your lifestyle realistically. Are your really going to juice every morning, or are you going to do it for two weeks and then let the juicer get dusty? Are you really going to have food in the dehydrator around the clock, or are you going to try raw pizza crust once and get bored? The answers to these questions that can save you a lot of money and stress. Be realistic about what you want and need the most, and invest money in the appliances that you'll use most frequently. Remember, you can always invest again as your raw journey deepens. But I cannot stress enough how smart it is to invest only in the basic kitchen tools as you begin: they'll be much more useful to you than the fancy toys. (No matter how fun those toys can be!)
That's my wisdom of the day, friends. I'll be back tomorrow with a recipe for Raw Wednesday, and the winner of Ani Phyo's cookbook!
xo