When life gives you reading weeks, give it pancakes. At least that's what I say.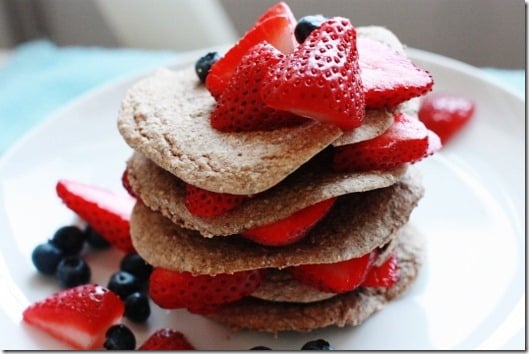 Raw, vegan, banana pancakes to be exact.
This recipe feels like a small triumph to me, because I've been searching for a raw, vegan pancake recipe that I like for a long, long time. My first experiment was with Ani Phyo's raw flax and coconut oil pancakes (from her first book), which were delicious, but frankly much too heavy for me. I like staying full after breakfast, but not 8 hours worth of full—what about lunch!?
My next experiment was a simple mix of banana and flax. This seemed right for me—banana is my favorite breakfast fruit, the ingredient list was short, the process was easy—but what I ended up with was closer to a fruit leather than a pancake. (You may remember it. I renamed it a "crepe" and posted the recipe about a year ago. Now you know.) I was disheartened: the only other pancake recipes I found sounded a lot like raw bread, and I really did want something that was hearty, but light and thin the way pancakes ought to be.
I think I've found it—or at least, I'm one step closer. These banana pancakes are a good in-between: they're filling and dense, but they also have a pliable texture. And they make a lovely presentation.
Best of all, they are ridiculously, totally, embarrassingly easy! If you ignore the dehydration time, these guys are really a lot easier than normal pancakes. And when you're trying to figure out molecular orbital theory, easy is much appreciated.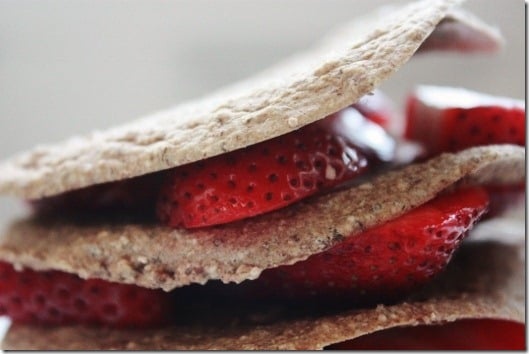 Raw, Vegan Banana Pancakes (raw, vegan, gluten and soy free)
Serves 1 (about 4-5 pancakes)
1 large banana
1/4 cup raw buckwheat flour (make this by grinding up dehydrated buckwheat groats, OR use a store-bought buckwheat flour)
2 tbsp flax meal
1 tsp cinnamon
1/4 cup almond milk
1) Blend all ingredients together in a blender or food processor. The mix should be similar to regular pancake mix; if you need more almond milk, go ahead and add it.
2) Pour in 1/4 cup spoonfuls onto a Teflex lined dehydrator tray. You should get about 5 pancakes.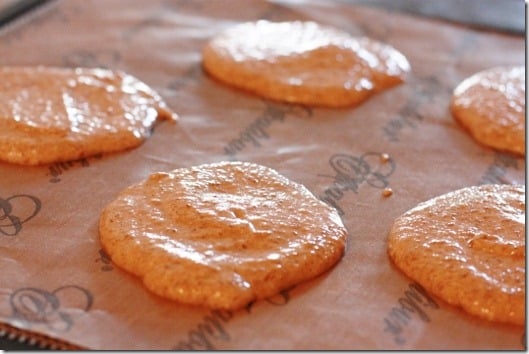 3) Dehydrate at 115 degrees for about 2 and a half hours. Flip the pancakes (use a spatula or inverted spatula) and dehydrate for another two and a half. It's *very* important not to over-dehydrate here, so check the pancakes often. If you let them go too long, you'll end up with banana flax crackers. And while those will be scrumptious, they won't exactly be pancakes.
4) Serve with fresh berries!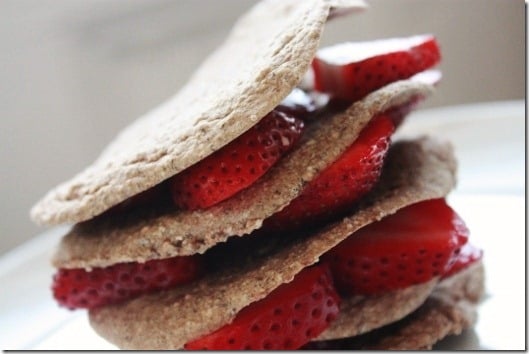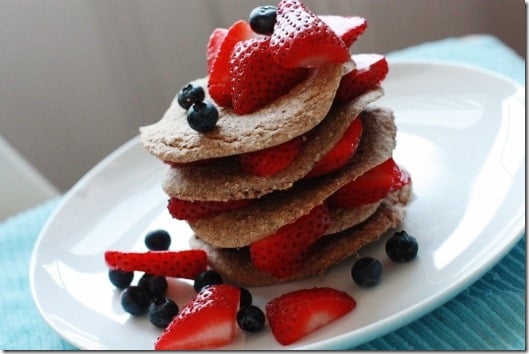 A lot of you are probably experimenting with more raw foods now that summer's on the way, and that's great. I know that one of the bigger challenges for the newly raw can be adjusting to cool breakfasts—it's easy to get tired of smoothies, which don't always offer much in the way of satiety and texture. If you're exploring more raw breakfast options, I really suggest giving these guys a try! They're delicious and oh-so-quick.
And if you're not in the mood for pancakes, check out this post from the archive on some of my top breakfast ideas.
Happy Friday!
xo