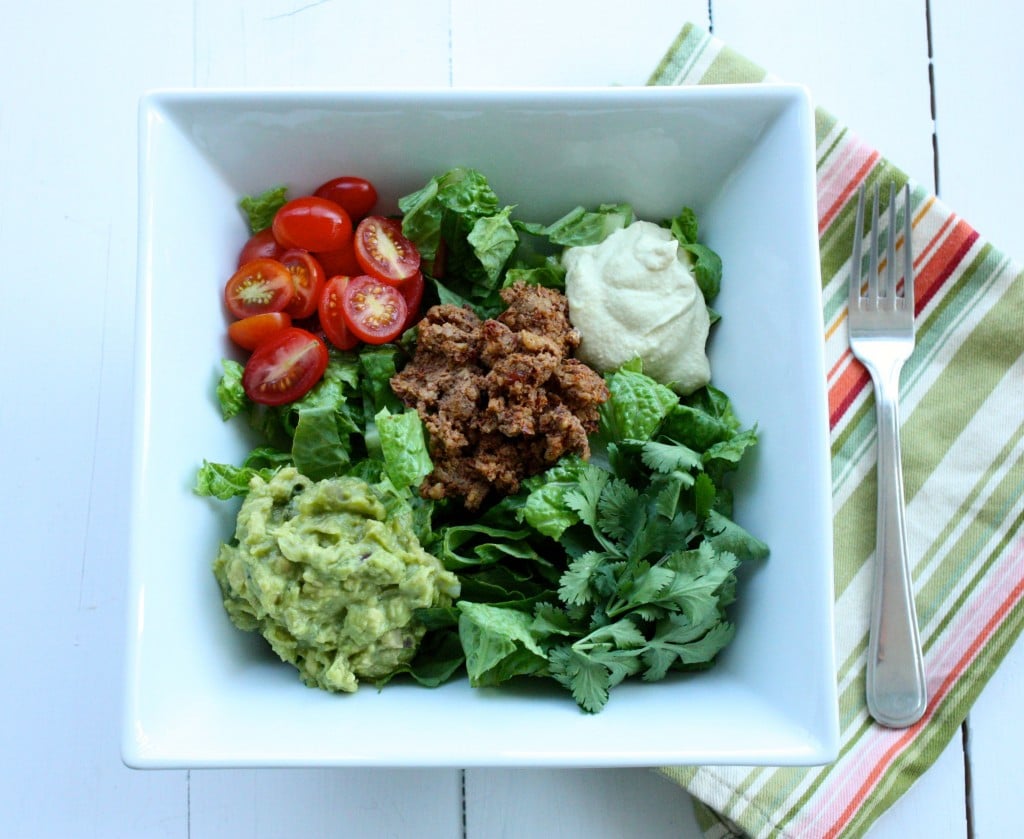 It is no great secret that Pure Food and Wine is one of my favorite vegan restaurants–possibly the favorite, when push comes to shove. I have a dinner at Pure to thank for piquing my interest in raw food, and the restaurant has continued to inspire me since with its ultra-creative, ultra-aesthetic, and utra-delicious food.
The menu at Pure is seasonal, so new dishes pop up, recur, and sometimes debut or go out of style. The restaurant's more casual sister eatery, One Lucky Duck, has a more static menu, suitable for either casual dining or for takeaway. No matter how much I enjoy trying new items on the Pure Food and Wine menu, I'll admit that some of the takeaway dishes–like the S&M Salad, the Spicy Thai Lettuce Wraps, the tortilla wraps, or the original sushi rolls–are actually my favorites. I'm also a huge fan of the restaurant's raw taco salad, which I ordered recently in New York, only to think, "why have I never tried my own version of this?"
Well, now I have. And it is so, so good.
The restaurant's original salad features "romaine lettuce, spicy taco crumble, pico de gallo, guacamole, cashew sour cream, and cilantro-lime dressing." Here's a picture, courtesy of Eat Hopefull:
I can't say that my version is quite so perfect; no matter how hard I try, I quite get my own salads to match Pure's exquisite creations. But it is delicious, and filling, and full of texture and flavor. And each of the components (the guac, the cashew cream, and the raw "taco meat," which I'm now obsessed with), is worth having in your fridge in its own right.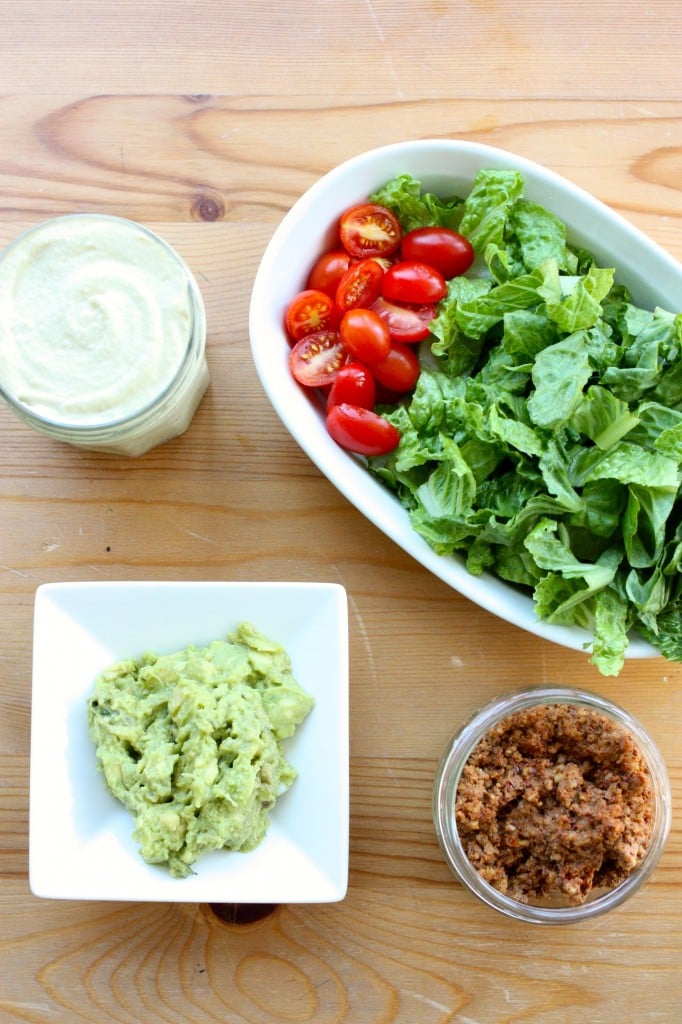 Speaking of components, this is like a lot of raw food recipes in that it demands some prep and some assembly: you'll need to make the guac, the taco meat, the cashew cream. But once all that is done (and you can prep these things in advance), you need only pile things together for a perfect lunch.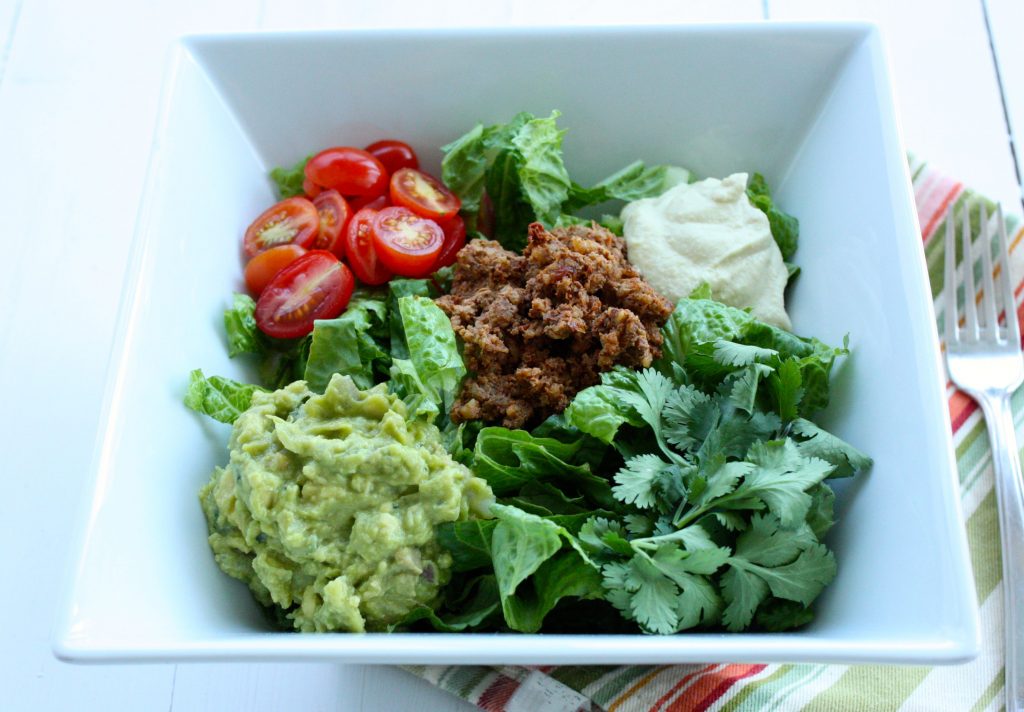 Raw, Vegan Taco Salad (gluten free)
Author -
For the raw walnut "taco meat":

1

cup

walnuts

12

sundried tomato halves

about 3/4 cup, soaked for 10 minutes in boiling water and drained

1

t.

cumin

1/2

t.

chili powder

1/2

t.

smoked paprika

1/2

T.

tamari

1/2

T.

apple cider vinegar

A few tablespoons water

as needed

For the cashew cream:

1 1/2

cups

cashews

soaked for at least two hours and drained

Juice of 1 large lemon

2-3 tablespoons

1

clove

garlic

minced (optional)

1/2

teaspoon

sea salt

more to taste

3

tablespoons

nutritional yeast

3/4

cup

water

For the guacamole:

2

Haas avocados

pitted and chopped

1/2

cup

diced red or yellow onion

omit if you're not an onion fan

3

tbsp

fresh lime juice

Sea salt and black pepper to taste

1/2

cup

cilantro

chopped

1/2

cup

raw corn kernels

For the salad:

8

cups

finely chopped romaine lettuce

2

cups

cherry tomato halves

1

cup

finely chopped cilantro

Lime wedges

for serving
1. To make the "taco meat," place all ingredients into a food processor fitted with the S blade. Pulse till ingredients are very well combined and have a crumbly texture. Add a little water as needed to get it right. Set aside.

2. To make the cashew cream, place the ingredients in a food processor or high speed blender. Process or blend till the cream is smooth and thick. Add more water as needed if you prefer a thinner texture.

3. To make the guac, mash the avocado, onion, lime juice, salt, and pepper till they're well combined, but have some texture. Fold in the cilantro and corn.

4. To assemble the salads, place 2 cups of romaine, half a cup of tomatoes, and a quarter cup of cilantro in each of four salad bowls. Add about a quarter or a third cup of the cashew cream, guac, and taco meat to each. Add a lime wedge or two to each bowl, for serving.
The Pure salad is served with a delicious cilantro lime vinaigrette, but I have to say that there are so many rich, healthy fats in this salad already–cashews, walnut meat, guac–that I really didn't miss having a dressing. Just mash all of the toppings up, and go to town.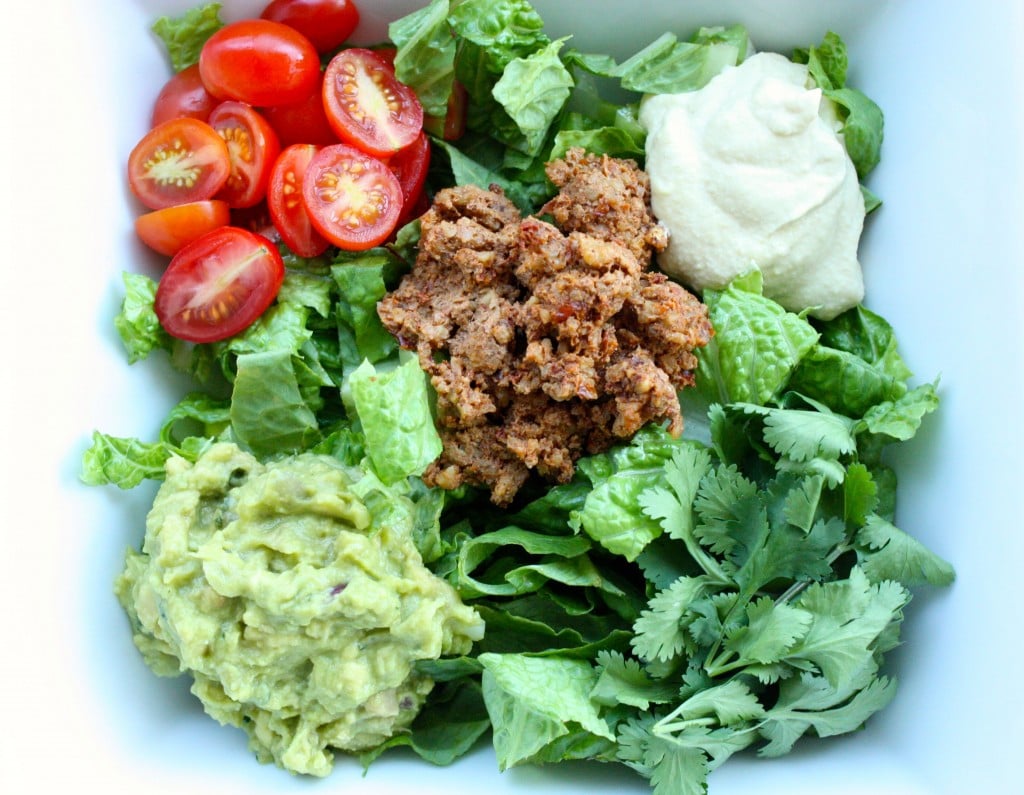 This salad is beyond flavorful, and like so many raw recipes, it's also a joy to look at. I hope you enjoy it (or any part of it–as I mentioned, the components are really great on their own).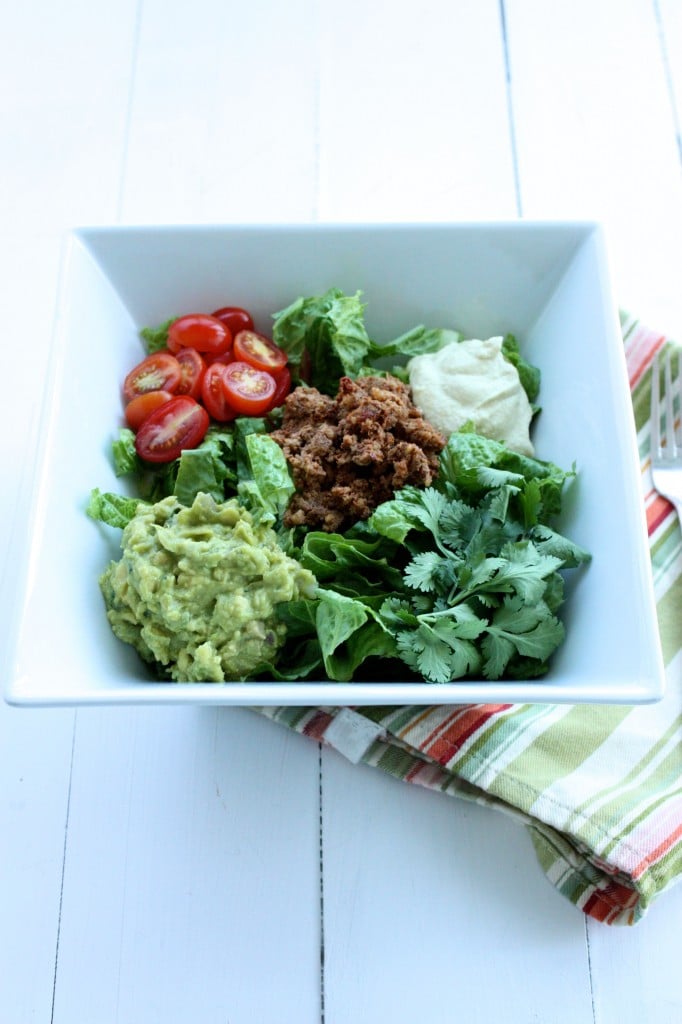 Two little announcements. First: my friend Melanie, who is an herbalist based here in the DC area, is offering a womens' health intensive that is open for enrollment until Friday. The course helps women with PCOS, infertility, irregular/absent/painful periods, and other reproductive health challenges to learn how to use healing foods, lifestyle practices (including creative expression) and herbs to support their bodies in returning to balance. the program plays well with other modalities they may be using, including allopathic medicine and all forms of CAM. I know Melanie personal and professionally, and I am 100% confident in her expertise and talent as a healer. If this sounds like something that might benefit you, check it out!
Second: my blog is undergoing some seasonal maintenance and tech work soon, which means it'll be dark between tomorrow night and Thursday. If you visit and things are quiet, fear not. I'll be back soon!
Happy Tuesday,
xo