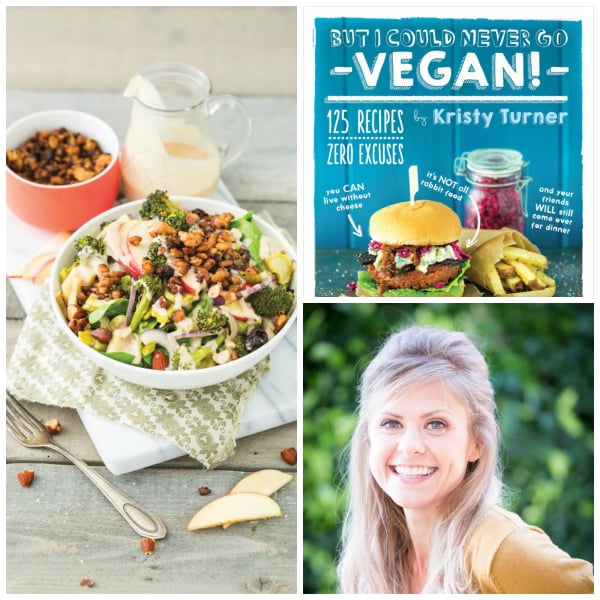 I've been reading Keepin it Kind, the fabulous vegan food blog authored by Kristy Turner and her husband, Chris, pretty much since the blog got started. I was immediately drawn in by the scrumptious, satisfying recipes, but I was even more compelled by Kristy's honest, unassuming, and compassionate voice. Her tagline is "kind food, kind world." I love the idea that vegan food can create a kinder world, and I believe with all my heart that it's true. Now that I know Kristy in person, I can tell you that she embodies her own kind messaging in every way. She couldn't be warmer, sweeter, or more passionate about food activism.
Now Kristy has written a book, But I Could Never Go Vegan!, and it is every bit as delicious and enticing as I knew it would be. It's also brilliantly constructed, witty, and a perfect resource for the new vegan–or for those of you who are trying to persuade a reluctant family member or friend to give vegan food a chance.
The title of the book pretty much says it all: Kristy echoes that sentiment that all of us (longtime vegans included) uttered at one point or another. I myself said these words, or something like them, when I first learned what a vegan is (I think it was "oh my god, I could never do that"). Nearly eight years into life as a vegan, having savored every recipe and every discovery and every bite of food, I actually can't imagine not being vegan. But it's so important for all of us who write about vegan food and lifestyle to remember that, from the outside, it really does seem like an insurmountable leap.
Thankfully, Kristy's book is a perfect antidote to all of the skepticism that greets vegan living. The book is cleverly designed into twenty chapters, and each of those chapters bears the title of a common excuse not to adopt a plant based diet. A few of my favorites include "All Those Special Ingredients are Way More Expensive," "I Could Never Give Up Cheese!" "Where Would I Get My Protein?" "Where's the Beef?" "I'd Miss Pizza" and "Can't I Just Be a Pescatarian Instead?" The chapter then includes a collection of recipes that help to break down the excuse — like creamy cashew blue cheese in the "I Could Never Give Up Cheese!" chapter, falafel tacos in the "Where Would I Get My Protein?" chapter, or a jackfruit tuna salad sandwich in the "Can't I Just Be a Pescatarian Instead?" chapter. Ingenious.
What Kristy understands so well is that we are all deeply attached to food–not just to eating and drinking, but to very specific dishes and recipes and the memories they evoke. When you've been vegan for a long time, it's hard to remember feeling as though cheese was a dealbreaker (I know I felt that way at some point, but I can't relate to the sentiment anymore at all). But those feelings are potent and strong, because food cuts right to our hearts. Kristy also understands that, when we realize that there are fantastically tasty and authentic plant-based alternatives for nearly any favorite dish, it's an incredible revelation. Her book is a testament to that process of discovery.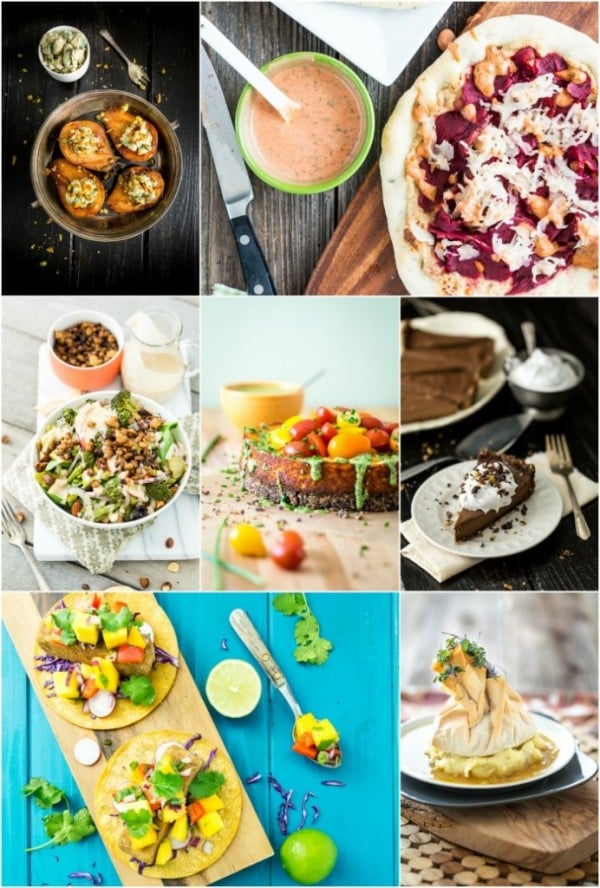 One of Kristy's chapters is entitled "Just Thinking About Salad Makes Me Yawn." One of my favorite tasks as a vegan cook is to show people how show-stopping and incredible a great salad can be, so this chapter struck a very fond chord. I wanted to share one of my favorite of Kristy's meal-worthy salad recipes: her roasted broccoli and apple salad with lemon-tahini dressing. It's incredible, and I know you'll all love it.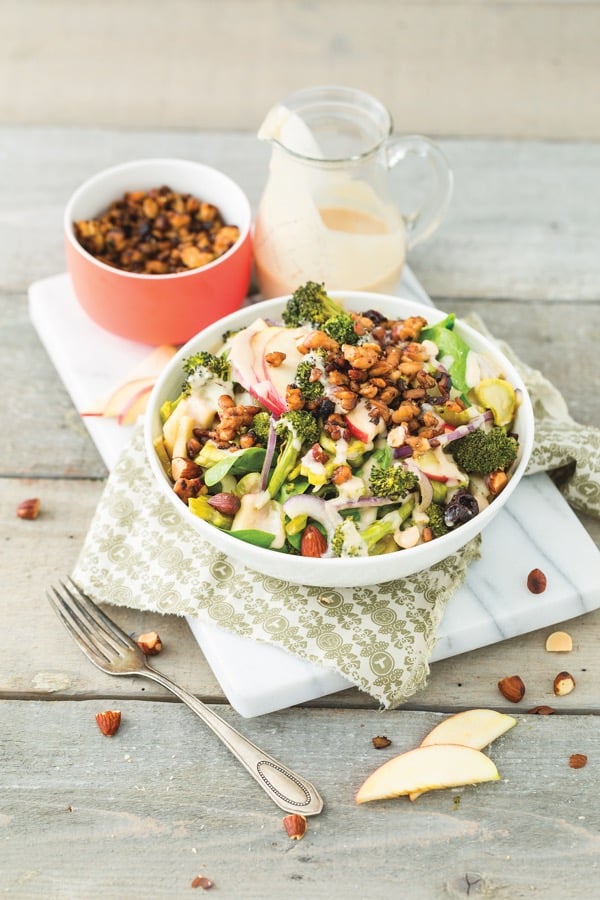 Image by Chris Miller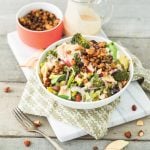 Roasted Broccoli & Apple Salad with Lemon-Tahini Dressing from Kristy Turner's But I Could Never Go Vegan!
Author -
Roasted Broccoli:
2

medium bundles broccoli

roughly 2 pounds or 1,000 g

2

tablespoons

tamari

or soy sauce or liquid aminos

1

tablespoon

maple syrup

2

tablespoons

nutritional yeast
Salad:
Up to 1 batch Tempeh Bacon crumbles

optional (see this recipe from Kristy's blog)

2 to 3

cups

60 to 90 g baby spinach

1½ to 2

apples

cored and diced (choose a tart but sweet variety, like Pink Lady or Honeycrisp)

3

celery ribs

sliced

½

medium red onion

very thinly sliced

2/3

cup

95 g dried cherries

½

cup

75 g roughly chopped almonds (preferably roasted, but raw will also work)
Preheat the oven to 400°F (200°C). Line two baking sheets with parchment paper or silicone baking mats.

Chop the broccoli into small florets and slice the stems thinly. Place in a bowl and toss with the tamari and maple syrup. Add the nutritional yeast and toss again. Spread the broccoli on the prepared baking sheets. Bake for 20 minutes, tossing once halfway through to ensure even cooking. Remove from the oven and let cool for about 5 minutes.

Meanwhile, in a small bowl or cup, use a fork to whisk together the dressing ingredients. Set aside. If you are using the Tempeh Bacon, cook the crumbles now.

Place the cooled broccoli in a large bowl and add the spinach, apples, celery, onion, dried cherries, and almonds. Toss until fully combined.

Divide the salad among serving bowls. Drizzle with the dressing and sprinkle the Tempeh Bacon on top, if using.

Variations: To jazz up the salad a bit, try marcona almonds (a sweeter, plumber type of Spanish almond). If you're in a rush or want to lighten up the salad, skip roasting the broccoli. Instead, steam for about 5 minutes and rinse in ice-cold water. Dry it off and it's ready to use!

Credit line: Recipe from But I Could Never Go Vegan!: 125 Recipes That Prove You Can Live Without Cheese, It's Not All Rabbit Food, and Your Friends Will Still Come Over Dinner, copyright © Kristy Turner, 2014. Reprinted by permission of the publisher, The Experiment. Available wherever books are sold.
I also want to give a lucky CR reader a chance to discovery Kristy's work for his or herself. Kristy's publisher, The Experiment, has graciously offered to share a copy of the book with one Choosing Raw reader (US and Canada only). Enter below to win!
Good luck, readers. And endless gratitude to Kristy and Chris for showing us all that kind food and a kind world are so much easier and more attainable than it seems.
xo