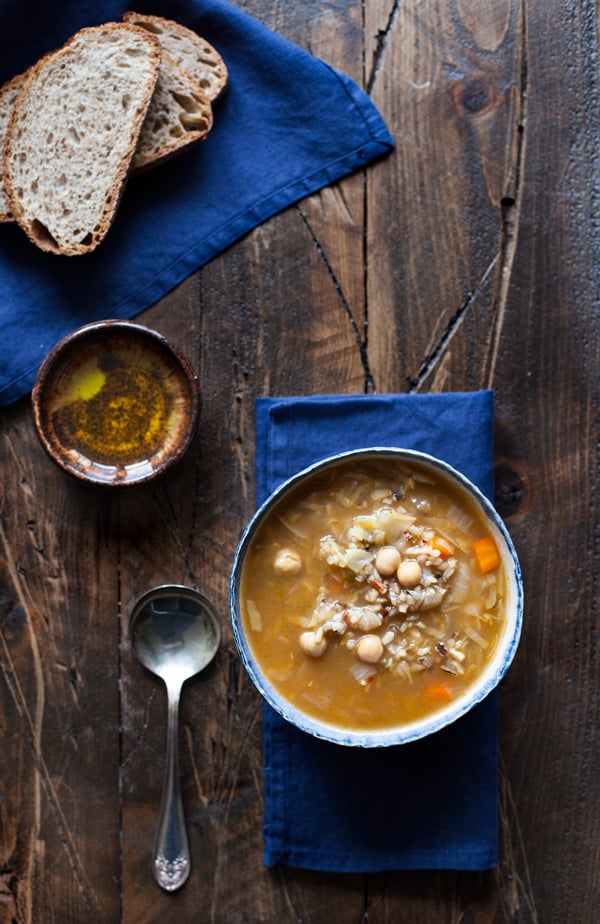 Yesterday, after two months of strangely temperate weather, Old Man Winter finally hit NYC. It is suddenly cold, very cold. Part of me feels as if I can breathe a sigh of relief–it was strange walking around in 70 degree weather on Christmas Eve, and it made me wonder if we'd all get our comeuppance in January–and part of me is totally unprepared. My favorite way of adjusting has been to dive into my favorite cozy foods, and this rustic cabbage, chickpea, and wild rice soup is now one of them. I made it on New Year's Eve, and because it makes a whole eight portions, I'm still gratefully slurping up the leftovers.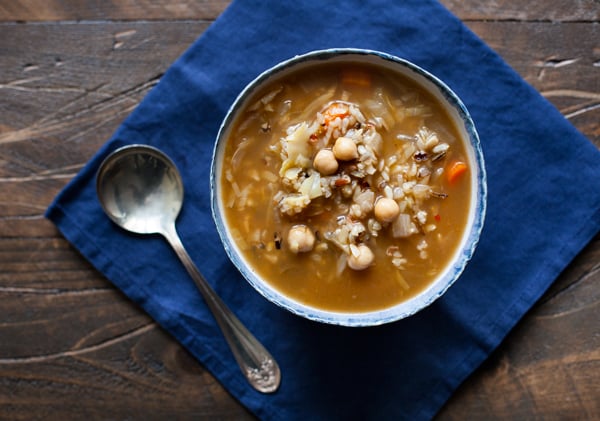 At first I was afraid that posting a cabbage soup soup in January might somehow be evocative of the famous cabbage soup diet, one of many ascetic food regimes that circulate at this time of year. But, in spite of its being undeniably healthy, there's nothing sacrificial about this soup. It's hearty, nourishing, and warming–really, the best kind of comfort food. Come in from the cold, warm up a bowl of your leftovers, serve them with a hunk of bread (and maybe a pat of Earth Balance or a drizzle of olive oil), and feel cared for.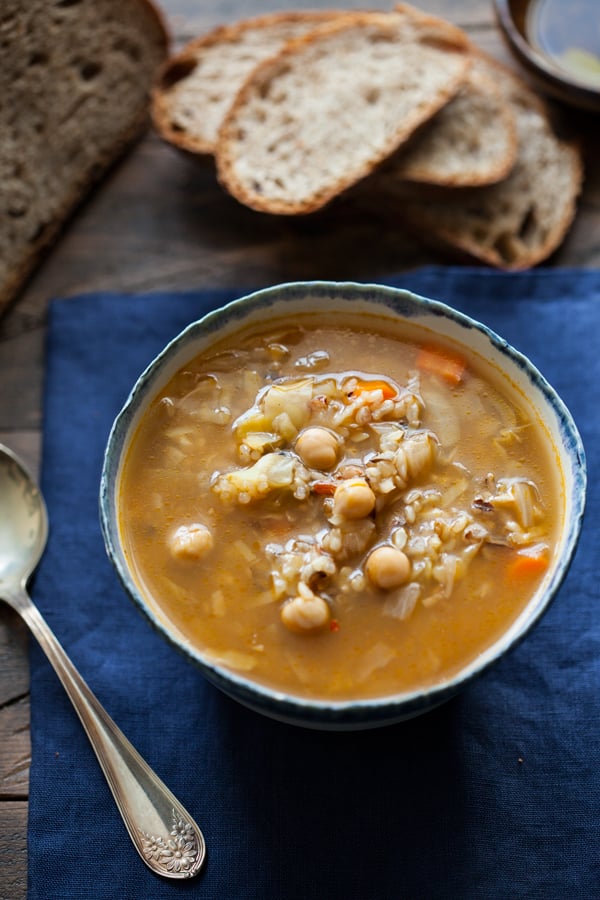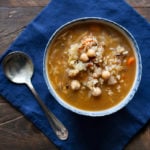 Rustic Cabbage, Chickpea and Wild Rice Soup
Author -
1

tablespoon

olive oil

1

large white or yellow onion

chopped

3

medium sized carrots

peeled and diced

2

medium sized stalks celery

halved lengthwise and diced

1/2

teaspoon

celery seed

optional

3

large cloves garlic

minced

1

pound

shredded cabbage

half of a medium sized head of cabbage

1

cup

wild rice

long-grain brown rice, or a blend (I use the Lundberg wild rice blend)

1/2

teaspoon

salt

1/4

teaspoon

freshly ground black pepper

8

cups

low sodium vegetable broth

1/2

teaspoon

sweet paprika

1/2

teaspoon

smoked paprika

2

cups

water

2

cups

cooked chickpeas

2

tablespoons

freshly squeezed lemon juice
Heat the oil in a large soup pot over medium heat. Add the onions, carrots, and celery, along with a pinch of salt to get the onions sweating. Saute, stirring frequently, for 5-7 minutes, or until the onions are totally clear and soft. Add the garlic and the celery seed (if using) and cook for another 2 minutes, stirring constantly.

Add the cabbage, rice, both kinds of paprika, salt, pepper, broth, and water to the pot. Bring to a boil. Reduce to a simmer and cover the pot. Simmer for 45 minutes, or until the rice is completely cooked and tender.

With the soup still simmering, stir in the chickpeas and lemon juice. Turn off the heat and check the soup for seasoning. Add salt to taste, as well as a dash of red pepper flakes if you'd like a little heat. Serve.
Leftover soup will keep in an airtight container in the fridge for up to 5 days. Leftovers can be frozen for up to one month.
The soup demands a little prep work in the form of chopping and shredding the cabbage, but once that's done, it's really easy to make. The fact that it serves a crowd is a big added bonus. You can absolutely cut the recipe in half, but as always, I recommend making it all and having it around for five full days of easy lunches or dinners. It's perfect with a big salad and some toast. You can also freeze your leftovers, which means great food in a hurry on a busy night.
And, since I just had a bowl of leftovers, it's worth saying that the soup makes a great, warming dish for breakfast, too!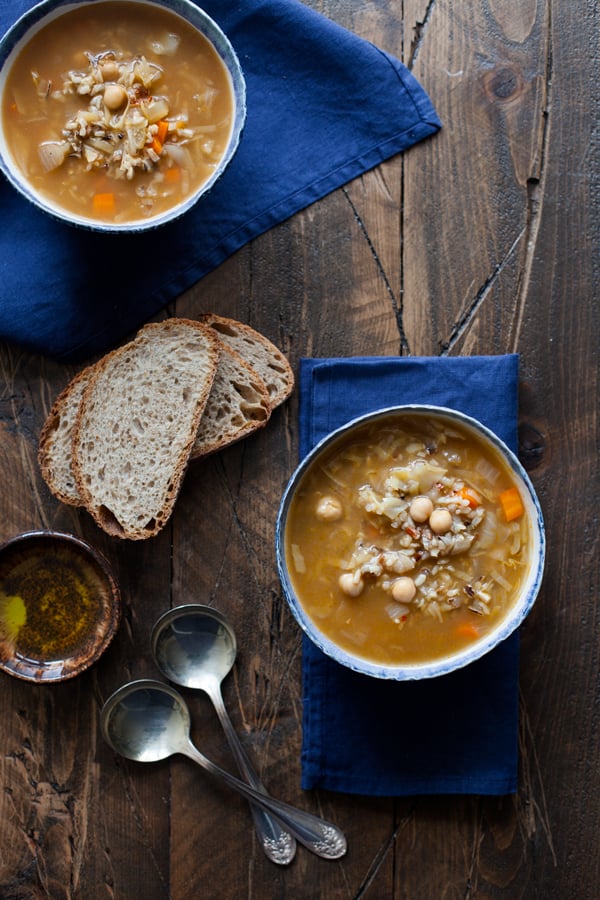 I love the subtle heat and the hints of smokiness in the soup (I know I overuse smoked paprika in soups, but it's so hard to stop when I love the results every time), and I also love all of the texture: chewy rice, tender veggies, and plump chickpeas. Each spoonful feels complete. Feel free to make the recipe your own by adjusting lemon, pepper, salt, and other seasonings, or by adding some fresh herbs to the pot. You could stir in some chopped greens, too.
I hope that this rustic, simple bowl will be as much of a favorite in your home this winter as it already is in mine. On Thursday, I have another flavorful meal that will serve you well on rushed weeknights (part of my quinoa parade this week). Stay tuned, and stay warm.
xo