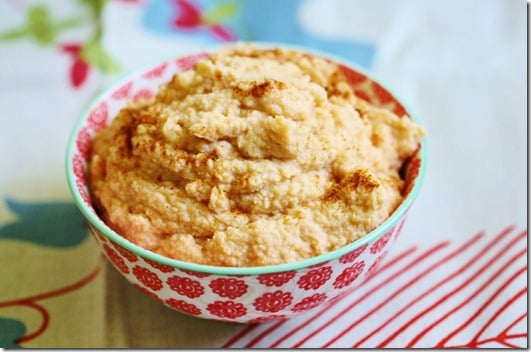 This is one of those great recipes that just happened.
This morning, as I set out to roast some butternut squash (for another recipe), I noticed that I had a head of cauliflower I'd purchased and promptly forgotten about this week. My bad; I almost never neglect my vegetables that way! Repentant, I quickly retrieved my cauliflower from the fridge and pondered what in the heck to do with it. After remembering that I had cannellini beans in the pantry, and also remembering that smoked paprika makes everything taste better, I settled upon a white bean, cauliflower and smoked paprika dip.
Boy, am I glad I did. This dip is a little more time intensive than, say, hummus made with canned beans, because you have to roast the cauliflower in smoked paprika first. But it's oh-so-worth-it. The taste is rich and vibrant, and it brings the cauliflower and white beans (which can otherwise taste a little bland) to life. It's also bursting with protein from the beans, as well as vitamins C and K from the cauliflower. With a little lemon and a drizzle of avocado oil (and some garlic, if you're into that), it's a creamy and delicious treat!
Smoky Cauliflower and White Bean Dip (vegan, gluten free, soy free)
Makes 4 large or 6 regular servings
3 heaping cups cauliflower, chopped
coconut oil or olive oil spray, or a small amount for roasting
1 1/2 – 2 tsp smoked paprika
1 can (15 oz) cooked white beans (navy or cannellini)
2 tbsp lemon juice
1/4 tsp sea salt (or to taste; if you use canned beans, you may not need it)
2 tbsp water
1 small clove garlic (optional)
2-3 tsps avocado oil
1) Place cauliflower on a foil lined baking sheet and preheat oven to 375. Give cauliflower a spray of coconut oil, and sprinkle with 1 and a half tsps smoked paprika (it's powerful, so you can use more if you want, but start with this amount). I sprinkled with my fingertips so that it would all be even.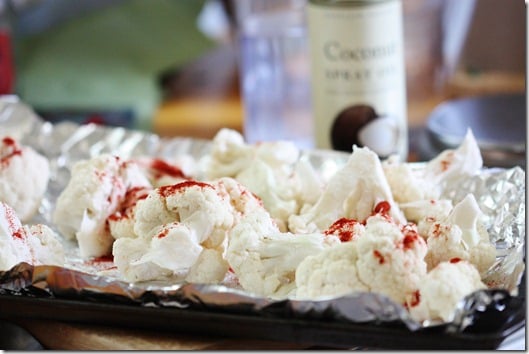 2) Roast cauliflower for about 30 minutes, or until golden.
3) Transfer cauliflower to a food processor or Vitamix. Add beans, lemon, garlic, salt, and water, and process till smooth, adding more water as needed.
4) With motor of machine running, drizzle in your avocado oil. Two teaspoons was perfect for me to achieve the smooth, creamy effect I wanted. If you prefer to omit the oil, you can.
5) Serve with a sprinkling of paprika and some of your favorite dippers: veggies, crackers, or bread! I used raw hemp and parsley crackers, straight from my dehydrator (no recipe, but next time I'll write it down).
I like my hummus incredibly smooth; I prefer this dip to have just the slightest bit of texture. If you want it super smooth and creamy, you should use a Vitamix instead of a food processor.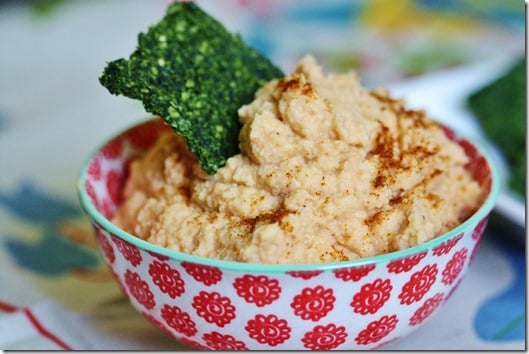 Just look at that perfectly smoky, creamy, and fluffy dip! I think the cauliflower helps to keep the texture relatively "light"—a nice alternative to thicker nut cheeses and bean spreads.
Hope you get to try this winning dip soon! Note that I mention coconut oil, above: this is my go to oil for high temperature roasting. I am a huge fan of spray oils and/or misters, because they allow me to add enough oil to coat vegetables and roast them nicely without drenching them indiscriminately! I use the Spectrum Organic brand, which looks like this:
Before I go, I wanted to mention that I got a nice comment about my raw, vegan walnut "cheddar":
This is the first nut cheese I have attempted and it was amazing! I put it on romaine leaves with cucumber, green peppers, and sunflower seeds. It was the best lunch ever! I can see the light at the end of the tunnel that is leaving behind real dairy. Thank you so much for such an easy cheese that tastes amazing!
This comment reminded me of the power of good food. A single recipe can be the difference between someone exploring a vegan diet, or not. When people say that they don't think they could "live without cheese," they are expressing a sincere fear, and it's so important for all of us food bloggers to embrace "food as activism" and keep providing our readers with alternatives to their cherished favorites. I am so lucky to be a part of a community of men and women who are busy helping others to explore humane and delicious lifestyles!
xo