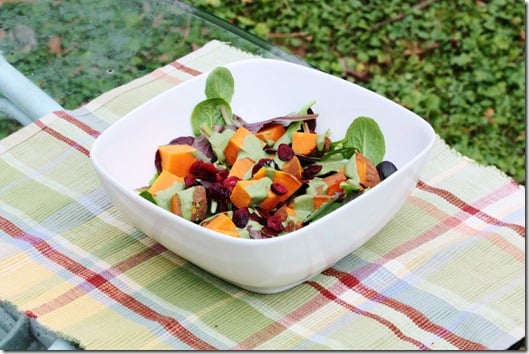 In December, I blew all of your minds when I posted a "breakfast salad" with banana and a chocolate dressing. As unconventional as this may have seemed, it was just the equivalent of having put a green smoothie into a mixing bowl–and most of us are green smoothie devotees already! Breakfast salads are a wonderful way to come up with new and unconventional salad combinations and to pack some greens in–all before 9 am.
I've been thinking a lot about breakfast salads, because two of my class days this semester leave me essentially no time for lunch. I can bring something to school and devour it between my 10-12 lecture blog and my 1-5 lab block, but rarely can I eat anything that's as hands on as a salad. Instead, I usually rely on raw snack bars, kale chips, fruit, green smoothies in a thermos, and almond butter and banana on sprouted grain bread. These foods get me through the long days, but they don't give me much room for fresh, raw vegetables, and so my plan lately is to have more breakfast salads on days when I know that my lunches will be less vegetable-centric than I'd like.
Today's breakfast salad is a total winner. It involves sweet potato, which is already a favorite breakfast vegetable in my book (I love that it provides carb-y comfort and satiety along with a ton of micronutrients), baby romaine, and an almond butter dressing. I first thought the dressing would be almond butter, almond milk, a few dates, and nothing more, but then it occurred to me that my breakfast would be a little low in the protein department. So I added a full serving of Vega natural flavored whole foods optimizer to the mix, which adds 26 grams of protein as well as a full day's RDA of calcium, iron, and an ideal EFA ratio.
You could use virtually any favorite vegan protein powder here instead: hemp would be great, as would be vanilla flavored rice protein. And for a more complete protein that has a cheaper price point by far than Vega, I really like Rainbow Light's vanilla blend.
If you don't feel compelled to add protein at all, that's fine: the sauce will taste great on its own!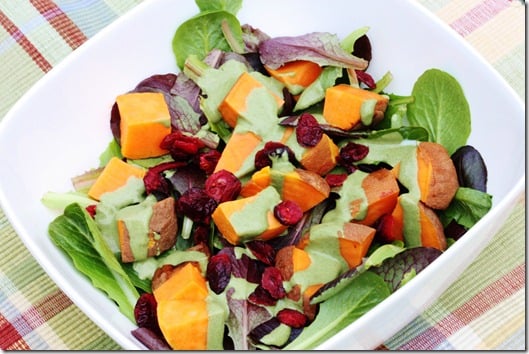 Sweet Potato Breakfast Salad with Almond Butter Protein Dressing (vegan, gluten free, soy free)
Serves 1; dressing makes 1 1/2 cups
1 small sweet potato, baked and cubed
3 cups baby romaine or spinach
1 tbsp dried cranberries
For the almond butter protein dressing:
1 cup almond milk
4 tbsp almond butter
3 pitted dates
1 serving vegan protein powder (I used 2 scoops Vega whole foods optimizer)
1) Blend all ingredients for the dressing on high.
2) Toss the vegetables and cranberries together and top with 2-3 tbsp sauce (I used more, but I was probably a little too liberal). Serve and enjoy!
Check out the colors of this salad! So beautiful.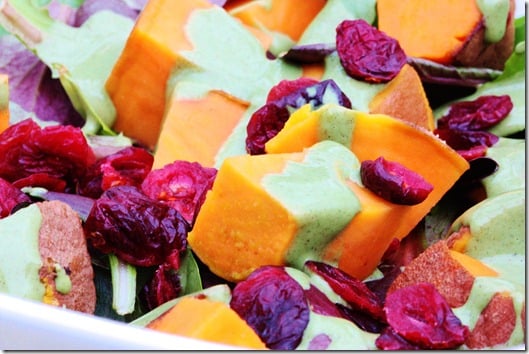 But if you're wondering about the color of the dressing, well, it's only green because of the hemp and chlorella in the protein!! If that's a turnoff, you can of course make sure to use neutral colored rice protein. Or none at all. I don't think green-hued anything is going to be a problem for any CR reader, though!
If you make the dressing and bake the potato ahead of time, this recipe is as easy as it is satisfying and delicious. I hope you enjoy it, and I would love to hear your ideas for more breakfast salads!
On that note, a long lab and exam day draws to a close. See you guys tomorrow!
xoxo