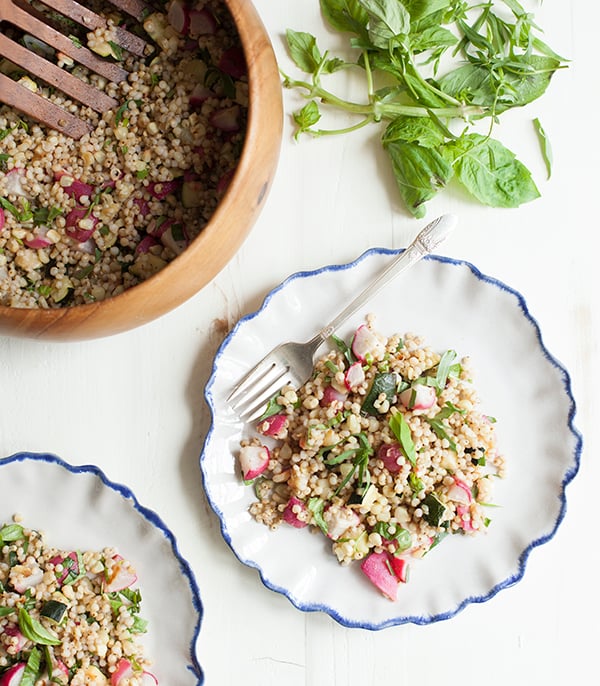 So, I tried sorghum for the first time this week.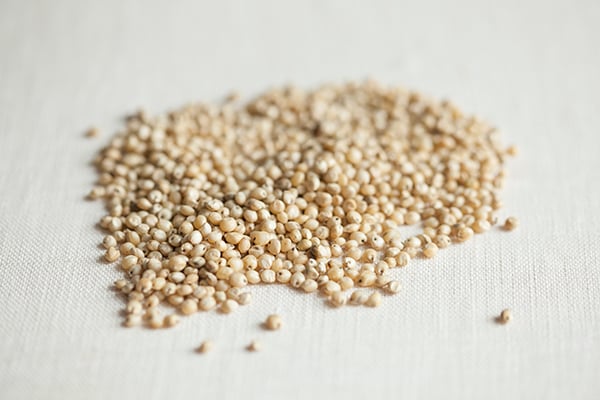 I've had sorghum flour in baked goods, and I've always liked its mildly sweet flavor, but I hadn't yet tried the whole grain until a few days ago. I read recently that whole sorghum is reminiscent of wheatberries, and that got my attention right away: I love grains that have a lot of texture and chew! So, with some summery produce and a bunch of fresh herbs on my hands, I decided to take my maiden sorghum voyage with a refreshing grain salad.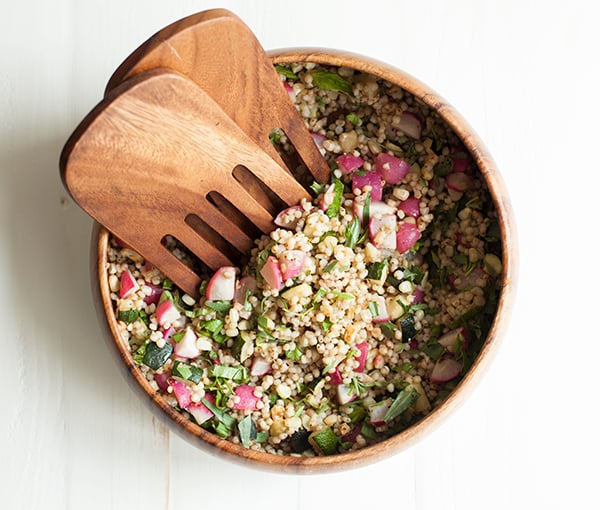 Now that I've had a chance to enjoy sorghum, I'm not sure I'd compare it to wheatberries, though the chewiness is definitely there. To me, it felt like a between buckwheat and Israeli couscous. It's round, very chewy, and it holds its texture well through cooking. One of the challenges I've had with cooking buckwheat is that the grain can become a little mushy, whereas the sorghum grains retain their shape well.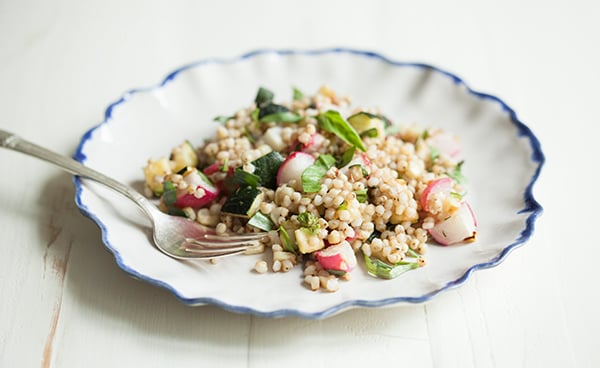 The grain salad is definitely a tribute to summer produce. It's early for corn, yet, but sweet white corn is showing up at my farmers' market, and I was excited to grab some this week. I also added zucchini and radishes. Radishes have never been my favorite raw veggie, but I love roasting them: it brings out a ton of unexpected sweetness, and totally transforms the vegetable.
After roasting the veggies, I simply combined them with the cooked sorghum and a French-style dressing (a little bit of mustard, olive oil, lemon, shallot), as well as a nice handful of basil and tarragon each. The result was a fresh, flavorful dish that's full of texture and color.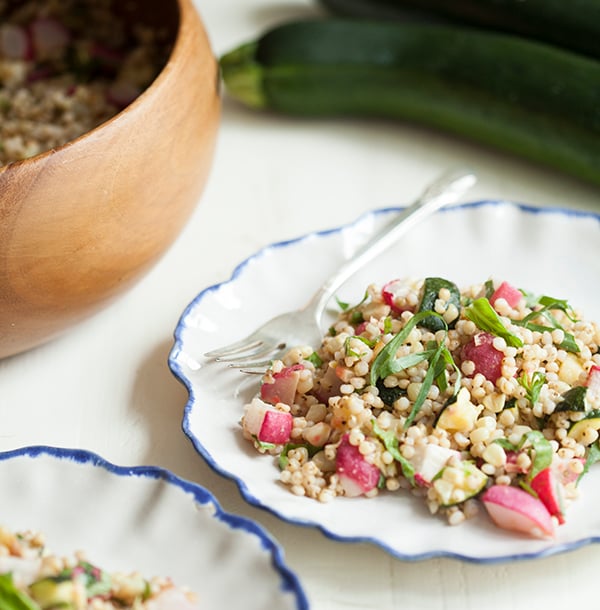 And here's the recipe.
Sorghum and Roasted Summer Vegetable Salad with Tarragon and Basil (gluten free)
Author -
1

cup

dry sorghum

3

cups

water

1

large zucchini

1

bunch radishes

about 12 radishes, washed and trimmed

2

ears white or yellow corn

kernels removed (about 1 1/2 - 2 cups kernels)

2

tablespoons

olive oil

divided

1/2

teaspoon

Dijon mustard

1

tablespoon

lemon juice

1

small shallot

chopped

1/4

teaspoon

salt

plus extra for roasting

Pepper to taste

1/4

cup

fresh basil leaves

chopped

1/4

cup

fresh tarragon leaves

chopped
Rinse the sorghum grain in a fine sieve under running water for about a minute. Add it, along with the 3 cups water, to a pot. Bring the grain to a boil and reduce it to a simmer. Simmer for 45-50 minutes, or until the sorghum is tender. Allow the sorghum to cool for 10-15 minutes. I

While the sorghum cooks, preheat your oven to 400F. Halve the zucchini lengthwise, then halve each half again. Chop the zucchini into 3/4 inch chunks. You should have about 1 1/2 -2 cups. Cut the radishes into quarters. Toss the zucchini, radishes, and corn with a tablespoon of olive oil and transfer the vegetables to parchment or foil lined baking sheet. Sprinkle lightly with salt and pepper. Roast the vegetables for 25-30 minutes, stirring them once through, or until the radishes and zucchini are tender and browning slightly. Allow the vegetables to cool for 10 minutes.

To prepare the grain salad, mix the sorghum and roasted vegetables together. Whisk together the remaining tablespoon olive oil, mustard, lemon, shallot, salt, and pepper. Pour these ingredients onto the grain and vegetable mixture, then add the chopped basil and tarragon. Toss everything together. Check the salad for seasoning and add extra salt or lemon or pepper as needed. Serve. Leftovers will keep in an airtight container in the fridge for up to three days.
A word about finding sorghum: I found it at my health food store from the Shiloh Farms brand. Bob's Red Mill also distributes whole sorghum, and Nuts.com carries it, too.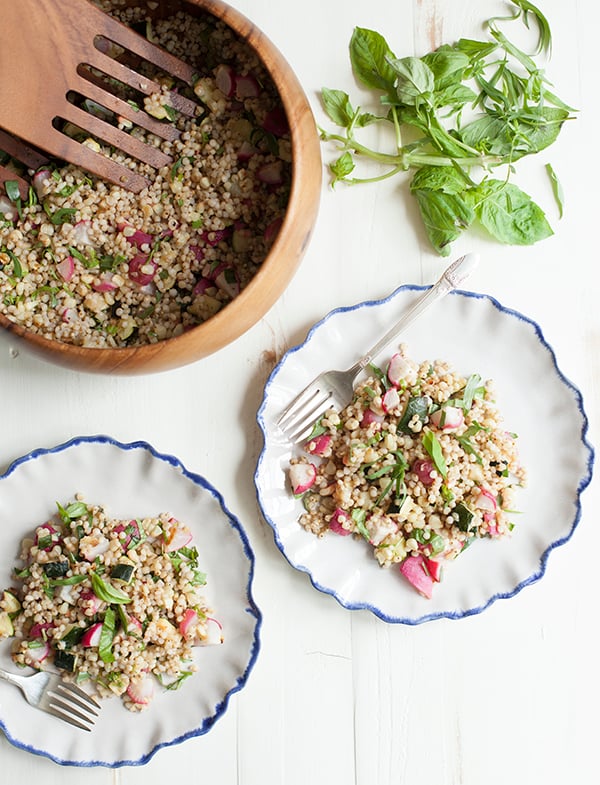 I'm now thinking about additional ways to use the grain, and I would love to try it with almond milk and dried fruit in the morning. I also wonder if a tabouli recipe of some kind is in order, as this is definitely the season for it! Next time I make it, I may try toasting the grain gently before cooking, to bring out some nutty flavor.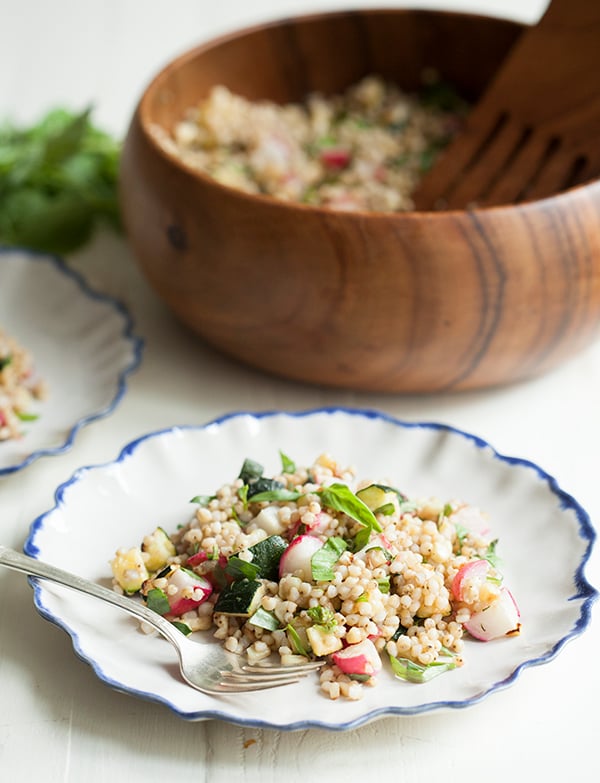 Hope you'll give this salad a spin! If you don't have sorghum or don't care for it, barley, farro, wheatberries, and buckwheat would all be great substitutes. Try serving the dish with a fresh, summery soup–your favorite gazpacho, maybe, or to keep in the zucchini theme, a zucchini/summer squash soup. It's also a great salad to serve with some grilled tofu or tempeh.
I hope everyone is getting ready for a restful weekend. I'll be back on Sunday with the usual roundup.
xo