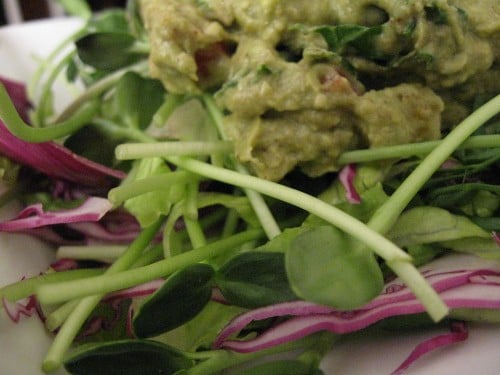 Hello, friends!
I'm glad you all enjoyed yesterday's extemporanea!
With regards to the numerous questions about the incongruous belly ring: yes, it was a silly teenage decision, but the age was eighteen, not sixteen (so, Theresa, it's slightly more embarrassing than if I'd been sixteen). And no, Shel, it didn't hurt at all, though I was holding it in comparison to the extreme pain of piercing my ear cartilage a while earlier, which hurt like holy hell. So.
I'm proud to announce that I had a guest post up today at my good friend Gina the Fitnessista's blog. For those of you who don't know Gina's site, this is a nice excuse for you to check it out! And for those of you that do, I hope you caught the post.
The topic was one I've hoped to write about for some time: fueling for fitness on a raw diet. Many new clients (and blog readers) are dubious about whether or not raw foods provide adequate energy and sustenance to athletes in training. And who can blame them? The mainstream nutritional model offered athletes is, all too often, one in which synthetic protein powders, cardboard-like energy bars, and vats of spaghetti play a starring role. While I allow that all athletes need to figure out their own nutritional needs as they train, I hope that my post—no matter how brief—offers you all a glimpse of an alternative model of nutrition for athletic training and recovery. If this issue is important to you–and I know it's important to all of my readers in marathon training right now–I really encourage you to go and read the post!
In it, I discuss the foods that I consider most crucial for athletic support, along with five recipes to keep you motivated. And of course, I address that ever-popular question: what are lean sources of protein in a raw diet?
Among the sources I highlight are a favorite food of mine: sprouts. They may be a far cry from myoplex bars or steamed chicken breasts, friends, but those scrawny looking little green shoots can be up to 35% protein. They're also packed with other vital nutrients, and they're highly digestible. (If you have a hard time digesting seeds or beans, try sprouting them: sprouting converts the starches in seeds and beans to simple sugars, rendering them far easier to digest.)
Not all sprouts are created equal. The sprouts that most immediately come to mind are alfalfa sprouts—the whisper thin bunches you find at any deli or salad bar. These contain some nutrients, but they're not the highest protein option. For athletes, I recommend pea shoots, sunflower sprouts (my personal favorite!), lentil sprouts, broccoli sprouts, and red clover sprouts, all of which are high protein. If you don't like the way sprouts taste—or you're just shy about being seen in public munching on them!—blend them into soups, stuff them into savory wraps, or even throw them in your green monster. You'll never know the difference!
Or, you could make the following salad. This salad was born of my own struggle to get used to sprouts: at first, they struck me as less than appetizing. I eat them by the bushel now, but it took me some time. What was my trick, you ask? Well it should come as no surprise that there's no better way to make me eat something than to smother it in guacamole. And so I did. I mixed sprouts with other shredded veggies, hid them under a bed of guacamole, and mixed and mashed the lot into a creamy, delicious salad.
This salad is not only great for the lean protein it provides, but also for the healthy fats (which help with cell repair after athletic exertion) and the many vitamins and minerals it provides. I love to recommend it to athletic clients, and to eat it myself before or after a workout.
Any guacamole will be delicious here, but for those of you who have tired of my standard, this is a smoky, more authentically Mexican variety that uses cumin and chilis for flavoring. No matter how married I am to the sweetness of my original, I must confess that this is a great variant, and I've been eating it plenty this week. The recipe follows:
Gena's Sprout Salad (Serves 1)
Ingredients:
2 cups sunflower and broccoli sprouts and pea shoots, chopped
1 cup red cabbage, shredded
1 cup carrots or romaine lettuce (or both), shredded
½ cup cilantro, chopped
¾ cup smoky guacamole, below (or guac of choice)
Procedure:
Mix all of the sprouts and veggies and cilantro together. Pile the guacamole on top, and mash it into the salad. Sprinkle with generous amounts of lemon juice (and anything else you'd like as a topper), and dig in!
Smoky Guacamole (Yields 1 ½-2 cups)
2 large avocados
¼ cup cherry tomatoes, chopped
¼ cup bell pepper, chopped
¼ cup cilantro, chopped
¼ cup red onion, finely chopped (if desired)
2-3 tbsps lime juice
½ tsp (or more) sea salt
1 tsp chili powder
1/2 tsp smokey paprika
½ tsp cumin
Sprinkle cayenne pepper
Procedure:
Mash avocado, lemon, and salt together. Add remaining ingredients and mix till well combined. Enjoy with your sprouts—or by the spoonful!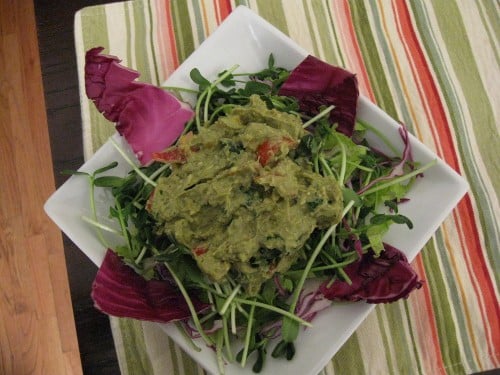 I am in love with this stuff, and the salad it so perfectly compliments. I hope you'll all try the recipe soon!
And speaking of recipes, tomorrow is raw Wednesday! I hope you guys have fun things planned for your kitchens. I'm not sure if uncooking will be an option tomorrow—it's that kind of week—but I have fingers and toes crossed. As always, report back on your rawventures!
xo