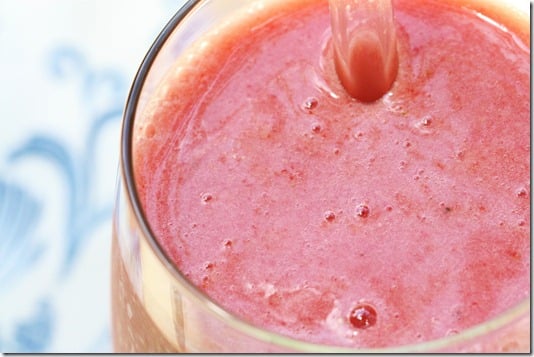 Glad you all liked the kombucha sangria recipe! I can't wait to make it again, with different flavor combinations.
While we were on the topic of kombucha, a reader asked what kombucha is, and why it's so good for you, after all? For those of you who haven't tried it yet, kombucha is a fermented tea. It's fizzy, a little sweet, and it's associated with all sorts of incredible health claims, from the most intuitive (healthy bacteria in the tea can help with digestion) to the more dubious (the tea will "detoxify" your body) to the highly questionable (kombucha can prevent and reverse cancer). Published studies on kombucha's health benefits are rather scarce, though there's at least some evidence that the acid and the healthy bacteria in the tea can aid with digestive function. But if you're not looking to improve anything in particular, fear not: kombucha is still worth drinking because it's very tasty, and because, if you don't often drink beverages of the alcoholic kind, kombucha is a lovely thing to bring to parties, potlucks, or to sip at other social gatherings.
Kombucha is made from adding a symbiotic culture of bacteria and yeast (also known as a SCOBY) to a tea base. You can prepare your own SCOBY at home rather easily; there are tons of online tutorials, including this one, this one, and this one. I highly recommend Sayward's excellent and easy-to-follow post on brewing homemade kombucha, and Averie also has easy DIY instructions.
I don't brew my own at home, but if you do find yourself developing a steady kombucha habit, you should consider it! Kombucha is incredibly pricey (GT kombucha, which is the most popular and easy to locate brand, costs between $3.99 and $4.99 per bottle), and adds up quickly. As anyone who brews kombucha will tell you, it's not hard to get a rhythm going. I liken brewing kombucha at home to sprouting (or many other raw food techniques): you need to take the first step, but once you start, all you have to do is occasionally check in.
That said, if you only drink kombucha on occasion, it's totally OK to forgo the brewing process and purchase the storebought stuff; there are a bunch of brands on the market now, and some of them are less pricey than the GT stuff. It's also a lot of fun to explore local, independent kombucha brewers; there are a bunch of purveyors in Brooklyn, and I recently tried and loved Buddha's Brew, which hails from Austin, TX.
I personally don't drink kombucha all that often because carbonated beverages tend to unsettle my stomach. But I do love a glass now and then, and I often drink it at cocktail parties. Until very recently, it had never occurred to me to mix kombucha with anything else. Then I read Doug McNish's new book, Eat Raw, Eat Well, and encountered his recipe for a blueberry banana kombucha smoothie. Kombucha smoothie, you say?! Genius. I've used coconut water for a base, so why not?
I tried Doug's recipe and loved it, and since then, I've been experimenting with my own blends. So far, my favorites have been simple mixtures of fruit and kombucha, or fruit, kombucha, and avocado. They're incredibly refreshing for summertime, and they add a nice dose of healthy bacteria to a typical smoothie concoction. Because they're so light, I tend to think of these drinks as "frosties," rather than smoothies.
The following blend is my current favorite. It's as simple as can be: strawberry, banana, synergy kombucha, and a touch of lime. It couldn't possibly be more refreshing, or more perfect for the season!
Strawberry Banana Kombucha Frosty
Serves 1
1 small frozen banana
1/2 cup chopped strawberries
1 cup GT synergy kombucha (or your own brew)
1 tbsp lime juice
Blend all ingredients, and serve!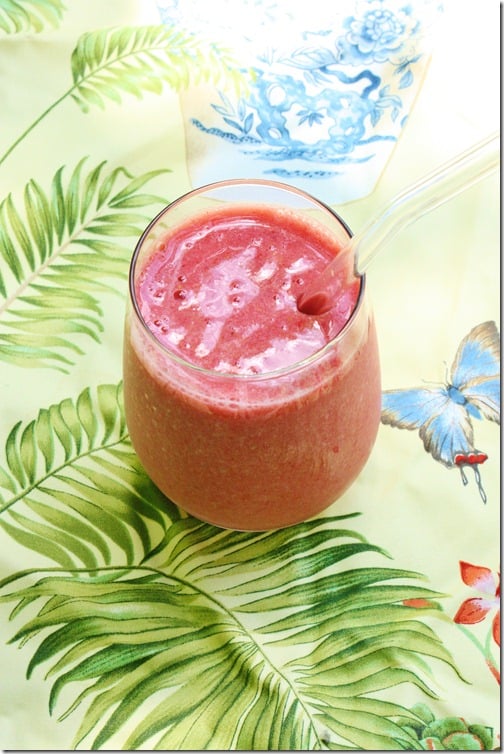 A couple of fun variations:
Mint strawberry banana frosty: Add 3 tbsp chopped fresh mint before blending.
Creamy strawberry banana frosty: Add 1/4 large or 1/2 small avocado before blending.
Purple strawberry banana frosty: Add 1/4 cup blueberries before blending.
Yum!
I hope you all enjoy this extraordinarily refreshing treat soon! It's uncharacteristically cool in DC right now, but that won't last for long. And I'll be all over these drinks when the temperatures rise.

Are you a kombucha fan? What's your favorite flavor? Do you brew your own, and do you have any tips for us?
See you back here tomorrow!
xo